SmartBox vs. PODS: Self Storage and Moving Compared
Editors Note (July 16, 2009):  This article was originally published with incorrect rates for Smartbox. The rates have been updated to accurately reflect the rates at the time of original publication. We've updated the text of the comparison to evaluate these new rates.
If you haven't seen one of those big PODS (Portable On Demand Storage) boxes in your neighborhood over the past few years, you're living in the dark ages (or at least somewhere very far away from a PODS franchise).  They show up frequently around here as people pack their stuff to move into a bigger, better, or at least different home.  In fact, we've written about our personal experience with them, and think they're a great way to stage your home for sale.
The business model of PODS isn't so complicated (boxes, trucks, and drivers), and as such a number of competitors have entered the market… each offering their own take on home-delivered self storage and moving.  Several months back, we ran an article comparing prices and other qualities of SAM and PODS. We follow that up with this one that provides a quick look at SmartBox and how they stack up against the market giant that is PODS.
What is SmartBox?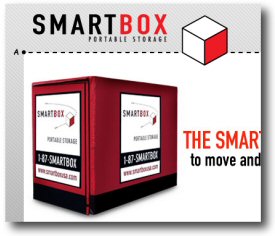 SmartBox is just like PODS (and, in fact, SAM, and probably a few others at this point). SmartBox's claim to fame: they keep costs low by providing only one size box: 5 ft. wide x 8 ft. long x 7 ft. high (a total volume of 280 cu. ft., with 40 sq. ft. of floor space)  Instead of packing 1 – 3 large POD containers to move the contents of your home, SmartBox suggests you load 6-10 of theirs, potentially packing each room up in a separate box.  Is the smaller box better… thoughts on that after our comparison.
SmartBox Pricing vs PODS
Lets stack SmartBox up against PODS for a local move in our 21228 zip code:
PODS Cost: A PODS container is a little larger than 3 small SmartBox containers. We'll assume we don't value separating our goods into three separate bins, but are most concerned with total volume for our move. Total charges for one large (128 sq. ft.) POD in a local move that takes less than a month: $283.
SmartBox Cost: The same scenario for three smaller (40 sq. ft) SmartBoxes: $333. If instead of three SmartBoxes we get only two, the total price drops to $275, which is in competitive range with the PODS boxes but now we're at only 2/3 of the available space in the PODS.
The winner: PODS by about $50. Notice that since we didn't value segregating our stuff, SmartBox really didn't provide the best value.
SmartBox comes out slightly ahead in our local move scenario when we stack up one small SmartBox (at 40 sq. ft.) against the smallest POD (96 sq. ft).  In this scenario, SmartBox wanted only $216, while PODS wanted $261… but remember, SmartBox's container is less than half the size of the comparable smaller PODS box… so this only makes sense if you're moving a very small amount of goods and really don't care about the smaller storage area.
Does the Smaller Box Win You Anything?
At best, the smaller box is only a preference (at worst, it's a nuissance).  It allows you to segregate goods from one room to the next, and potentially eases finding stuff in a move.  But it limits the size of furniture you can put in the boxes, and it costs a little more (at least in our local move scenario).
If you're in an area were there's a limit on the footprint of a storage container in front of your house, SmartBox might be worth the trade if you're only getting one box at a time.  That said, the reality is that the large POD still fits into many standard parking spaces, and will probably work better for most moves.
Other Similarities
These companies are very similar… in fact, they both:
Keep the containers level while moving (unlike SAMs, which does not)
Offer long distance moves
Offer climate-controlled storage facilities
Have a large network of locales they service
The Verdict:
PODS wins.  But, you should still check out both, and a few competitors, before locking down your move.  Also, remember to negotiate.  We didn't call SmartBox to see if they'd match our POD price, but our guess is that they'd try.
Editors Note:  One of the commenters to this article notes that SmartBox offers volume discounts (for multiple boxes) and delivery discounts (for local moving)… but these weren't available without a promo code on the web site.  It is critical to reach out directly via phone or to use a promo code to achieve the best price.
What do you think? Have you moved with PODS or SmartBox? Let us know in the comments below!
(photo credit: smartboxusa.com website)
Subscribe and never miss an article!
Free articles delivered conveniently to your inbox
(and no spam, we promise)