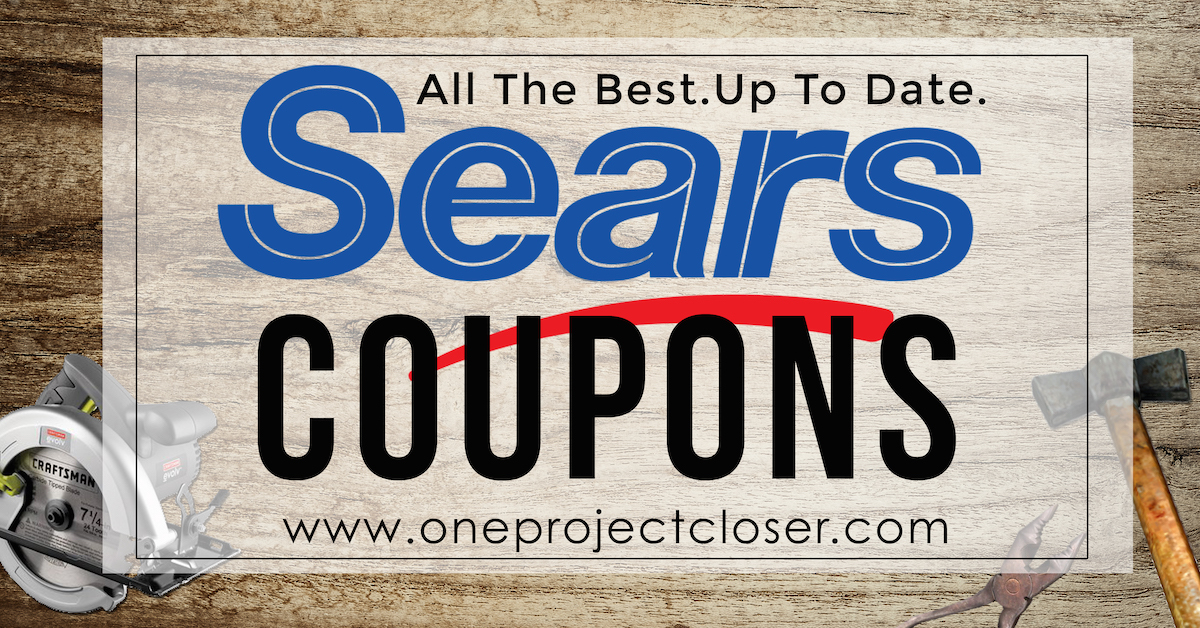 Need coupon codes or sales information for a Sears or Sears Home Services purchase? You've come to the right place! Below are all their current deals, sorted by category. I update this page several times a week, so if what you need is not on sale right now, bookmark this page and come back again!
Found what you were looking for? Please give us a "+1" in the left sidebar, so others can find us as well! Thanks!
STORE-WIDE SAVINGS:
APPLIANCES & COOKWARE:
PATIO FURNITURE & GRILLS:
LAWN & GARDEN & OUTDOOR PLAY:
FURNITURE:
TOOLS:
ELECTRONICS & HOME THEATER:
AUTOMOTIVE:
FITNESS & SPORTS:
HOME, BED, BATH, & LUGGAGE:
APPAREL, SHOES, JEWELRY, WATCHES, FRAGRANCES & ACCESSORIES
Apparel
Shoes
Accessories, Fragrances & Cosmetics
Jewelry & Watches
FITNESS & SPORTING GOODS
TOYS & GAMES
BABY & NURSERY
SEARS – CANADA:
ONLINE-ONLY SALES
Several times every month Sears will run a special sale for its online customers only. Some are 1-Day, 2-Day or 3-Day only sales; others run for a season. You can save 5%-20% on what you would pay in their stores for the same products!
SHOP YOUR WAY
Shop Your Way is a Sears rewards program that credits you 10 points or more for every $1 you spend on qualified purchases at Sears, Home Services and Kmart Pharmacy. For every 1,000 points in your account you receive $1.00 in value. Points can be redeemed in-store or online and joining is easy.
You also attain special treatment with their VIP Program. Status is determined by how much you spend annually with higher levels receiving better perks. The more you spend in a year, the higher your status and the more benefits you enjoy. Some reasons to join include extra bonus days and biannual savings books. Members also receive a personalized Member card, a dedicated 800 phone number and more. Here are the annual spending requirements:
Silver level- $2500 per year
Gold level- $5000 per year
Platinum level- $10000 per year
Current "Shop Your Way" Offers:
Craftsman Club
The Craftsman Club is also a part of the Shop Your Way program. Joining gains you access to member exclusive savings, advanced notice about sales, alerts about new products, a monthly newsletter, and "project of the month" information. To join, use the Shop Your Way link above.
HOME SERVICES
SEARS MARKETPLACE
Products sold on Sears Marketplace come from a community of sellers. Some are sold and shipped by an outside seller. Others are sold by the seller and shipped by Sears from Sears' warehouse. The benefit of the Marketplace is that costs can be lower, since Sears does not have to pay physically to place the items on their store floors. And, of course, where there's a variety of sellers, there's market competition. All this adds up to SAVINGS for Sears shoppers!
"DEAL OF THE DAY"
Every day Sears features several products offered at a significantly reduced price. The sales are online only, and the price is reflected in your shopping cart, once you add the item. Each deal of the day lasts only 24 hours, so plan ahead! We provide a list of every sale coming up this week!
Layaway
Layaway programs make it easy to fund a large purchase by spreading out the payments into small, manageable amounts. You can shop for virtually anything in-store or online. Just look for the layaway icon on the product page to see what items qualify. The Sears layaway program works by requiring consumers to make a down payment and subsequent payments every two weeks. Unfortunately, there is a $5 service fee (expect where prohibited by law) and a $10 cancellation fee for every new contract.
Price Match
Sears offers price match with 10% off the difference of any qualified item. You have to find a lower price (even sale prices) at any local competitor with the same branding and feature set. This applies to online purchases as well. Just include shipping, handling and delivery in your comparison. There are significant exclusions (of course). Price match does not apply to limited quantities, sales around Thanksgiving, typographical errors, and more. Click here to read all the fine print.
Buy Online, Pickup In Store
Buy Online, Pickup In Store programs allow you to eliminate shipping charges while keeping the convenience of online shopping. You'll receive an email confirmation when your item is ready for pickup and you can elect to have someone else pickup your order. After you arrive and notify the service desk, a 5 minute countdown starts. If you item isn't ready in 5 minutes, you get a $5 off coupon.
Credit Card
Sears credit card holders get some very nice benefits. Some of their best sales include an additional percentage off for card holders. For instance, Sears regularly offers 15% off appliances with an additional 5% off when you purchase with a Sears card. Often, they also include no interest for 12 months. There's no membership fee, and you earn $1 everywhere you shop. Applications are available in store.
Looking for more great coupons from other stores? If you are buying appliances, we also recommend checking out our Home Depot Coupon and, AJ Madison Coupon pages. These retailers frequently offer 10-20% off appliances just as Sears does.
We also offer several sources for Lowes Coupons, although Lowes doesn't offer the same online discounts as these other retailers.