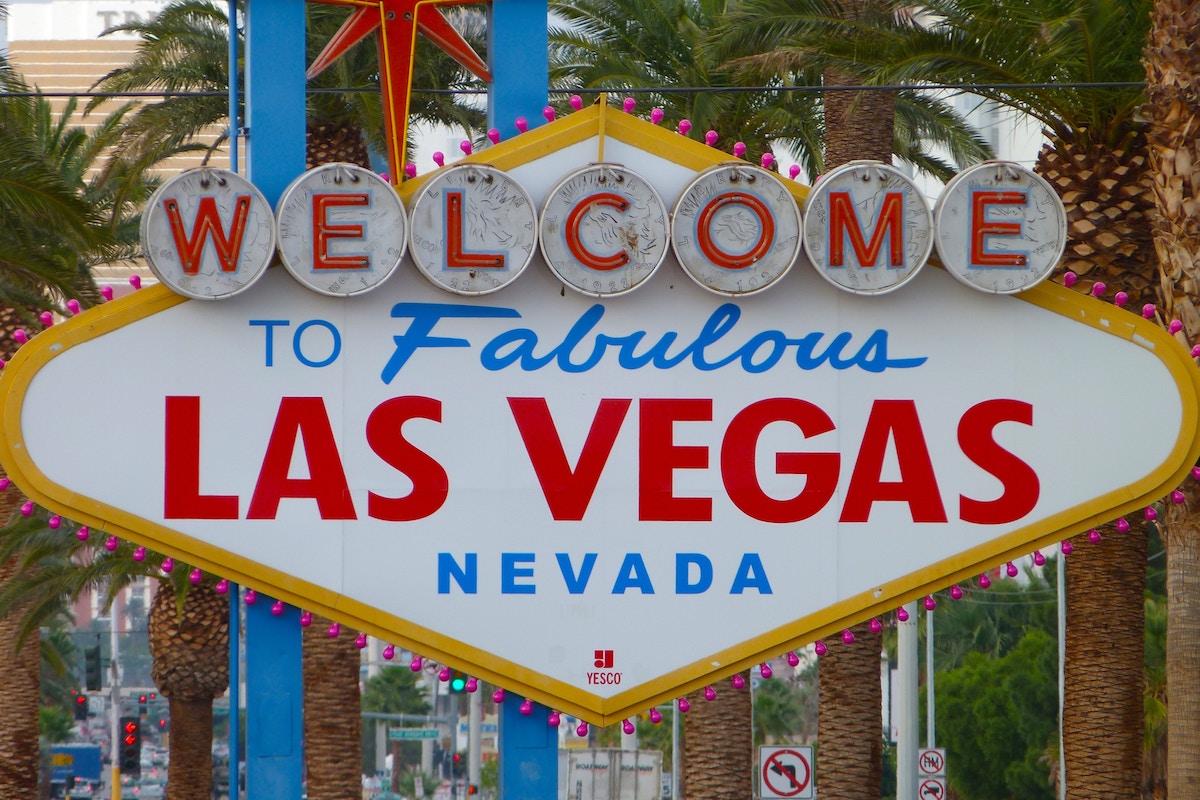 Thank you so much for tuning in for our 3 Days in Vegas for First-timers and our Las Vegas Itinerary. Be sure to stick around and check out some of our great DIY and craft tutorials, including Hand Lettering!
My husband, Ethan and I went to Las Vegas this past weekend for a wonderful (and quick) celebration of our 13th wedding anniversary. The hubs was going to Vegas for work, attending the Adobe Summit, and so we used some flier miles to make it a vacation! If you follow us on Insta, you may have seen many of this on my stories because it was just too fun to wait to show you.
There is so much to see and do, we were a little unsure of where to start, as first timers in Vegas. Fortunately, we had a few wise friends pointing us in the right direction (Thanks Hannah, Amy and Chris!). Plus, we loved to chat up our Uber drivers about their recommendations too.
Also, just a note about budget. I really thought this quick trip would be super cheap, and while we kept it budget friendly, Vegas is NOT cheap, especially drinks and food. We were told by lots of people that Vegas is comparable or cheaper than California, specifically LA and Bay Area, but it was certainly more expensive than the Maryland/DC area.
So without further ado, here was our 3 day Vegas Itinerary!
Get Married!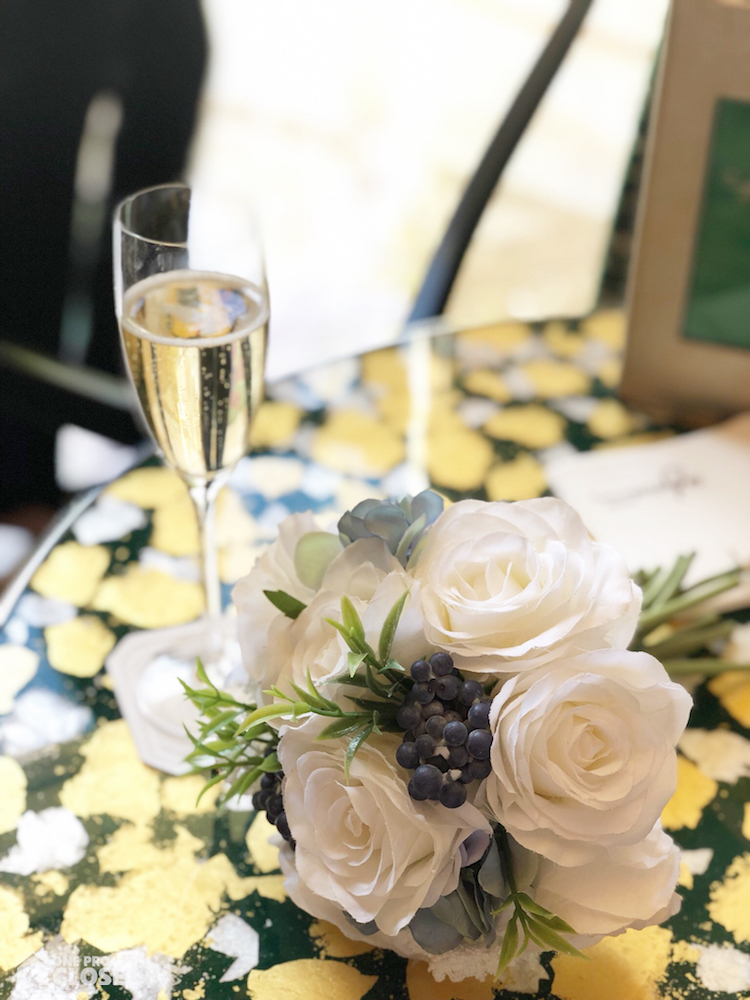 As you already know, it was our 13th wedding anniversary and I thought, what better way to celebrate in Vegas than get married. And I'm not talking about renewing our vows. That's for serious people. I really wanted to get divorced and then get married again, but Ethan was NOT okay with making this a legal farce. LOL But I really did want a real Vegas wedding, with all the glitz and silliness.
So we hit up the ORIGINAL Little White Chapel for a Drive through wedding!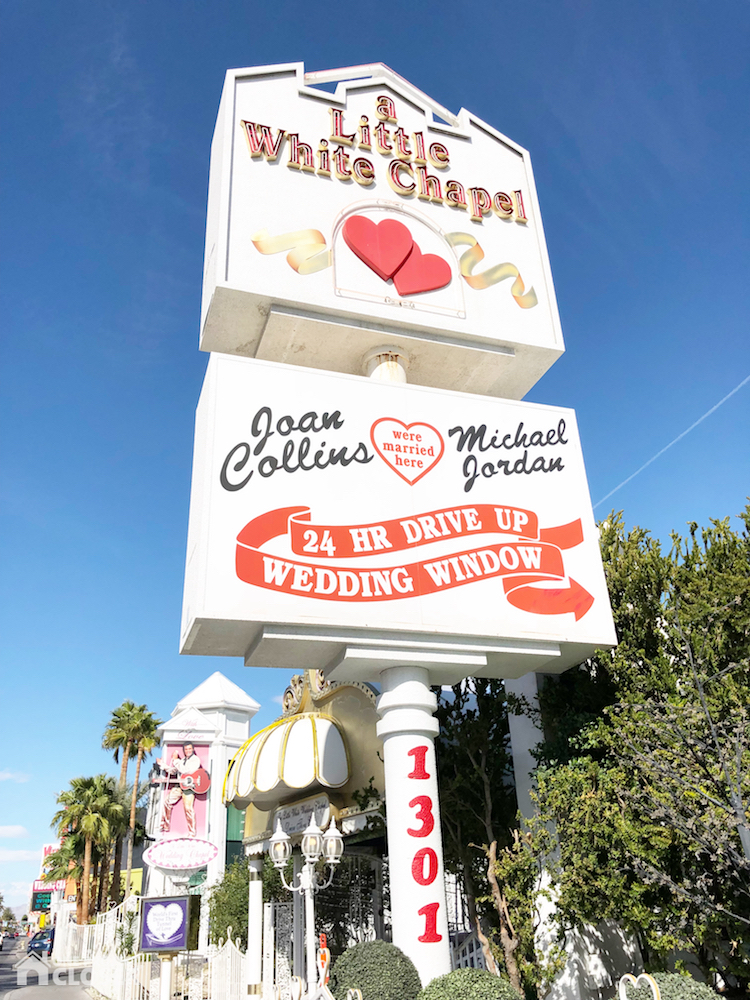 It was really fun and kinda beautiful too. We sat in a pink Cadillac in the Tunnel of Love and gave each other some off-the-cuff vows. I promised to not smother Ethan when he's snoring, to close more cabinets and doors rather than leaving them half-open, and to try to use fewer thoughts and feelings (and some other sweet and sappy stuff too). Ethan promised to put the bag in the trashcan after he takes out the trash (which honestly, is everything) and he spoke bunches more words which is really the biggest gift for a man of few words.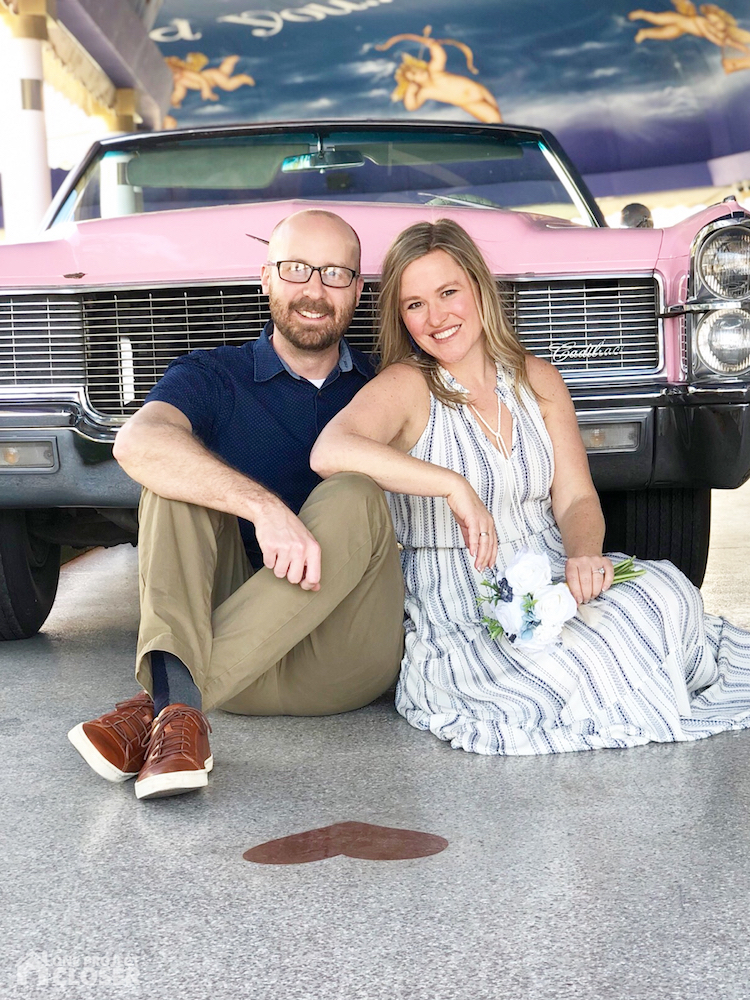 I just heard Nicolas Cage got married in Vegas on the same day as us, but has since gotten it annulled. I told Ethan since this is his second time saying "I do" he's really locked in. No take-backs!
Now, I really wanted to lean into the farce of it all so I hand-lettered some shirts for us to wear around town the next day.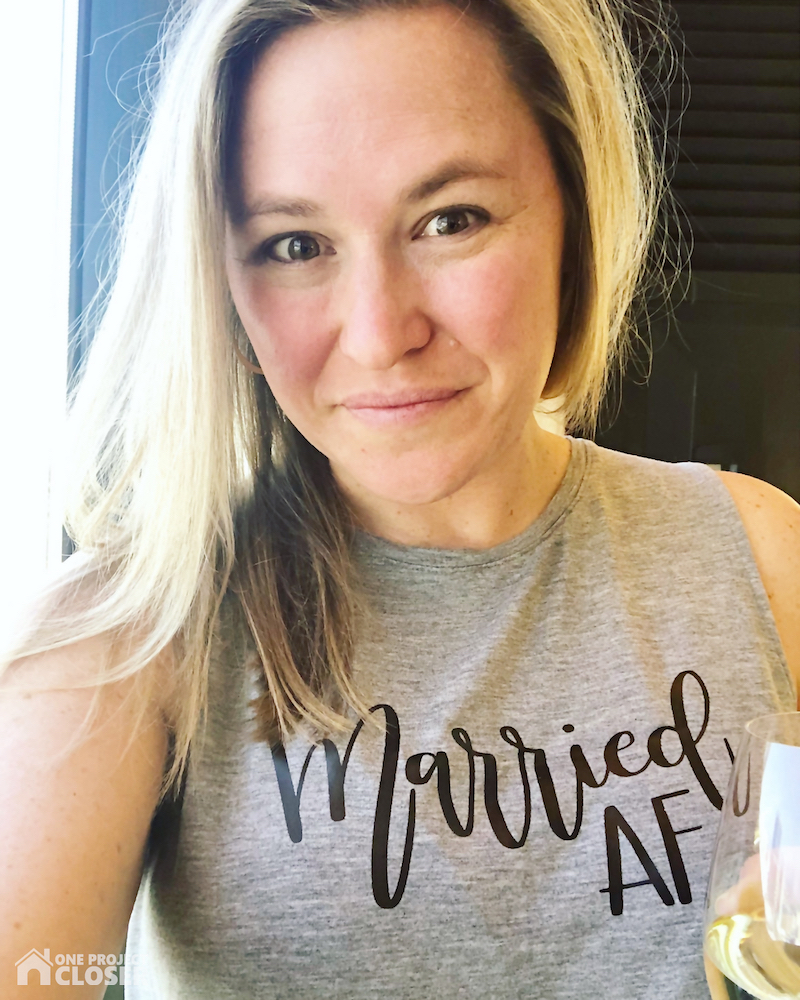 Hit the Buffets
After the wedding, I wanted to go to dinner at a true Vegas venue, so we decided on dinner at the Bellagio Buffet. We LOVED the unlimited crab legs and shrimp, plus I bought unlimited Sparkling Wine for $19 and I LOVED that! But otherwise, I thought the buffet was just okay. The food was typical of any other buffet – quantity over quality. The ambience of the room was pretty drab and felt much like any other buffet or cafeteria. We still had a wonderful time but probably would not go back.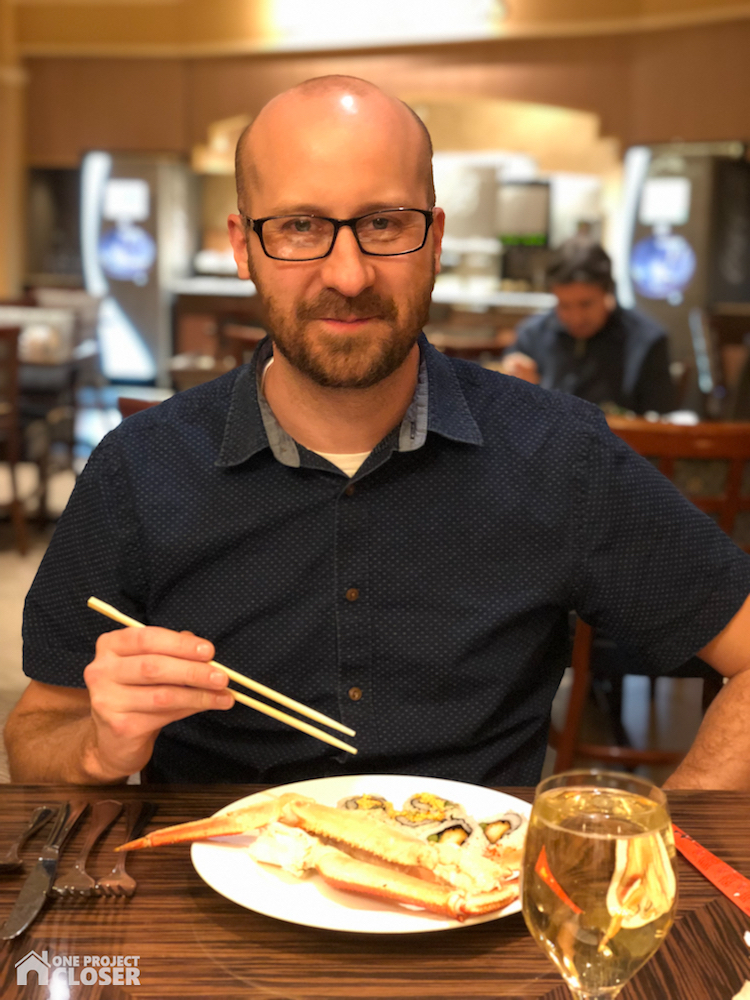 But, I have breakfast one morning at the Wynn and it was incredible!!! The food was all very interesting – unique spins on favorite dishes. Cooked perfectly with a wonderful selection! Plus the ambience was just incredible. Everything was bright and sunny, and the rooms was decorated with these large topiaries. I sat and listened to my book in the sun and just enjoyed the great food and decor. I would totally go there again (and again and again)!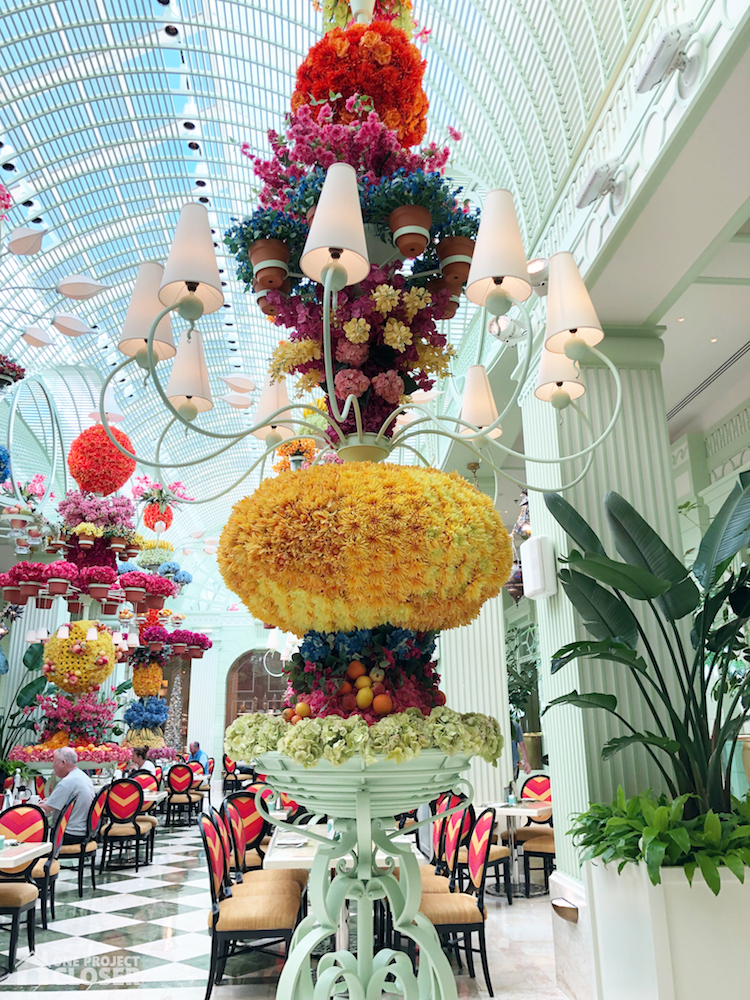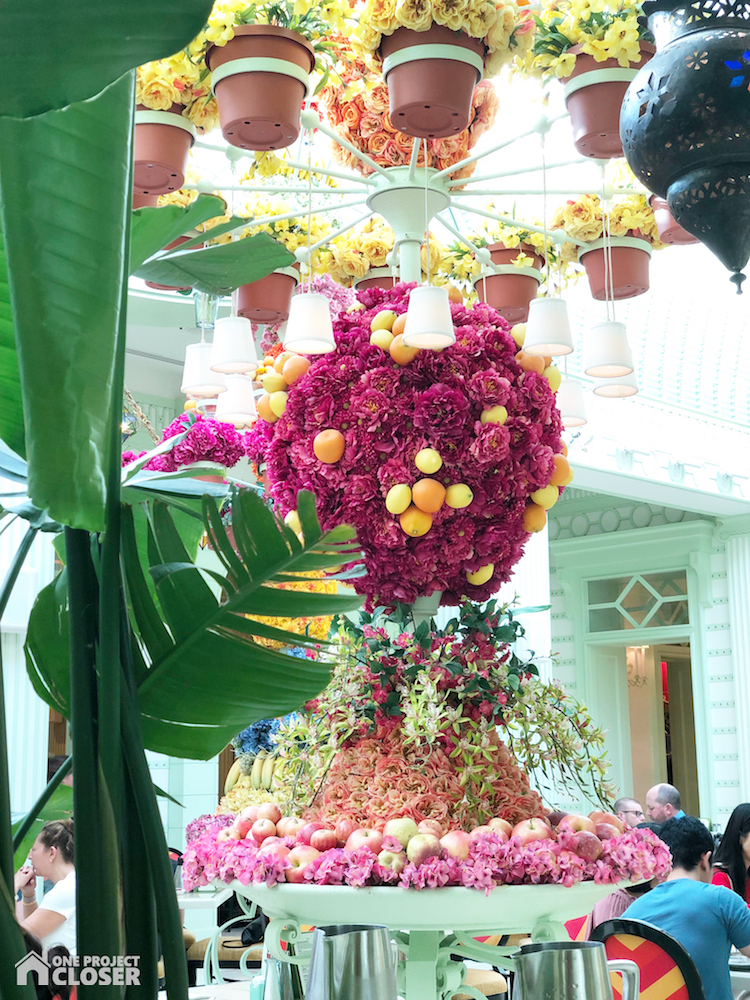 See a Show
It wouldn't be Vegas without a show! We were fortunate enough to have a friend in Vegas who works on the MJ One Cirque Show and, in addition to giving us lots of great recommendations, got us tickets to her show. Honestly, it was so incredible!! My whole life I've wanted to see a Cirque show and it did not disappoint! The choreography and acrobatics were breath-taking. <3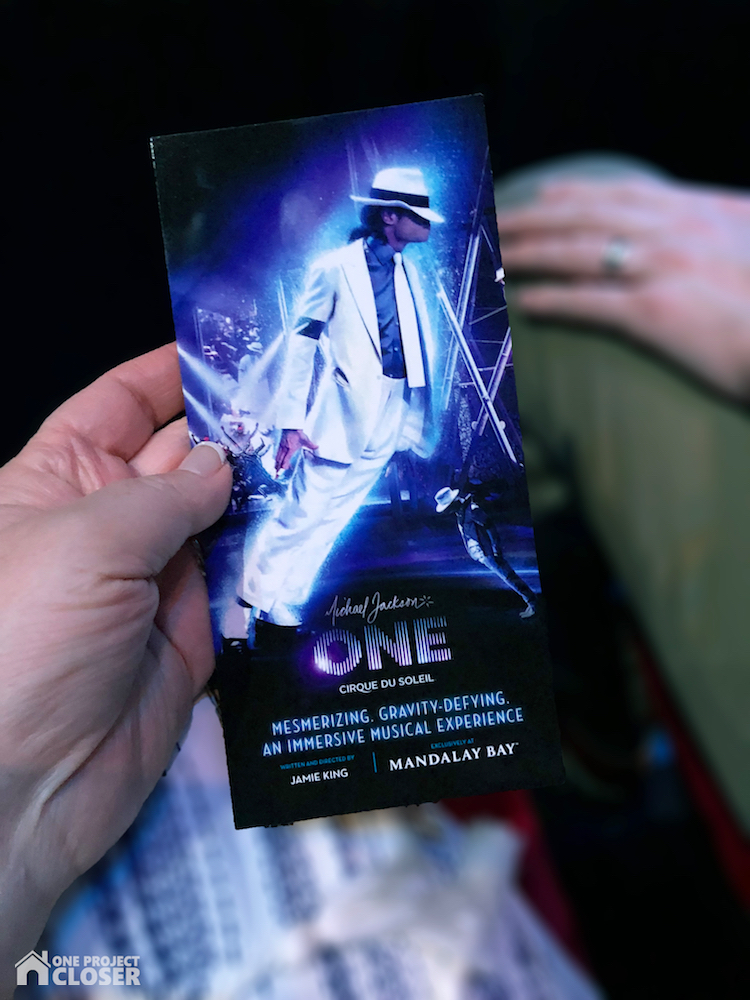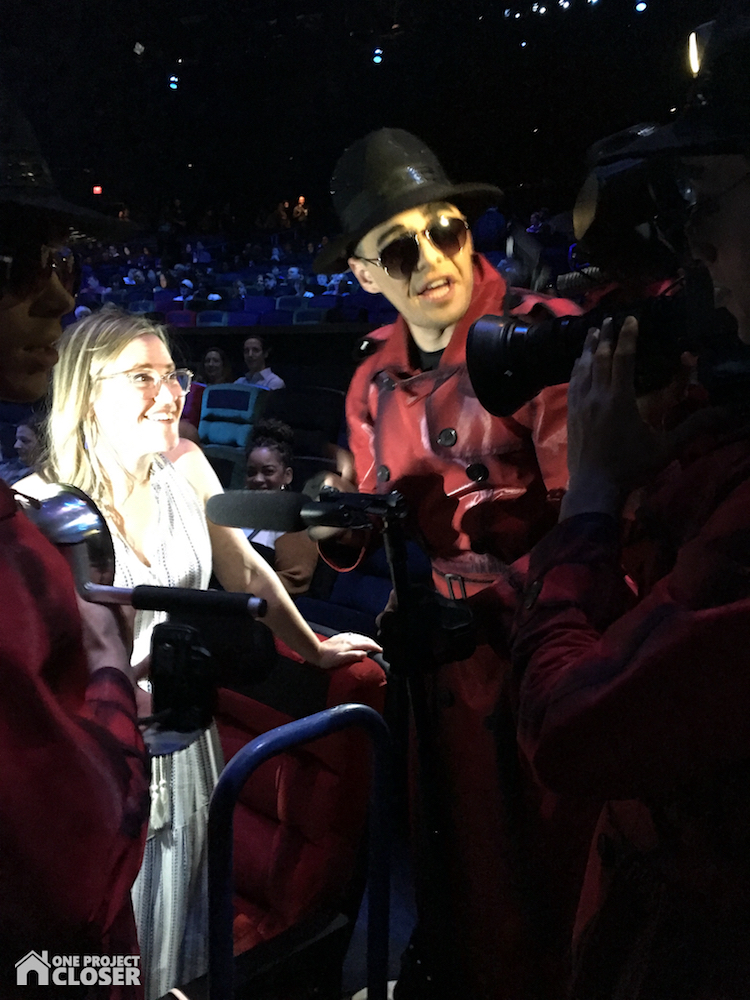 Walk the Strip
Grab your walking shoes because you are gonna want them! I walked about 30 thousand+ steps each day and it was awesome! Walking the strip and seeing all the hotels was one of my favorite parts of Vegas. And the very best part – most of it was free. Here were a few of my favorite spots to see.
Venetian's Grand Canal Shops (free)
I could not believe my eyes when I saw the Venetian! It was incredible!!! he ceiling really looked like the sky and the actual canal with gondolas! SWOON! One day, Ethan and I had lunch at a TexMex Restaurant right on the canal – we drank margaritas, ate tacos, and watched the gondolas float by as the gondoliers sung in Italian. It was magical.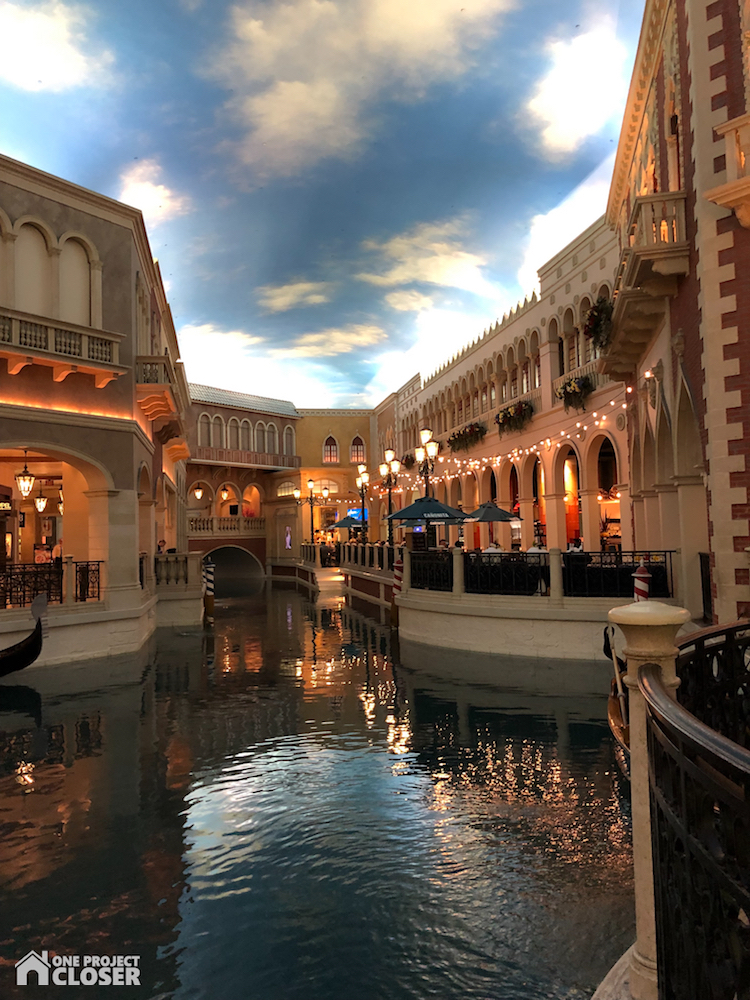 Bellagio Gardens (free)
The Bellagio Botanical Gardens were really pretty and I hear they change them out seasonally, so there's always something new to see. We saw these after the Wynn and it felt a little less impressive in comparison (I think I was just bias towards the Wynn).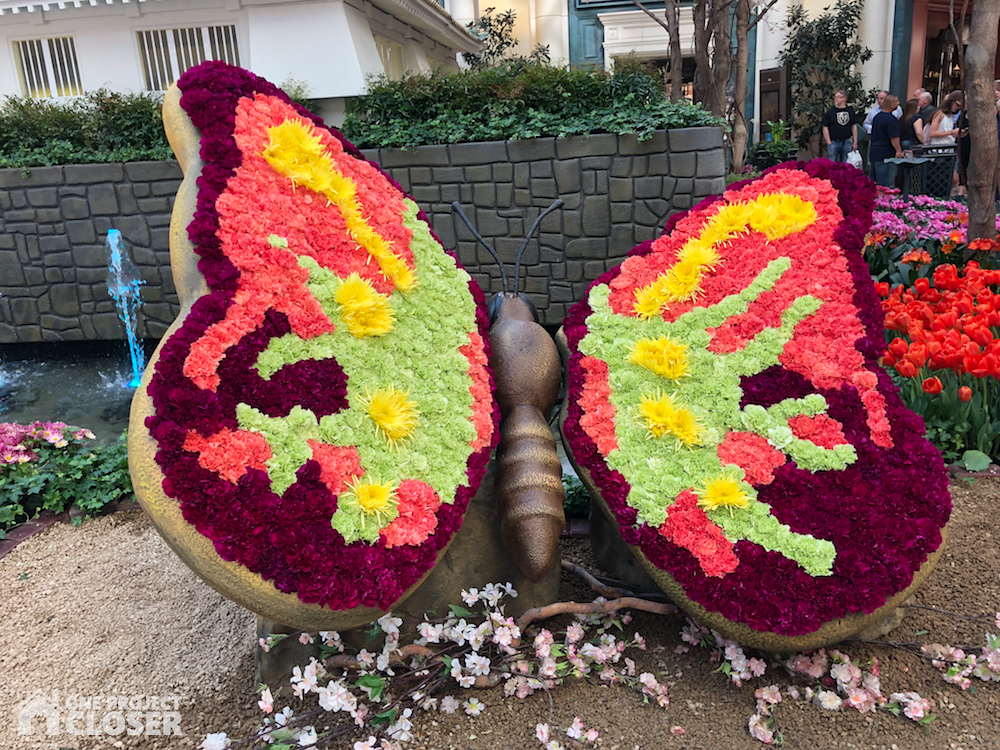 The lobby and throughout the hotel at the Bellagio was also really beautiful with glass flowers at the ceiling, a big statue and flowers and butterflies overhead throughout. The Bellagio also had several art shows, one of which was a nod to the Cirque show "O" and was fun to walk through.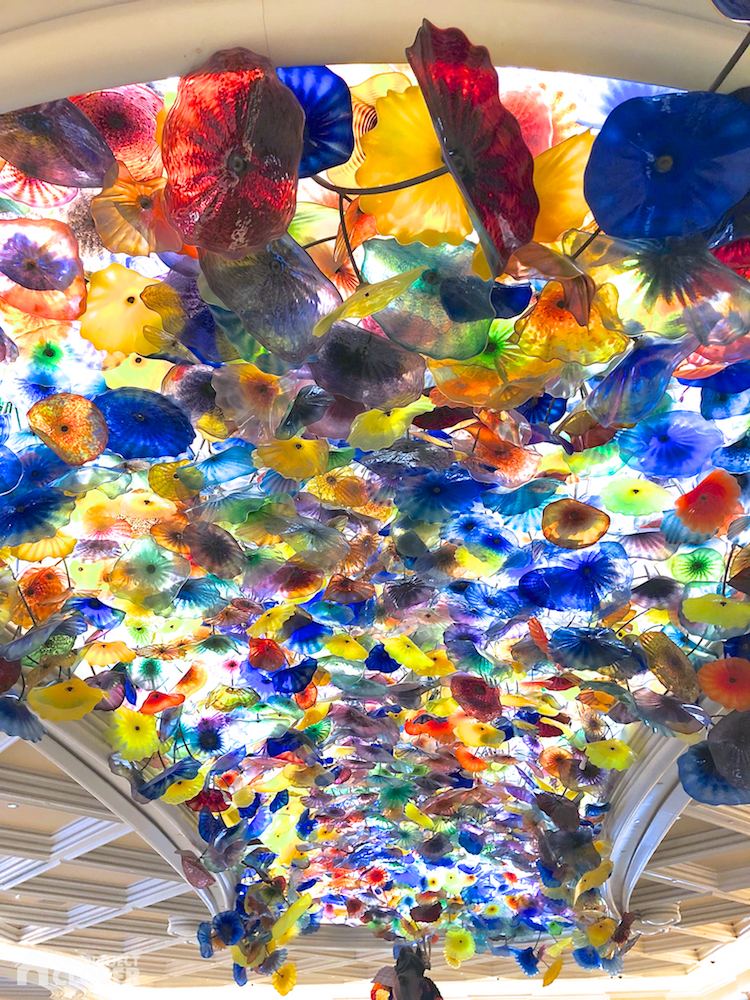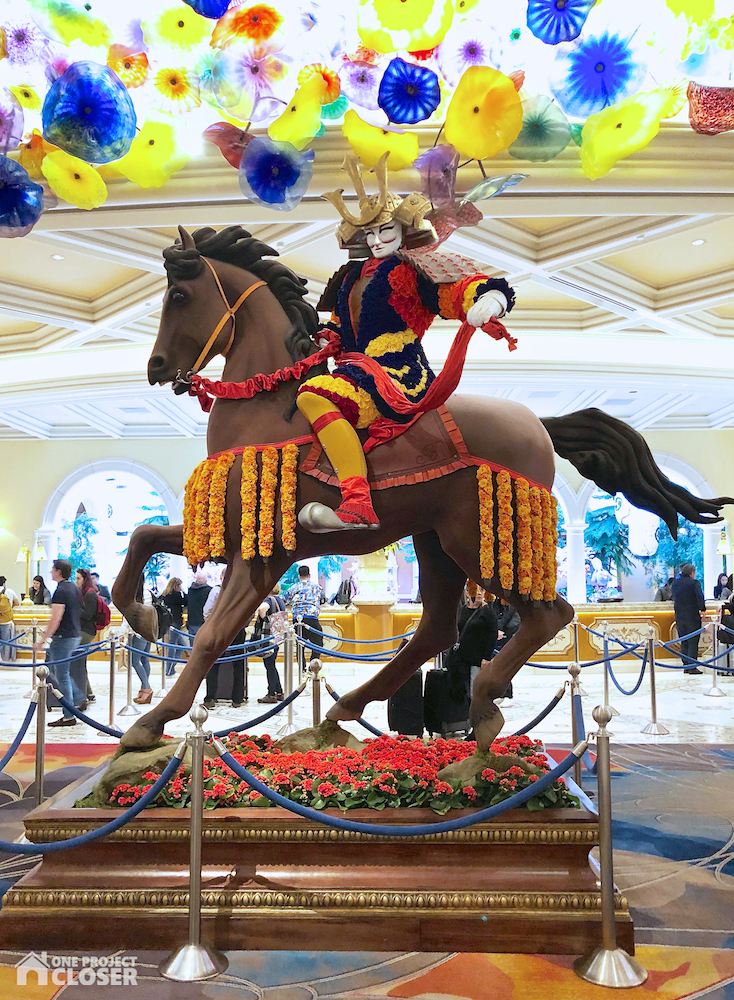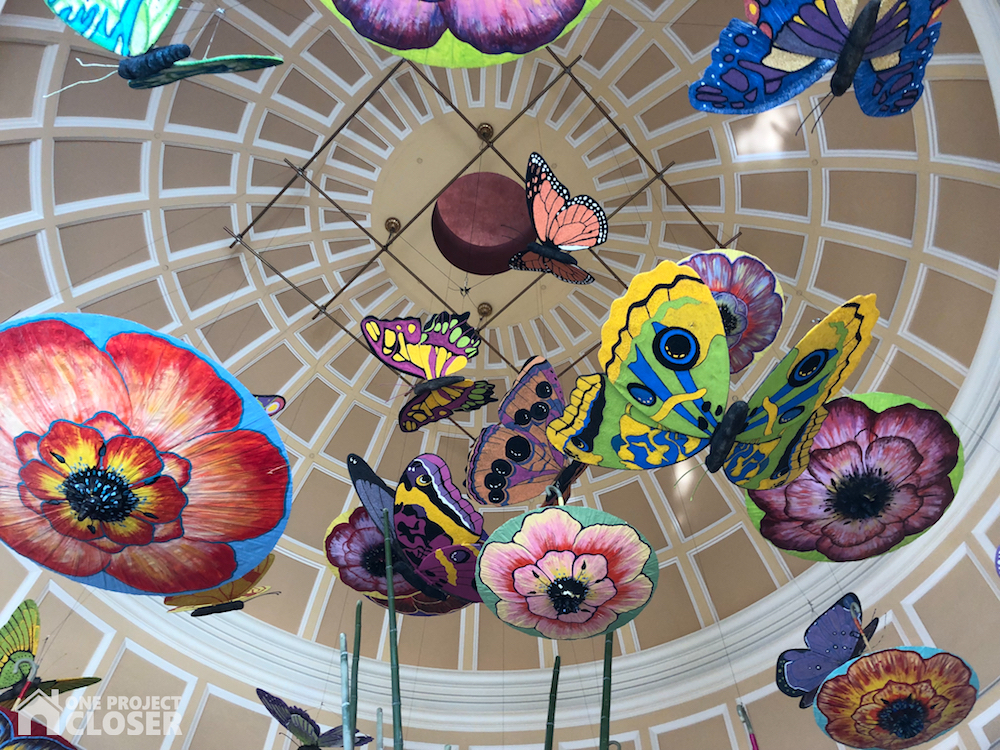 Wynn Hotel (free): Flower Carousel, Geometric Bear and Waterfall Show
Okay, truth time. I had never heard of the Wynn. And when the hubs told me we were staying there I secretly was sad we weren't staying in one of the hotels from Ocean's Eleven (my complete knowledge of Vegas). But seriously, the Wynn was my favorite all around. Food. Decor. All of it. It was beautiful everywhere we went.
After I left, Ethan's room had some plumbing problems (he woke up with lots of yucky water all over the bathroom floor). He ended up need to move rooms, which was a bit of a bummer. They were nice and took care of things, but some free drinks, a free breakfast at the buffet, or a room upgrade would have been nice for all the trouble.
Despite that small hick-up, it was wonderful and we LOVED the Wynn!
We walked in the door to this. SWOON!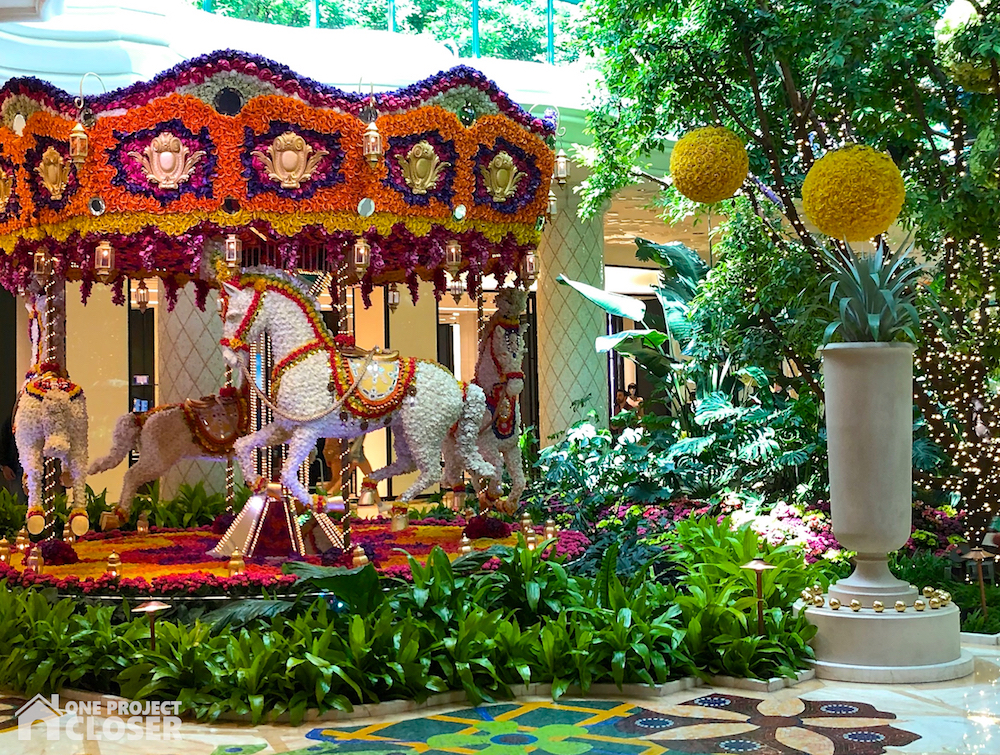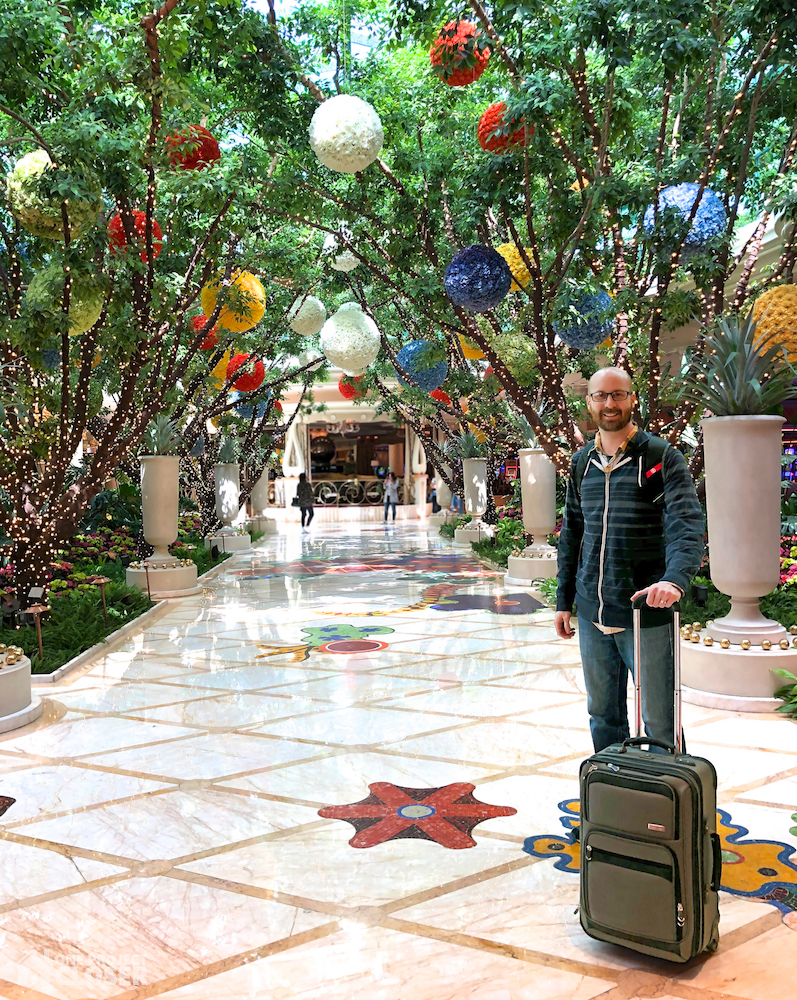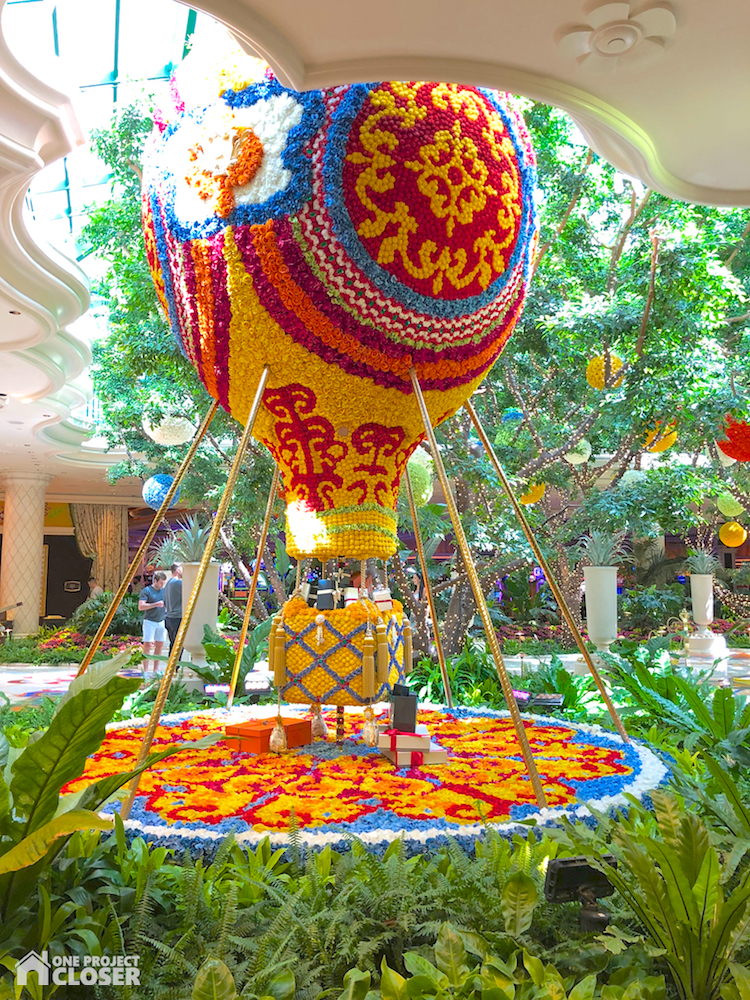 Even the floors were beautiful – gorgeous tile mosaics of flowers! BTW, don't you love my new blush colored New Balances??? <3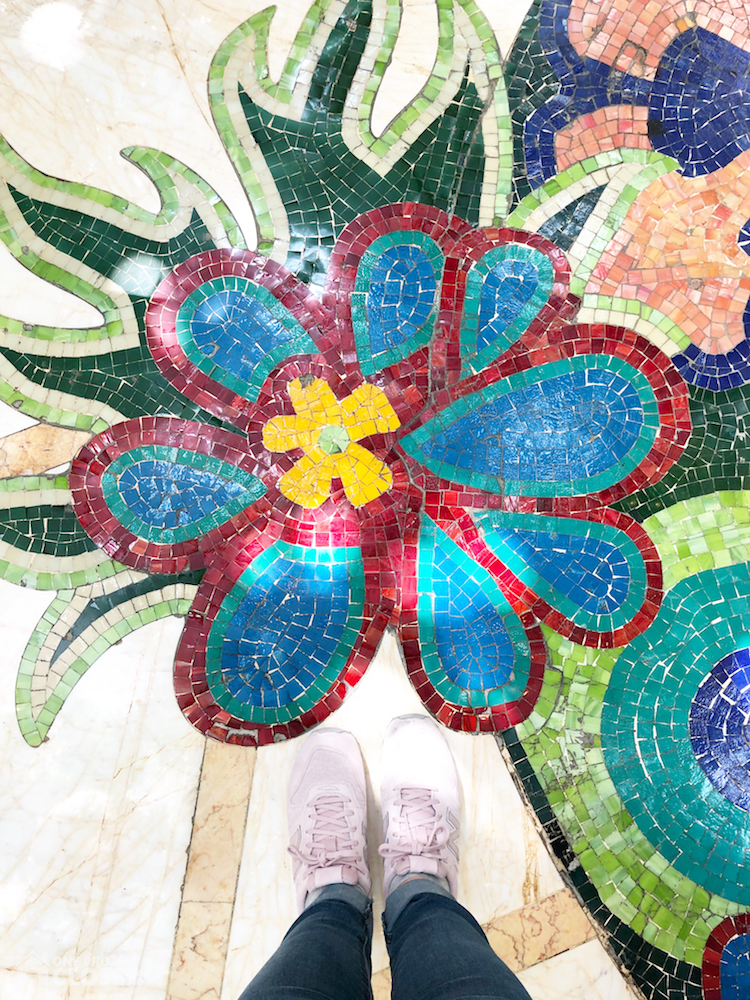 In with the shops, were also a super cool geometric bear and neon (rotating) flower! So fun, but you have to go looking for them because they were a bit off the beaten path.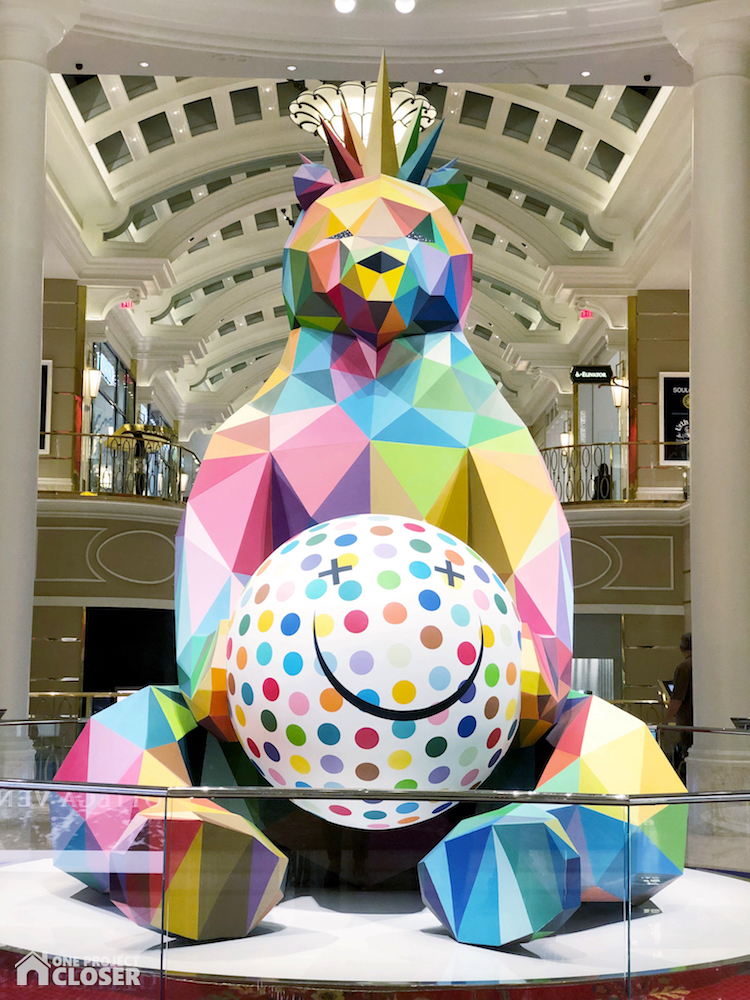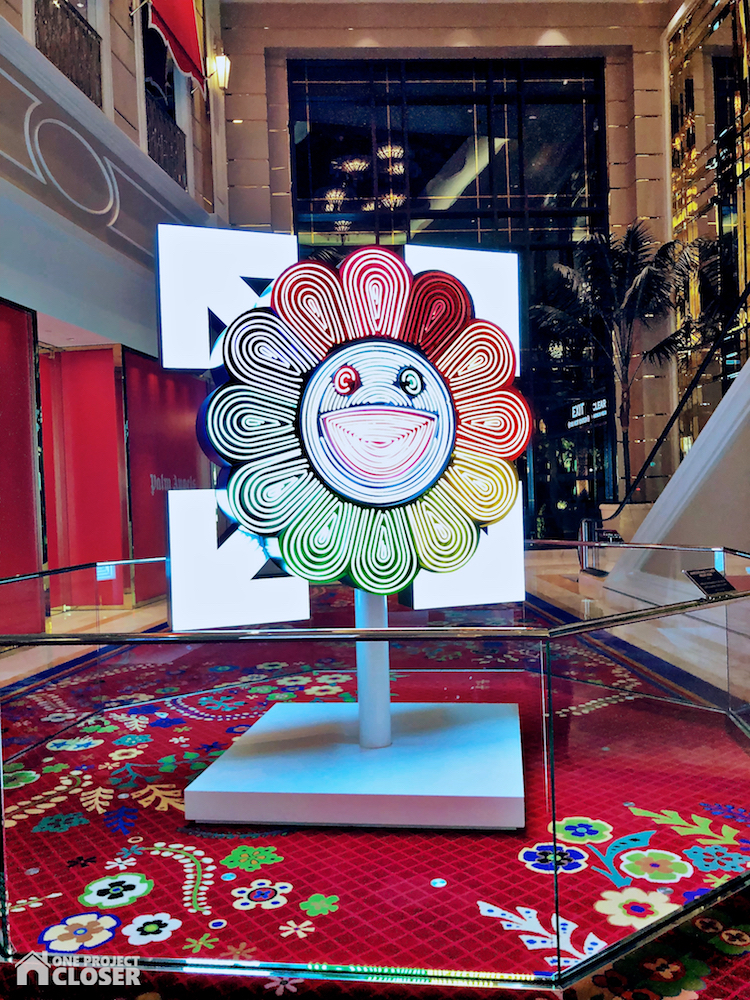 Did I mention the buffet was incredible? The hotel bars and other restaurants were good and yummy, but expensive.
They also had a waterfall just outside the Periscope Upper and Lower Bars that they project a light show onto at night. The light show was just okay, but the waterfall and hanging periscopes were beautiful.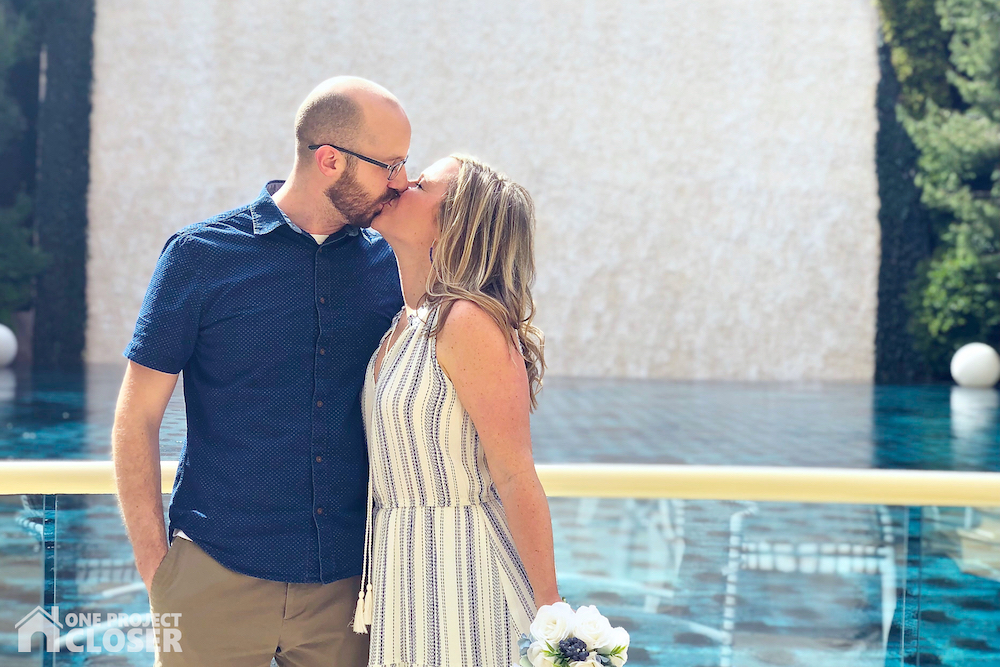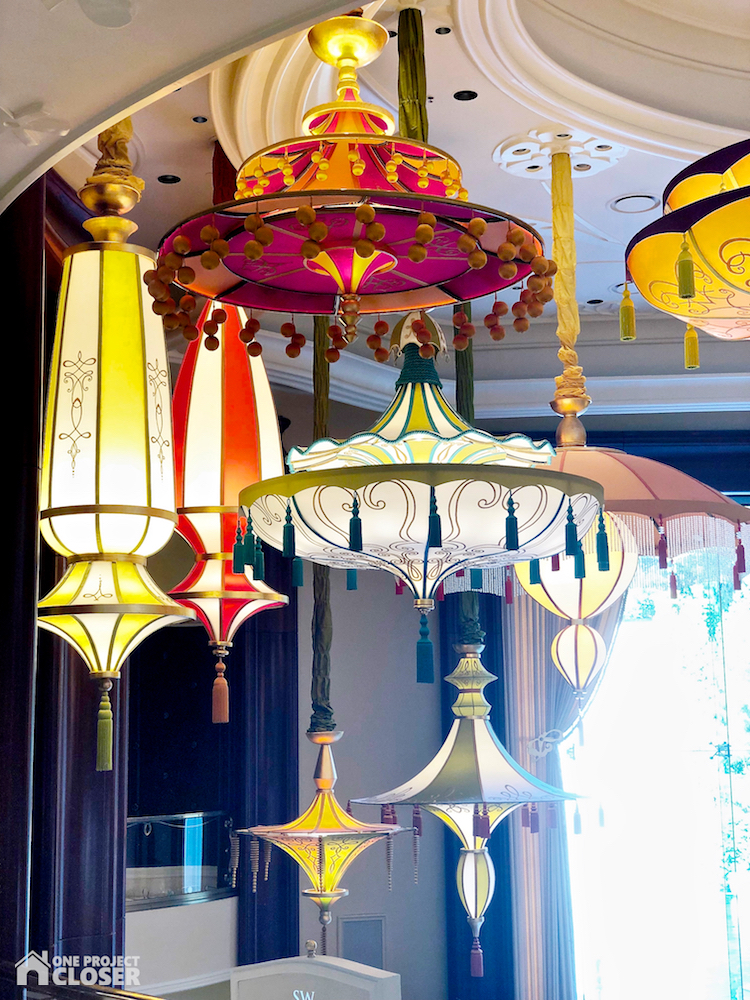 Caesar's Palace (exterior) (free)
When I first saw Caesar's Palace, I had just come from the Venetian and had only walked the interior. It felt a bit anti-climatic. I was like "yeah, the sky thing has already been done. Whatever." The Garden of the Gods was cool, but okay.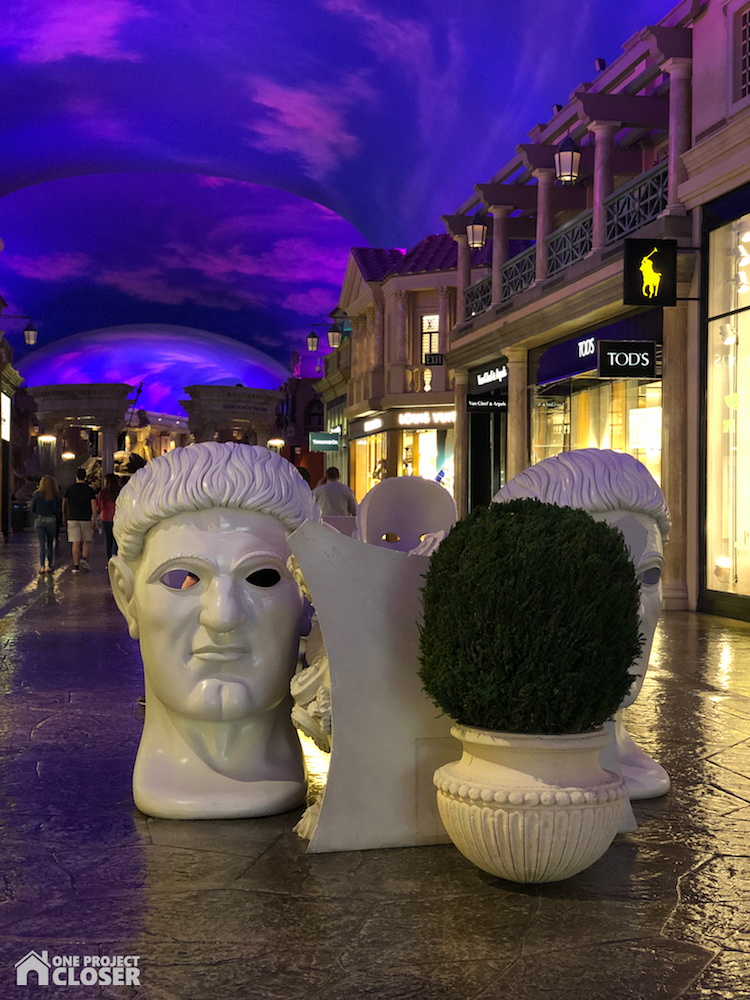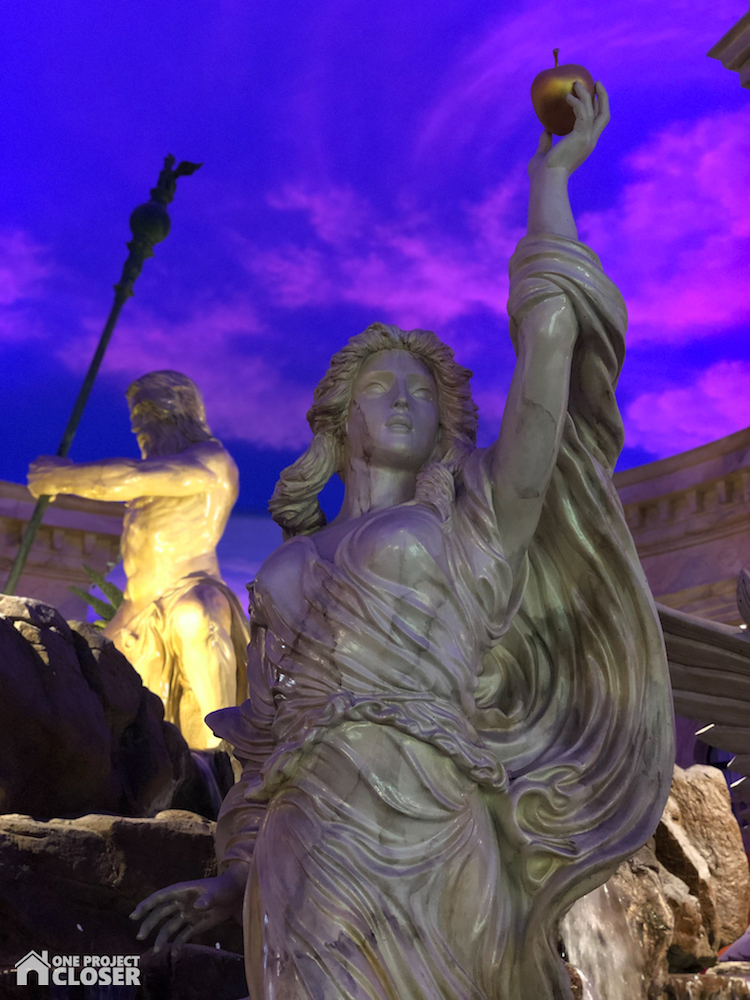 But then the next day, I walked the exterior and it was breath-taking!! Honestly, amazing. The number of sculptures and fountains, the sheer size of the hotel and their grounds. It was totally worth visiting!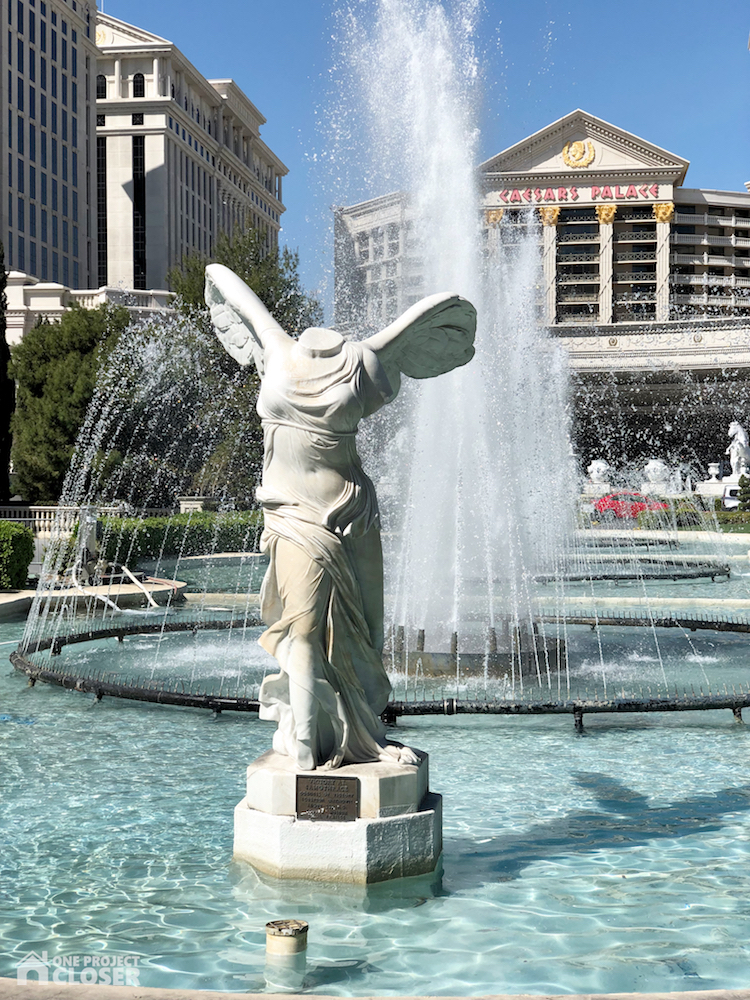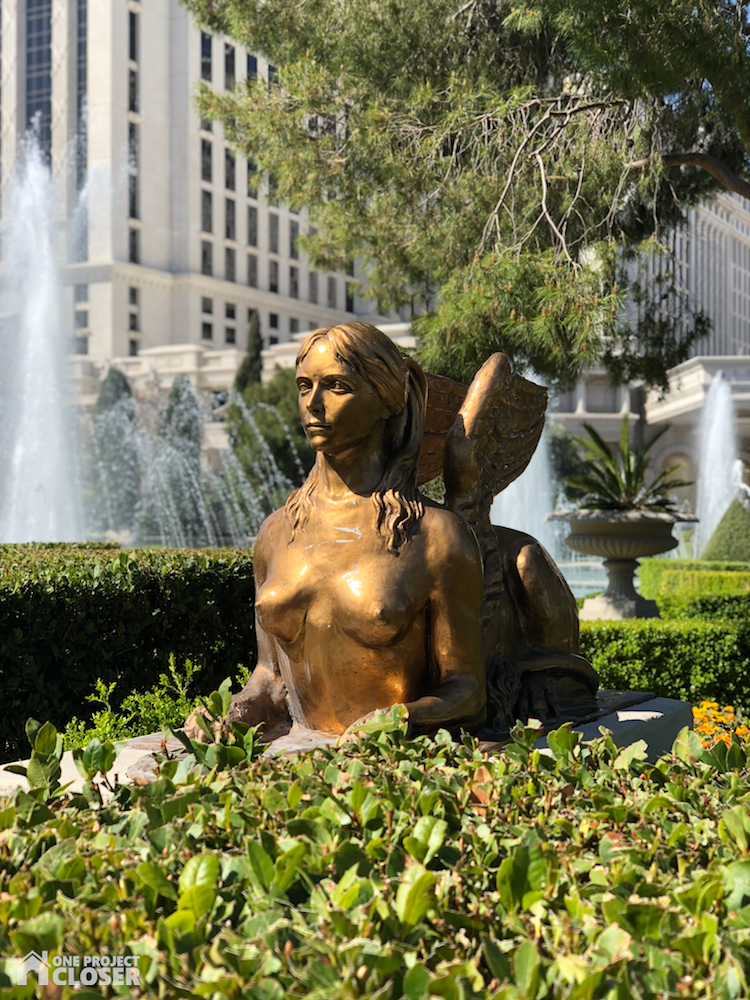 Bellagio Fountain (free)
As I said before, Ocean's Eleven is my one and only reference point for Vegas, so to say the least, I was excited to see the Bellagio water show. It did not disappoint. It was HUGE and bigger than expected! But it was also louder than expected. It sounded like little cannons. That didn't really take away from it, but was surprising.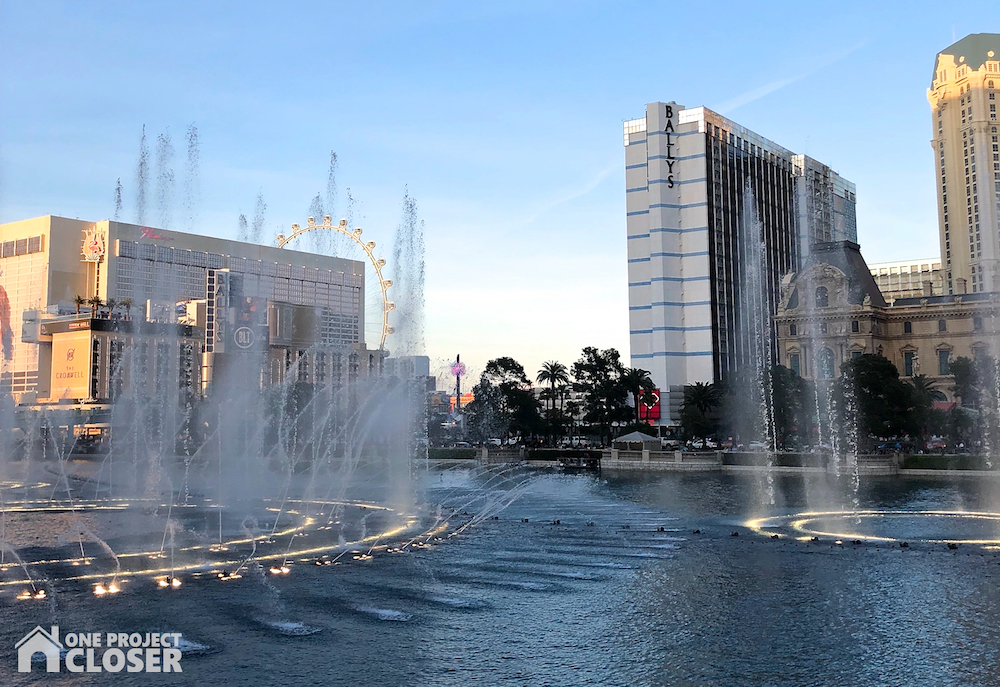 Wynn Fountain (free)
It was nowhere as big as the Bellagio, but still very entertaining and you can get a closer-up view of it. The sound of the music is more clear and the fountains aren't as loud. Very entertaining!
MORE FOOD!
We visited a bunch of restaurants and honestly the choices were a bit overwhelming. We picked based solely on convenience or the recommendations fo friends.
Yardbird
Yardbird was a super popular restaurant in the lower level of the Venetian. It has a limited menu with a few signature dishes and cocktails, including Chicken and Waffles. It was super yummy and totally worth it. We both went in skeptical and without a reservation. Mistake. Fortunately, we grabbed a sofa that was part of the bar and really enjoyed ourselves and the cozy dinner. Further back into the restaurant has great ambience with a bunch of rustic farmhouse lighting, but we were glad to have a place to sit!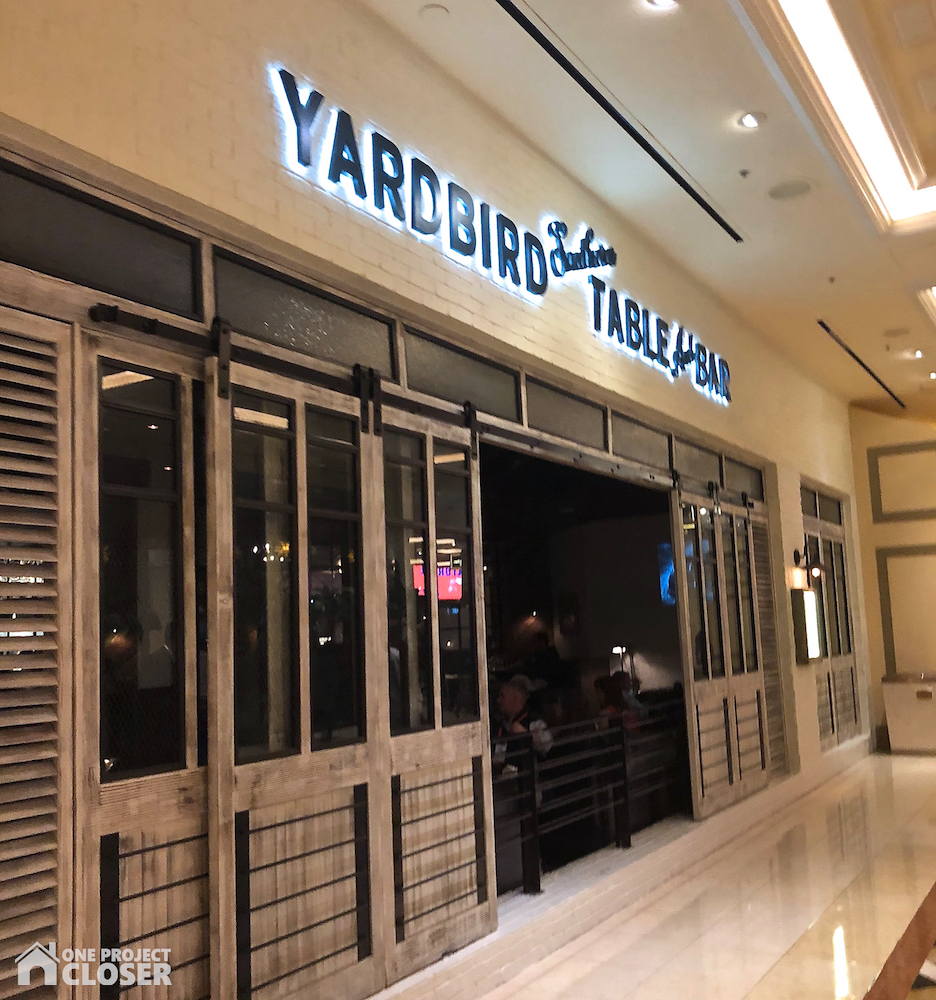 Chica
Right next door to YardBird was Chica, a restaurant with American and Latin inspired dishes. Great drinks, cool decor, and above average food. We didn't walk away dazzled with the food, but the prices and service were good, the location was convenient and we enjoyed ourselves.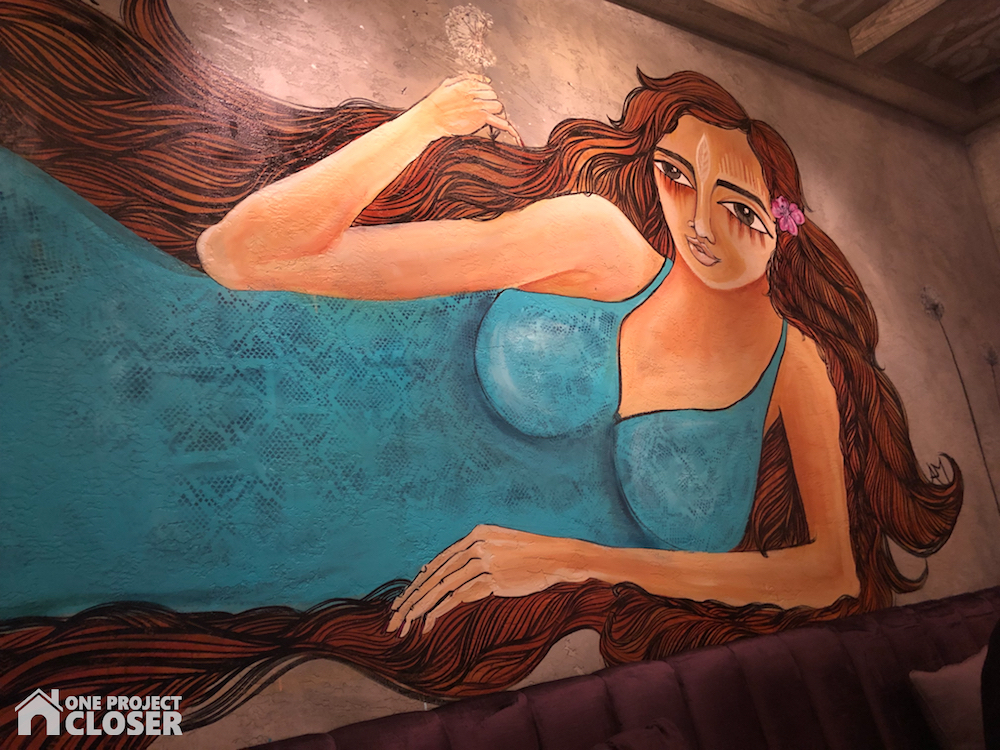 I also learned there that restaurants are happy to give you alcohol to go! LOL The sangria was delicious and I happily sipped on one as I walked the town.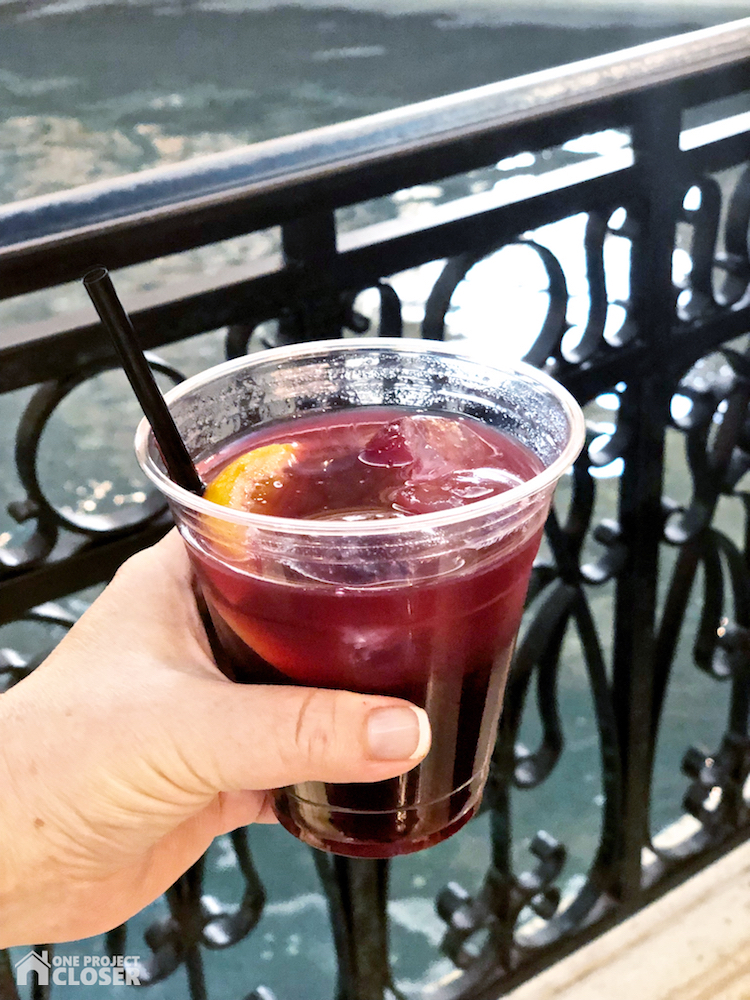 Lotus of Siam
We were given the recommendation to go to Lotus of Siam, a Thai restaurant, by a friend. I'm not gonna lie, I was a little worried. We walked there from the strip and it was a long walk and through some sketchy areas. But when we got there it was PACKED! Again, we got lucky and grabbed a comfy couch in the bar. We ordered drinks, apps, and a meal. Ethan's drink came after the app and it was wrong. Then my meal (chicken and cashews) had no cashews, and when I asked if it was the wrong dish, one waiter became very rude. So the service wasn't great, but the food really was. We would definitely go back but the service wasn't great.
Visit a Speakeasy
I'm a bit obsessed with speakeasys. What's not to love? Yummy drinks. Secret locations. Dark, romantic lighting. We visited the Underground, which is located underneath the Mob Museum just off Fremont. We loved the drink selections based on Prohibition era events and prominent people, along with the presentation of the drinks. Ethan was served a drink that looked like an empty glass on top of a book, but when he opened the book he found a glass flask with the drink inside. PERFECTION. There's also a hidden room inside (I won't give away the surprise).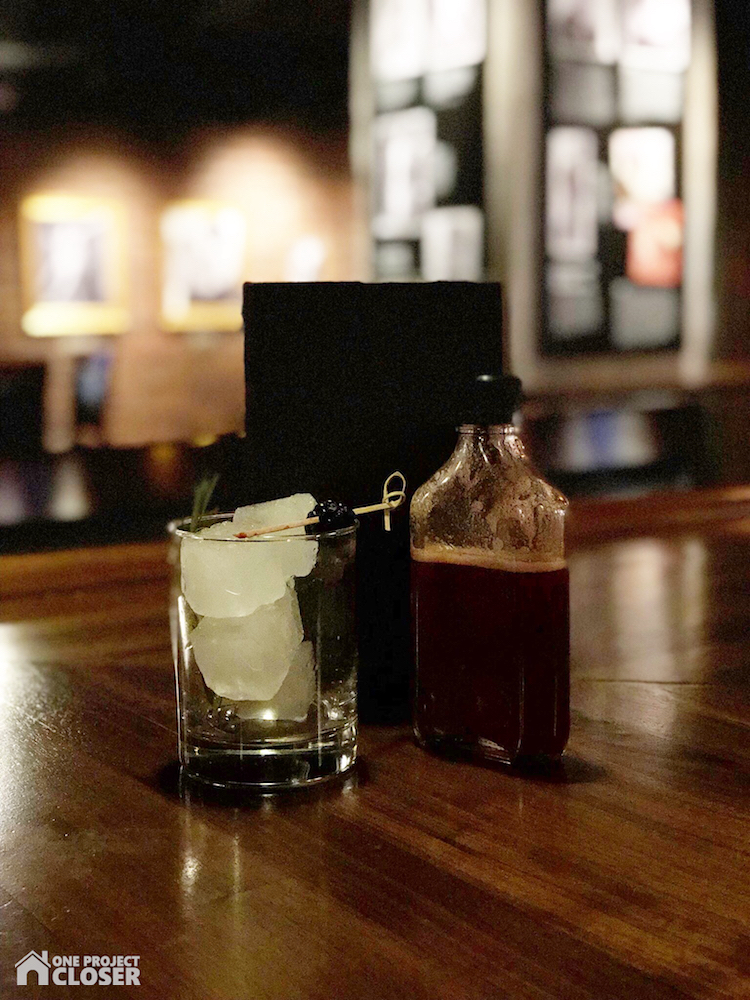 The Laundry Room
We really wanted to go to another speakeasy, the Laundry Room, also off of Fremont but they were booked. You have to text a 702-701-1466 to get a reservation ahead of time. We tried on a Sunday night with no luck, so I suggest planning ahead. We heard this was a super cool speakeasy and next time, we'll totally hit it up!
Lay by the Pool
Laying by the pool doesn't sound too exciting but it was heaven. We stayed at the Wynn, my favorite hotel of those on the strip for its all over beauty, food and ammenities. The temps were just above 70 and nothing but sunshine. Perfection. The Wynn is connected to the Encore hotel (both a part of the Wynn) but they each have their own pool. The Wynn pool had more families and older couples, while the Encore pool was more party folk. Picture real housewives. Perfectly tan, perfect bodies, full makeup. To say the least, I found a seat poolside with great reluctance and very self-conscience. But as soon as I sat, these gorgeous ladies looked at me and said "Welcome to the party!" Many other kind words were said and I gave myself an internal head slap for judging them out of my own insecurities. #checkyourheart LOL
Gamble
We aren't really gamblers, but really you can gamble wherever you go. We ended up putting $20 down on a roulette table in the Bellagio and losing almost immediately. It's a fun for of entertainment but we don't take it seriously. My friend told me we should sit at the slots for a bit to get a few drinks (genius) but we didn't. haha
Things we wish we had done in Vegas
We packed a lot in three days and probably did most of what we really wanted to do. But if we had one more day (or had just planned better) I would have planned and made reservations for more restaurants and more shows! I also would have gone to the Neon Museum (original neon signs of Vegas) and the Laundry Room, the other speakeasy.
What else should we have done with our long weekend????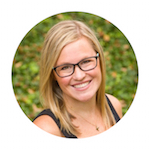 Jocie Hagan
One Project Closer
Come say hi on Facebook, Instagram, & Pinterest!
Want to learn to hand letter and make amazing, personal decor for your home?
Learn now with Busy Girl's Guide to Hand Lettering!
**Use the code HAPPY5OFF to get $5 off the course price**