Are you ready for 2010? We are! We spent the last four days of 2009 completing the first step in a complete overhaul of our first floor, removing stud walls. The whole job won't be finished until the Summer, but we've got great details to share already, including tutorials on ripping out walls, hanging, repairing, and taping drywall, and a load more!
Up first this year, though, is a review of an innovative saw blade called the Final Cut, made by Final Cut… FC's claim to fame: the blade is coated on each side with sandpaper; it cuts and sands the wood all in one step, eliminating tedious hand sanding and delivering a smooth finish.
Final Cut (the company) shipped us Final Cut (the blade) as part of a test kit; and we decided to employ it for the first step in the reno, which included adding some 2×4 fastening surfaces for drywall patches.
The blade on our old Black and Decker 10″ mitre saw was well overdue for a change – it was burning the wood more than cutting it – a sign we were about 2 months overdue. Final Cut's timing couldn't have been better.
Final Cut Blade Review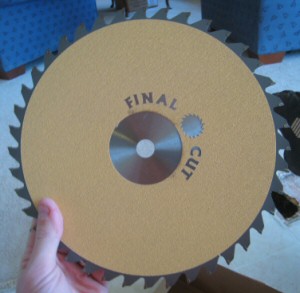 The highs: It works, eliminating sanding time on jobs that require precision cuts, like furniture work and mitre joints. Sanding discs can be purchased separately.
The lows: Doesn't prevent tear out (although it reduces it). Premium price.
The verdict: A time saver where edge finishes matter. Overkill for projects where rough cuts are acceptable.
>> Installation Process >>
We've published a separate article on how to change the blade on a mitre saw, so we'll spare you the details here.
Suffice it to say that it takes about 3 minutes to install and follows the same instructions as a typical saw blade – no special tricks.
>> Blade Performance >>
We used the final cut to cut 2×4 stock to size for rough installation and it worked great. The edges of the board do come out sanded and smooth with kerf marks removed.
Unfortunately, the blade does not completely eliminate tear out–the tendency for shards to split away from the board at the end of a cut. But, it does reduce it significantly, a big plus. We were sent a 10″ 40-tooth version of the blade.  Our guess is that the 12″ 80-tooth eliminates much of the tear out and delivers a similar smoothness. There is no 10″ 80-tooth option–you have to apply the sanding discs to another blade.
We were able to verify Final Cut's claim that the blade eliminates saw blade heat-up, but we did experience one case where the blade bound up. We chalk that up to our fault for trying to cut too quickly, but their site does claim that the FC blade eliminates binding.
We only tested the blade on our mitre saw, but it could also be used on a radial arm saw and a table saw, the latter of which we think would produce a significant difference in the quality of a rip cut.
We plan to employ this blade to cut molding when we install hardwoods and crown on the first floor… for this job, sanded mitre edges are important to achieving a uniform, clean look. Having done the job once before without a sanding blade, we're convinced the result will be improved using the Final Cut blade.

>> Blade Maintenance >>
The blade is designed to last longer than the sanding discs. Our project didn't wear out the original discs, but it is likely that the saw blade will last much longer than the discs.  The process for removing and installing new sanding discs is described on Final Cut's site and seems straightforward enough – but it could be a bit messy and requires lacquer thinner and 3M Super 77 adhesive.
Comes With?
A la carte style – comes with only what you order.
Price & Where to Buy
You can find more information on the Final Cut Sanded Blade at the Final Cut Web Site.  Price for the 10-inch, 40T version is $65. The 12-inch, 80T version is $117.
If you want to add the sanding disc to an existing blade, prices range from $27 for a four-pack of discs, to nearly $300 for a 50-pack. Remember, you need two discs for the blade, so a 50-pack delivers 25 sets.