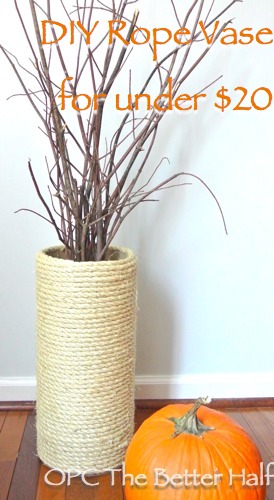 As I continue to work on updating my living room, I began to search for a large vase to put on the hearth of the fire-place. I did a little searching but they are soooo expensive. Like $80 – 100, minimum!
That got me to thinking about how I could create one for cheap but have it also look trendy. As you may have seen, rope vases are super popular right now. I love this rope basket and vase from Pottery Barn.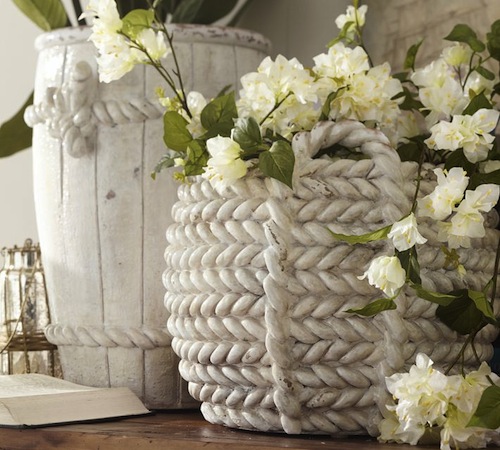 The popular way to do it is to just cover an existing vase with rope. Well, I am still faced with the same problem – big vases are expensive. Even the ugly ones.
I had a chat with the hubby, Ethan, who knows Home Depot and building supplies very well, and he suggested I buy a cardboard concrete mold. A what?! Apparently, when pouring concrete footers, a mold is used. They are cheap and BIG!
Off to Home Depot I went. Of course, I had no clue where to find them. After being pointed in the right direction by my friend in the orange apron, I found them all the way in the back left corner of the store. It cost $6.94 for 8″x84″ tube – enough for at least two vases!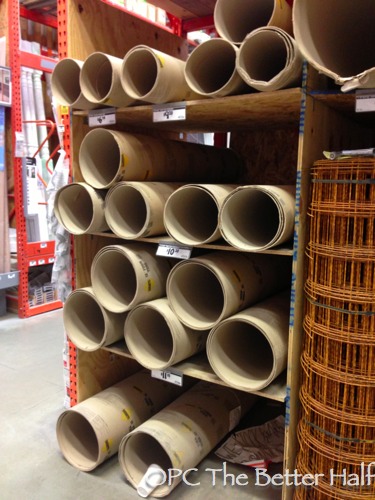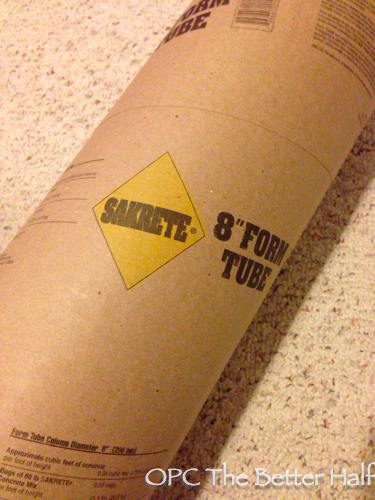 Then, I did a quick drive by the shop so Ethan could use one of his big miter saws to cut the 84″ tube in half. I later realized that I didn't have enough rope, so I ended up sawing off about 5″ with a plain old, not nearly as manly hand saw. It was much easier with the miter saw. So, in the end, my tube was 19 inches tall.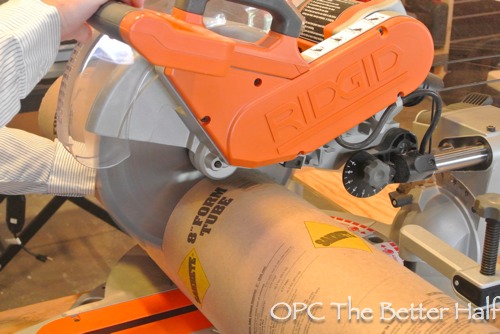 I wanted to add a bottom to the vase, so I traced the bottom of the tube onto an old diaper box and then cut just outside the line.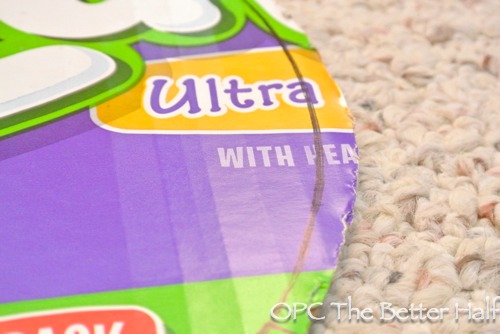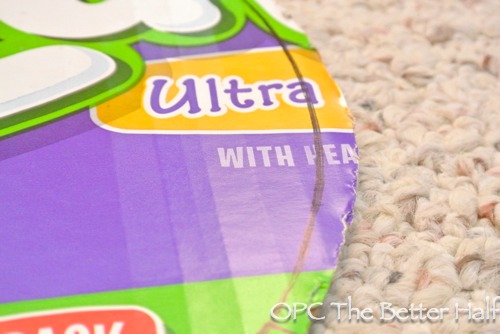 With my hot glue gun, I glued the cardboard circle to the bottom of the tube.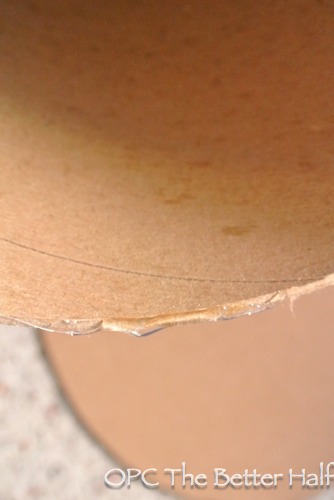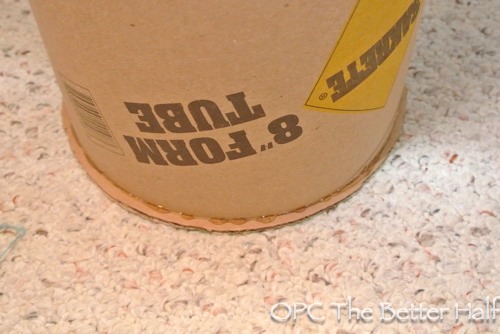 Now for the fun part – the rope!!
I used 100 feet of 3/8″ Sisal Rope, which cost $17.62 at Home Depot. Does anybody know of a cheaper price?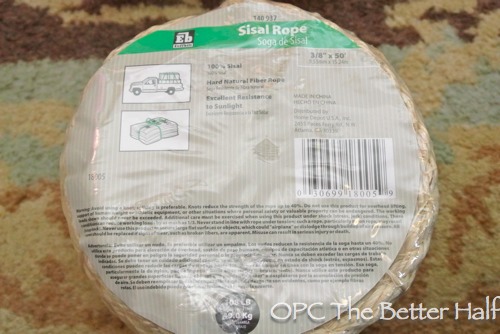 Again, I pulled out the hot glue gun and put a generous bead of glue around the bottom circle of the base. This was why I cut the diaper box slightly bigger than the actual tube.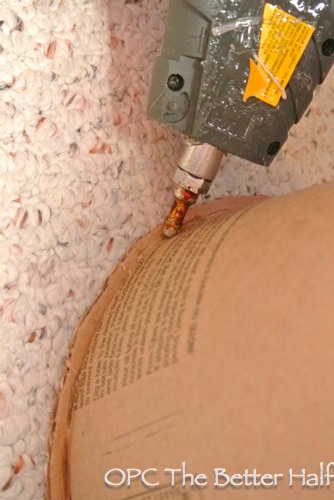 Then, I wound the rope around the base and held it into place until the glue was cool.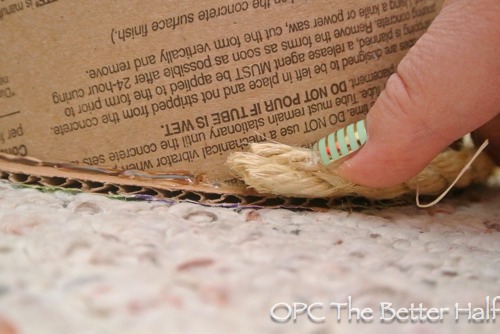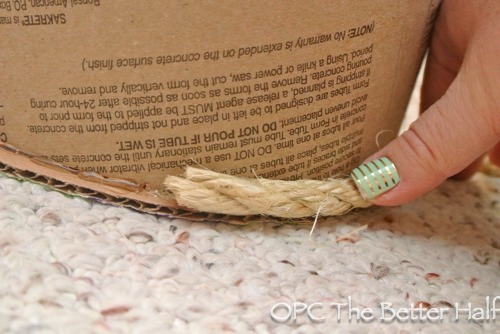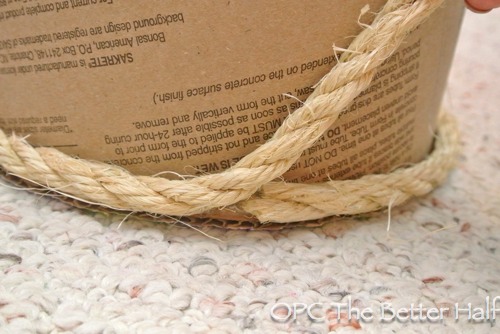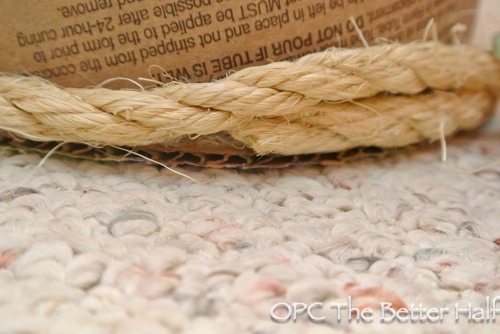 I kept on winding and winding that rope until I reached the top, periodically adding a bead of glue to hold the rope in place. I wish this were a more complicated tutorial or share some secret to success, but it really was so easy!
On the very last row at the top, I glued all the way around to make sure it stayed in place.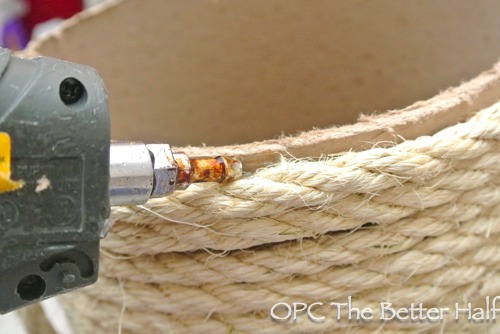 Once I reached the top, I wound the rope once more around, on top on the tube edge in order to hide it.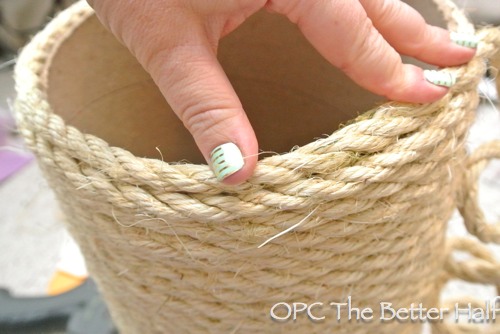 Then I cut off the end of the rope and glued the end to the inside.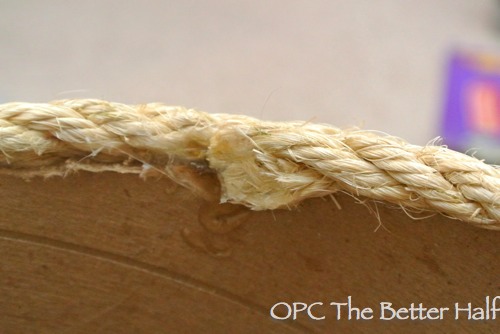 With Hurricane Sandy blowing through last week, I had my pick of sticks in our back yard. I bundled some together and added some brown packaging paper out of our recycling to hold it in place and VIOLA!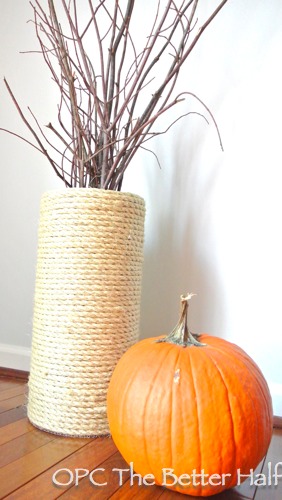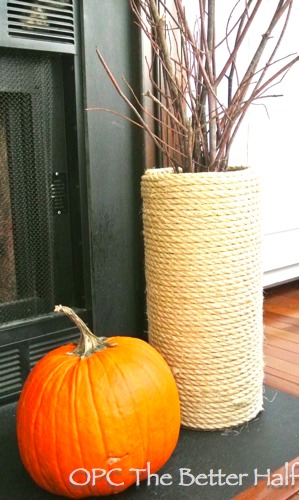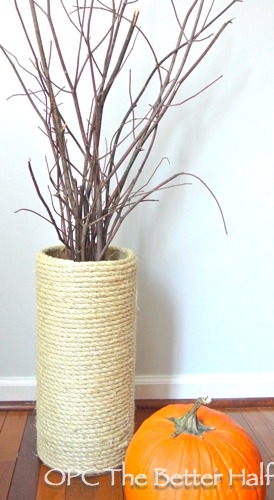 I also made a white one for Christmas out of 3/8″ Twisted Poly, which was $15.57 for 100′. It's not my favorite, but I may still do some tweaking.
What you don't see in the picture, is the smoke detectors going crazy because I forgot to open the flue. My bad. lol!
What do you think? Any other suggestions for large vases for cheap?
As Always, thanks for reading!
Don't forget to check us out on Facebook and Pinterest!
We linked up at: Home Stories AtoZ, Homemaker on a Dime, Here Comes the Sun, DIY Dreamer, DIY Show Off, House on the Way, Alderberry Hill