This post originally appeared on our tool site, Toolbox One.
In May of this year, Milwaukee announced their latest M18 FUEL 7-1/4″ circular saw. You may be thinking this looks a lot like the previous model – brushless motor, 7-1/4″ blade, rafter hook, LED light. It has all those features you'd expect. The big difference and why this is an exciting release is because Milwaukee re-engineered this saw for the new M18 High Output HD12.0 battery. With the high output battery, this new circ saw delivers the power of a 15amp corded saw.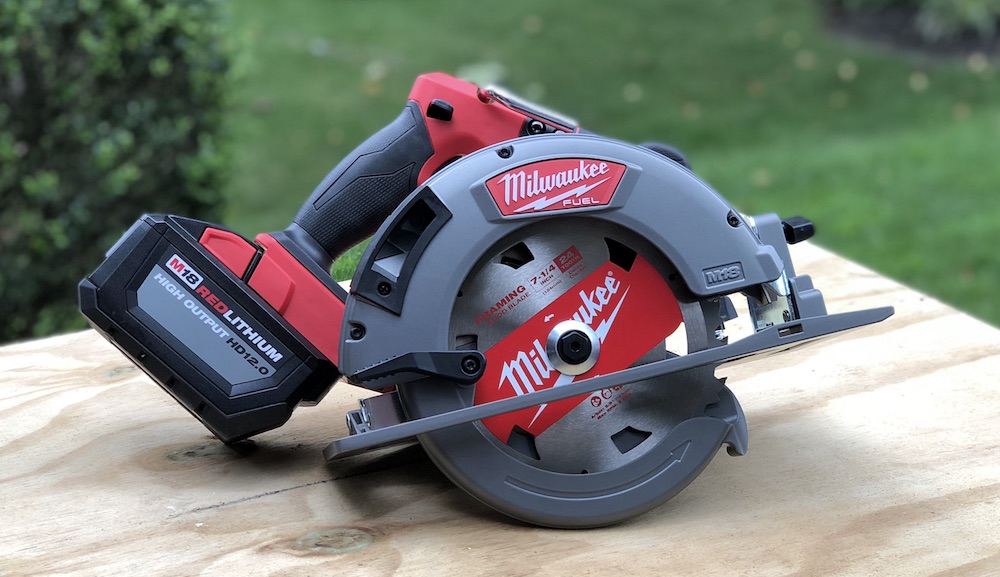 Stuff Lawyers Made Us Say: We're are continuing our partnership with The Home Depot to provide candid reviews of tools from a wide variety of manufacturers. The Home Depot is both providing the tools for free and compensating us; however, the opinions we express here are our own. Remember, we'll always be up-front with you when we're receiving a free product, compensation, or both. And of course, we always strive for objectivity in our reviews.
Better Than the Previous Model
Again, at first glance, this saw looks a lot like the previous iteration. So let's take a deeper dive to see what Milwaukee has improved.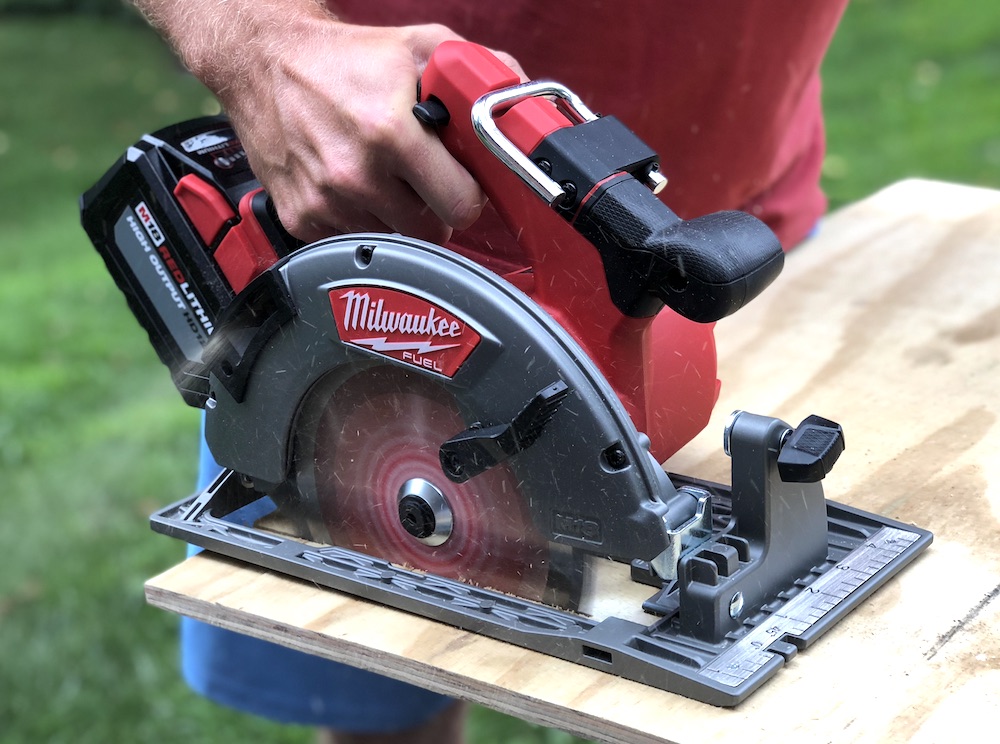 Brushless Motor
Milwaukee created a brand-new POWERSTATE Brushless Motor for this circular saw, which delivers 5,800 RPM to rip through tough applications without bogging down. That's a nice bump compared to 5,000 RPM on the previous generation.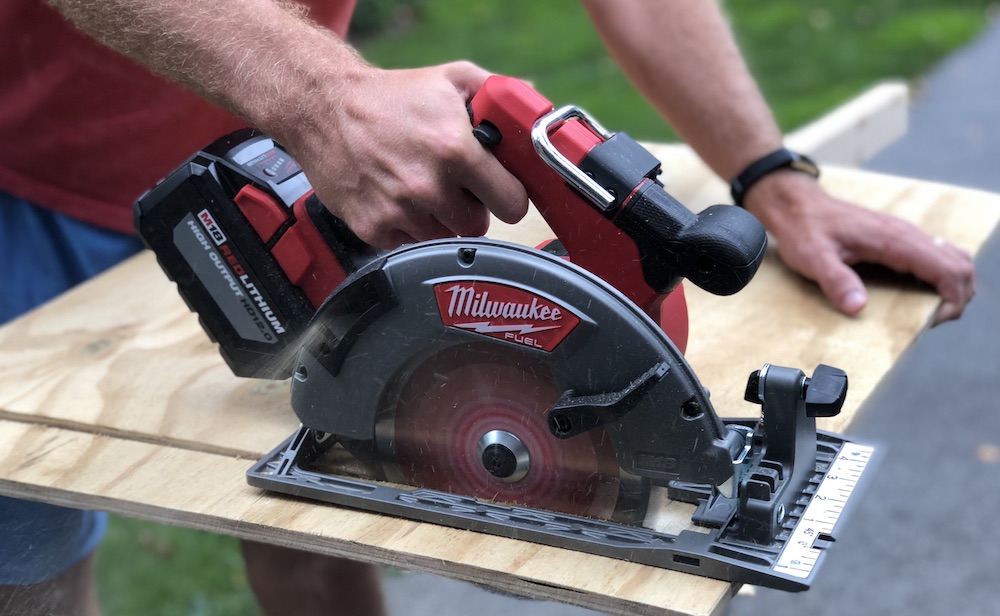 Electronics
Milwaukee also redesigned the REDLINK PLUS™ Intelligence, utilizing electronics never used before in power tools. The redesign ensures maximum performance of the tool under load and prevents against overload and overheat.
Battery
With the M18 High Output HD12.0 battery, this circ saw can power through up to 750 cuts on just one charge. The new battery provides 50% more power, runs 50% cooler, and delivers 33% more run-time than the M18 HD9.0 battery. You can read more about the battery here.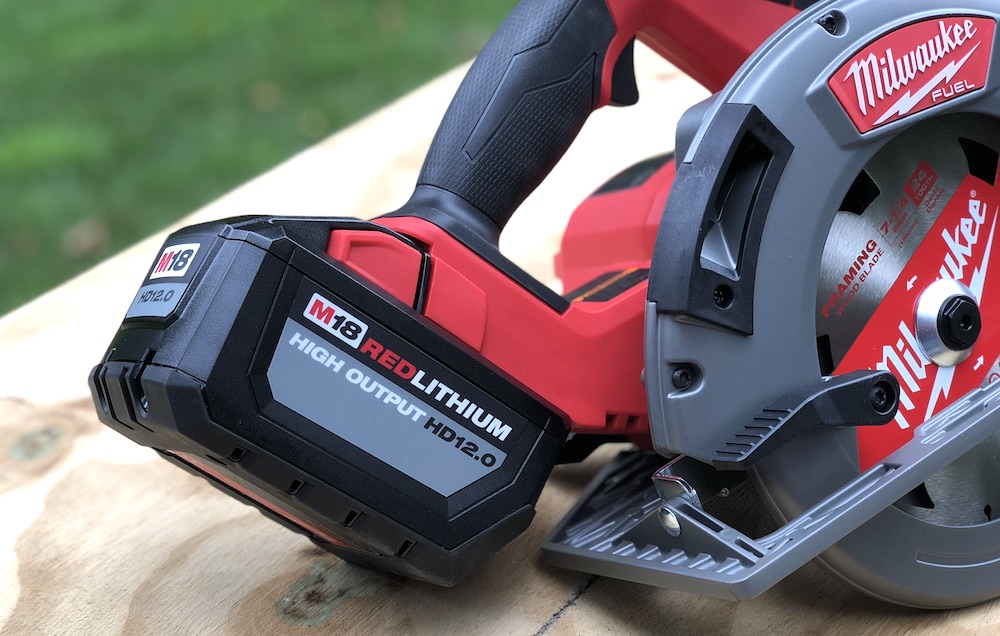 Other Thoughts
I like the cast magnesium shoe and guards. Milwaukee also included an electric brake to stop the blade after releasing the trigger. There is an optional dust port / vac adapter for connecting to a shop vac. Weighing in at 12.0 lbs (8.75 lbs bare tool), it's a bit heavier than comparable, cordless options.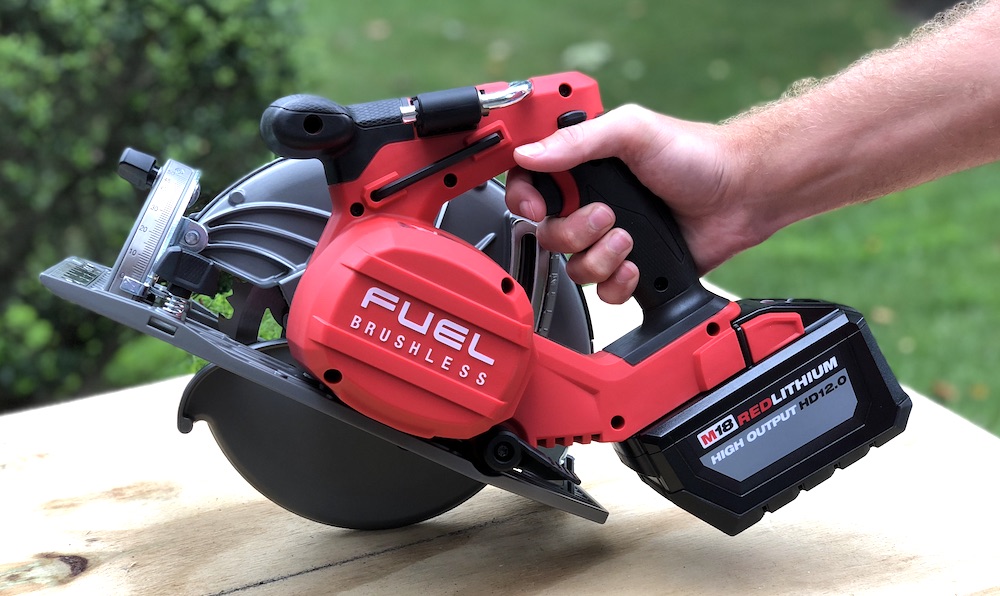 Specifications
M18 FUEL 7-1/4″ Circular Saw Kit (2732-21HD)
Speed: 5,800 RPM
Arbor Size: 5/8″
Bevel Capacity: 1-7/8″
Capacity: 2-1/2″
Weight: 12.0 lbs (8.75 lbs bare tool)
5-year warranty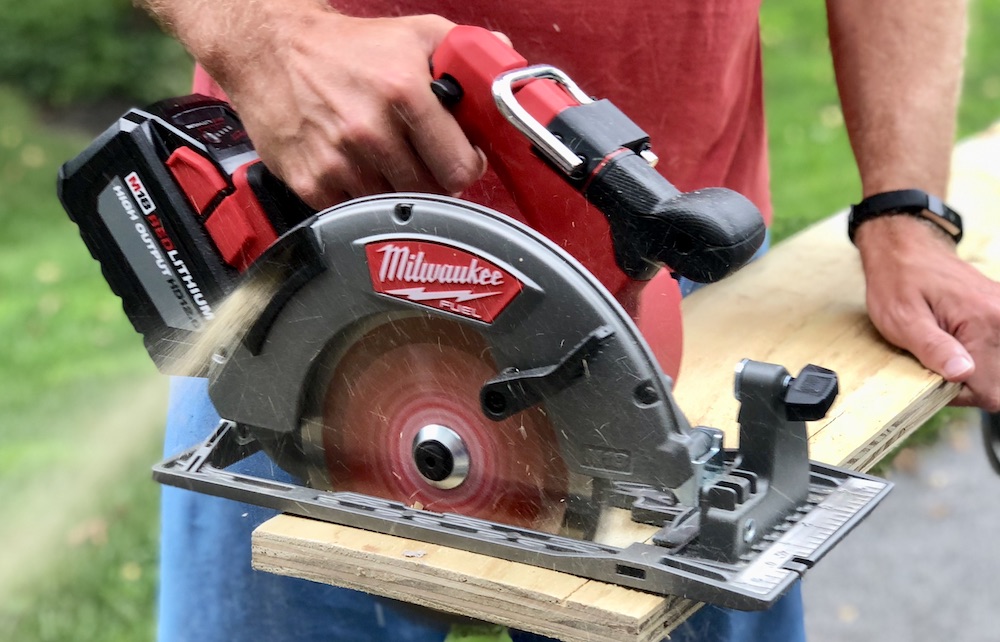 Where to Buy
The latest Milwaukee circ saw became available in June 2018. You can purchase the saw kit (2732-21HD) which includes the M18 FUEL 7-1/4" Circular Saw, M18 HIGH OUTPUT HD12.0 Battery, M12/M18 Multi-Voltage Charger, general purpose framing blade and contractor bag. Milwaukee will also offer a bare tool (2732-20) option as well. We haven't heard when that will become available.