Today we're sharing another reader story courtesy of Linn from The Home Project. Linn and her husband remodeled their entire kitchen, from the floors to the cabinets to the countertop. If you'd like to submit your home improvement story (and get rewarded for it), check out our ProjectPub program.
When my husband and I bought our small bungalow, the kitchen was one of the first things we wanted to take care of (right after refinishing the floors and painting the walls). It seemed the previous owners had not changed it one bit from when it was first installed. The countertop and backsplash were linoleum as was the floor, and it had a very green theme going. Fortunately the cabinets were solid wood, so we were able to reuse them.
Before: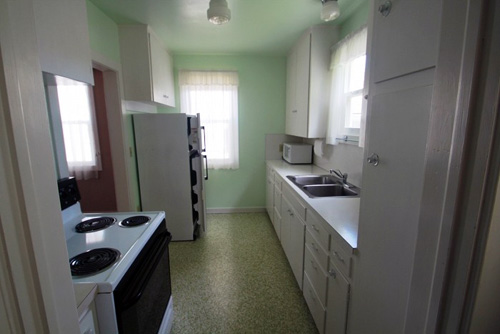 After: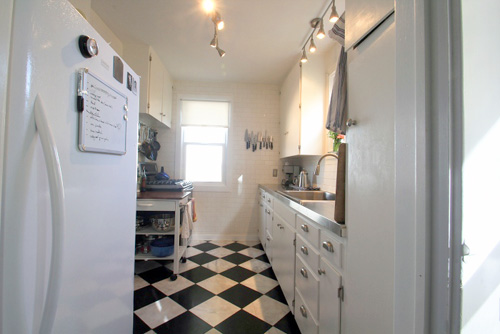 The kitchen is tiny, only about 90 square feet, so it was important to brighten the space up and make it more useful. One way we accomplished that was switching the position of the stove and the fridge. Previously, the fridge was sitting right next to the window and blocking quite a bit of light. Switching the two opened up the room quite a bit.
The first part of the kitchen remodel we tackled was refinishing the cabinets and drawers. We quickly realized the importance of doing a really good prep job and thoroughly sanding and priming all the pieces before painting. We chose a semi-gloss antique white paint for durability.
Before (mid-remodel):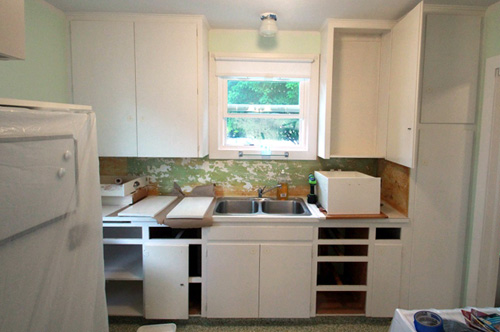 After: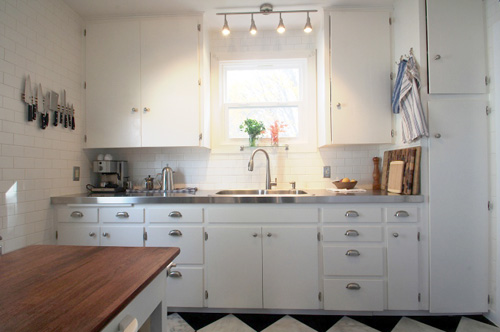 Second, we turned our attention to the countertop. After checking out various options, we decided to go with stainless steel counters. We checked out Home Depot and their quote was pretty high – $150 / square foot. Next, we checked out our local sheet metal place which gave us a much more reasonable quote – $400 for the whole counter (roughly $20 / square foot)! If we went this route, we did however have to first provide them with a plywood model of our counter. So we bought plywood, made a model to fit our counter perfectly and also cut out a hole for the sink. Then we brought the plywood to our sheet metal guy, and he fitted 20 gauge stainless steel on it. At this point, all we had to do was glue the stainless steel to the plywood and install it with Liquid Nails on top of our old laminate counters. This was pretty easy to do, and the result looks great! We also got a new stainless steel sink and faucet to go with our new counter.
Before: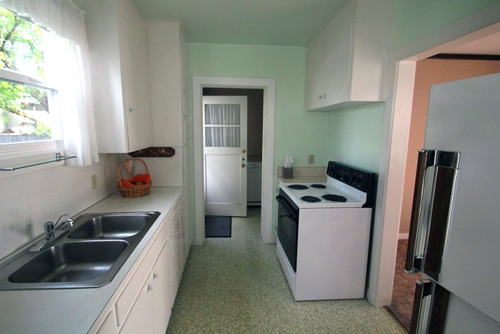 After: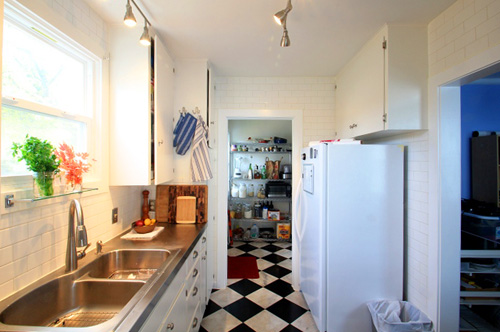 To make the kitchen feel bright and clean, we decided to tile all of the walls with subway tile, and we chose a black and white checkerboard floor to provide some contrast. At first, we were considering a classic vinyl floor, but after realizing we'd rather have natural materials in our kitchen, we instead decided to buy 12 inch honed marble and granite tile to create a diagonal checkerboard pattern ourselves.
We picked up some new appliances, hardware, lights etc… for the kitchen and we also refinished an old kitchen cart we already had to better fit the new decor.
After: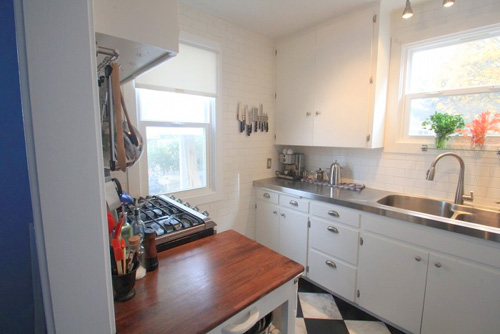 All in all, this kitchen took us about a month to transform and it cost just over $6000 (including appliances.) We basically did everything ourselves and had a good time doing it. We love our new kitchen, it's now a great space for cooking, baking and having fun!
More nitty-gritty details and pictures can be found on The Home Project here.