We don't go on many dates, my kitchen and I, except every 7 years or so. In fact, she hasn't gotten a makeover since we first moved in and gutted the whole thing. After my big bedroom makeover, I decided the kitchen was the best next project since its a fairly small room and not completely overwhelming.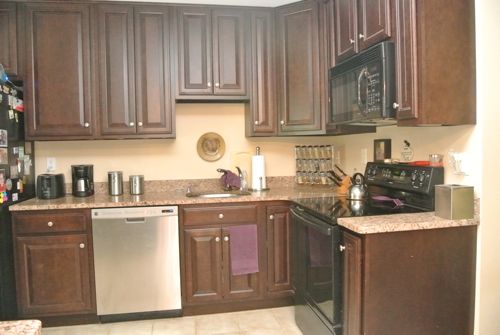 She's not too hideous, just a bit outdated. I painted her in what I thought to be a neutral color, although now it seems a little dinghy and yellow. I accented the room with purple and wine decor. I still love the basics of the room, but its seems dark and dated now. I won't be gutting the kitchen again, but I do want to give her a little face lift and maybe a little nip-tuck here and there (aka getting rid of the junk in the trunk). lol!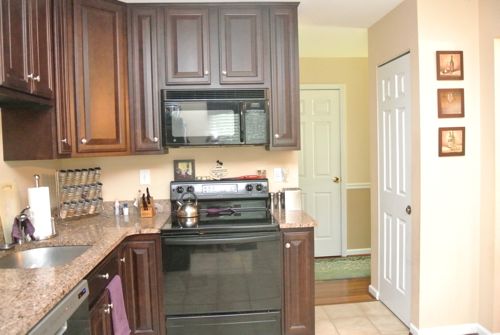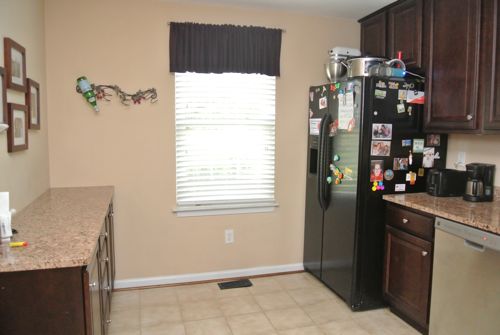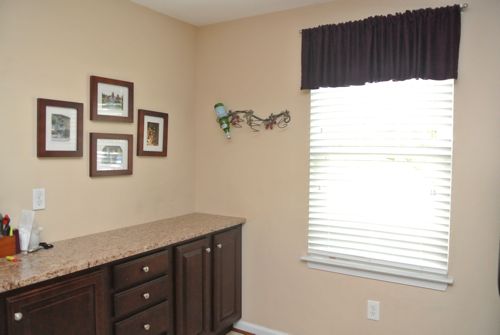 First, as far as color scheme, I want a brighter, fresh room. Although white washed rooms are very in style now, I'm not willing to paint my newer cabinets that are in very good condition. Without going all white, I wanted to add color along with the white to help the color pop against the dark cabinets. The basic colors will be aqua, yellow, and white to compliment the blue/aqua-ish color in the adjoining dining room.  Before picking the specific apint colors for the walls, I decided to find a fabric for the valence to match the walls against.
I wanted to pick a fabric for the valence over our one small window in the kitchen. Easier said than done, it was almost as rough as buying jeans! Ethan hung out with the girls on Sunday afternoon so I could shop uninterrupted, a rare treat for me. I went to Joann's, Target, Kohls, and Pier One looking for fabric, table cloths, shower curtains, ANYTHING I could cut down and turn into a valence. Okay, so maybe I also went to Old Navy, but that was unrelated.  ZERO LUCK (except at Old Navy, of course)!
Fortunately, Hobby Lobby is open on Mondays (not Sundays) and I found some great prints. I chose one for the valence and a couple others to frame – so excited about this part. Once I had the fabrics picked, I chose the paint colors with a little help from my friends.
Now all that is left is all the work plus some accessories! I guess even though my kitchen will be a cheap date, she will be a needy one.  lol. This may be how Ethan feels with me.
Stay tuned for more kitchen progress, complete with all the post-date girl talk.
What to do you think? Any suggestions for my updated kitchen?
As Always, thanks for reading!

Do you like free gift cards?!? Our 5th Annual Before and After Series supporting Habitat for Humanity is up and running. Enter your home project now!