Ethan's spent the last few days out at a Black and Decker PR event in sunny Arizona, which I've been hearing (via Facebook and Twitter updates) is going fantastic. The event covered Black and Decker's new line of 36 volt yard tools. If you follow us on Facebook, you know that as part of the event Ethan won a raffle to throw out the first pitch at a spring training game between the Angels and the Royals. How cool is that? I hear he landed a perfect strike from the pitcher's mound. Not too shabby!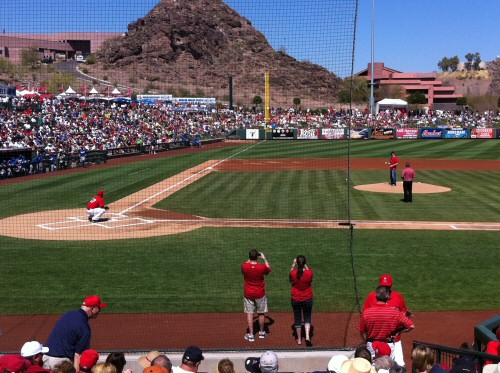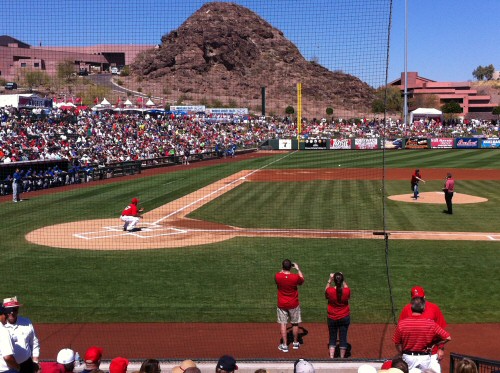 Meanwhile, the rest of us here at OPC actually have to work. 🙂 And while my day job's been keeping me plenty busy, I've had some good time at night to make progress on our "finer side" component, which is about 50% complete at this point. I'm hoping to wrap up the final 50% in the next week, as we're already a little behind on our target for the big launch. (Any of our readers who happen to be software developers can attest to just how much "scope creep" and a desire for elegance in design can prolong a software project!)
With the "finer side" work taking its toll on my coding time, I didn't have time to complete something Ethan's been wanting for a while, a "Fun Fact Generator" over in the sidebar for all of you to waste hours clicking away learn something you might not have known about home improvement! Ethan took the reins on the project and got it up and running in just one evening. So now it's sitting on every one of our post pages. There's about 100 "fun facts" loaded so far. If you have a good one to add, just leave it in the comments and we'll put it in straight away.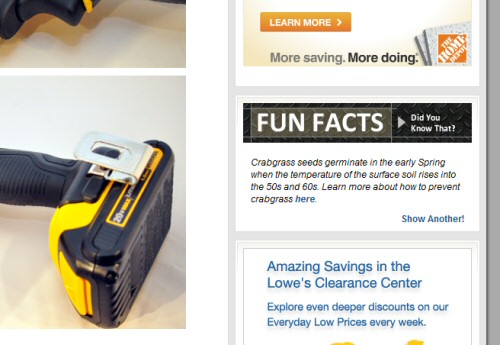 How You Can Help Us Out
Over the past few months we've had a number of comments and questions from readers asking how they can help us out. The questions have ranged from "Do you have an affiliate link I can buy through?" to the more general "What else can I do to help you guys out?"
Well, I've now got the perfect answer for you. Besides commenting, the one, single, most important thing you can do to help us grow is to click our new Facebook like button at the bottom of every post you enjoy reading.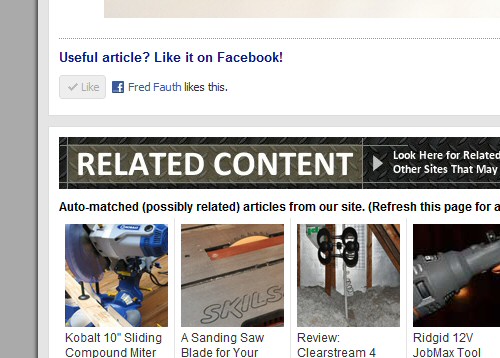 When you click that like button, it tells your friends (and we're led to believe, maybe even the search engines) that our content is pretty good. It helps new readers who love home improvement find our site — directly (because they see the "like" in their news feed), and maybe even indirectly (because more people will visit us from the search engines, we hope).
A lot of times readers don't realize how much we site owners value "social engagement". That's what the experts in online publishing call "likes" and "tweets" and "plus ones". Even if you only "like" one of our articles each week, it will make a HUGE difference to us.
If you're not a Facebook user, or you prefer other social media platforms, we'd love it if you'd also share our articles on those platforms. If you're a Twitter nut, a re-tweet goes a long way for us. If you're on Google's Plus platform, a "+1" shares our article there, and it tells Google we're publishing really good stuff. You can always use the buttons off to the left of our posts for that.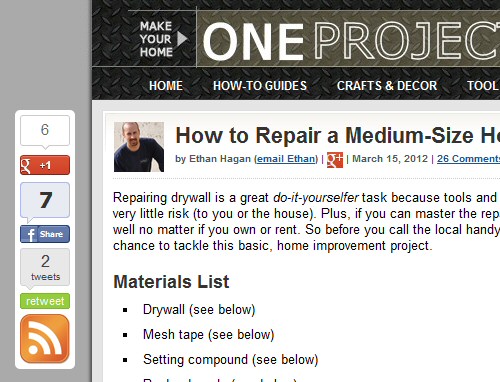 Which Posts to "Like"?
If you're wondering which posts we'd love you to "like" the most, it's definitely our How To articles and tool reviews that you find interesting or helpful. But really, we're happy if you "like" any article we publish!
What Do You Want to See Next?
Most of the time I ask for directed feedback in these updates (i.e. how you feel about some change we've just made). Today I'd like to open it up for any ideas you have for OPC. What do you think we could do more of / do better / etc?
P.S. Stay tuned this afternoon for a brief pro-follow update and a guest post from reader William!