I've noticed a few trees in the community with the signs of Tent Caterpillars. They are easily spotted this time of year by the tent like nests they are named after.
About Tent Caterpillars
Tent Caterpillars prefer Black Cherry trees but will infest others. The mature female moths lay eggs on pencil sized branches. When spring arrives these eggs hatch and the caterpillars begin to setup their tent in tree joints. As the cool morning passes, the caterpillars move out from the tent to feed on young leaves. They return to their tent before the temperature drops to keep warm. Their feeding habits won't typically kill a tree unless it is already stressed.
After about 7 weeks the caterpillars will leave the tree to find other protected place such as underneath eaves. There they spin a cocoon and emerge as moths to mate and lay eggs.
Eastern Tent Caterpillars will use the tent as a home base. Forest Tent Caterpillars are nomadic and will create several small temporary tents.
Removing Tent Caterpillars
Although Tent Caterpillars won't typically kill a tree they will cause serious damage. Larva consume new growth and even leave trails for other caterpillars to find food sources. Removing the egg masses during winter is the best way to prevent Tent Caterpillars. Growing up we always burned their tent (sounds cruel when I write it out). It's best done at night when the caterpillars have returned from feeding. This should be done carefully to avoid damaging the tree.
Once I got a closer look, I realized how widespread the caterpillars were. I worked on a tree for some time slowly burning away the tent. I think this is best done with something like a butane torch. The tents fall away quickly and you can keep the torch moving to prevent damaging the tree. Again, be very careful. Dry wood can catch on fire very easily.
Since the caterpillars are setup in many trees, a better option would be to spray. I checked and Sevin bug killer works on Tent Caterpillars too. I've used Sevin bug killer before and had good experiences. The only downside is the milky residue which makes your tree really look diseased.
You can see how the "tents" blend in so well making them tough to spot.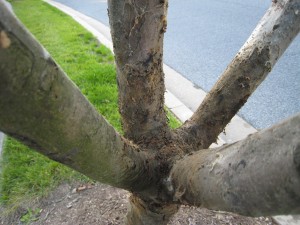 This picture shows how things looked after I removed the tent. See how big the "tent" was!
What do you think? How do you resolve Tent Caterpillars?