Remember those kitchen cabinet pulls I installed at Fred and Kim's house? Did I mention that their air conditioning wasn't working that day… and that it was 100° outside when I did those? I didn't? Well, it was miserable.
The Fauth family came to our place to cool off that night, and I told Fred and Kim how a while back our HVAC quit working because the condensation drain was clogged. They went home and checked, and sure enough, found their drain line full of dust, rust, and other gunk. Water pooling inside the drain pan of the air handler was preventing the coils from cooling down, ultimately robbing cold air from the rest of the house.
Fred took a temporary measure and cut the drain pipe, then directed the water into a bucket which had to be emptied every 12 hours. It's a better solution than having interior temperatures reach 90°, but it wasn't a permanent solution.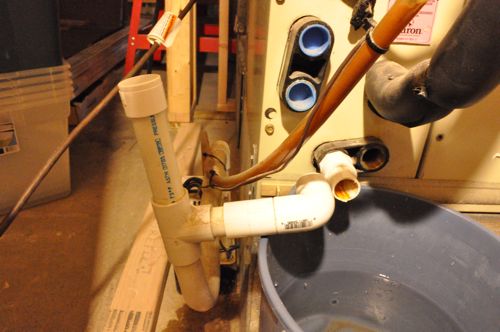 When my HVAC unit was replaced, the pros installed a clear plastic trap so we can see when it needs to be cleaned. I thought it should be simple enough to install one at Fred's and Kim's house. Unfortunately, none of the big box stores carry that component, so I improvised.
You can do this project too, if you find your air conditioner giving out due to a condensation line clog.
How to Replace an Air Conditioning Drain Line
My goal was to piece together a new drain line and use some clear flexible tubing to recreate the trap. The trap would collect any gunk, and adjustable clamps would allow access for cleaning.
I had a gift card for Lowe's so that's where I picked up my supplies — ¾" PVC, various fittings, 1′ of clear tubing, a pack of metal clamps (the kind you tighten with a screw driver) and PVC cement. Since this was a drain line and wouldn't be under pressure, I didn't need to use any PVC primer (that purple stain you often see on PVC).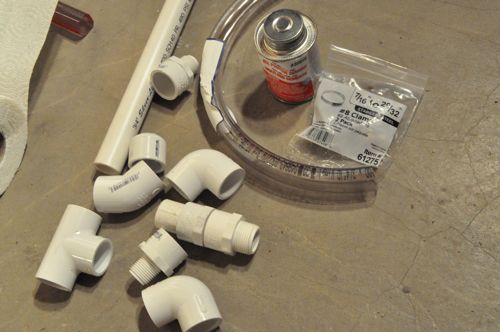 Here's a picture of the existing PVC. The drain goes to a small pump.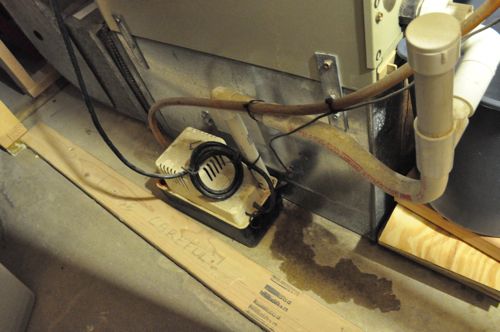 Here's a pic of the old drain removed. It was nasty.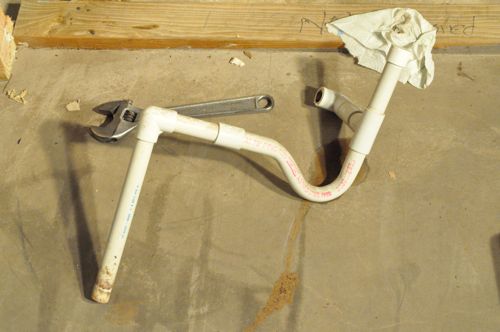 Using the old drain as my template, I began dry fitting everything together.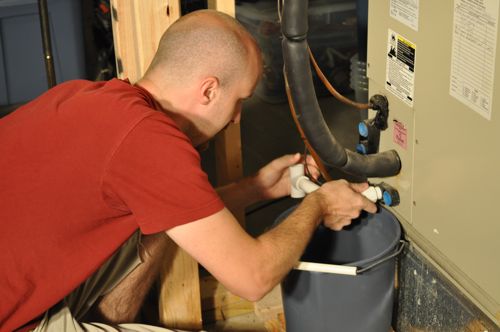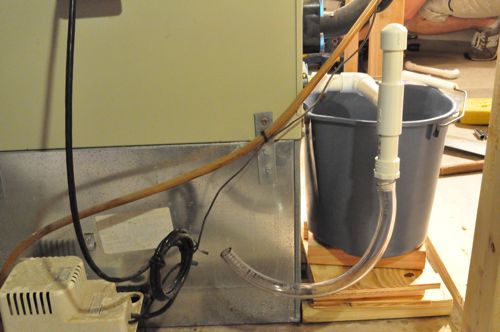 Working the tubing in place.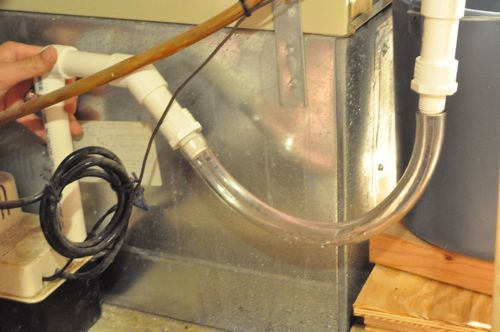 The old drain had a removable cap. I'm not sure if it was to introduce some air or another reason, but I recreated that too.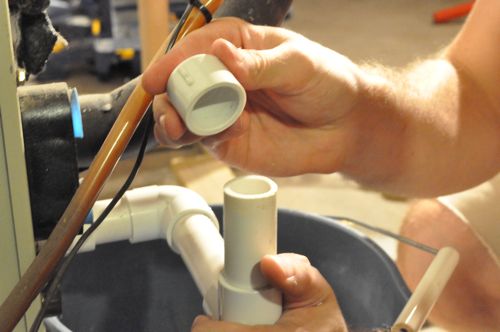 If you've ever worked with PVC before, you know that it's important to make clean, straight cuts and to remove any burrs and debris. We had a miter saw handy and it worked well. Disregard my lack of safety glasses.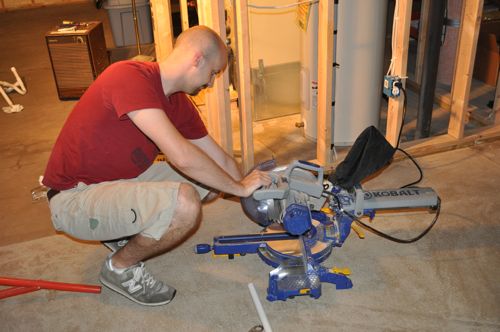 When I was satisfied that everything fit together, it was time to start gluing. PVC cement is a chemical solvent that melts the two pieces together making a super strong bond when it cures.
Be sure to fully seat the PVC inside the fitting. It's also a good idea to give it a little twist to ensure good coverage.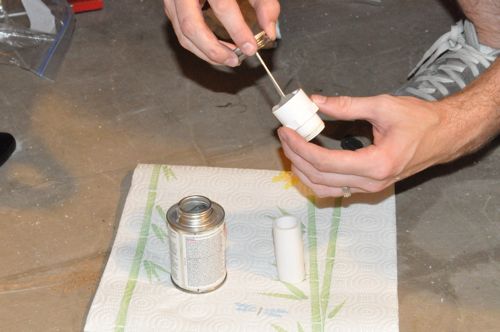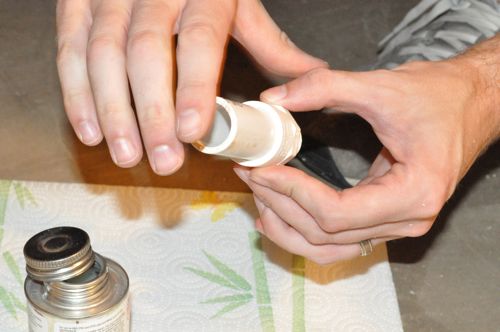 Keep everything in the right orientation, otherwise you'll end up with PVC going in the wrong direction.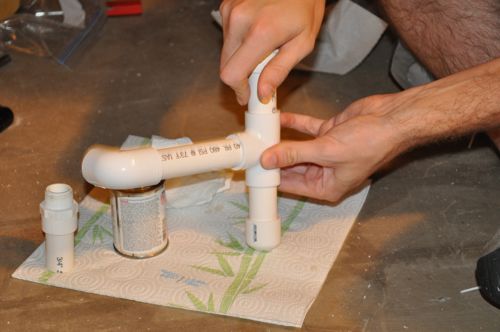 This is the metal clamp I used to secure the flexible tubing. Turning that screw allows you to tighten or loosen the clamp.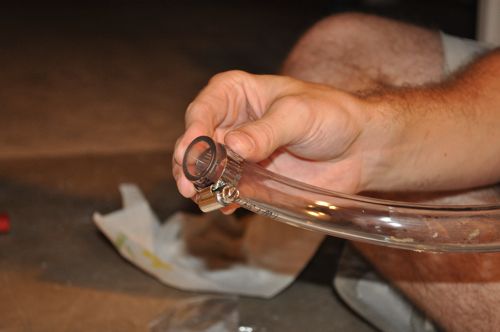 I actually ended up gluing the left side of the flexible tubing (in addition to the metal clamp) as there was a small leak.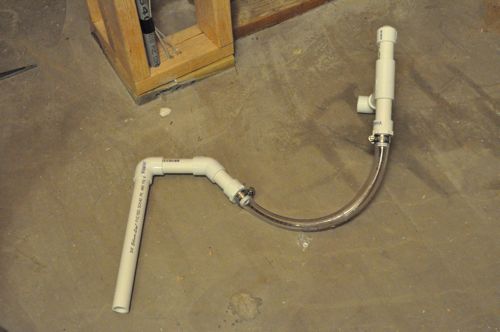 Can you see the water in the trap?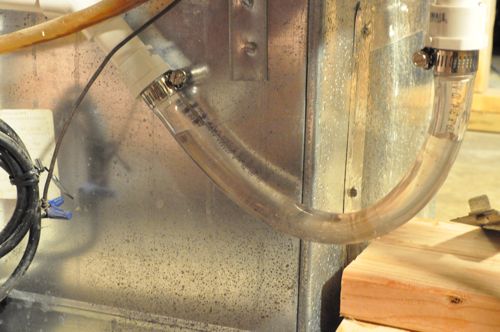 Here's a close-up of the bracket I used to keep the PVC in the right spot.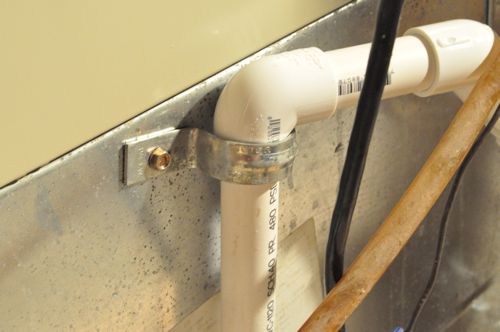 When it was all finished, we flushed the line with water to make sure it didn't leak and everything worked as expected. Fred and Kim have their A/C back and I get to share a great how-to with all of you. I love it when a plan comes together!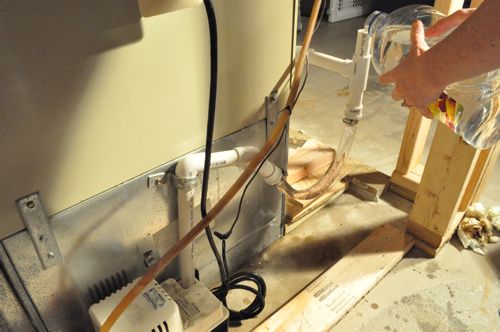 Have you ever had to tackle and issue with your HVAC unit? Do you remember to change your air filters? What have you made out of PVC before?