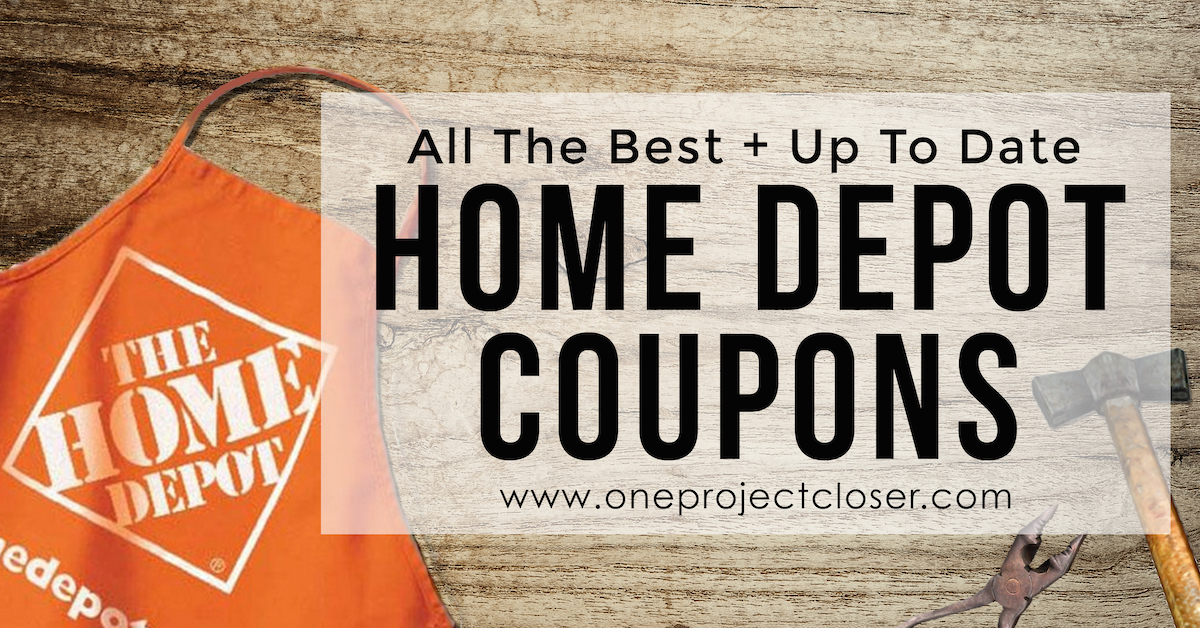 We've aggregated all the best available coupons for The Home Depot. Don't see what you need? Pin this page and check back in a few days. Home Depot updates their deals every week, and when they do, we do!
Be sure to hop over and enter to win our $500 Home Depot Shopping Spree!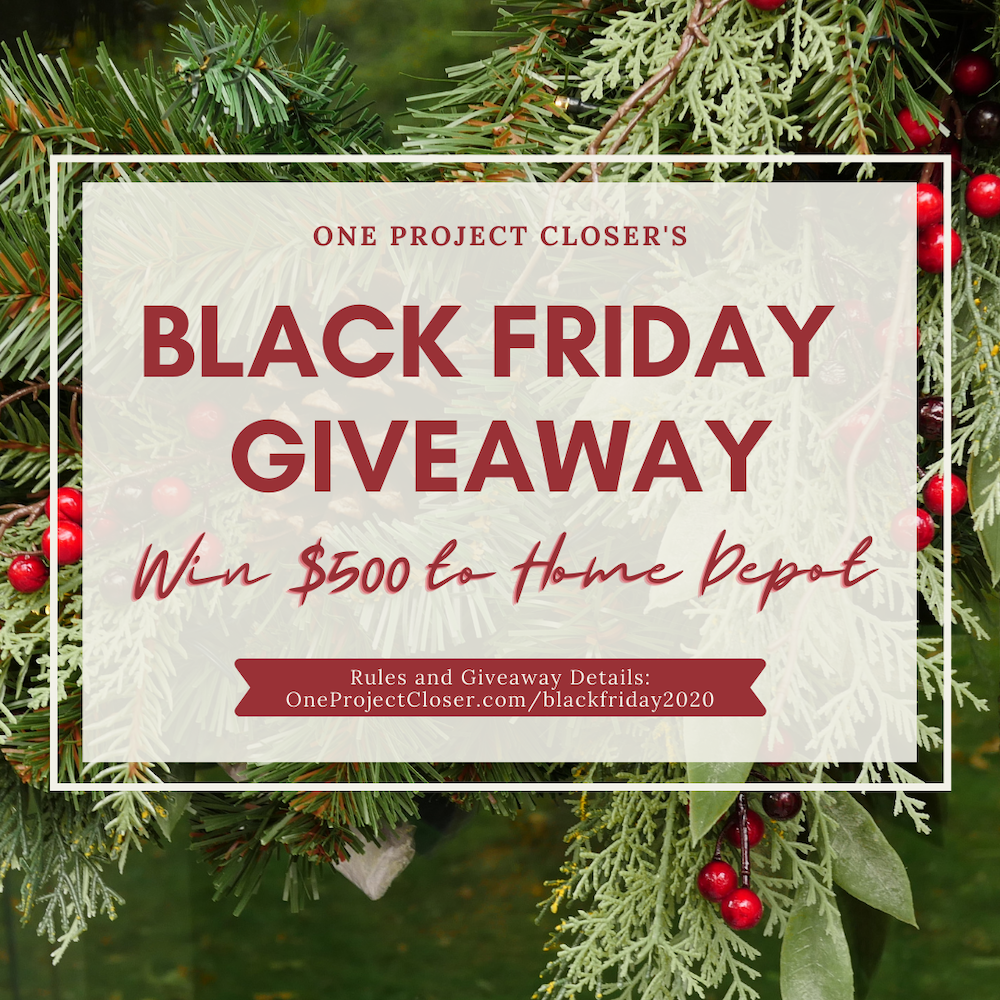 BLACK FRIDAY DEALS!
MOST POPULAR
SPECIAL BUY OF THE DAY
FREE SHIPPING:
APPLIANCE COUPONS
PATIO SETS, CHAIRS, TABLES & GRILLS
LAWN & GARDEN
TOOLS & AUTOMOTIVE
KITCHEN & BATH
DOORS, WINDOWS & SECURITY
FLOORING
FURNITURE
LIGHTING & FANS
PAINT, STAIN & WALLCOVERINGS
FOR THE HOME
DECOR
BEDDING & LINENS
HOME DEPOT GIFT CARDS
If you having trouble deciding on a gift for that homeowner, DIYer or power tool enthusiast, consider purchasing a Home Depot gift card. They make for great gifts and allow that special someone to pick out their own present.
BUY ONLINE PICK-UP IN STORE
Getting ready to start your next DIY project? When it comes time to pick up your materials, The Home Depot's "BOPIS" system can save you money AND shopping time! Here's how it works. First, check for any online deals or special offers (bookmark this page now, so you're ready!). Second, shop through Hassle-Free Online ShoppingFREE ship to store on over 350,000 items, selecting your local store as the pick up location. Place your order, verifying your selections' in-stock status as you go, and when your items are ready for pick-up (as soon as 20 minutes later, but within 2 hours, depending on how busy they are), you'll receive a notice to come retrieve them from the front of the store. Meanwhile, you can make progress prepping for the job, while Home Depot does the shopping for you. And you've saved money using the online discounts not available if you just walk into the store and pull the items yourself.
Home Depot Credit Cards
The Home Depot offers two types of credit cards: one intended for homeowners and the commercial card: Open a trade account with The Home Depot. The benefit for homeowners and do-it-yourselfers is that a consumer card includes no interest on purchases of $299 or more when you pay in full within 6 months. There is a minimum payment required. Basically, you can think of this as a 6 month, interest free loan making it easy to manage an expensive purchase. Just be sure to pay it off in the 6 months, else you'll incur interest for the whole time period. Keep in mind the relatively high APR (up to 29.99% !!)
Home Depot Moving
The popular online Home Depot 10% off coupon that used to be found at homedepotmoving.com is not currently being offered. Thanks to information provided by The Home Depot Social Media, we've learned that THD rotates a variety of benefits in that program, and the 10% off coupon is not available at this time. Anyone who registered while the offer was available will receive the 10% off coupon as advertised. Some of the other perks being offered include a discount on Penske truck rentals, exclusive offers on moving supplies, tips and reminders, and assistance with utility connect/disconnect services. These offers change depending on the timing and season of your move. Check back here for further updates.
Military Discount
According to The Military Wallet, THD offers a 10% discount to active service personnel and their families. Originally, these savings were limited to holidays like Memorial Day, but now are offered year round. These savings occur at the counter with the appropriate military ID. Unfortunately, you cannot get this discount online.
Home Depot Online Return Policy
Any Items purchased on homedepot.com can be returned to one of their nationwide retail stores. This includes all The Home Depot retail stores and even The Floor Store locations! We were very excited about this change in HD's policy. Most merchandise can be returned within 90 days if it's in sale-able condition and in the original manufacturer's packaging. Any damaged or shortage claims should be made within 30 days of delivery by calling a customer care specialist at 1-800-430-3376. If items are damaged upon arrival, you can refuse the order.
Can't find what you're looking for on this page? Check out our Sears Coupons or AJ Madison Coupons pages for appliances and other household goods.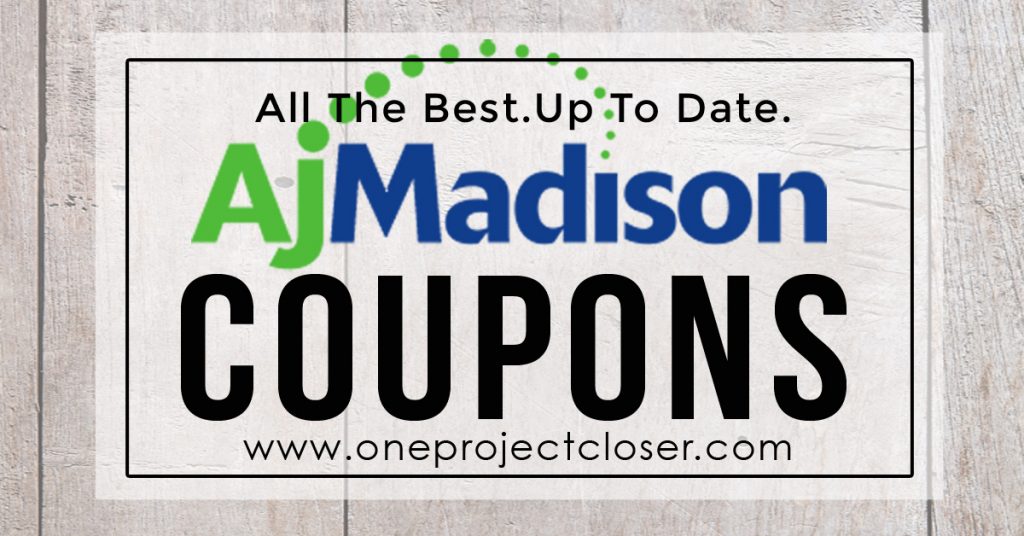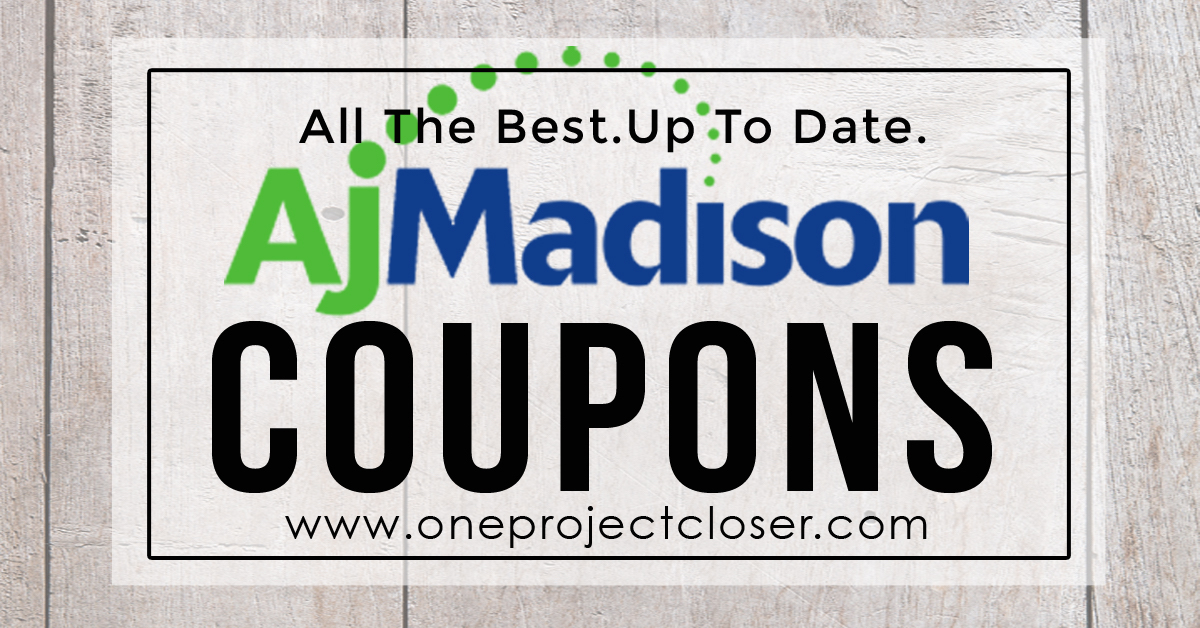 If you're looking for great discount pricing on appliances, AJ Madison is the place to shop! Their prices are already lower than most other vendors, but they also offer sales and rebates – including their ongoing 10% Off deal – making the bargain even sweeter! I update this post personally and check to make sure the links here are current and working properly, so YOU can avoid the hassle of faulty links and coupon codes. Tell your friends about us, and bookmark this page, so you can save on your future purchases, too!
AJ Madison is one of the leading appliance retailers. Since they are an online entity, AJ Madison cuts out the overhead associated with owning and operating multiple store locations. In addition, they only collect sales tax in the states of New York and New Jersey, and they pass the savings on to you. If you compare, you'll find that regular prices at AJ Madison are often as competitive as the sales prices at many other appliance dealers.

SITEWIDE DISCOUNTS
SALES BY ROOM/CATEGORY:
Kitchen
Laundry
Home & Bath
*No Sales Tax
AJ Madison does not charge sales tax unless you live in the state of New York. That's right. No sales tax. Back in 1992, the Supreme Court decided that out-of-state vendors are not required to charge in-state tax except for the state where the retailer is located. Since AJ Madison is based out of New York, most consumers have the added perk of never paying sales tax resulting in up to 8.25% in savings! There are rumblings of change as other states feel like they are missing out. A lot depends on the litigation between Amazon and the state of New York.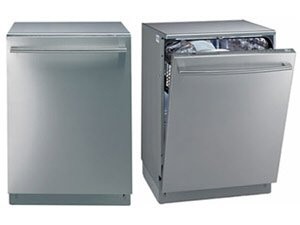 Industry Discounts
If you're a member of the home improvement industry, AJ Madison offers special discounts. Contractors, builders, architects and more can obtain special pricing and more flexible payment options. They also include "amazing service" and nationwide delivery. Call 800-570-3355 to set up a business account.
Price Match
Like other retailers, AJ Madison offers a price match guarantee. If you can find a lower price on the same in-stock item, contact their customer service and they will meet or beat that price. Before you call, make sure you have the competing offer in writing. There are exclusions to this guarantee. Make sure you account for shipping, handling, delivery, sales tax, and even rebates. The other retailers must also be an authorized dealer. Price match only applies before you purchase. After your order has shipped, you're out of luck. To contact AJ Madison call 800-570-3355 or email sales@ajmadison.com. For further details, see the official policy here.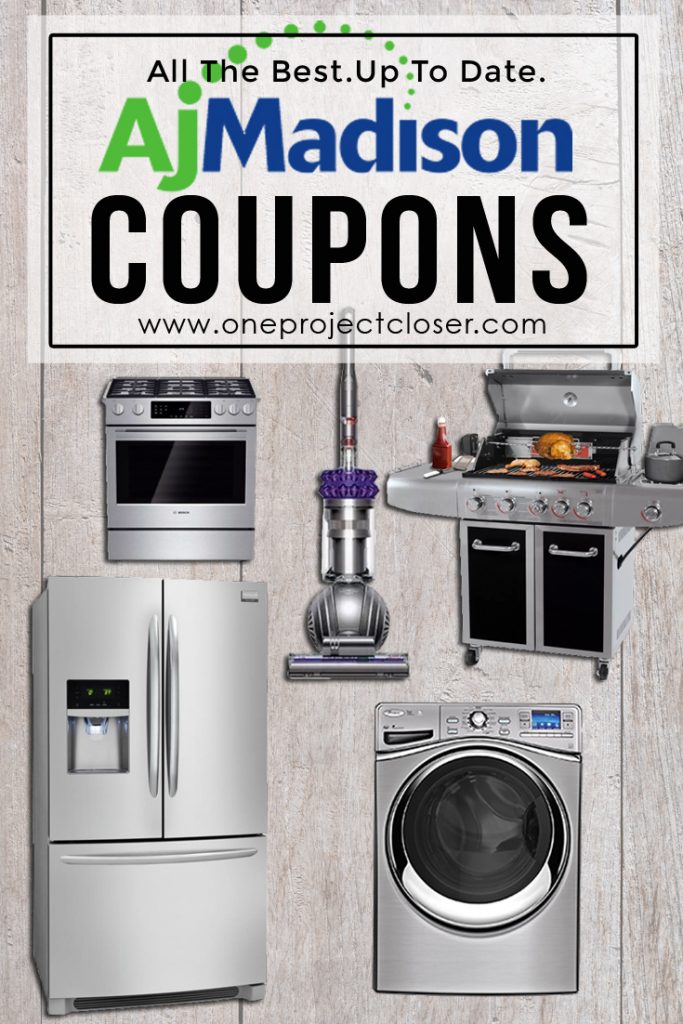 Buy Now, Pay Later
The Buy Now, Pay Later financing plans allow you to defer payments for 6 months or make small payments over 3 years. Either way, your appliance is delivered without money down. There is a monthly fee and you do have to apply, but AJ Madison claims it only takes 2 quick questions and 3 second of your time. For all the details and fine print, click here.
Since you're here, you're probably in the market for appliances. If that's the case, you should know that we also maintain Home Depot Coupons, Sears Coupons, and Lowes Coupons that can help you with an appliance purchase.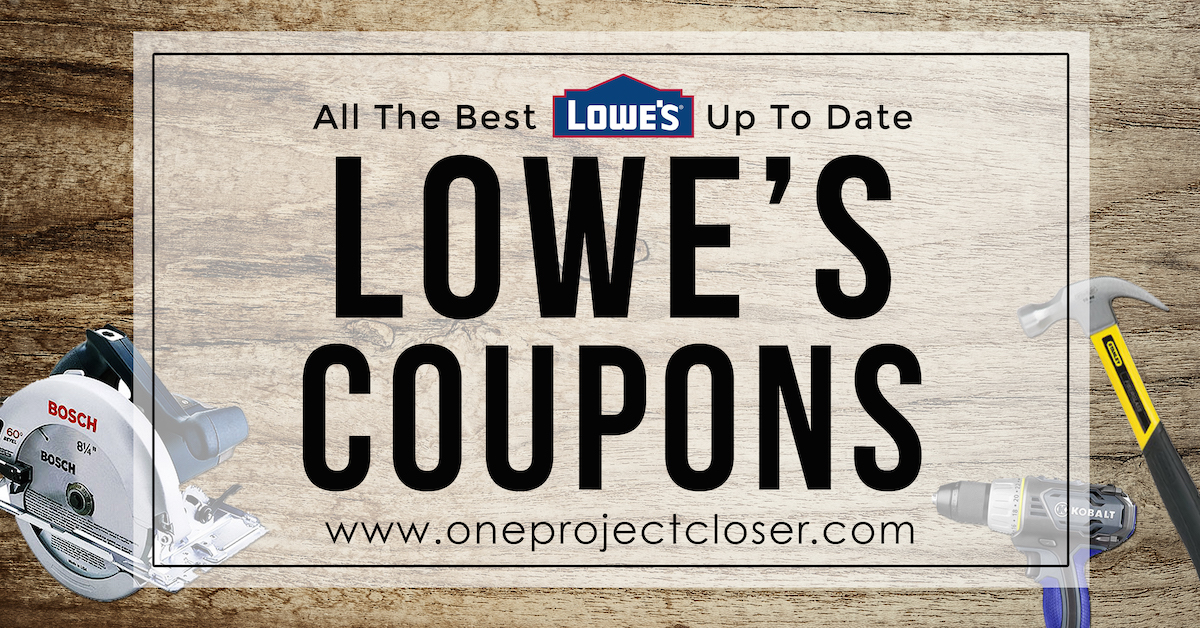 One Project Closer is not affiliated with Lowe's, but we find ourselves shopping there quite often! If you're a do-it-yourselfer like us, then saving money is important to you. Here are a few ways YOU can save at Lowe's.
ADVERTISEMENT
#1 – Store-wide Savings, Rebates, and Clearances
Visit Lowe's' savings page for current deals, sorted by department. You can frequently find 10% off or more on appliances, deep discounts on particular tool brands, and sales on everything from painting supplies to construction materials.
Free Shipping
With Lowe's' Free In-Store Pickup option, you can order what you want online – taking advantage of their online-only offers – and then have your items shipped to your local store for free!00
Gift & Credit Cards
Ask your friends and family for Lowe's gift cards for the next holiday or event. Or get a Lowe's credit card and choose between getting 5% off any time or getting special financing options for your purchases
#2 – Two Discounts from Lowe's-Sponsored Locations
1. Lowe's Card Holders: Lowes' Discount Page will email you a free online printable coupon (and mail you a copy) for 10% off any in-store purchase (up to $2000.00 maximum discount).
This is the standard 10% off coupon you see advertised in most places, and the easiest one to get online. Note that some other sites have recently cropped up on the web that are downloading a picture of the coupon from this site and allowing you to "re-print" it from their site. If you look carefully at the image, you will notice is has a unique bar code. The store computers record this bar code at the first use and invalidate it for future use. (If they didn't do this, you could just photocopy it over and over again. That's not what Lowe's intended when they offered the deal).
ADVERTISEMENT
2. Military Discounts: Lowe's has a policy to give United States Armed Service Members 10% off all year long. You need a military ID at the time of check out and you cannot use the self service lanes. Obviously, this is a great way to honor our servicemen and women and we are excited to see Lowe's take this step. Based on information available online, this discount cannot be used in conjunction with other discounts, such as the moving coupon deal.
#3 – Discounts from Other Sources
E-Bay: You can sometimes find 10% off coupons for Lowe's for sale on E-bay and other auction sites. This is more of a hassle, and again, unless it is an individual seller, the source of the coupons may be dubious. You need to be especially careful of coupons that appear to be photocopied, will be delivered via email, or have a single use bar code on them. It is very possible that these coupons are being sold to multiple people and that they will not actually work when you get into the store.
A Quick Note on Return Policy
Lowe's has a superb return policy! They allow you to return most items purchased on Lowes.com at your local store within 90 days. Some categories have restrictions, though. For example, major appliances only get seven days (and then you have to use the appliance's warranty), and outdoor power equipment gets 30 days.
For more information, visit the web site and look up the return policy details before making your purchase.
ADVERTISEMENT
Lowes Store Photo Credit: Mike Mozart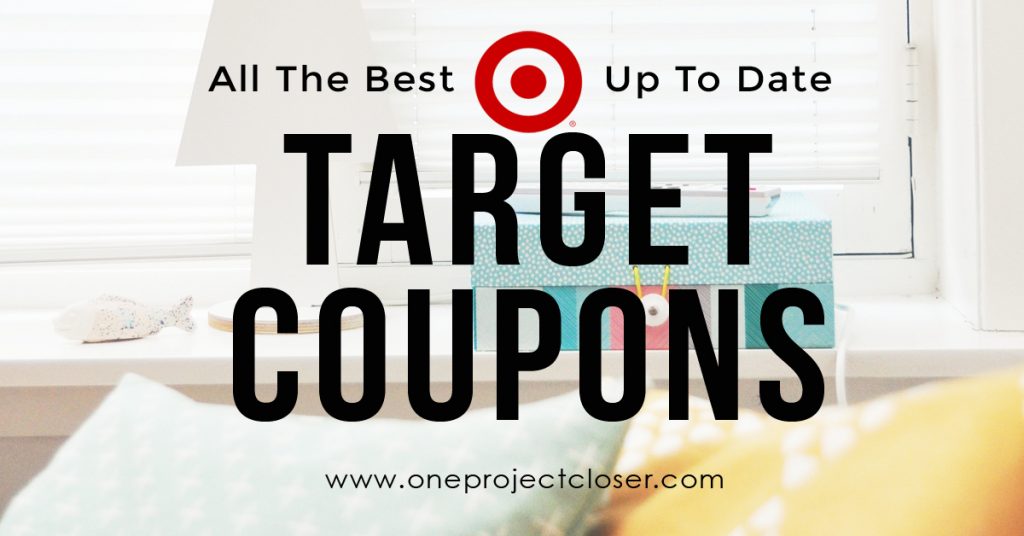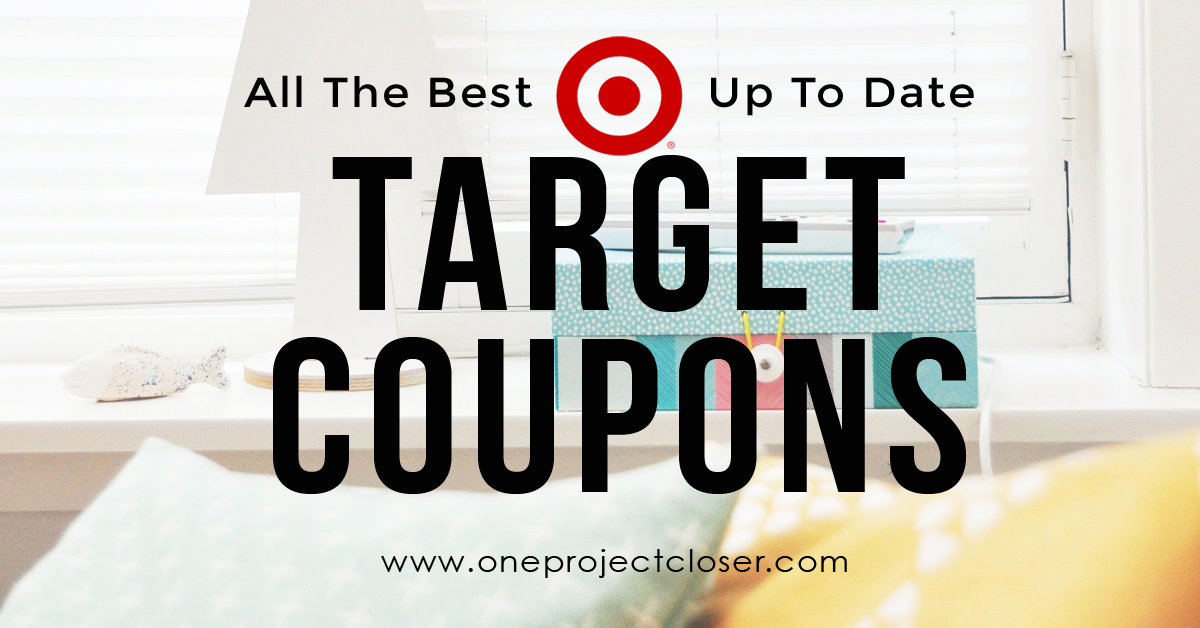 Looking for ways to save on your next Target purchase? Below, we have aggregated every Target sale and coupon code currently available – including their online-only deals, not available in stores. Be sure to note the dates of the sales; some are 1-Day or 3-Day only; most are all week. I update this post personally and check to make sure the (affiliated) links here are current and working properly, so YOU can avoid the hassle of faulty links and coupon codes. Browse away! But before you begin, please:
Bookmark this page!– I update it weekly with any new deals available from Target, so check back with us!
If you have a Google account, give us a "+1" – It'll let others know this page is helpful!
Fellow-Bloggers: if you think this information would be helpful to your readers, link to us, and let them know we're here!
SITE WIDE:
TARGET CIRCLE Get 10% off school & office supplies with Target Circle. Valid 01/02 – 01/04.
5% OFF EVERY SHOPPING TRIP:Save 5% and get Free Shipping at Target – Apply for a REDcard
FREE SHIPPING/FREE RETURNS:Free Shipping on all orders over $35 & free returns on everything!
WEEKLY AD Check Out Target's Weekly Ad
CARTWHEEL – Save on your next shopping trip with Target's Mobile Savings App!
Save with Cartwheel for Apple – Sign Up Now
Save with Cartwheel for Android – Sign Up Now
REGISTRIES!
Wedding:Create a Target Wedding Registry
The Wedding Shop at Target.com + Spend $35, Get Free Shipping
Baby:Target Baby Registry
College:Target College Registry
GROCERY COUPON: Target's Printable Grocery Coupons
GIFT FINDER:
Shop for Anyone with Target's Gift Finder!
HOLIDAY PREPARATION!
PATIO, LAWN & GARDEN
APPLIANCES, KITCHEN & DINING
ELECTRONICS & ENTERTAINMENT
FURNITURE, BATH & FOR THE HOME
REGISTRIES
Big life-change coming up? Help your friends and family find the gifts you really need with Target Registries!
CLOTHING, JEWELRY & WATCHES, SHOES & ACCESSORIES
TOYS, SPORTS & BOOKS
BABY & NURSERY
FITNESS, HEALTH & BEAUTY
GROCERY & PETS
Printable Coupons from Target.com
Target.com has a coupon savings center where you can sift through pages and pages of coupons. They make it very easy to print, and then you can use them at your local store. For most items, Target allows you to stack one of their coupons with a manufacturer coupon for even more savings. There are print limits, and, when exceeded, the coupon will not appear or you'll get a "you have exceeded your household limit" or "this coupon is no longer available" message.
Mobile Coupons
You can sign up to get exclusive offers sent via text message on your phone, and the first coupon will arrive 1-2 weeks after sign up. You need to have a web-enabled phone, and standard rates apply. Target will send up to five messages a month with deals and information. To redeem, just show the cashier the barcode on your phone.
REDcard
The My TargetWeekly is an online flyer containing the currently discounted items for your local store. Inside, you can "flip" through pages displaying top deals and even more printable coupons. You can also setup alerts for certain products. For instance, you can receive an email when electronics like Blu-Ray players go on sale. Looking for more? Also check our similar posts for Sears Coupons, Home Depot Coupons, AJ Madison Coupons , and Harbor Freight Tools Coupons!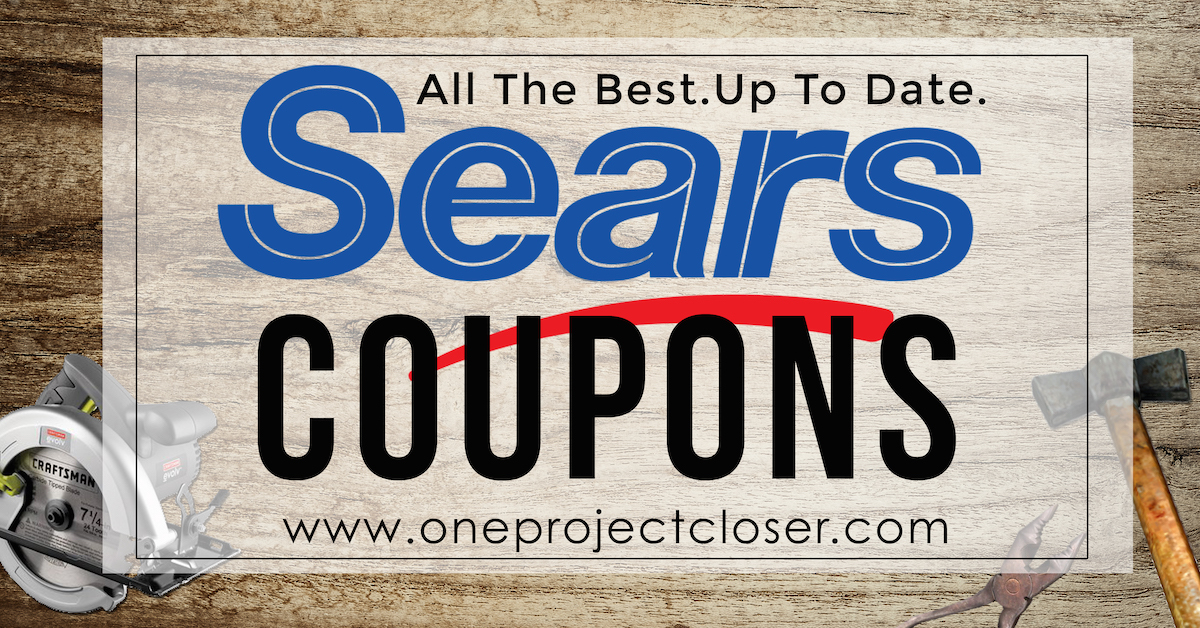 We update Sears' savings and deals every week. Come back for more discounts!
STORE-WIDE SAVINGS
HOLIDAY:
10% off Coupon! EXTRA $5 off $50 w/code SEARS5OFF50
APPLIANCES
PATIO & OUTDOOR LIVING
LAWN & GARDEN
TOOLS & AUTOMOTIVE
ELECTRONICS
BED, BATH, HOME
CLOTHING, SHOES & ACCESSORIES
Layaway
Layaway programs make it easy to fund a large purchase by spreading out the payments into small, manageable amounts. You can shop for virtually anything in-store or online. Just look for the layaway icon on the product page to see what items qualify. The Sears layaway program works by requiring consumers to make a down payment and subsequent payments every two weeks. Unfortunately, there is a $5 service fee (expect where prohibited by law) and a $10 cancellation fee for every new contract.
Price Match
Sears offers price match with 10% off the difference of any qualified item. You have to find a lower price (even sale prices) at any local competitor with the same branding and feature set. This applies to online purchases as well. Just include shipping, handling and delivery in your comparison. There are significant exclusions (of course). Price match does not apply to limited quantities, sales around Thanksgiving, typographical errors, and more. Click here to read all the fine print.
Buy Online, Pickup In Store
Buy Online, Pickup In Store programs allow you to eliminate shipping charges while keeping the convenience of online shopping. You'll receive an email confirmation when your item is ready for pickup and you can elect to have someone else pickup your order. After you arrive and notify the service desk, a 5 minute countdown starts. If you item isn't ready in 5 minutes, you get a $5 off coupon.
Credit Card
Sears credit card holders get some very nice benefits. Some of their best sales include an additional percentage off for card holders. For instance, Sears regularly offers 15% off appliances with an additional 5% off when you purchase with a Sears card. Often, they also include no interest for 12 months. There's no membership fee, and you earn $1 everywhere you shop. Applications are available in store.
Looking for more great coupons from other stores? If you are buying appliances, we also recommend checking out our Home Depot Coupon and, AJ Madison Coupon pages. These retailers frequently offer 10-20% off appliances just as Sears does.
We also offer several sources for Lowes Coupons, although Lowes doesn't offer the same online discounts as these other retailers.

Looking for ways to save on your next tool purchase? Below, we have aggregated every sale and coupon code currently available. I update this post personally and check to make sure the links here are current and working properly, so YOU can avoid the hassle of faulty links and coupon codes. Browse away! But before you begin, please:
Bookmark this page! – I update it several times a week with any new deals available from CPO Outlets and all their affiliated sites, so check back with us!
If you have a Google account, give us a "+1" – it'll let others know this page is helpful!
Fellow-Bloggers: if you think this information would be helpful to your readers, link to us, and let them know we're here!
ADVERTISEMENT
CURRENT SITE-WIDE SALES:
SAVE ON SHIPPING:
SALES BY BRAND (A-Z):
What are Reconditioned Tools?
Not all reconditioned tools have been used. They may be labeled as such because the product was discontinued or perhaps the unit is considered less than perfect (i.e. scratched during assembly). Many reconditioned tools are tools that have been returned to the place of purchase and then forwarded on to the manufacturer for one of the following reasons:
They need repair following either a defect or user mis-handling.
Customers have returned them for perceived malfunction, even when there is nothing actually wrong with the tools.
Customers' change their minds (they either realize they don't need the particular tool or else simply change their mind about the purchase and decide to return it).
These tools have either been used very little or have not been used at all.
The manufacturer restores the tool to factory specifications, at a factory reconditioning center, by certified technicians, and using only factory-specified parts. Each tool is inspected and tested, issued a Certificate of Authenticity, and then re-sold under the label "reconditioned."
Benefits of Buying Reconditioned
The benefits to every consumer buying the factory-reconditioned tool are:
Most reconditioned tools are an average of 25-30% off retail prices (though sometimes as much as 70% off!) – while still in like-new condition.
They still include factory warranties, so there is no greater risk in buying these than in buying a new tool.
CPO Outlets doesn't charge sales tax except in Georgia and California where it's required.
It's environmentally friendly: buying reconditioned tools is an easy and cost-saving way to recycle!
Tool Brands Represented
CPO Outlets is the largest reconditioned tool distributer with more than 3 times the inventory of Amazon and more than 5 times the inventory of Tool King. CPO carries Black and Decker, Bosch, Campbell Hausfeld, Delta Machinery, DeWalt, Dremel, Electrolux, Eureka!, Generac, Homelite, Hunter, Karcher, Leica Geosystems, Makita, Metabo, Milwaukee, Panasonic, Porter Cable, Ridgid, RotoZip, Ryobi, Senco, Singer, Skil, Stanley Bostitch, and Tyler Tool products.
For ease of shopping, they segregate their tools by brand, including their own CPO Reconditioned Tools and CPO Pressure Washers.
They regularly feature 10% Off Coupons and other Discounts which can be found at the link in the Discounts and Coupons section above.
Shipping Information
CPO Outlets only ships to physical addresses (ie. not P.O. Boxes) in the United States.
They ship all their orders within 3 days of payment verification and send an email with shipping confirmation a link to their order status page (which contains a tracking number for the shipping provider) to every customer. Usually your order will arrive within 5-10 business days, so if you plan a couple weeks ahead of starting a major project, your tools will be ready, and you will have saved a lot of money over just running to the local hardware store to buy your tools the day before (of?) your project's start.
CPO Outlets also offers Overnight, 2-Day, and 3-Day shipping on most of their products.
Warranties, Return Policy and Customer Service
CPO Outlets offers a 30-day money-back guarantee on all their products. If you are unhappy with your purchase, you can send it back unused for the purchase price. (CPO Outlets does not refund side-charges such as installation, and the customer is responsible for the shipping fee. For their Tankless Water Heaters, only, CPO Outlets charges a 15% restocking fee for returns, unless the items were defective or damaged upon arrival.)
Beyond that, their products come with factory warranty information on the packaging, and their certified reconditioned tools can be expected to work as well as any new tool you would purchase.
You can also call to cancel an order using their 800 number, provided you call before the order has reached their warehouse. Their return policy is indicated in detail on their site, and they pride themselves in giving excellent customer service, 7 days a week.
CPO Outlets regularly garners great reviews on sites like Ebay, Pricegrabber, and Amazon
CPO Outlets Blog
In addition to selling tools, CPO Outlets blogs reviews of tools their experts have tested, project advice, and safety tips.
Since you're here, you're probably in the market for tools. If that's the case, you should know that we also maintain discount links and information about Home Depot Coupons, Sears Coupons, and Lowes Coupons, Tool King Coupons and Harbor Freight Coupons that can help you save money on your future tool purchases!
What Do You Think? Thanks for visiting, and please comment with your CPO Outlet experiences below, so future readers can benefit!

Looking for ways to save on your next Northern Tool purchase? Below, I have aggregated (by category!) every Northern Tool sale and coupon code currently available – including their online-only deals, not available in stores.
I update this post personally and check to make sure the links here are current and working properly, so YOU can avoid the hassle of faulty links and coupon codes. Browse away! But before you begin, please:
Bookmark this page! – I update it several times a week with any new deals available from Northern Tool , so check back with us!
If you have a Google account, give us a "+1" – It'll let others know this page is helpful!
Fellow-Bloggers: if you think this information would be helpful to your readers, link to us, and let them know we're here!
ADVERTISEMENT
CURRENT DEALS
GIFT CARDS! Free Gift Card On All Orders Over $100! 11/24 – 11/27

BLACK FRIDAY Black Friday Deals Now! 11/23 – 11/27
Free Gift Card w/Purchase: Free Gift Card On All Orders Over $100. Online Only! (thru Nov 19)
Free Shipping
Clearance & Best Deals
Automotive
Outdoors
Lawn & Garden
Heaters
Power
Tools
You can also still get great discounts on our Home Depot Coupons or Sears Coupons page which has tons of deals, like great discounts on appliances. Also, there's still a Lowes Coupon that can be used at Lowes or any other home improvement stores that honor competitors' coupons.

Welcome to OPC's Kmart Deals page! Kmart's current sales and coupon codes (both online and in stores) are organized below, by category. Browse away, but before you do, bookmark this page so you can return again next time you're shopping Kmart!

MOST POPULAR
Tools & DIY: Tools & DIY Sales at Kmart this week!

Appliances: Shop Appliance Deals at Kmart!

Bed & Bath: Bed & Bath Discounts at Kmart!

Clearance!: Clearance Center – check out this week's deepest discounts!
SITE-WIDE SALES & COUPON CODES
LAWN & GARDEN, OUTDOOR LIVING
TOOLS & DIY
APPLIANCES, KITCHEN & DINING
BED, BATH & FOR THE HOME
ELECTRONICS & ENTERTAINMENT
TOYS & GAMES
APPAREL, ACCESSORIES, SHOES, FRAGRANCES, WATCHES & JEWELRY
Clothing & Accessories
Shoes
Jewelry & Watches
FITNESS & SPORTS
BABY & NURSERY
GROCERY & PET SUPPLIES
AUTOMOTIVE
Online-Only Sales
Much like its partner, Sears, Kmart offers special sales for Internet customers several times every month. Each week, they run a 1-Day, 2-Day or 3-Day sale, and there are frequently month-long online-only deals as well. Take advantage of these extra savings!
Deal of the Day
Kmart offers significant saving with their one-day-only online sales. Plan ahead to catch these great deals!
Printable Coupons
If you prefer to shop in your local store, we've found an official Kmart resource for printable coupons. It's basically a circular that makes it easy to "clip" coupons. You can browse by category or brand to see what's available. Here's the link for the printable coupons.
Unemployed Discount
This is the first time we've come across a discount program for shoppers who are out of work, and we commend Kmart for their initiative. By signing up for the Smart Assist program, unemployed customers can receive 20% off on grocery and drugstore items for up to six months. To enroll, eligible participants must present a state-issued drivers license or other ID and a state-issued unemployment benefits confirmation. When you check-out, simply present your discount card and state-issued ID. For all the terms and conditions, click here.
Email Specials
The Kmart My Preference Center provides an email or text message subscription to receive free updates about great deals. You can even tailor your account by marking areas of interest. After signing up, Kmart will send you an initial email with information about online promo codes. These same codes are available at our Kmart Coupons link above (and you won't have to manage another email subscription).
In-Store Pickup
Like many other retailers, Kmart offer in-store pickup for online purchases. Look for the little, green "GO" with a check to see what items qualify. Purchases should be ready in less than one day with some items ready in two hours. Wait for the email confirmation that your order is ready. The benefit of in-store pickup is that you avoid paying any shipping charges.
Can't find what you're looking for here? Then visit our other deals posts: Home Depot Coupon, Target Coupon, Sears Coupon, Harbor Freight Coupon, and AJ Madison Coupon – all featuring weekly/seasonal sales as well as coupon codes and links.

For those of you who have been looking for them, I wanted to explain our current link-party hiatus.
The first part is my fault:  Fred and I took the boys up the East Coast on vacation for two weeks, and I spent my time climbing monuments and eating lobster instead of blogging.  (Where are my priorities?!)
But now that I'm back, Jocie and I are focusing our energy on promoting our Before and After Series in place of the link parties for the summer.  If you haven't already read our intro post to that series, please check it out!
This is our 5th year running the contests, and we've added a little twist.  We're sponsoring the series in cooperation with over a dozen other bloggers this summer!  They'll be hosting on their own sites, so you can meet them all as the series progresses!
How it Works: Submit your project stories (as many entries as you'd like!) to beforeandafter@oneprojectcloser.com with pictures of the "before" and then the "after," and you could win a $50 gift card to your favorite home improvement or hobby & crafting store, AND we'll make a $100 donation to Habitat for Humanity in your name, if you're selected as a week's winner.
The series runs every week, so there are many chances to win; and there will be a grand prize at the end of the summer for the "best of the best" winner again this year.
It's a great way to "give back" while you share your best work, so please email us your Before-and-Afters all summer long!

Welcome to OPC: The Better Half's Weekend Link-up Party, a place where you can brag a little (or a lot!) about some of the projects you've completed recently.  We love getting ideas and just admiring the hard work many of you all put into your homes, like we do.  So please link up!  Share what you've been working on lately!
This weekend's party opens late Thursday night and closes Monday morning, so if you have a great Saturday project planned, please come back and show us what you've got!
Thanks!
-Kim

My Own Small "Share," to Start Us Off!
While Jocie's all over the crafting and decor, my own favorite beautification hobby is gardening; and I've been working very hard outside for the past several weeks, getting everything planted, weeded, mulched and established before Fred and the boys and I head off for a 2 week vacation.  And yesterday, I got my first pay-off of the season: enough bright blooms to make a small bouquet for the corner of my cooktop.  Just a little thing, but it makes me smile every time I'm meal-planning!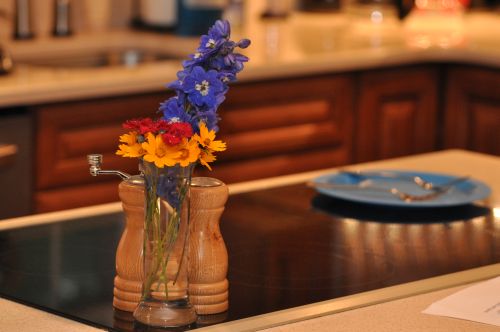 I did say it was a little thing, right?  Ok, now it's YOUR turn!

How to Join in!
SUBMIT! up to three projects (crafts, how-to's, decor, reviews, or really anything home improvement related) from your site. Use the link to the article (rather Unthan your site's homepage).
LINK BACK! from your original article to this post so other people can join the party! (You can grab our button and display it on your site too!)
SUBSCRIBE! (see sidebar) to receive updates from our site!
and one "don't"…
DON'T link up Giveaways, ETSY Stores, For-Sale stuff, etc.


Share the Love!
Don't forget to grab our button or link back to our party from your post so other's can join in on the fun!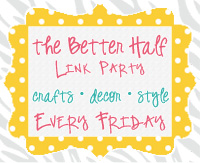 … and why not visit and comment on some of the other entries too!…