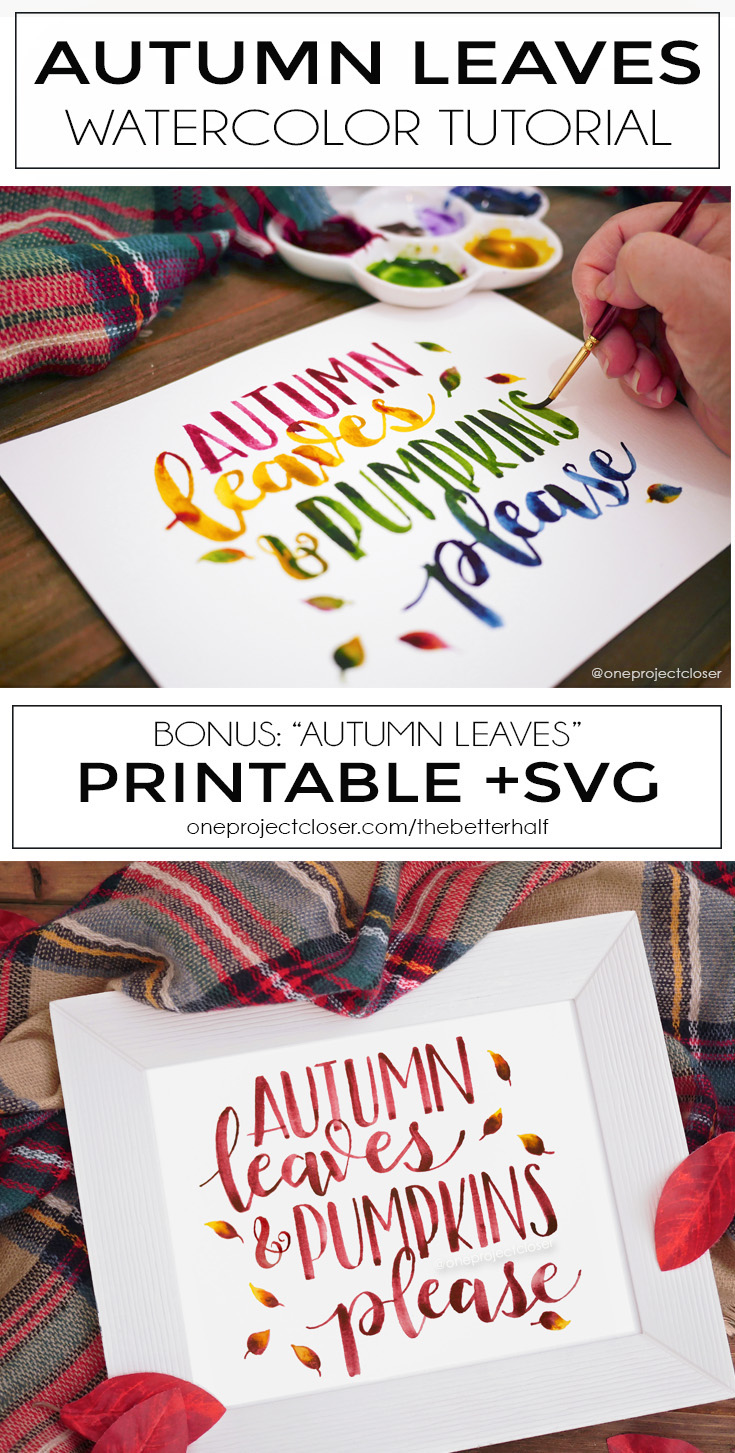 Thank you so much for visiting us at One Project Closer for this Autumn Leaves Lettering Tutorial with Printable + SVG! We've teamed up with some other amazing bloggers for other great Fall lettering projects below, so stick around to the end! Post may contain affiliate links.
Okay, so I haven't started decorating for fall yet, but I love painting with Fall colors and I'm excited to show you just how easy it is for you to paint this at home! If you don't feel comfortable with watercolor (yet), this is also a great use for your Tombow dual brush markers.
DIY Autumn Leaves Art
Make Time: 15 minutes
Cost: Under $2
Difficulty Level: Easy – Moderate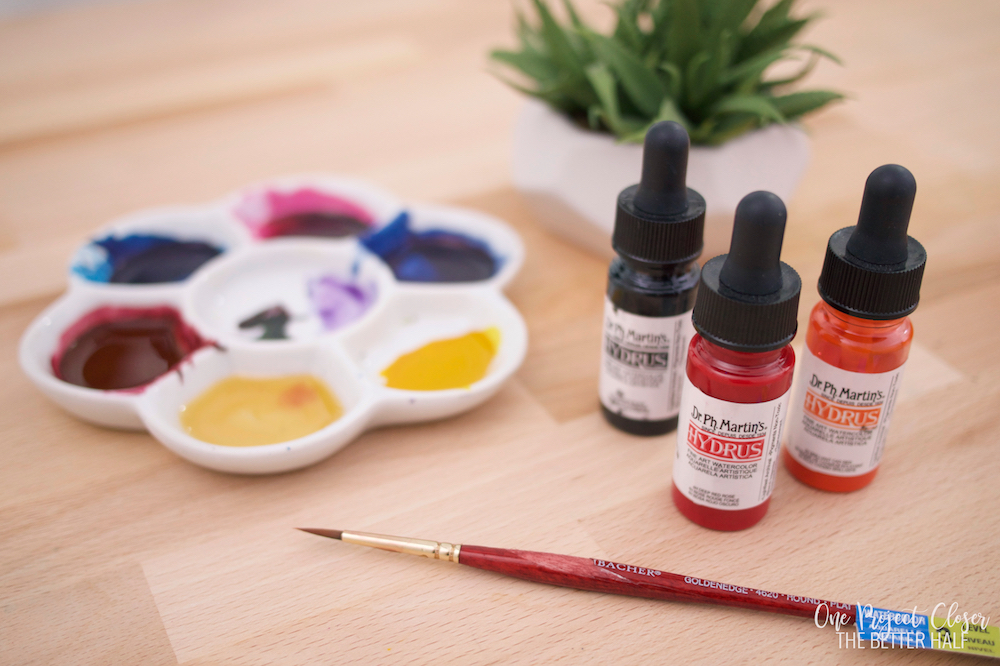 Supplies Needed:
I love creating my own custom art for my home, but realize that we're not all there. Most of the time, the hardest part of creating is the design not the actual painting. So I've taken care of that for you! you are welcome to use this as a Practice sheet, tracing the design until you are confident enough to draw it yourself, or you can simply trace my design with your own watercolor or markers to create a beautiful piece of art!
STEP ONE
Print this!!! Yup, that easy!
*Printables are for personal use only and may not be altered, sold, or claimed as your own.

Don't give up on this easy art project yet, but if you want the FREE printable watercolor versions of this piece of art AND the free SVG cut file, sign up for my newsletter! My subscribers get unlimited access to tons of free printables and SVGs anytime they want them.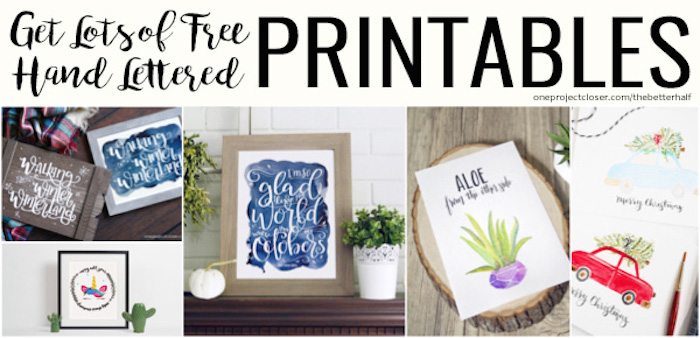 STEP TWO
Use a light box (or create your own) to transfer your design onto watercolor paper. Be sure to trace your design very lightly. After done tracing, use a white high-polymer eraser to reduce pencil markings until they are just barely seen.
STEP THREE
Paint your design using watercolor. I really enjoy Dr PH Martin's Hydrus Watercolors because the colors are so intense. When mixing colors, I usually add just a touch of black so the colors are less vibrant.
Last Fall, I was obsessed with Navy…like all of it. And I still am, but this year I wanted to incorporate more wine (not just the drinking kind either). I painted several versions of this piece, some all wine colored and others using wine, navy, mustard and olive green.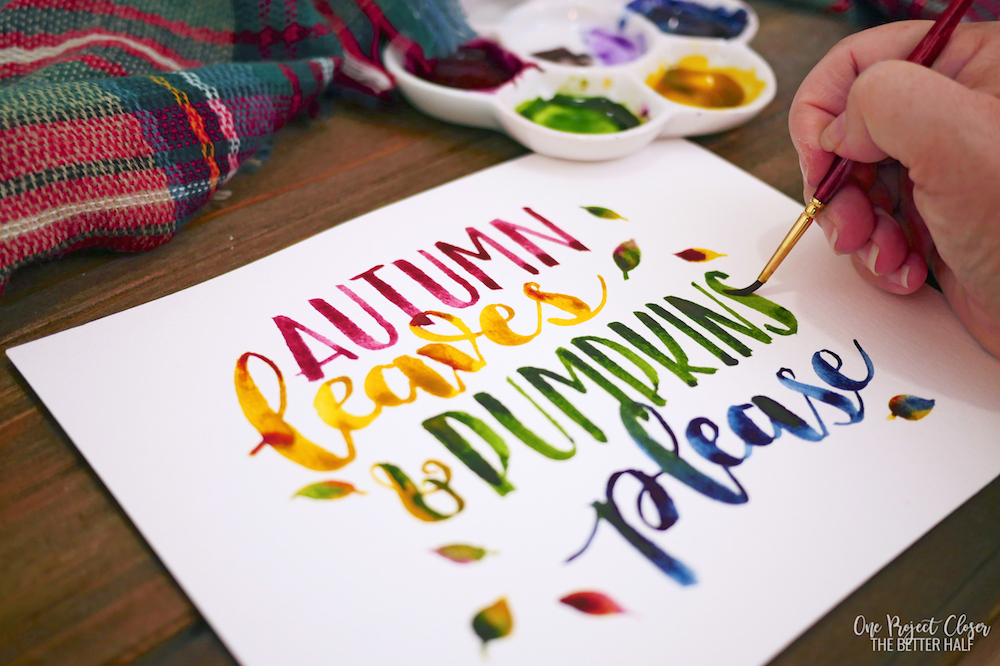 When painting with multiple colors, I like to go back and add touches of the adjacent color into the primary color to give it a blended and more interesting look. You can see it best with the yellow with touches of red and green.
STEP FOUR
When painting the leaves, start first with painting the leaf with water only. This will better allow the colors to bleed into each other.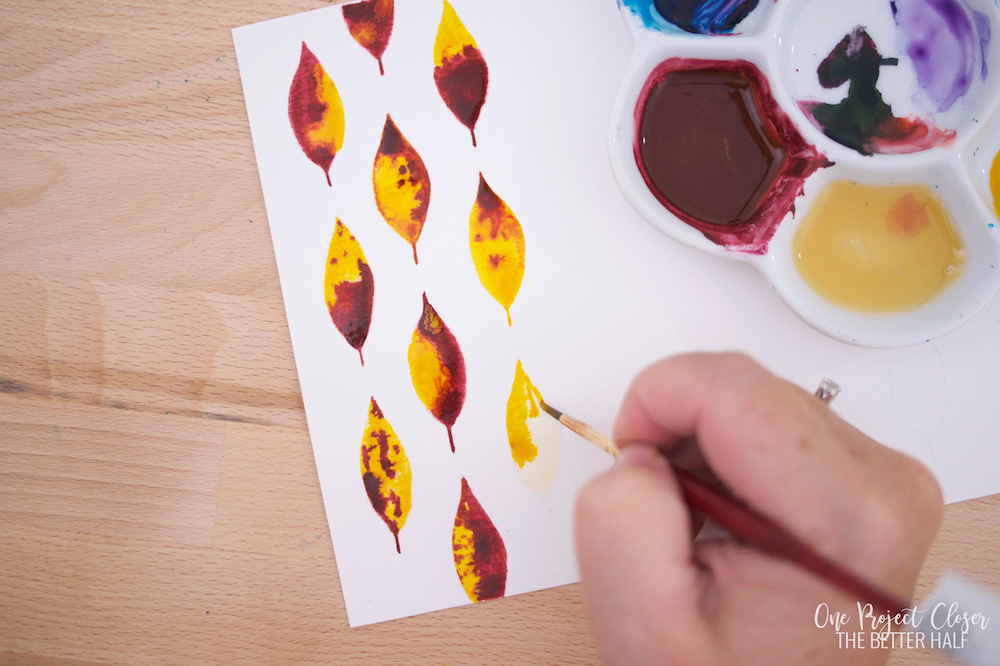 Then dab colors on opposite sides, or add darker colors on top of the lighter colors.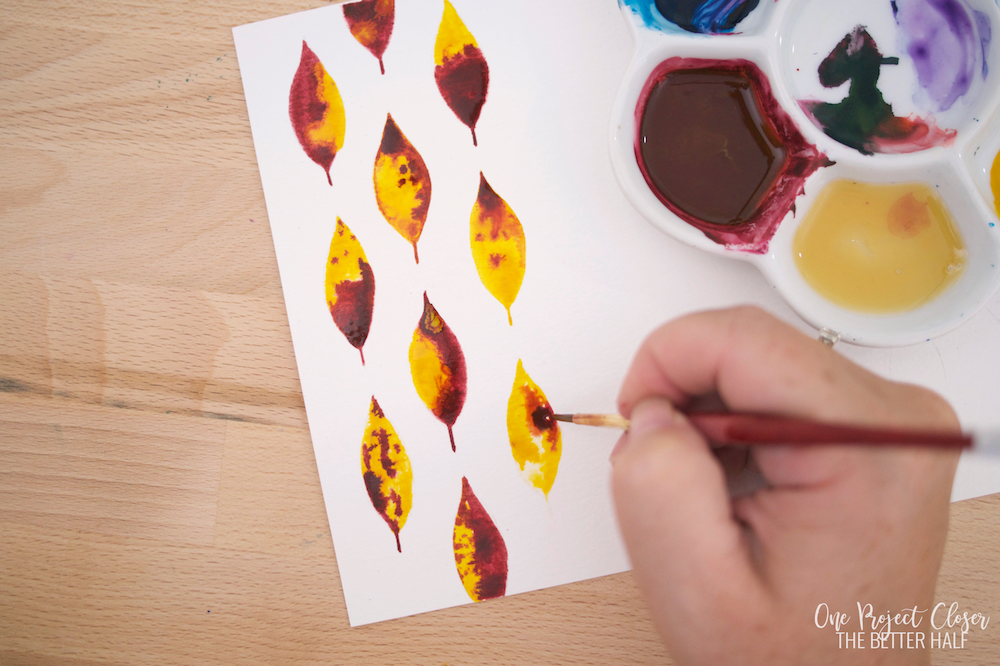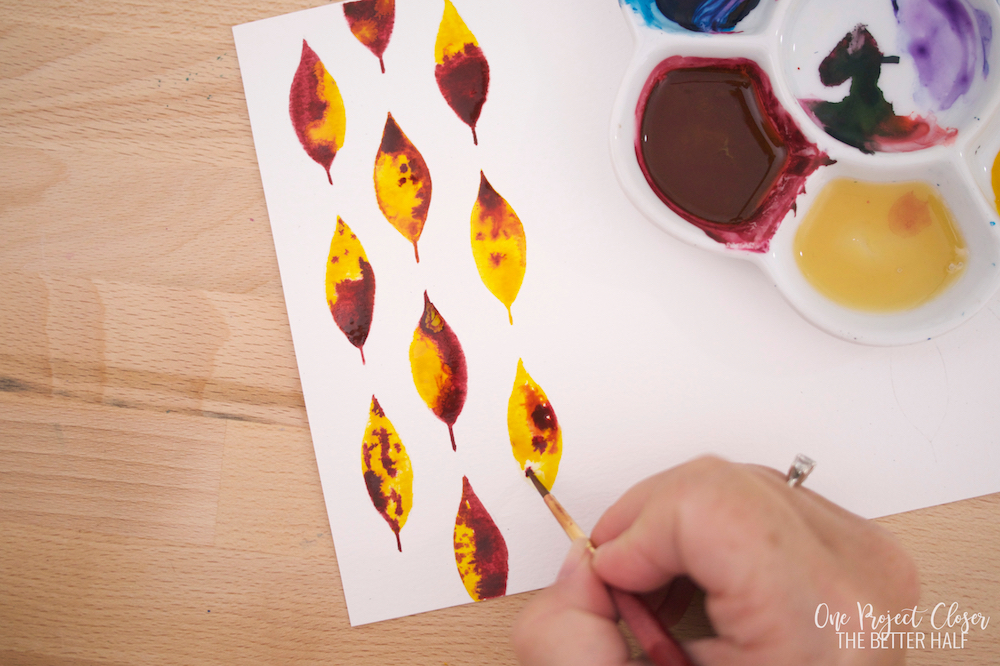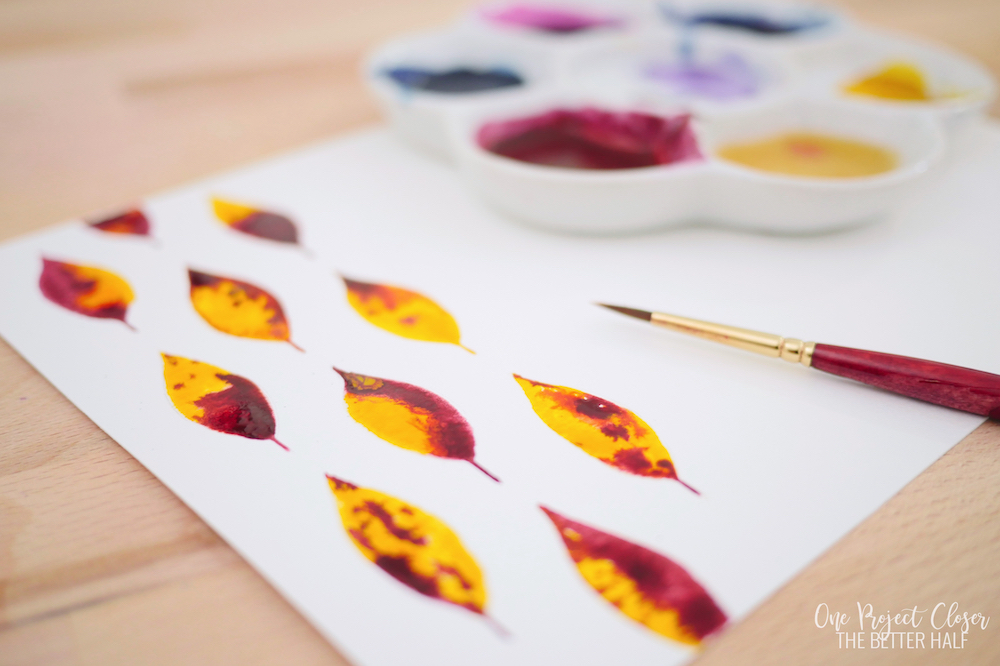 You can see how fun and easy it is to use one design and get lots of different looks and styles to fit your home!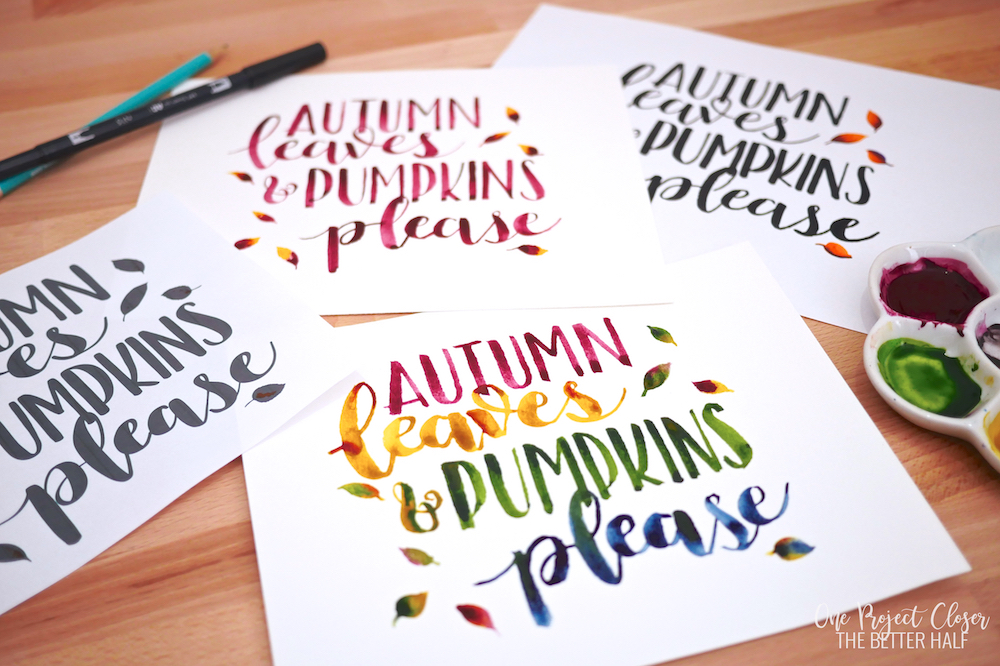 More FALL Printables + Tutorials
I'm excited to team up today with a few of my favorite lettering artists to bring you even more great fall inspiration! And thanks so much for tuning in for this autumn leaves lettering tutorial.

Left to Right, Top to Bottom:
Dawn Nicole – Let's Make S'mores Lettering Worksheets
One Project Closer – Autumn Leaves Lettering Tutorial with Printable + SVG
Lemon Thistle – Autumn Printable Practice Sheet
Smiling Colors – Fall themed Brush Lettering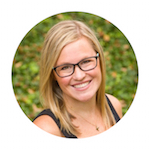 Jocie Hagan
One Project Closer
Come say hi on Facebook, Instagram, & Pinterest!

Save
Want to learn to hand letter and make amazing, personal decor for your home?
Learn now with Busy Girl's Guide to Hand Lettering!
**Use the code HAPPY5OFF to get $5 off the course price**