We here at OPC just had the opportunity to try out a great new dumpster-alternative put out by Waste Management.  It's called the "Bagster," and it's available at many local home improvement stores.
What is it?
The Bagster is a cheaper, smaller alternative to renting a dumpster – for when your project accumulates enough trash that you would otherwise need to borrow someone's truck for a dump-run (if you're fortunate enough to have friends who loan out their trucks) but not enough trash to justify renting one of the larger metal dumpsters.  It's a huge green bag that can hold up to  3 cubic yards or 3300 pounds of construction/project debris.  As you can see below, it can also hold Fred.  With lots of room to spare.  🙂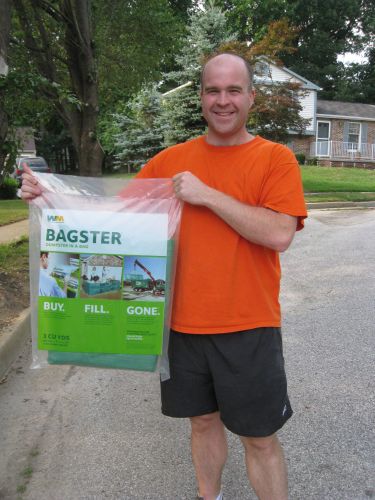 How does it work?
Purchase the bag at your local home improvement store or other vendor.  Not sure who carries it?  Check WM's handy source link Where to Buy a Bagster.
Set it up out by the curb where the WM truck can easily retrieve it, and fill it up with all your home project junk.  Here's ours, not quite full.  We went with a modification of the old cliché and stuffed in everything including the utility sink.
Go online and arrange a pick-up date.  Waste Management will send out a crane truck that literally just picks it up by the handles and takes it away.  We didn't get a picture of that because they came so early in the morning that we weren't out of bed yet.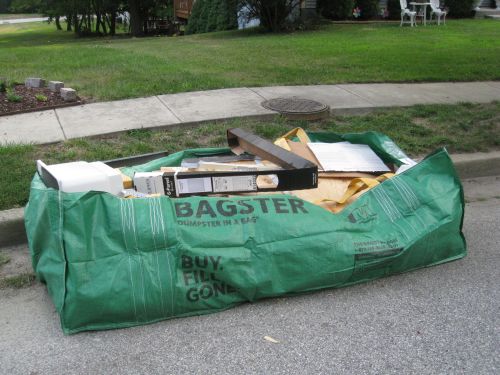 How Much Does it Cost?
The Bagster bag sells for about $30 at your local home improvement store.  Then you pay a collection fee to Waste Management at the time you schedule your pick up.  The fee for our area was $129.  You can check your own local collection fee with the Bagster Local Collection Fee link.
Having just paid to rent a 20 yard dumpster about a month ago, I can testify that this is a whole lot less expensive for your smaller jobs than renting a metal dumpster.
The Bottom Line
If you're doing a huge job that results in a lot of debris, metal dumpsters are the way to go.  But if you're just renovating a small section of your home, this 8′ x 4′ x 2 1/2′ bag can hold whole sheets of drywall or plywood and most other things you'll encounter in household construction.
We highly recommend it!