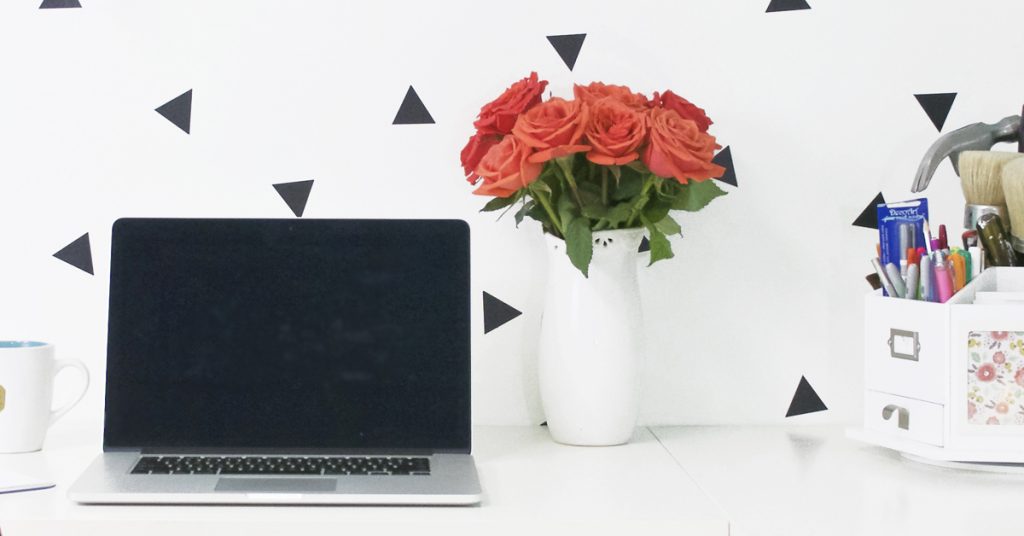 Thank you for following along on this easy and stunning before and after basement craft room makeover, which was originally shared in September 2015. We hope you feel inspired and stick around to get to know us a little better here at One Project Closer!
We've lived in our new-to-us home for almost a year – hard to believe its gone that fast! In that time, this may be my favorite makeover yet – transforming a bland, spare basement dungeon into a beautiful and bold craft room. Here is how my basement craft room makeover started…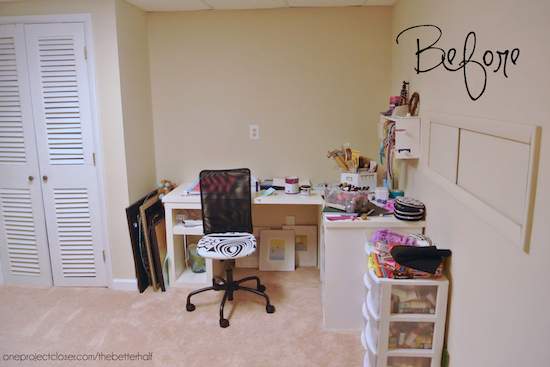 Not very exciting, huh? Yet more of the Builder Beige that consumes my house (not putting that down, I just like gray or off white instead as a nuetral). But I think one of the reasons this craft room makeover is my favorite is because it is all mine! While I am the prominent influence over the decor in our house, I try to take everyone else's preference and the desired mood for each room into account. I rarely choose bold and bright colors for main living areas because we want a calm place to spend time as a family. But not this room. Give me BOLD. Give me COLOR. Give me AWESOME!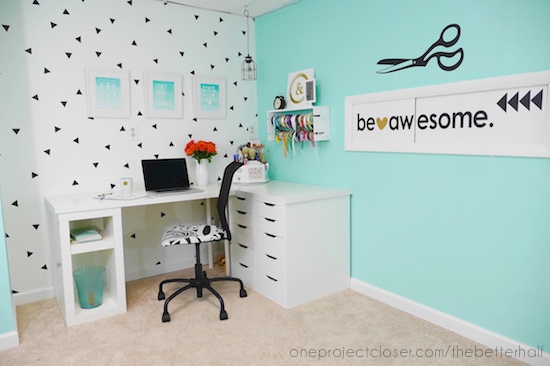 Also, this was a pretty inexpensive makeover, in all. I already owned the IKEA desk and chair, but that wasn't very expensive. I made these DIY watercolor paintings which were SO EASY, and used my Silhouette Machine to make the black triangles, scissors, "be awesome," and the keyboard ampersand art with adhesive vinyl that Expressions Vinyl sent me. And I topped it all off with my new light from Color Cord which they sent me to help promote past giveaways.
I should also mention, one of the challenges in this room (in addition to the lack of windows and presence of fluorescent lights) was this weird box on the right that provides access to the water main. So for obvious reasons, I couldn't close it off or cover it. So "be awesome" was my attempt to make it look more like decor and less like access for axe murderers.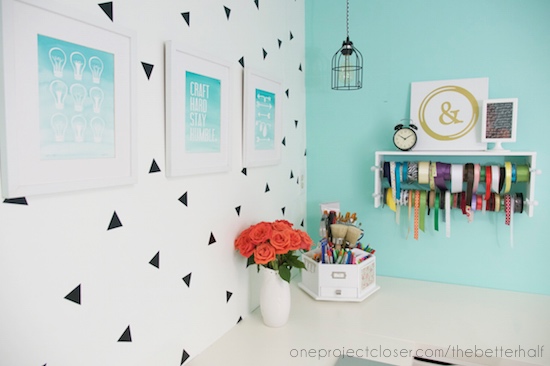 Oh and I'm in love with this paint from Behr (Aqua Wish) – bright without being neon, and just the right blend of blue and green!
I've shared this pic before, but I was digging these flowers Ethan gave me for my birthday last month and doodled a quick "One Project Closer" with Sharpie for the photo shoot.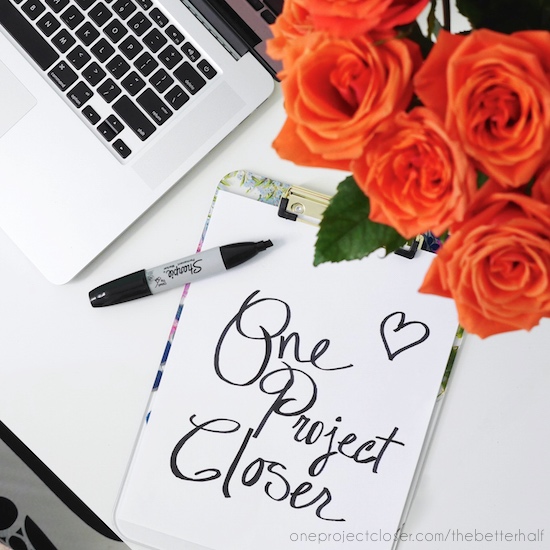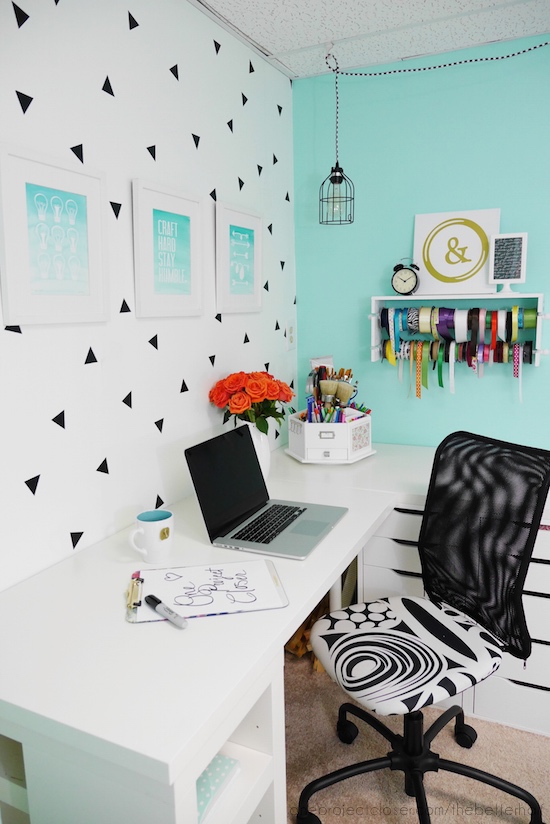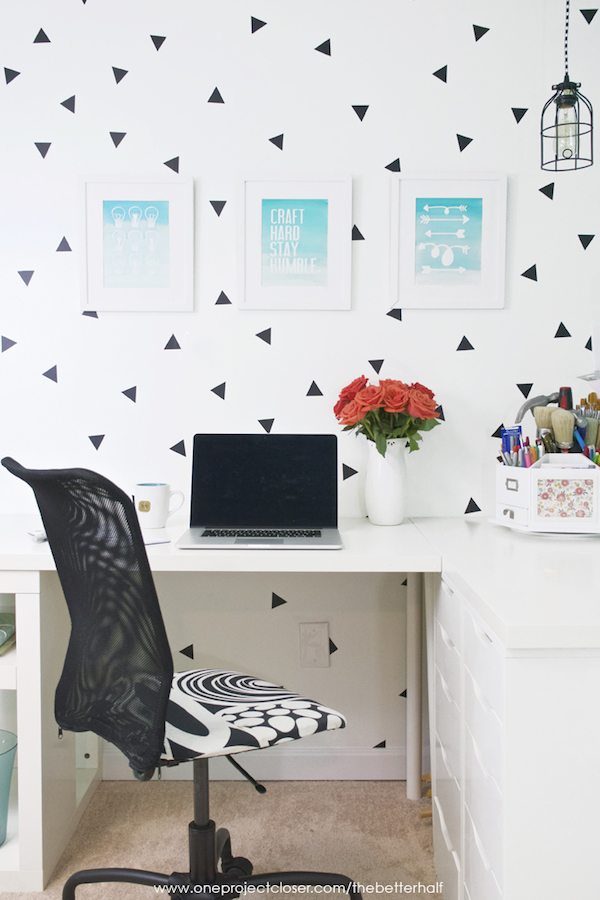 For reference, here is the breakdown of what we spent on the desk from Ikea:
2 Vika Amon Table tops – $15.99 each
3 Table Legs – $3.50 each
2 Vika Alex Drawer Unit – $79 each
1 Vika Annefors Table Leg Storage – $45
1 Barometer Work Lamp – $29.99
1 Torbjorn Swivel Chair – $49.99
What do you think? What is your favorite room? What are your tips for a basement craft room makeover??
As Always, thanks for reading!