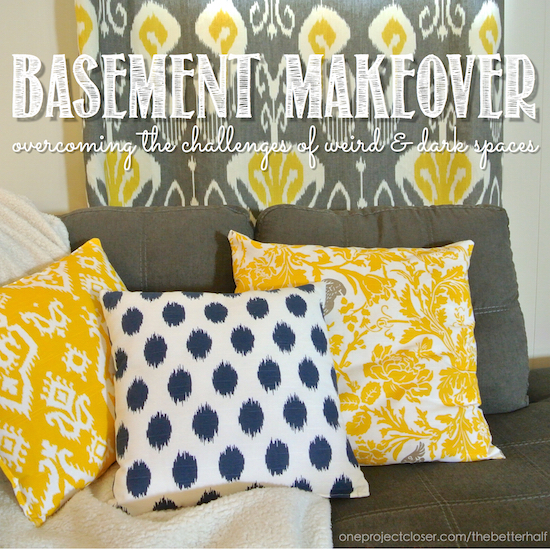 Basements are often a last priority for people when decorating a home. I guess that's because it's usually not the main living area, entertaining happens closer to the kitchen and living room, and they are often used for extra storage. I totally get that. But Ethan and I have really enjoyed keeping our TV off of the main floor and out of the bedrooms. During the day, the kids don't really think about it and don't ask to watch it most days. That being said, a lot of our toys are downstairs, along with my treadmill and craft room. Also, in the winter the girls and I play a lot of Just Dance on the PS3, and Ethan and I like to watch tv some nights after the girls go to bed. So even though our guests often don't see the basement, we wanted a comfortable space (and didn't want to spend a fortune).
Challenges of Decorating a Basement
When we had moved in, the previous homeowners, with the help of their realtor (both of which happen to be family friends), really overcame the biggest hurdles to turning a basement into a comfortable space: paneling and layout! So a BIG THANK YOU to them for doing the big jobs!
1. Paneling
Lots of older homes have basements have paneling, right? My parents house still does. And honestly, back in the day I'm sure they thought it was homey, yet practical at the same time. I mean, how great is it to just wipe your child's boogers right off the wall? The problem is that paneling just sucks the light from the room and creates more of a dungeon than anything else. Easy solution: paint it! Mine was painted "Builder Beige." That's not the official name but you get my meaning. And while it's not my favorite color, it is neutral and in good condition.
This was not our basement – I found a great basement makeover from Domestic Engineer in which she dealt with some these same typical basement challenges. Be sure to go check out her "after," its awesome!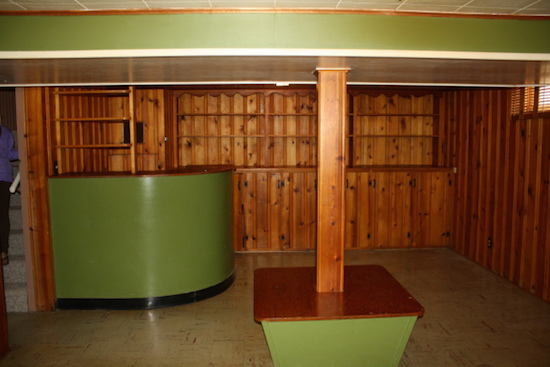 2. Layout
Sometimes basements have been divided for different uses or simply because structurally it is needed. I hear that our home used to have a half wall and a bar where the chair and tv now sit. There is also a supporting beam/pole in the center of the basement. The previous owners removed the wall and bar, but obviously the beam had to stay. And while the beam doesn't interrupt the open feel of the room, if does somewhat dictate the layout of furniture.
Along with walls and beams, the ceiling also plays a role. You will notice in our basement the ceiling is lower in the quarter of the basement where the tv is. While that is not ideal (especially when I am breaking down some awesome Just Dance moves), people are usually just sitting in that area and putting the tv there opened up the rest of the space.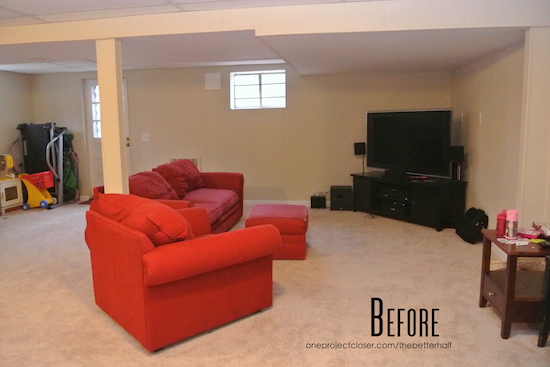 3. Light
In my opinion, this might be the biggest challenge of basements: LIGHT!!! We don't have windows on all the walls and they aren't even full windows. But we are luckier than lots of people who have far less light and less windows. One thing that really helps us is that we have a door with windows, which I love!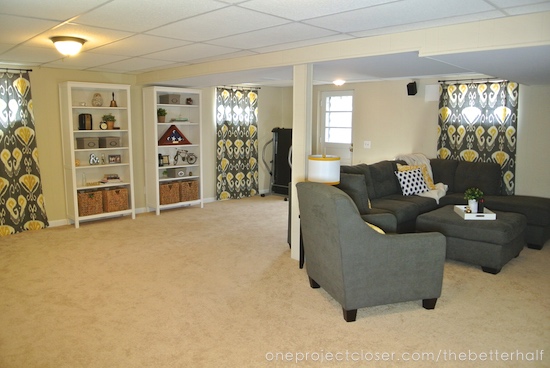 4. Color
Given the challenge of light, I wanted to be careful to not use too dark of fabrics, furniture or accessories, but still create a cozy and balanced space. We chose a gray couch because I love gray and we wanted something dark enough that we wouldn't live in constant fear of the children.
I love the yellow along with the gray, and while almost everyone told me to use yellow fabric for the curtains, I went with my gut and chose gray. Let me tell you why – the yellow looked awful and pukey next to the tan walls. If the walls were light gray, the yellow would have been perfect. But honestly, I love love love this Portfolio Bansuri Storm Fabric from Online Fabric Store (disclaimer: They did not pay me for the post, just sent me fabric. Opinions are 100% mine.). These are the fabric I used to make the pillows: Premier Prints Jo Jo Premier Navy Slub Fabric, Premier Prints Raji Corn Yellow Slub Fabric, Premier Prints Barber Corn Yellow/Kelp Slub Fabric.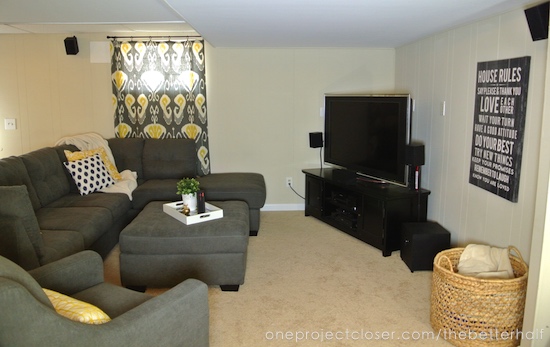 5. Storage and Toys
Once we put the couch and tv down there, it looked great, with the exception of the constant explosion of toys. Seriously, I just ended up keeping the giant Rubbermaid totes down there to throw them all into. But usually those just got dumped out and used as boats, cars, etc. I bought these fabulous shelves at Ikea, along with storage bins, and fancied them up with some of my favorite decor. Be sure to check out Ethan's grandfather's flag and antique radio! <3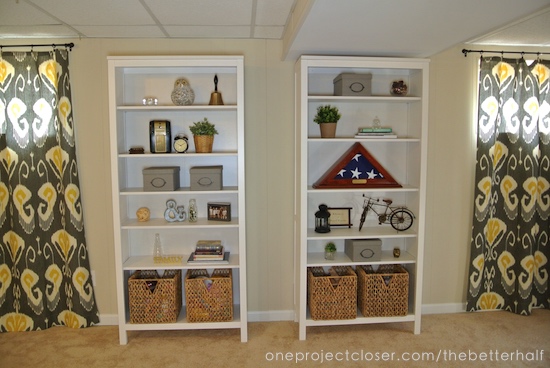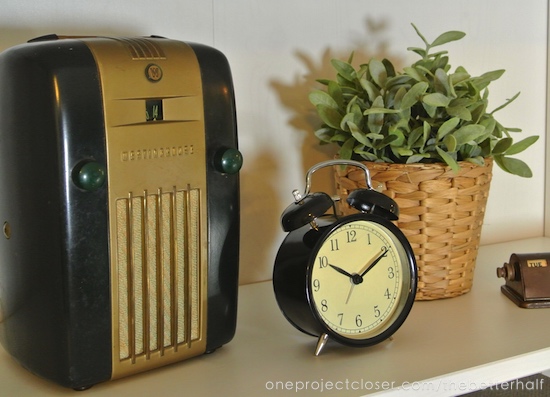 It's not a big design element, but I cut a piece off my fake boxwood and put it in an old Starbuck's Frappacino bottle aka "milk bottle" and I LOVE it!!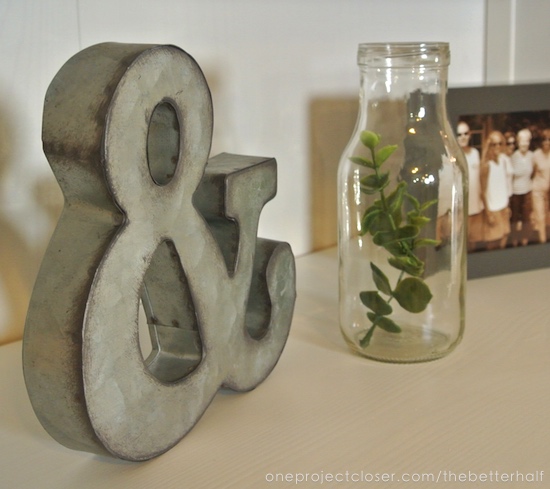 There was no challenge to overcome here, but I bought this House Rules Canvas at Target and just adore it. Also, Ethan got me this new UE Boom bluetooth speaker as an early anniversary present (it's really next week). LOVE!!! We seriously listen to Pandora all day. 🙂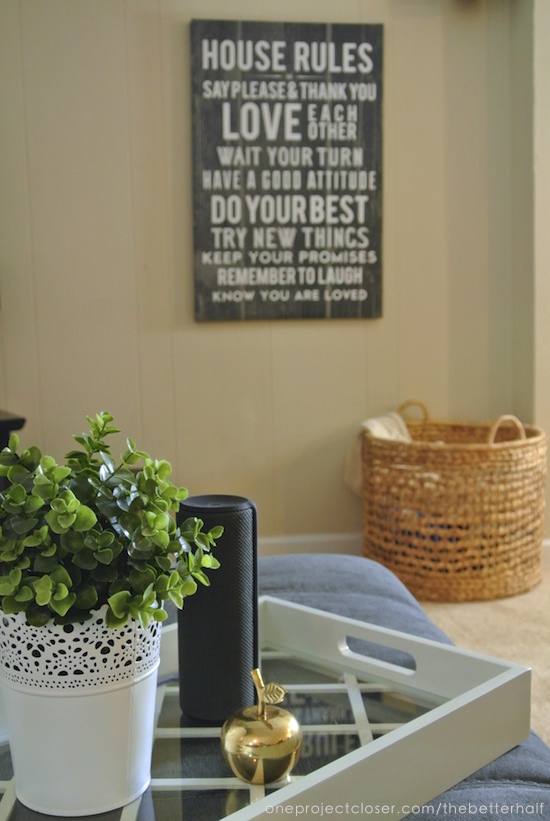 For links to everything we bought and used in the basement makeover, check out my Basement Pinterest Board!
What do you think? How do you like my basement makeover ? What challenges do you face with your dark and awkward spaces?
As Always, thanks for reading!