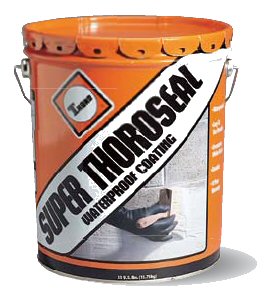 Two years ago, we waterproofed over 1000 square feet of cinder block wall in our mostly-underground basement. We applied Super Thoroseal to 500 sq. ft., and SunnyDry Foundation Waterproofer to the other 500 sq. ft.
[See also: SunnyDry Foundation Waterproofer Review]
When we ran that initial review, we promised a follow-on article with a review of Super Thoroseal's performance, but like so many things, it fell off the plate. So here's that review, two years later.
What is Super Thoroseal?
To bring you back up to speed, Super Thoroseal is a portland-cement based waterproofer that is sold in 35 lb., five gallon buckets at a variety of stores–most notably Home Depot, where we purchased it.  Super Thoroseal is suitable for a variety of waterproofing applications, including above and below grade concrete and masonry waterproofing.  It cannot be applied to painted surfaces.
[See also: Super Thoroseal's Official Site]
Super Thoroseal claims a 200 PSI waterproofing capability, nearly 10 times the standard waterproofing available from paint-based solutions like traditional Dry Lok.  (Note: Dry Lok now offers a portland cement based solution as well).
Installation method is extremely important as the product will not work as advertised if the instructions for wall prep and application are not followed to a "T".  I'll repeat this because it's important:  installation method is very important.  Do not short cut the installation or your seal may fail prematurely.  Alright, enough of that.  Here's how to apply it:
How to Apply Super Thoroseal
Wall Prep: The walls must be cleaned of debris and efflorescence, wet (as in, with a hose), and the temperature must be above 40 degrees.  You can see Thoro's online instructions & product sheet for more information on application specs and performance.

Mixing: Measure and add the appropriate amount of water to a separate five-gallon bucket.  Do not add too much or too little water. Add the Super Thoroseal powder  and mix with a suitable drill & mixing paddle until it becomes a pancake batter consistency.  Do not try to mix Super Thoroseal by hand, you will not be able to get a good mix. Super Thoroseal stays spreadable for about 30 minutes.  Do not pour water into the Super Thoroseal bucket.  The water must be poured into a separate bucket and the powder dumped on top!

Application: Wet the walls with a garden hose and apply the mixed batter using a tampico fiber brush (also available at the big box). Cover the walls thoroughly. Full seal occurs after two coats. Note: you must apply both coats within a 24-48 hour period.  Do not let the first coat stand for more than 48 hours or the second coat will not bond and seal well.
Super Thoroseal Coverage & Price
One five-gallon bucket runs about $25 at the local big box. Coverage is up to 105 sq. ft. and requires two coats to achieve watertight seal. We found Thoro's coverage claims on the bucket to be accurate.
Super Thoroseal Water Sealing Performance
We're pleased to report that after two years, Super Thoroseal is living up to its promise.  We have no leaks in the basement, and recommend this product to folks looking to seal their own basements.  If we ever do experience an issue, we'll update this article with the bad news.
Update 10/16/09: Last night, we examined the wall in one of the corner areas on the wall and noticed a small section (about 2×2 inches) of the ST had de-laminated from the wall. It appeared that the Super Thoroseal in this area didn't form a good bond and was a bit 'powdery' – it wasn't well mixed.  I don't blame this on ST and actually believe it may have been an error in our installation process (the first coat we applied didn't follow my instructions here exactly, and we may not have mixed it well because it was our first try).  The good news is the issue appears isolated and not characteristic of the rest of the wall.  Also, there's still no moisture in the area despite the rain we've had, which leads me to believe some of the ST is still clogging the pours of the concrete.  I will continue to update this post if we have any other issues.
Update 2/7/12: Our walls have been encased in closed cell foam insulation for more than 2 years now. We have had no issues whatsoever with either the Super Thoroseal or SunnyDry leaking.