The Before and After Summer Series on One Project Closer, our "other half," has long been my favorite time of the blog year. It brings things into perspective for me. When we started the blog, we wanted to have fun, work on our homes, and maybe make a little money in the process. But, at the end of the day, Ethan, Fred, Kim, and I all felt a calling to make the blog something that matters. Part of that was making the blog as much of a user service as possible. Another part of that calling was ensuring that we help others and not just work for fame or money.
As a result, Habitat for Humanity (H4H) has been our favorite way to give of our time and money in the community. We're so glad you have joined with us in helping H4H by reading, linking, sharing with your readers. We hope that this series will encourage people to share our joy of do-it-yourself home improvement and also spread as much information and passion for helping H4H as possible!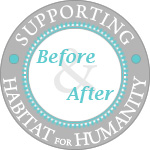 This is the first year, I (Jocie) got to pick a winner! There were so many before and after stories that were submitted and it was a difficult decision. At the end of the day, I chose a project that spoke most to my own style and stage of life. Kelly at View Along the Way transformed an empty room into first her son's nursery, and then finally a nursery for her daughter. It is bright, whimsical, and creative. I love this room so much and it inspires me to redecorate Lucy's room in a similar style.
Since Kelly is a weekly winner,  she will receive a $50 gift card to either Lowes, Home Depot, or Amazon, and we make a donation of $100 to Habitat for Humanity in her honor! She will also have a chance to be the grand prize winner. At the end of the Summer, the best submission, as voted on by readers, wins a bonus $150 gift card to one of the three stores above.
Kelly is the first weekly winner in a 13 week series, so there is still time to win and be featured on one of twelve other big DIY blogs. Check out how to enter and contest details, joining us in celebrating DIY and H4H! If you don't want to enter but would like to show your support, feel free to grab a button and tell your friends.
Without further ado, here is Kelly's Before and After nursery reveal as written by her on her blog, View Along The Way. She has lots of other great posts and projects over on her site, so feel free to head on over and show some love!
THE NURSERY REVEAL

Capital letters for this one, because it's finally (mostly) done! The only thing remaining is a fantastic little chandelier which continues to elude me, but enough about that, right? Let's see the pics!

Here's the room when we bought the house:

And here it is when we redid it for my son:

And here's the room now:

If this baby comes out male, I'm sending him back.

The crib skirt is Premier Prints Lulu Stripe in True Turquoise – the same fabric that you all agreed to love whether you really did or not for the sake of my tender, pregnant sanity. Making the skirt was a stupidly easy DIY project (crib skirt tutorial here).

The beautiful LOVE print is by the incredibly talented Katie Daisy on Etsy*. I seriously love every single thing in her shop. The frames were $1 yard sale finds. Here are the rest of the details on the art.

(If you're wondering what the "M" stands for, as of writing this post, it stands for "Maybe there's a Minuscule chance this girl will get an actual real name before she turns 5." We don't know what we're going to name her at ALL, but our top favorites right now start with an M, so we're going with it. UPDATE: She's here!)

The wall color is Olympic Irish Lace, and it's low odor/no-VOC! Love that. The front-facing bookshelves were a DIY project when we were preparing this room for my son – see that post here.

The curtain fabric is Anna Maria Summer Totem in Tart, and it was the jumping-off point for the whole room. They're black-out lined back-tab panels and um, I made them myself (WHAAAT?! For reals!). Here's the full tutorial on that. Can I say this again though? I made them myself. With a sewing machine.

Enough, you guys! Quit asking about that.

(Some people avoid drapery panels in nurseries because supposedly their tarzan children swing from one panel to another and smash into the wall or something? I'm not sure. But we have them all over our house and our two-year-old has never had a problem with them. We used valances + blinds for his nursery, and could never get the room quite dark enough, so I think this will be MUCH more functional. But I'll probably still have a tarzan child.)

Let's take a quick stop in the closet, which was another DIY project (details here).

I picked up that snazzy little dresser on craigslist in a brutal hunt-and-kill game. The amazing white upholstered rocker which is going to change my life was another craigslist STEAL. Total steal. It's the Pottery Barn Dream Rocker.

I whipped up that little pillow, and it's kinda wonky but we're ignoring that. We're so thankful for the little blanket on the chair which was made with love by Mildred's Millicent's Maude's baby girl's talented grammy.

And that stuff flying away above the dresser/changing table?




It's a little DIY pinwheel art installation project which was so easy, and by the way? The pinwheels WORK. I'm planning on this being super-entertaining for Marjorie Mabel Minnie the littie one while she's getting her diaper changed. Here's the tutorial for the pinwheel art installation.

Total cost for this room is disgustingly cheap. The furniture (crib, dresser, chair) was $275 total. Curtain fabric was the most expensive thing, about $100 total – $25 per panel. I already had the curtain rods from our last house. Another $30 for paint, less than $20 for the art over her crib (most of the stuff I already had on hand), $15 for crib skirt fabric, $6 for the fabric and filling for the wonky pillow, and about $5 for the supplies for the pinwheel art that I didn't already have on hand.

Total cost for this redo? About $450 for the whole room. I'm pretty happy with that, especially considering that upholstered rockers usually start at around $350 alone.

I still want to add a chandelier and a floor lamp to read by, and I'll probably want some kind of footstool, but it's as close to finished as it will get for now. I'm pretty happy that Minerva Mavis Martha the baby girl will have a place to call her own, and that it's finally just about finished!

And PS – I think this is my favorite room in the house now. I usually get about halfway done with a room redo, and start to loathe everything in it and regret it with all my soul, but not this time!

Thanks for all your help and input in the comments section while I've been working on it. You guys are brilliant!
Thanks, Kelly for that beautiful and inspiring Before and After!
Fun Fact
Did you know that "in addition to a down payment and monthly mortgage payments, homeowners invest hundreds of hours of their own labor into building their Habitat house and the houses of others?" So you could volunteer along side the homeowner! How amazing is that? Since I'm not the heavy construction type and have kids to care for, the OPC kids and I have made lunches and brought them to the volunteers. Check out how you can get involved.
Who's hosting next week?
Next week, our friend Brittany at Pretty Handy Girl will be featuring another Before and After winner! Wonder what other awesome blog are hosting? Check it out!
If you love this series and you love H4H, tell your friends, share of on facebook, scream it from the rooftops! We would love your help spreading the word and we will be your friend forever too!
As Always, thanks for reading!