I hope everyone had a great 4th of July! My weekend was filled with backyard bbq's, swimming and lot of fun with family and friends. That's why this week's Before and After is a little late.
If you haven't heard, we're running our summer Before and After series supporting Habitat for Humanity. This is the fourth year we've run the contest, and it gets better every time. Each week we're picking a before and after story to share on One Project Closer. The winner gets a $50 gift card and we make a $100 donation to Habitat for Humanity in their honor. Check out the link above for the official announcement and how you can enter too.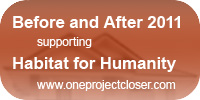 This weeks winner is Angela from Fixing It Fancy! Angela shares a great story about renovating her master bedroom and closet. They went to the extreme, tearing out carpet, ripping out wood paneling and knocking down walls. Enjoy!
This overhaul was probably our longest and most strenuous. When we bought our house, originally built in 1900, we knew we had a lot of work ahead of us. Thankfully, the structure itself was in great shape; it was just the decor. A wood artist from the 1960s got their hands on this house and covered every surface (walls, ceilings and most floors) with wood. Room by room we've installed new drywall, new floors and new ceilings. This brings us to our master bedroom and walk-in closet renovation.

Step 1: Demolition
We had to first rip out the carpet and remove the paneling on the walls. There was one wall shared by our bedroom with a smaller, teeny tiny room (just perfect for an adjoined closet). Our plan was to knock through this wall and create a doorway. All lighting fixtures, outlet covers and wallpaper had to go.

Step 2: The Walk Knock-Through
Before we could even think about decorating, we had to join these two rooms together first. We knocked through the wall and created a small door. Our door was purchased at Habitat for Humanity ReStore in the Twin Cities, of which I spray-painted with glass frost to create a feeling of privacy for the closet.

Step 3: Drywall Installation
With the old out of the way, it was time to install the new. We installed new ceilings and walls in the new closet and new walls in the bedroom. The ceiling bedroom was covered only 2/3 of the way with panelling so we finished off the remaining 1/3 and spray-painted it white to keep with your home's beachy, airy feel.

Step 4: Paint
My favorite phase of the project; painting! It always makes the rooms come to life. We chose a grayish-Tiffany blue for the bedroom and Restoration Hardware's Saffron for the closet. I think it's good to have some unexpected color here and there.

Step 5: Detail Work
The remaining touches were added to the room including newly painted doors, trim-work, curtains, lighting, outlet covers, etc.

Without further ado, here's a look at the finished bedroom:

And the closet:
Thanks Angela!
This is a great story and without the pictures, you would believe it's the same space. The complete transformation looks terrific! Congrats on envisioning what could-be through all the wood paneling. 🙂 We hope you enjoy the gift card, and you'll put it to good use for future projects.
Habitat for Humanity Factoid
It's inspiring to learn more about the homeowners that Habitat selects, and it puts a face behind all the hard work. To learn more about applying for a Habitat house, click here.
Rebekah Daniel shares the story of new habitat homeowner Kylie Norton who went from being a legal secretary and professional musician to a quadriplegic. Kylie was piloting a single-engine plane that crashed taking the life of her fiance. Hers is a story of rebuilding an entire life, and the Habitat house was a part of that. Click that link for the full article.
Where's Your Before and After Story?
We need to fill up an entire summer with Before & After stories, and yours could be next. Email your pictures and a "how to" story to beforeandafter@oneprojectcloser.com to join in.
Help Us Spread the Word
Are you a blogger? If you'd like to support us, please write an article on your blog about the contest, and consider adding one of our buttons to your sidebar. You can find the buttons and more information on our main Before and After article.