It hard to believe how quickly summer has come and gone and unfortunately, that means we are down to our last Before & After! All of our weekly winners are entered in the end-of-year contest for a $150 gift card to the home improvement store of their choice so stay tuned.
Our last Before and After winner for 2010 is Donna from Funky Junk Interiors! We've already featured one stair redo but this Before and After takes things in a totally different direction. Now her stairs practically ooze spunky personality, all on a very small budget.
For being our last winner, Donna gets a $50 gift card to Home Depot, Lowes, or Amazon. And, we'll make a donation to Habitat for Humanity for $100 in her honor. Plus, there's that bit about being entered into the grand prize contest. Read on for the full details about Donna's stair makeover and this weeks Habitat Quick Fact.
Funky Stairs by Donna
I've always loved the look of stamped numbers and logos on wooden crates.
So back in April, 2010, when I walked by my carpetless stairs (that had been like that for 2 years!!), I came up with an even BETTER plan! Sometimes it pays to not have the funds for all the things you THINK you need. 🙂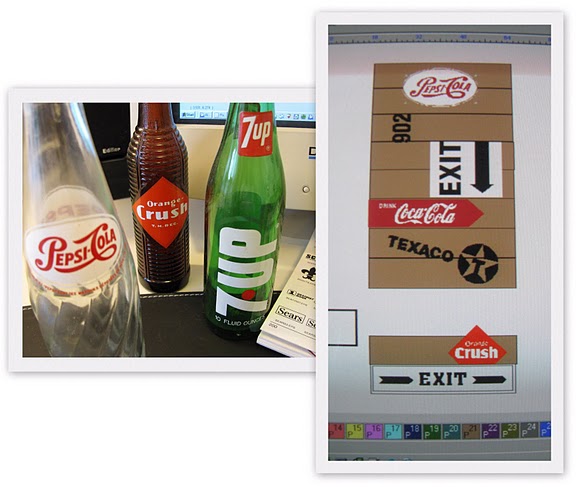 Grabbing some crate and label inspiration I had close by, I started drawing up my plan.
Sign equipment used
The drawing programs I use are CorelDraw and Signlab, alongside a vinyl cutting machine built for commercial use. I use this equipment in my vehicle lettering business, which aren't priced for novice type users. However, stencils anyone can make is all this takes.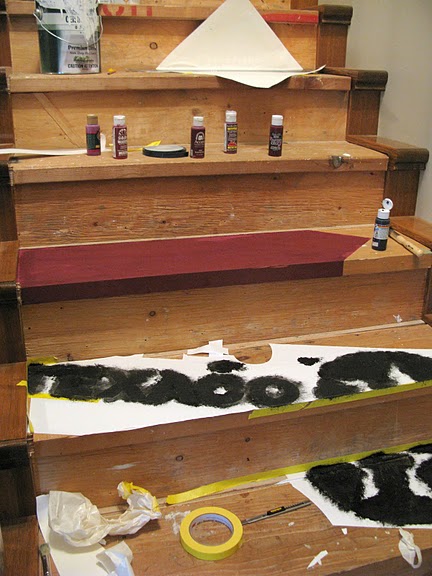 And then I got right to work. 🙂 Yep, right ON the stairs.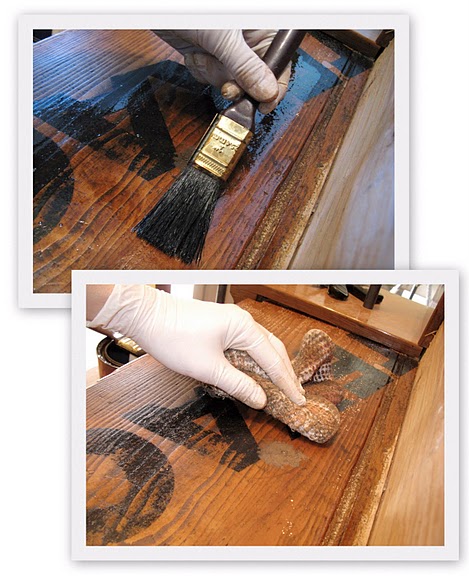 And here's the result. Come on in and I'll show you around my old crate staircase! 🙂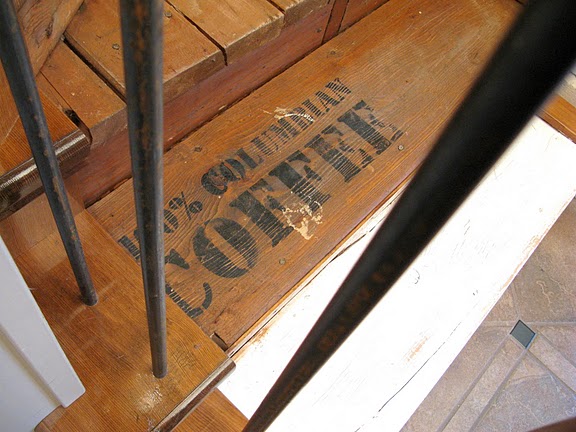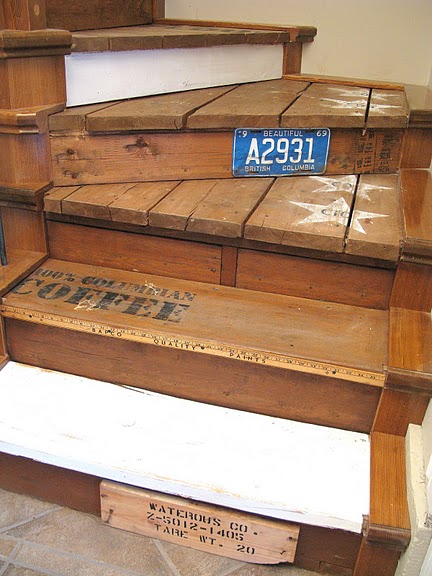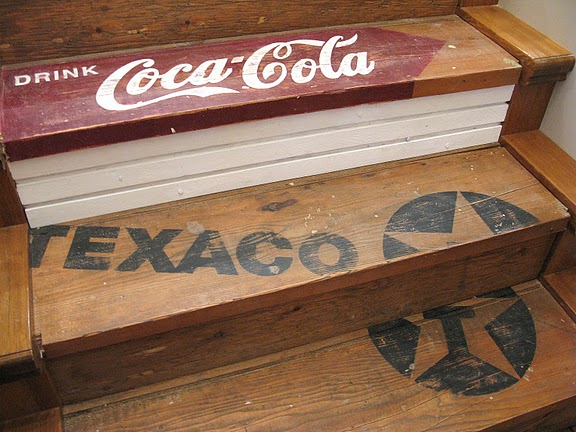 The stairs were designed to appear to have been made out of old signboards and wooden stamped crates.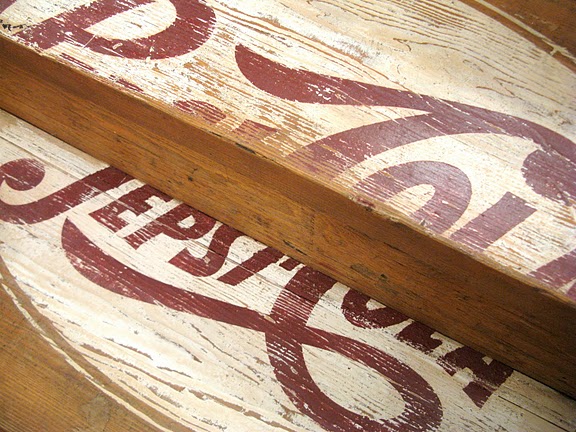 Some steps share one logo, looking as if a large sign was cut in half in order to create the steps.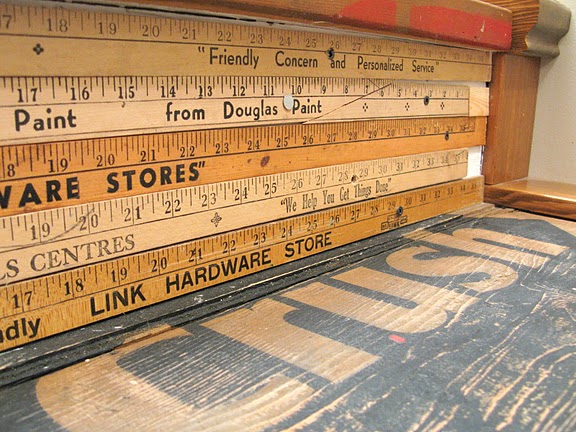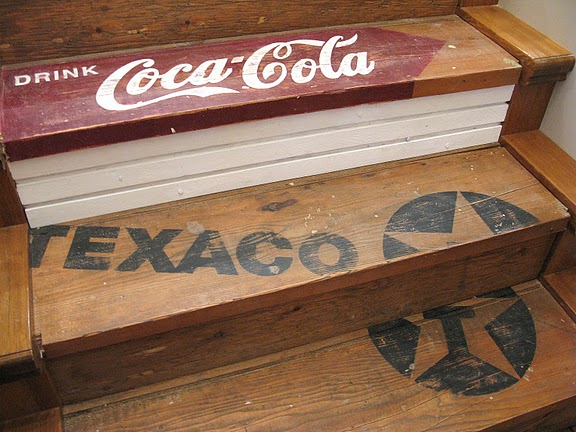 Different ideas for treads were utilized for a fun eclectic look!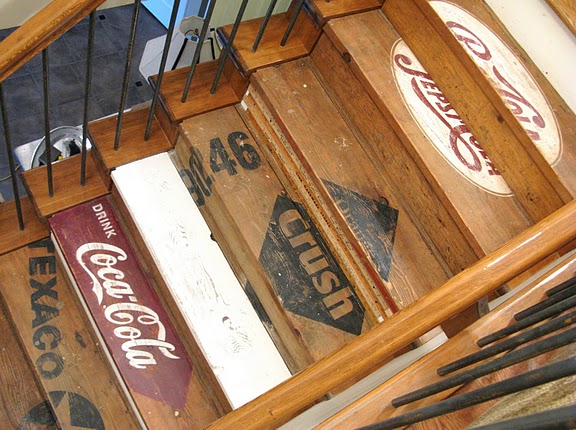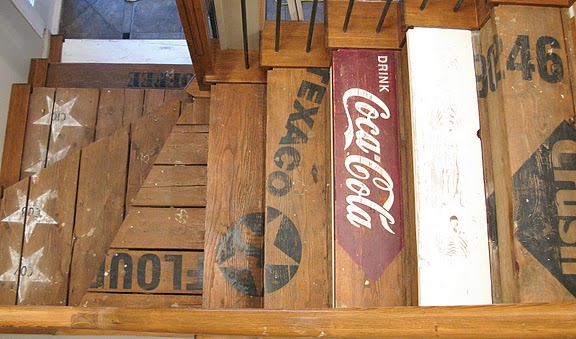 The end result is something so fun and outrageous, you can't help but smile. 🙂 And a funny story? My two cats think there's something on the stairs so they wind themselves around each logo as they use them. 🙂
The very fuzzy before.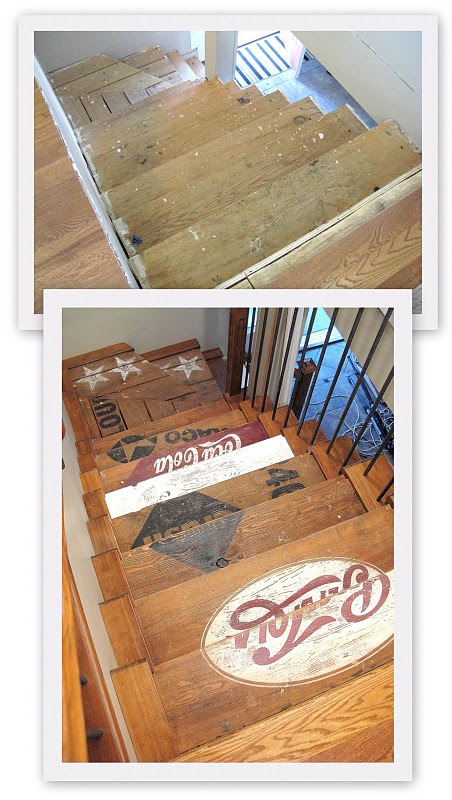 And the very funky eclectic FUN!! after.
A wooden crate staircase is one wild way to enter this house and suits my own personal style to perfection. The more banged up and paint splattered the stairs previously were, the more authentic they appeared! My favorite splatters are from the dog after she ran through a knocked over paint spill. 🙂
The stairs fool most anyone that walks in. They aren't authentic, but they sure look like it.
Method used:
Sand and vaccum the stairway as is
Latex paint with stencils – the white is leftover ceiling, the rest acrylic craft
Distress the painted stencils.
Stain – oil based I had on hand, went overtop the stencils
Varnish – satin in a spray can for wood
There was simply nothing to lose in trying out this crazy idea. The stairway can always be covered with carpet right on top of the wildness at any time.
Give your own old carpeted stairway some thought on what design may suit your own home!
Thanks from One Project Closer!
Donna, I love the stairs! I could picture these going into some sort of game room (or man cave). Thanks for sharing this inexpensive stair redo.
Habitat Quick Fact
From World Habitat Day:
On Oct. 4, 2010, in recognition of World Habitat Day, Habitat for Humanity will raise awareness of the need for improved shelter and highlight Habitat's priorities: the worldwide connection between human health and housing, and, in the United States, neighborhood revitalization. These themes echo the United Nations' chosen theme for 2010 for events in the host city of Shanghai, China and the rest of the world: "Better City, Better Life."

The most important thing you can do is take action! Below are three common ways that people take action in their community.

Advocate
In addition to building homes in partnership with people in need, Habitat advocates to address the causes of poverty housing. Advocacy activities always include a specific request, such as asking supporters to sign a petition, send a message to an elected official or take part in a rally.

Fundraise
World Habitat Day is a great way to raise funds for Habitat in your area. A fundraiser can help educate the public and generate publicity for nonprofit organizations like Habitat for Humanity.

Educate
Organize a public awareness event for World Habitat Day 2010 that not only highlights the need for affordable housing in your own community, but also discusses the need for improved shelter for billions of people around the world.

For some ideas on how you can take action in your community, click here.
Grand Prize Contest
You'll have to save the rest of your Before & After submissions till next summer when we kick off another annual series. But the winning isn't over! Stay tuned as we open up the voting to see which B&A project you liked most!