It's time to announce our winner for this week in our Before & After series. The competition is really heating up, making it tough to pick winners. If you haven't entered your project yet, don't despair. We need to fill up an entire summer with your projects! To learn more, visit the link above.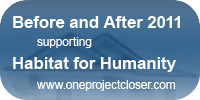 This week's winner is Melissa from Living Beautifully, and what really tipped the scales in Melissa's favor was her amazing furniture transformation. Check out how she gave an old cabinet and a chewed-up desk new life.
For winning this week's contest, Melissa gets a gift card for $50 to Lowes, Home Depot, or Amazon, and we make a $100 donation to Habitat for Humanity in Melissa's honor.
A Complete Office Makeover
The room we completed overhauled is our office. We did it ourselves and it was a lot of work, but we absolutely love it.

Here's the before, complete with the previous homeowner's decor.



And here's the after. We worked our bums off!

Basically everything in the room was changed. Ceiling, walls and trim were all painted. Carpet was ripped out and replaced with new bamboo flooring, lighting was changed and all decor (obviously). It was the easiest room to do since we didn't need to be in there a lot.

The desk and tall cabinet were actually purchased off of Kijiji and completely redone. When we first started looking on kijiji for furniture for our new home, we came across this cabinet:

The cabinet is made out of walnut and has dovetail joints, however, part of the cabinet is veneer and this made for a difficult time when spraying it with paint. The inside had 3 pull out drawers, and there are 2 large drawers on the bottom. Our plan was to use this piece in our office as storage for the printer, paper, etc.

We thought we could just leave the inside unpainted, but of course when I saw the outside sprayed all gleeming white, I had to paint the inside white…myself. That actually turned out ok, but it does make the drawers stick a bit, so I would not recommed doing that.

The final product:

The one thing that I desperately wanted for our office was a new desk. I was tired of the massive ikea desk we had and wanted something that I could "re-vamp". We went to every furniture store we could think of, and the only stores that carried anything we liked were selling for around $800-$1200. Way beyond our budget. We were hoping for something in the 'under $200' range….wishful thinking I suppose. I searched on Kijiji for weeks in a million locations…nothing.

However, being the determined person I am, I wasn't about to give up on my idea of my dream desk. I could invision it beautifully in that room, and I was going to find it! Finally, one morning my brilliant husband suggested I look on Kijiji in a different geographic region- one close to his parents. That way, if we did find something, we could ask to borrow their van and drive it home.

There it was. My perfect "French Provincial Style Writing Desk"…. listed at $95.00.

We drove down that afternoon to check it out. Perfect. It was in absolutely gorgeous condition- solid wood, beautifully cared for…except for the one corner which had been chewed by the dog. I looked past that. Ian was certain we could fix it would wood filler, and we were painting it anyways. Plus, for $95.00 I couldn't pass up this deal.

So we brought it home, piled on the wood filler, sanded. Piled on the wood filler again, sanded. Did that about 5 times until the corner looked somewhat like a corner again.

Then I sanded the entire desk and had it painted white. We changed the knobs to crystal knobs and there it was. My perfect desk. For under $200.00 🙂

I love the colour on the walls (its 'Fine Silver' by ICI) and all our trim in the house is 'Simply White' by Benjamin Moore Aura. Its just a bit less warm that the popular "Cloud White" which works well with the colours we are choosing for the walls.
Thanks Melissa!
It is amazing how you took the desk and cabinet and made them look like new! Some paint and new hardware can do a lot. Way to see the possibilities for what these pieces could be!
Habitat for Humanity Factoid
In addition to Habitat ReStores, did you know that Habitat has an online store too? There, you can pick up some Habitat branded swag to show off your support and benefit a worthy cause. They've got a ton of selections–for travel, the job site, and more. Some of the items that caught my eye include a foldable water bottle, first aid kit, heavy duty tape measure, and Habitat hammer mug. These items also make for great gifts. Check it out!
Where's Your Before and After Story?
We hope you'll consider submitting a Before & After story. Email your pictures and a "how to" description to beforeandafter@oneprojectcloser.com to join in.
Help Us Spread the Word
Are you a blogger? If you'd like to support us, please write an article on your blog about the contest, and consider adding one of our buttons to your sidebar. You can find the buttons and more information on our main Before and After article.