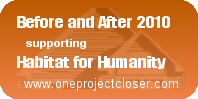 This week's Before and After is brought to you by Sara @ Russet Street Reno. Sara is a member of our community blogs and we were excited to have her submit an entry for the contest!
For winning this week's contest, Sara gets a $50 gift card to Home Depot, Lowes, or Amazon. And, we'll make a $100 donation to Habitat for Humanity in Sara's honor.  She's also entered into our end-of-summer showdown where all of you will vote for the best Before and After and the winner will get another $150 to the home improvement store of their choice.
Read on for the juicy details on how Sara turned a drab bonus room into a dramatic art room for her husband and herself.
Art Room Design by Sara
We had a small bonus room that couldn't fit much furniture because of pull-down attic stairs and four (!) doorways, so we decided to use it as an art space as we are both hobby painters.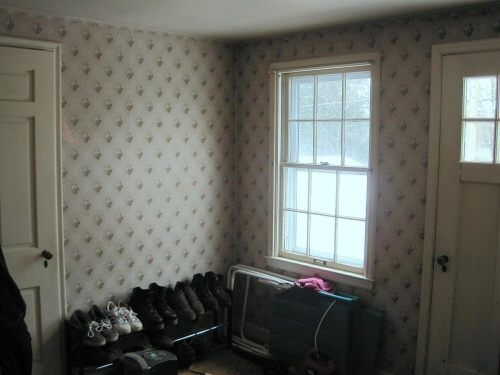 The plan was to remove the scary "Shining-esqe" wallpaper, sand, prime and paint all trim, doors, ceiling and walls, and put up picture molding on the walls to add interest and create a gallery-like space.  The wallpaper was so old, it just flaked off the walls.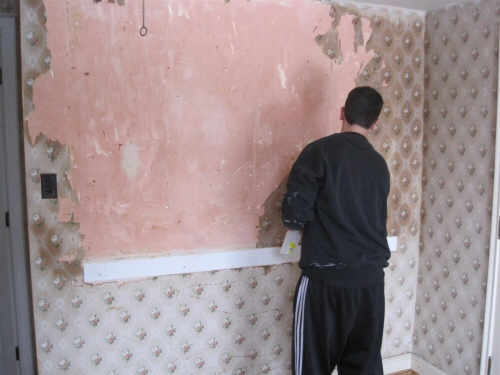 We used simple 1-inch colonial molding to make the boxes on the walls, and attached them with trim adhesive and our nail gun.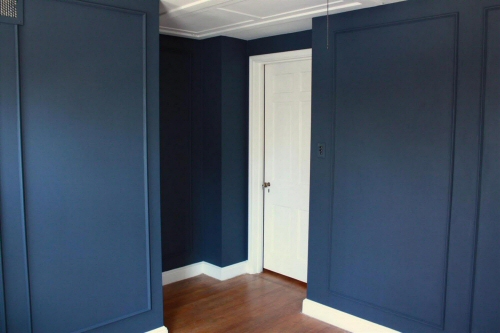 The paint is a dramatic ultra-flat navy (BM Hale Navy) and we chose a track-style light to match the gallery look.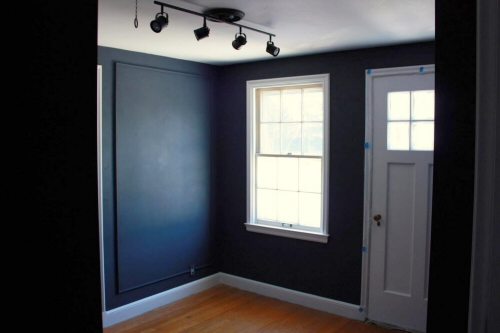 To hold art supplies, we built shelves out of pine boards that I cut down and stained/sealed, and simple brackets.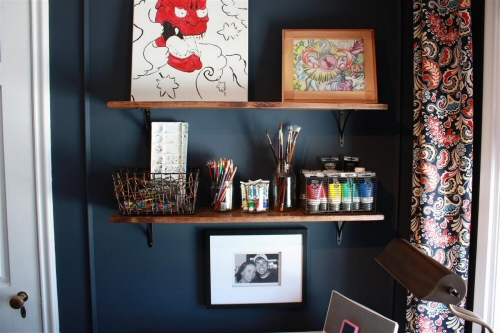 To finish off the space, we painted a blonde laminate Ikea desk with oil-based white gloss rustoleum, added a jute rug, and accessorized.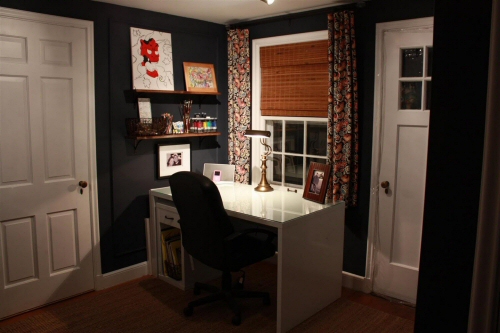 We love this room now, it is perfect for relaxing and is especially wonderful at night.  It is the perfect place to create and display our art, and we did it all in a month!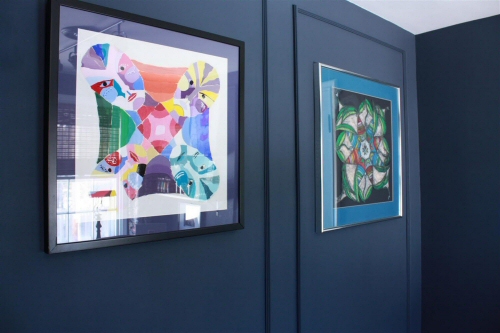 Thanks from One Project Closer
Sara, great reno! We especially like the combination of navy walls, white trim, and hardwood floors. It's stunning!
Habitat Quick Fact
Did you know that your employer may MATCH your donation to Habitat dollar for dollar?  Go go to Habitat's Company Search Page and see if your company is listed. While Habitat doesn't list all the companies that participate, we searched using only the letter "B" and more than 2500 results appeared. It looks like they've got A LOT of support. If you're considering donating, make sure to check this option out.
Enter Your Own Project!
There's still a few weeks left to enter your project and win! Submit your entry to beforeandafter@oneprojectcloser.com.  Make sure to include before and after pictures and a story of how you did the job!