With this week's Before & After selected, there's only two winners slots left! After that, we'll provide a recap of all the winners and open up the voting. The grand prize winner takes home a $150 gift card to the home improvement store of their choice.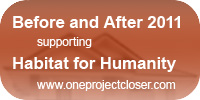 This weeks winner is no stranger to our Before & After series. Last year Traci from Beneath My Heart submitted a tremendous patio makeover and won the $150 gift card. This year she's hoping for a repeat with a great mud room transformation. Let's take a look.
The Classy Mud Room
Last December, we built a laundry/mud room in our garage. We were trying to sell our home at that time, and we thought a laundry/mud room would help the house to sell.

Here is a before picture of our garage:

My very talented husband studded up some walls in the corner of our garage to create our new mud/laundry room…

He did all the plumbing and wiring himself, and created this little storage bench exactly like I wanted to store the boys' shoes…

Four separate storage spaces for four sweet little boys' shoes. HERE is the video of how he made it.

Cy also installed the board and batten treatment in our laundry room. You can see how he did it HERE.

We were so thrilled with how it turned out, and I had a blast decorating it!

I completed some of my favorite DIY projects to decorate the room on a tiny budget.

One of my VERY favorite projects I have ever completed on my blog is this $3.00 Pottery Barn Style pendant light makeover.

I probably get more emails about this project than any other!

Some more DIY projects for the laundry/mud room included:

This velcro skirt for the mud sink.

This mirror makeover for above the mud sink.

And this little blue mason jar soap dispenser.

I also made another Ballard Designs inspired shelf for my laundry room.

You can see the tutorial of how to make it HERE.

I was so proud of this room, because Cy and I worked so hard to complete it together. It was a lot of fun. And to be honest, I miss it like CRAZY!

But I have great plans for our future laundry/mudroom in our new home. However, it may be several years before I get to that project. 🙂

Thanks for letting me share our DIY laundry/mud room with you again!


Have a blessed day!
Traci
Thanks Traci!
Thanks Traci! I love all the different tutorials you share, especially the $3 pendant makeover. Nice work!
Habitat for Humanity Factoid
Habitat is an international organization building homes in America, Cambodia, Kenya, Mongolia and many, many, more places. Have you ever considered how different all these homes must be? After all, the home they build in New York would never be appropriate in El Salvador. To see what some of these homes look like, check out the Habitat Houses Around the World slideshow.
Where's Your Before and After Story?
We hope you'll consider submitting a Before & After story. Email your pictures and a "how to" description to beforeandafter@oneprojectcloser.com to join in.
Help Us Spread the Word
Are you a blogger? If you'd like to support us, please write an article on your blog about the contest, and consider adding one of our buttons to your sidebar. You can find the buttons and more information on our main Before and After article.