Can you believe there's only a few weeks left for our Before & After series?! In case you didn't notice all the back to school sales, summer is flying by, and that means time is running out. Send your B/A story to you BeforeAndAfter@oneprojectcloser.com.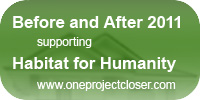 This weeks winner is Michelle from Ten June, and yes the color on your screen is accurate. Her bathroom really was that yellow. For sharing this "epic saga" with us, Michelle will receive a $50 gift card , and we'll make a $100 donation to Habitat in her honor. To find out how to enter your Before & After story, check out the link above.
The Little Yellow Bathroom
Once upon a time, there was a sweet little yellow bathroom.

I mean… really, really yellow.

The room had this layout.

Then David and I took one of these…

(who are we kidding, David took one of these)
and did some demolition to the sweet yellow bathroom.

(see, I helped some!)

My bubble boy door.

Then, all of the trash and construction debris went into here.

And yes, David and I (alone) got all of the junk in there (plus the old railroad ties that were in our backyard… but that's another story for another day!). Except for the cast iron bathtub. It got to sit in my front yard for a few months days.

Next, we redesigned the room so that it was customized to our style. You know, just plain awesome. Here's the layout.

And design plan.

Then it was time to re-build the room from the floor up.

Literally.

The plumber came and did his magic.

And I helped up the ante on the insulation in the room. We took out the old, tiny window and added a new, bigger window.

The electrical work was rerouted to make way for our new lights and sockets.

And, in one of my favorite moments in the room… we added a pocket door and water closet. Just for a little privacy when the time calls for it, ya know what I mean?
(before)

(after)

(or in my vision- after)

Then we had the tile guy come out and lay allllll the tile. And I heard angels sing (or was that Justin Bieber?). Oh and the drywall was finally completed. (I am never, ever, ever touching drywall, ever again unless you pay me in pitchers of margaritas).

And I painted the new walls.

We installed a toilet- highlight of my year.

Then we waited a month for our much-anticipated Pottery Barn vanity to arrive.

Got it.
Hated it.
Returned it.
Waited another month for Pottery Barn to pick it back up.

Then decided to DIY our own vanity. Finally finished the vanity project and breathed a big sight of relief.

Why? Because… we're done.

Without further ado… here is a full tour of our (mostly) do-it-yourself renovated master bathroom!

Before I conclude this epic saga, I have to give major props to David, my man with the plan. And back up plans! And the back up plans for when the back up plan falls through….

But seriously, this bathroom rocks. All the hard work has paid off!
COVER DAVID'S EARS Now it's time to move on to our next project!
Thanks Michelle!
Thanks Michelle. I really liked how you were able to envision the bathroom you wanted and make that happen. You (and David) did an excellent job!
Habitat for Humanity Factoid
From the Habitat website:
Interior Redesigners team up with Habitat ReStores to create beautiful rooms for shoppers who want to "go green," save money and still create the "wow" factor when updating their homes.

The idea of working together developed last year between the National Capital Area chapter of IRIS and Habitat for Humanity of Northern Virginia, which operates ReStores in Chantilly and Alexandria, Virginia. Recognizing that both organizations promote reuse, recycling and repurposing, the two teamed up to exhibit at the 2010 Home Show at the nearby Dulles Expo Center.

"We completed two rooms for our area's home show last year: An urban-chic loft room and a British Colonial/West Indies-inspired master bedroom suite," said Bridgett Wilson, publicity chair of the National Capital Area Chapter of IRIS. The spectacular results can be viewed at ReDesign with ReStore on Facebook.

The exhibit raised awareness of Habitat and its 700 ReStores around the country that sell new and gently-used donated goods at a fraction of retail prices. ReStores carry furniture, appliances, building materials, countertops, windows, paint, shutters, doors, art, mirrors and just about anything else one puts in or outside a house.
Where's Your Before and After Story?
We hope you'll consider submitting a Before & After story. Email your pictures and a "how to" description to beforeandafter@oneprojectcloser.com to join in.
Help Us Spread the Word
Are you a blogger? If you'd like to support us, please write an article on your blog about the contest, and consider adding one of our buttons to your sidebar. You can find the buttons and more information on our main Before and After article.