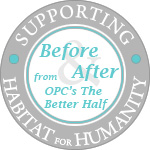 Our 6th Annual Before and After contest supporting Habitat for Humanity has finally come to an end. In case you missed it, we spent the summer in search of the best DIY project from the last year! People were given the opportunity to weekly link up their before and after home projects or email them in to be entered. Then, throughout the summer, 14 different fabulous blogs co-hosted the weekly link party and featured their winner on their blog. Thanks to everyone who linked up and all our hosting judges.
All together, we donated $1450 to Habitat for Humanity on behalf of our winners, gave away $950 in gift cards and helped raise awareness of Habitat's mission!
Thank you so much to all of our amazing co-hosts, winners, those who entered, and those who followed along! We love to celebrate the DIYer and Habitat for Humanity. We hope that we raised awareness for Habitat for Humanity and look forward to hearing about all your ReStore purchases and ways you get involved in the future!
Our Winners!!
While we were on the hunt for one grand prize winner, we are excited to announce that there were two winners chosen this year! It was a super tight competition up until the very end (and since we had some technical difficulties this year with the polls – my apologies), we decided to declare a tie and crown two winners. Both with receive $150 from the home improvement store of their choice!
Our first winner is Jenna from Rain on a Tin Roof for her fabulous kitchen transformation, who was originally chosen by My Blessed Life as week 14 winner. Jenna was our first weekly winner in 6 years to donate her weekly winner prize to Habitat4 Humanity! How awesome is that?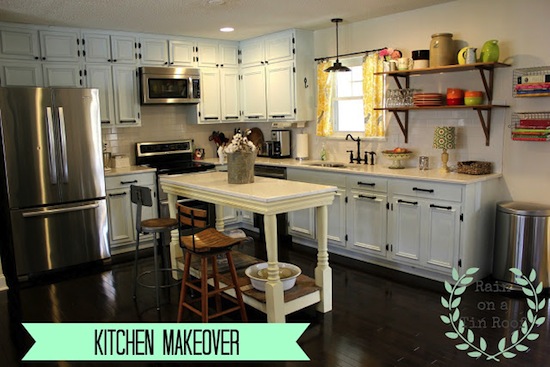 Our second, yet equally fabulous winner is Kat from Blessed Life Atop a Cake Stand for her dining room before and after as originally chosen by Tatertots & Jello as week 6 winner. Jenna had been in the lead most of the weekend and then in the final hours Kat and her faithful followers pushed ahead to tie! woot woot!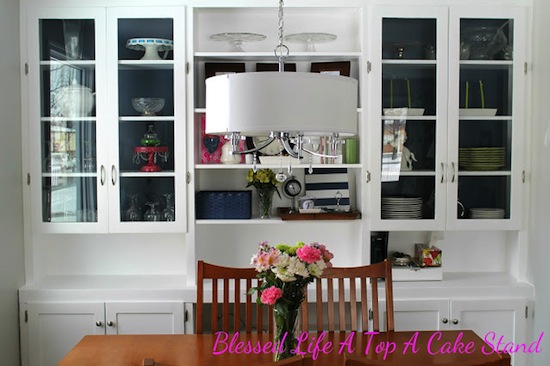 Before & After Weekly Winners
Here were all our fabulous weekly winners, chosen from over a thousand link party and email entries!
1. Ashley at Domestic Imperfection for her Decked out Kitchen (chosen by Southern Hospitality)
2. Reeves from The Weather Door for her Geometric Nightstand (chosen by House of Hepworths)
3. Paige from the Lively Green Door for her Bathroom Makeover (chosen by Beneath My Heart)
4. Laura for her Little Girl Room Reveal from Our Prairie Home (chosen by Mom4Real)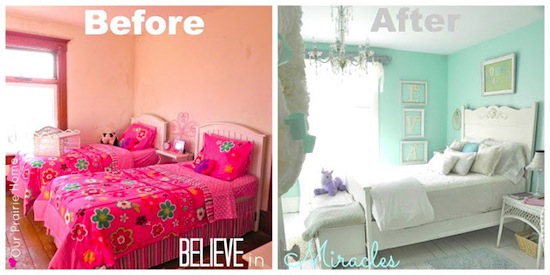 5. Kathleen for her Headboard turned Chalkboard from Dreaming of DIY (chosen by Fox Hollow Cottage)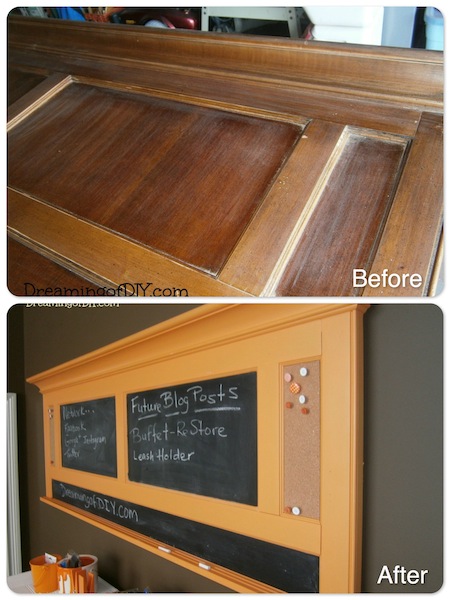 6. Kat from Blessed Life Atop a Cake Stand for her dining room before and after (chosen by Tatertots & Jello)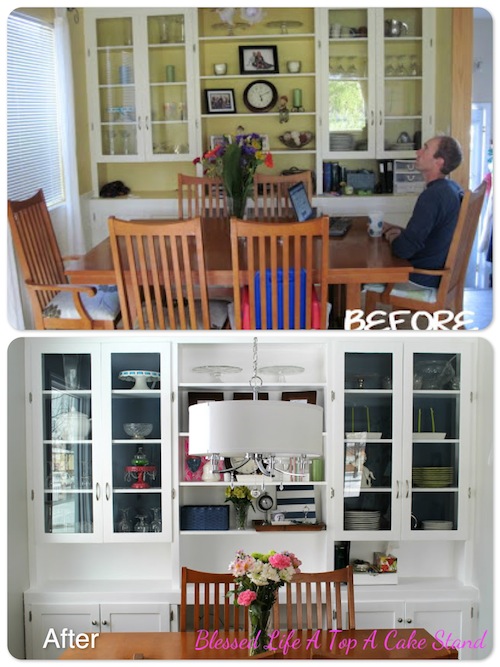 7. Terry from Forever Decorating for her side table makeover (chosen by The Space Between)
8. Laura from Inspiration for Moms for her Nautical Boys Room (chosen by Unskinny Boppy)
9. Anne from Design Dreams by Anne for her fabulous bathroom makeover (chosen by the DIY Show Off)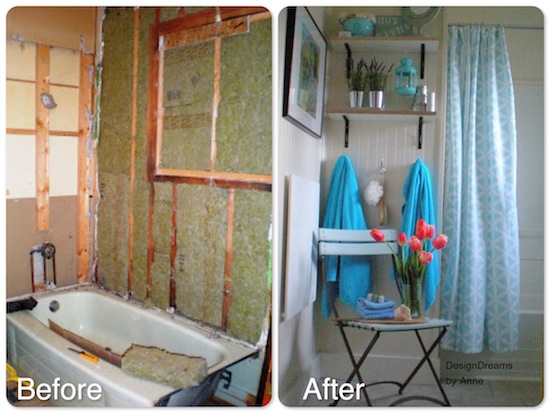 10. Emily & Charlie from Bonfires and Wine for their bathroom remodel on a budget (chosen by the DIY village)
11. Kim from The Kim Six Fix for her amazing kitchen renovation (chosen by Pretty Handy Girl)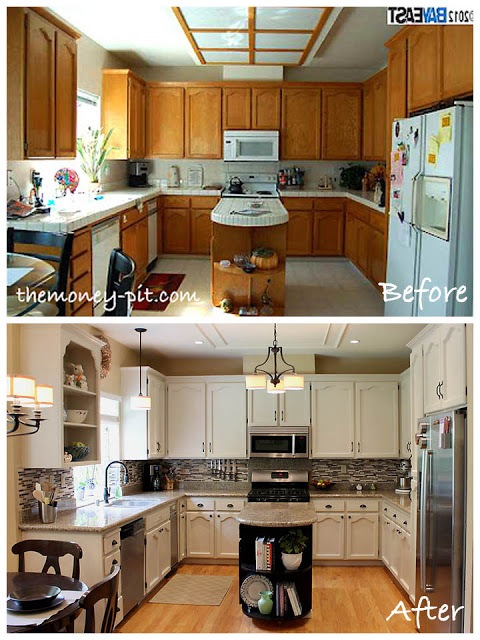 12. Laura from The Turqoise Home for her living room makeover (chosen by Shaken Together)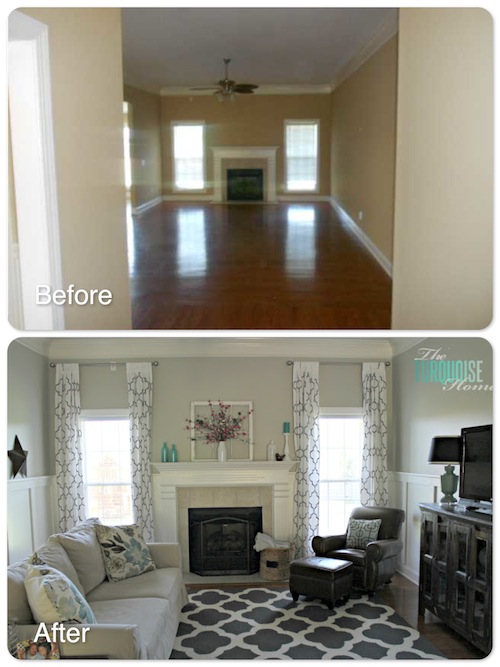 13. Jenna from Rain on a Tin Roof for her fabulous kitchen transformation (chosen by My Blessed Life)
14. Abby from chapter37 for her terrific kitchen renovation (chosen by Remodelaholic)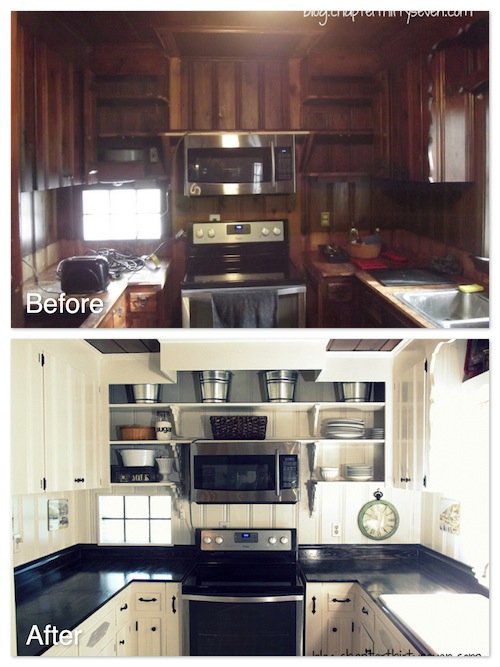 Home Improvement Coupons
Every do-it-yourselfer I know always enjoys a good coupon, and we keep a few pages that are worth checking out before your next home improvement project. Every week Kim updates the list (not some automatic aggregator), and she makes sure the links are good. You won't find a better resource for deals like Home Depot Coupons anywhere else on the web!
As Always, thanks for reading and following along with our 6th Annual Before and After Contest!