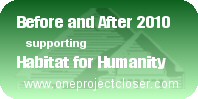 This week's Before and After winner comes from Candice in Southern California.  Candice and her husband, Scott, give a badly outdated and worn bathroom a new life.
We chose Candice's submission because this remodel required completely gutting a wood-rotted room–an intimidating task to say the least.  We've worked in environments like this in some of our Rebuilding Together sponsor houses. It isn't easy. We also think it's great that Candice worked in eco- and cost-saving devices like a dual-flush toilet and a water saving faucet, something we all should think about in a bathroom remodel.
For winning this week's contest, Candice gets a $50 gift card to Home Depot, Lowes, or Amazon. And, we'll be making a $100 donation to Habitat for Humanity in her honor.  Candice is also entered into our end-of-year contest for a $150 gift card to the home improvement store of her choice. Read on for Candice's story and for this week's Habitat quick fact.
Eco-Friendly Bathroom Remodel by Candice
We purchased this house – also known as The Place Where Wood Comes to Die, in 2009 from relatives who were moving out of state. When you're young, not wealthy, and living in Southern California, you kind of take what you can get if you find a house in a nice neighborhood – even if it is a super fixer-upper. The entire house was a nightmare – wood everywhere, dirty indoor outdoor carpeting, falling apart windows – you get the idea. But the bathroom was the worst of the worst. The wooden (see I told you) paneling & countertops were rotten and warped, the linoleum tile was cracked and chipped, and the toilet rocked from side to side if you sat on it. Needless to say it was a complete gut job.
Being non-profit workers my husband, Scott, and I could not afford to hire contractors to redo our bathroom. It was also important to us to have an eco-friendly room. We had a plumber put in the dual flush toilet and hook up the sink's water saving faucet. We did everything else. We started by gutting the entire space. We soon discovered that the walls were in even worse shape that we thought! We patched the walls up and decided to brighten the small space with a light paint & wainscoting. We chose Sherwin Williams' Harmony line base because it is environmentally friendly with no VOCs. The color is Friendly Yellow. We then picked up some affordable, easy-to-install bead board panels from Home Depot along with chair rails and baseboards. We taught ourselves to use a saw and studfinder, and after lots of mistakes we managed to turn out pretty decent looking walls. We decided to simply polish the concrete subfloor to save money on tile for now. Finally, we added some rugs, replaced the old mirror with a pretty matte silver oval framed one, grabbed some curtains at Target, and added accessories.
We love our new eco-friendly bathroom and had fun doing it ourselves! Thank you for allowing us to share our story.
Before…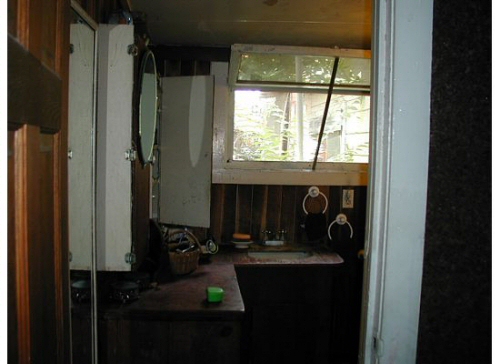 During…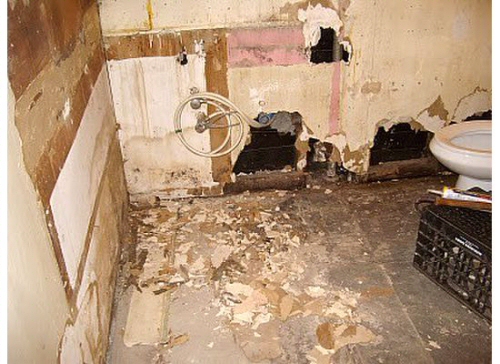 …and After!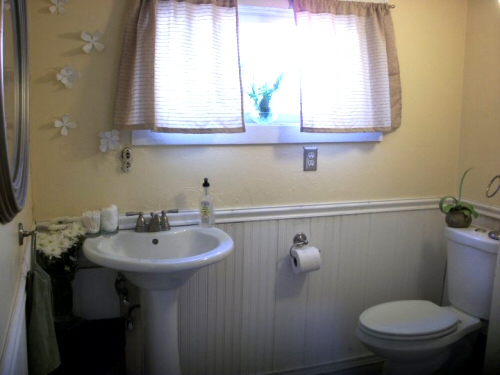 Thanks from One Project Closer!
Candice, thanks so much for sharing your Before and After story.  This was a big job. We're impressed!
Habitat Quick Fact
Did you know that Habitat has a special Disaster Corps comprised of specially trained individuals who help respond to disasters whenever and wherever they strike.  This special team is focused on augmenting local Habitat affiliates, and was created in response to Hurricane Katrina.
Disaster Corps is an integral part of the resources available to local communities through Habitat for Humanity. This specialized program trains and mobilizes volunteer leaders, consultants and skilled Habitat staffers to support Habitat for Humanity disaster response and preparedness initiatives across the United States. Disaster Corps members have unique backgrounds in addition to their Habitat training in areas such as logistics, project management, volunteer management, disaster preparedness and mitigation, response planning, resource development and construction, among other areas.
For more information or to apply as a member call (800) 422-4828 or e-mail: disaster@habitat.org.
Submit Your Own Entry!
There's still time to submit your own entry!  Just send an e-mail to beforeandafter@oneprojectcloser.com. Include your Before and After pictures as JPEG attachments and tell us a story about your remodel in the body of the e-mail!