Black & Decker has a new hand-tool offering called the ReadyWrench. It's similar to the Craftsman dogbone wrench in that it combines several of the most common socket sizes into one wrench. B&D sent us a ReadyWrench to try out. Read on for more information and how you could win your own ReadyWrench.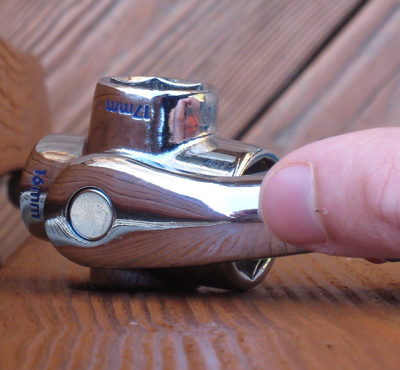 ReadyWrench Giveaway
Black & Decker is giving away one free ReadyWrench every week from now through January 31, 2010. They even provided OPC with our very own entry code- RWR870. Just click through here to fill out a short form and enter for your chance to win. You may enter once per week.
If 150 people use the OPC entry code (RWR870), B&D will send us a mysterious "thank you package". Now I have no idea what it is, but I hereby promise to use it for a giveaway if at all possible.
The Black & Decker ReadyWrench review (MSW100)
Here are some thoughts about the ReadyWrench.
16 Sockets
The ReadyWrench features 16 of the most popular SAE and metric socket sizes. This is only possible because the SAE sizes and the metric sizes are paired. For example: the 11mm socket is the same as the 7/16″ socket. Here's a list of the included sizes:
19mm and 3/4″
17mm and 11/16″
16mm and  5/8″
14mm and 9/16″
13mm and 1/2″
11mm and 7/16″
10mm and 3/8″
8mm and 5/16″
I was pleased to find that most of the sockets I need are included. The 14mm fits the oil plug on my car and the bolts on my deck, while the 8mm fits my outdoor A/C unit.
Rubber Grip
One advantage the ReadyWrench has over the Craftsman Dogbone is the comfortable rubber grip. Black & Decker added a durable rubber grip making it easier to hold for high torque jobs.
What do you think? Will you enter the giveaway? Ever used a ReadyWrench?