Over the last week, I've finally had time to implement some site design ideas that have been lurking in the back of my mind. As we continue our blog-wide relentless pursuit of a great user experience, I'd love your feedback on these changes. I also welcome your ideas for how to make our site even better (in whatever way that might be). We certainly appreciate all of you who stop by often, and especially those of you who frequently comment. You make our lives happier!
The Changes
Up first, a simple change: a new picture of the four of us in the corner of the home page (and every post, in fact.) Unlike many blogs, there are four of us writing here, and we'd love for all of you to connect with all of us! If you're new and want to learn more about who we are, find out here!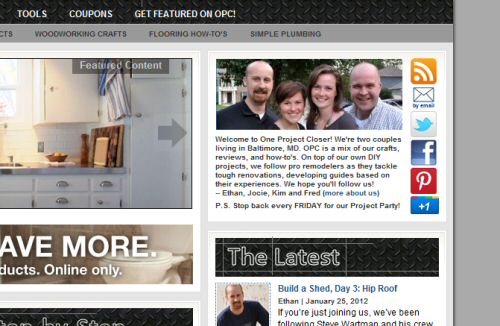 Second, in an effort to tie our personal reputation to every post on our site, we've decided to finally put our last names in the post headers. For a long time we just didn't feel that comfortable with the idea. But after some additional thought, we've decided to put it all out there. We also updated the location of our pictures to the left side of the header and cleaned up the layout to make it easier to read.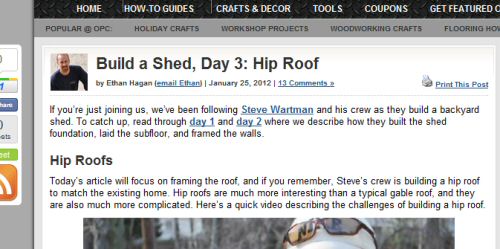 Third, we've simplified our site navigation and added section home pages for each major area of our site. These section pages will likely evolve as we get spare time to improve them even more. This simplification also includes an easier way to find our Community Blogs page and our latest DIY Link Party in the upper right.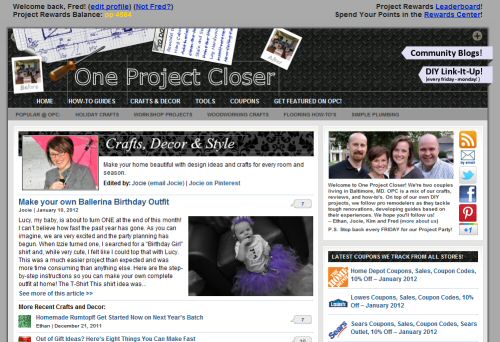 Fourth, I've finally fixed the load times of our Community Blogs page to make it much snappier. The process that performs the aggregation now runs in the background on our server every 15 minutes. You should find that it loads much quicker, if you visit that page. On the way for our Community are improvements to the layout that will include featuring the names and faces of the authors of the blogs. We're also planning to divide the blogs into logical categories, so that if you want to follow Crafts and Decor blogs, you don't also have to see Tools and Contracting blogs.
Fifth, for some time we've known that our home page layout might not be what everyone likes to see when they visit a blog site. Well, through the magic of cookies and some PHP code, you can now pick either our default home page, or a "blog view" home page that shows all the latest posts in blog format. We prefer the regular "magazine view" page, but we know that's not for everyone. As long as you have cookies enabled, our site will remember your preference each time you visit, and you can switch back anytime.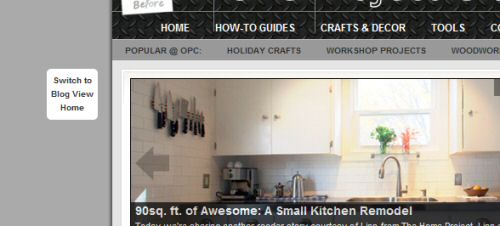 Sixth, we've added some new quick icons to our home page latest posts widget to make a few of the post categories stand out. So far we've added only two (one for our "Pro Follows" and one for our "Link It Up" series. More are coming, and you'll probably see smaller versions of our pictures appear in this line up soon. I'm particularly interested in whether you like this change…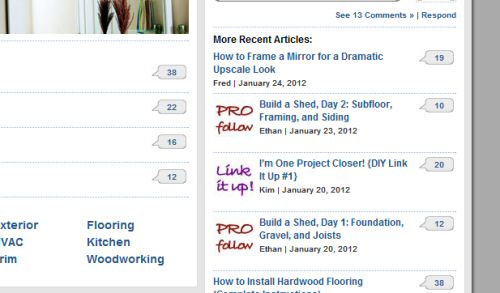 Future Ideas
Reorganizing the layout of our community blogs to make it a bit more streamlined and fancy, as well as providing blog categorization.
Adding a section within our "Projects, Step-By-Step" feature section on the home page that shows a chronology of the latest Pro Follow.
Updating our individual Category pages (like this one) so they look a little nicer.
A Specific Question (or two) For You
Question 1: We've received one reader suggestion that they'd like to know more about the story of the homeowners in our Pro Follows. Our initial impression is that this could be a great idea. What do you think? Would you like to know a little more about why the homeowners are paying contractors for these spaces?
Question 2: If you could see one thing changed or improved @ OPC, what would it be?