If you read press releases or simply watch commercials around the holidays, you know that just about every tool manufacturer makes some sort of "best in class" statement regarding their product. Consumers don't know who to believe anymore, and besides, what does marketing hype actually mean for the contractors and DIYers in the field? Who really has the best tool for the job? To dig deeper, we've pitted five popular drill/drivers against each other to find out who has the smallest, lightest and longest lasting product available. The numbers we share are the results of our own independent, unbiased testing. You won't find any corporate claims or specifications here.
The Drivers
Before we jump into the testing, lets introduce the contestants. Each of these drivers was introduced in 2011 and fits into the compact, 18v category, and each is still the vendor's current compact offering as of March, 2012. Each tool maker boasts that their product can meet the needs of general contractors, tradesmen, and serious DIYers alike. The feature sets present in this group are strikingly similar, with all models having 4-pole motors, LED work lights, 1/2″ ratcheting chucks, 2-speed gear boxes, variable speed motors, and removable belt hooks. Here's the lineup: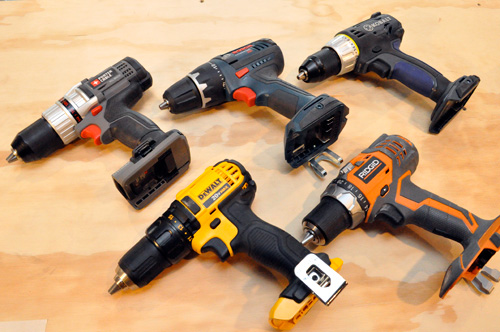 Porter Cable PCL180CDK, Bosch Compact Tough DDS181, Kobalt KT200A,
DeWalt 20v Max DCD780, Ridgid Fuego R86008K
The Batteries
A cordless driver is only as strong or resilient as the battery that powers it. For each tool, we used its corresponding 18V lithium-ion battery, fresh off the charger. These batteries were new (< 5 recharges) at the time of our test. You might think that DeWALT has an unfair advantage with its 20V Max tool, but if you investigate the 20v Max line, you'll find DeWALT states that the maximum initial battery voltage (measured without a workload) is 20 volts. Nominal voltage is 18 volts, just like the rest of these tools.
Most manufacturers offer a slim 1.5Ahr battery and a longer lasting 3.0Ahr battery. Porter Cable is the only exception to this; their slim LX battery pack is a rated at only 1.3Ahr. We used the slim battery packs for all of our tests.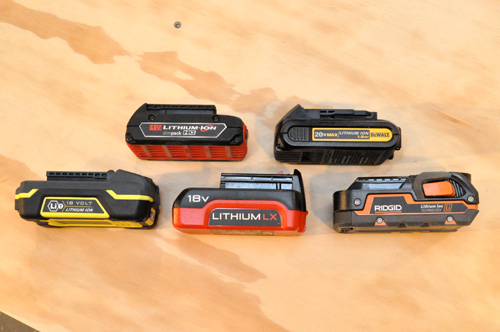 The Tests
The main performance factors to consider when purchasing a cordless drill driver include weight, size, power, and run time. These are the big four, and every year tool engineers fight for even the slightest advantage among these traits.
Weight and Size: We tested each driver for weight with the battery attached, and the margin of victory was measured in hundredths of a pound. Small driver size (with more emphasis on overall front-to-back length) is crucial when you're working with limited access, and the top three performers were within 3/8″ of each other.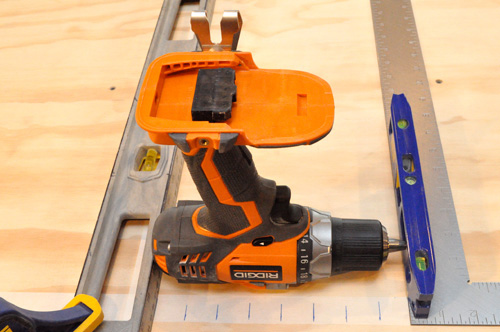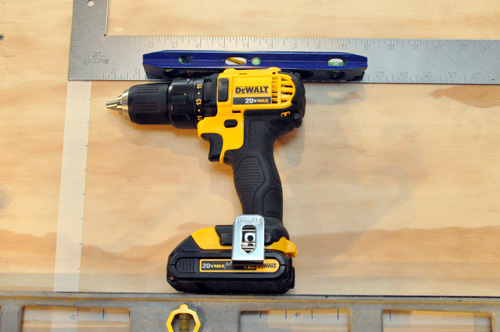 Run Time: To measure run time, we purchased pressure treated 4×4's, and 3″ stainless steel, square-drive screws. Using a fresh battery, we drove as many screws as possible until the driver quit, and at the end of testing, we had gone through more than 1,000 screws.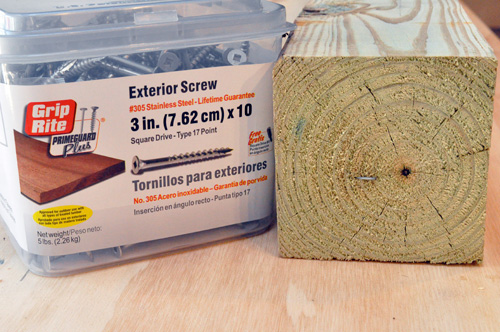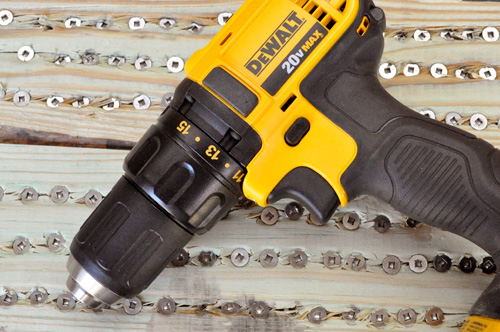 Power Driving: In contrast to the smaller screws in our run time test, we used a handful of 3/8 x 6″ lag screws to determine which driver could deliver the most torque power. Since we didn't have a way to measure actual torque, we had to use our own judgment in ranking which drivers delivered the most power-driving capability based on their ability to drive the lag deep into the block.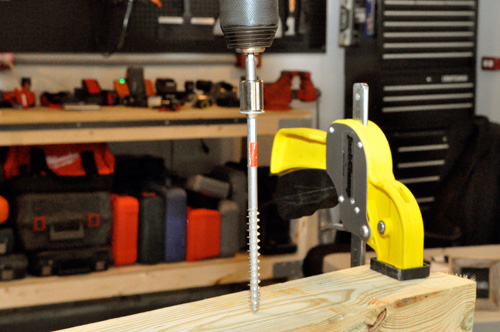 The Results

Kobalt KT200A
5th Place: The Underachiever
Across the board, the Kobalt KT200A performed poorly, coming in last or next to last in every one of our tests. Its weight and size place it among the biggest and bulkiest of the drivers we tested. If that weren't enough of a deal-breaker, the KT200A drove an embarrassingly small number of screws–just 131, or more than 70 less than the next closest competitor. The tool was also quickly tapped out in our lag screw competition, dying first in our test. The results were so poor that we question whether or not our particular model is somehow defective. Surprisingly, Kobalt has this driver priced at $149, which is in line with the others. For that reason, the KT200A isn't worth considering for your next purchase.


Porter Cable PCL180CDK
4th Place: The Achilles Heel
Despite its 1.3Ahr battery, the PCL180CDK performed admirably in our run time test and placed second in our lag screw test. Unfortunately, its smaller and lighter counterparts edged out the Porter Cable with slightly better numbers. We suggest that Porter Cable upgrades this battery to a 1.5Ahr battery to level the playing field.


Ridgid R86008
3rd Place: The Heavy Weight
The differences between 1st, 2nd and 3rd place was very small, and that really speaks to the level of competition between manufacturers in this genre. Ridgid's latest offering is quite compact, yet it's the heaviest among those we tested. The R86008 performed reasonably well in our run time test with 203 screws driven and placed first in our lag screw power test. Despite its perks, the Ridgid takes 3rd place because both DeWALT and Bosch put on a stunning performance in these tests. While not a factor we considered in ranking these drivers, we think the Ridgid has the best feature set and grip feel of the line-up. It also boasts the best warranty.

DeWALT DCD780
2rd Place: The Runner Up
At just 3.5 lbs, the DeWALT DCD780 feels light and balanced in your hands. But don't be fooled–this driver packs a punch that belies its small form factor and slim grip. We were very pleased with the all around solid performance of the DCD780. It delivered second place performances in both our run time and power driving tests, and has the second-best grip feel of all of the drivers in this test.


Bosch DDS181
1st Place: The Marathoner
Bosch's DDS181 showed surprising longevity, besting the other drivers in our run time challenge with 238 screws driven. While it ranked only third in our power drive competition behind the Ridgid and DeWALT, Bosch manages to cram everything this tool offers into the smallest form factor with the lightest weight in the group. With performance like this delivered in such a compact form, awarding Bosch our top pick is a no-brainer.
Tabular Results
| Rank | Brand | Model | Weight (lbs) | Length (inches) | Height (inches) | Run-Time (# screws) | Lag screws (qualitative) | Battery (Ahr) | Current Price (driver, 2 slim batteries, charger) |
| --- | --- | --- | --- | --- | --- | --- | --- | --- | --- |
| 1 | Bosch | DDS181 | 3.47 | 7-9/16 | 9-1/8 | 238 | ✓ | 1.5 | $149 |
| 2 | DeWalt | DCD780 | 3.49 | 7-15/16 | 8-13/16 | 214 | ✓✓ | 1.5 | $195 |
| 3 | Ridgid | R86008 | 4.02 | 7-7/8 | 8-15/16 | 203 | ✓✓✓ | 1.5 | $179 |
| 4 | Porter Cable | PCL180CD | 3.75 | 8-9/16 | 9 | 209 | ✓ | 1.3 | $153 |
| 5 | Kobalt | KT200A | 3.87 | 8-1/2 | 9-13/16 | 131 | | 1.5 | $149 |
What We Didn't Test
While we think the four areas we focused on provide a good basis for comparing these tools, it's worth noting that there are more factors we either could not test, or did not include in the rankings. They are as follows [with reasons for not including the item in the rankings shown in brackets]:
Longevity of batteries over multiple charges [required too much effort and time–we wish we could have done this]
Battery charge time [insignificant difference between tools]
Durability of parts [requires more data points than we can amass with our limited sample]
Warranty [only applies to tools that fail to perform, and so must be weighed as only one factor in total quality]
Drilling Speed [we considered this, but believe that our driver tests would align pretty closely with drilling performance]
Convenience Features [for many convenience features, what is important to one buyer is not important to another]
What about a Drop Test?
Based on reader feedback, we considered doing a "drop test" of the tools from an 8-foot step ladder to see which ones still worked after a hard landing. We decided against it, because we thought that such a test would be too narrow in terms of the number of data points we could report. We might end up unfairly rewarding or criticizing one of these tools based on "a lucky landing", something that we didn't want to skew our results.