Note: This post from DIY tool reviewer Aaron first ran on our tool site, Toolbox One.
If you've been kicking around the idea of delving into the relatively new arena of laser layout tools, you've no doubt run across the many offerings from Bosch. I remember the first time I laid eyes on these at my local Home Depot. My inner perfectionist grinned at the thought of all of the perfectly level projects I could tackle with ease. Roughly two and a half years ago I convinced myself (and my incredibly understanding wife) that I needed one of these beauties and I pulled the trigger on the Bosch GCL 2-160 with one horizontal laser, one vertical laser, and a plumb line, accurate to roughly 65 ft. I've been delighted with it ever since. So, imagine my excitement when I had the opportunity to review the top-of-the-line GLL3-300 with three laser planes and accuracy up to 200 ft.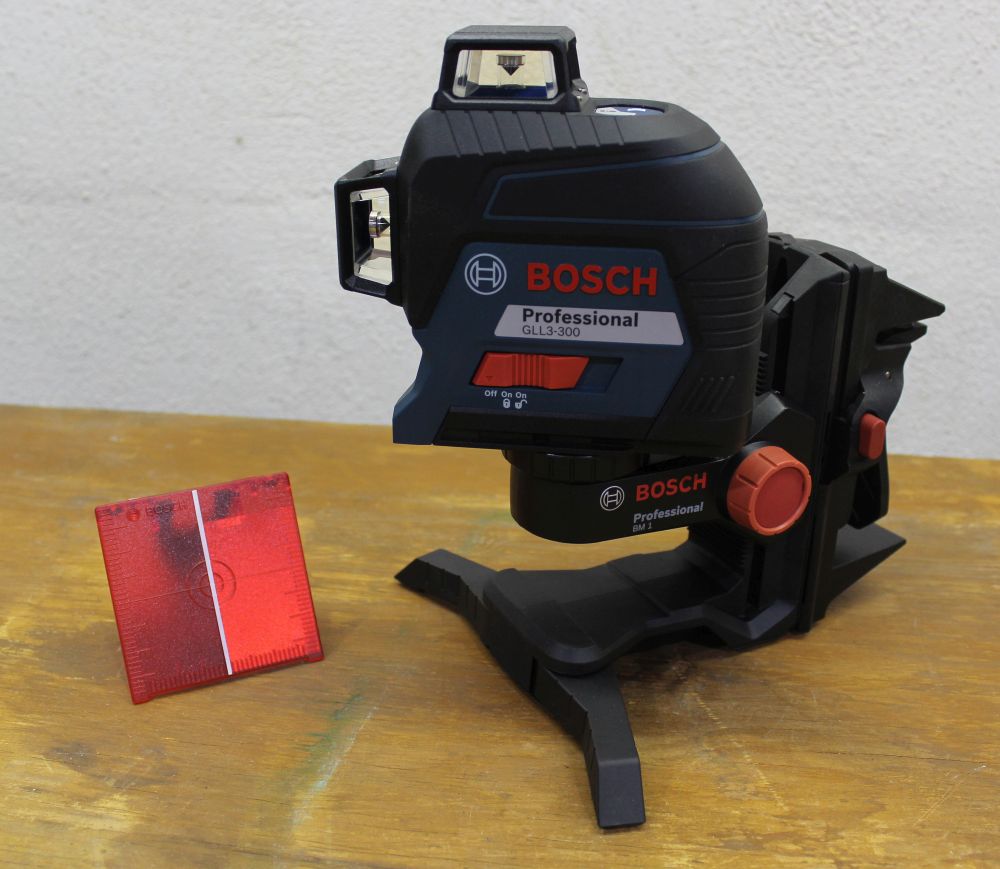 Stuff Lawyers Made Us Say: We're continuing our partnership with The Home Depot to provide candid reviews of tools from a wide variety of manufacturers. The Home Depot is both providing the tools for free and compensating us; however, the opinions we express here are our own. Remember, we'll always be up-front with you when we're receiving a free product, compensation, or both. And of course, we always strive for objectivity in our reviews.
What's In the Box?
The Bosch GLL3-300 comes with everything you need to get started:
Bosch GLL3-300 laser
4 AA batteries
Laser target plate
BM1 Positioning Device
Heavy Duty Pouch with Velcro Belt Loop
Hard carrying case (this was not included in the one I reviewed, however, it is listed as included in Bosch's literature)
The BM1 positioning device is a handy little stand. It can be placed on any flat, stable surface and used freestanding. Alternatively, it can be screwed to a wall and hung, magnetized to any ferrous metal, or even clipped to a drop ceiling grid. Once in place, the BM1 offers a few inches of up and down micro-adjustability and can be locked in place once dialed in. I love that they even incorporated a small V groove in the back of the magnetic portion of the stand to make it easy to line up on round poles, such as the supports in my basement. For those instances where the BM1 stand is not ideal, the GLL3-300 also attaches to almost any tripod. I've actually purchased the Bosch BT 150 tripod and use it quite often.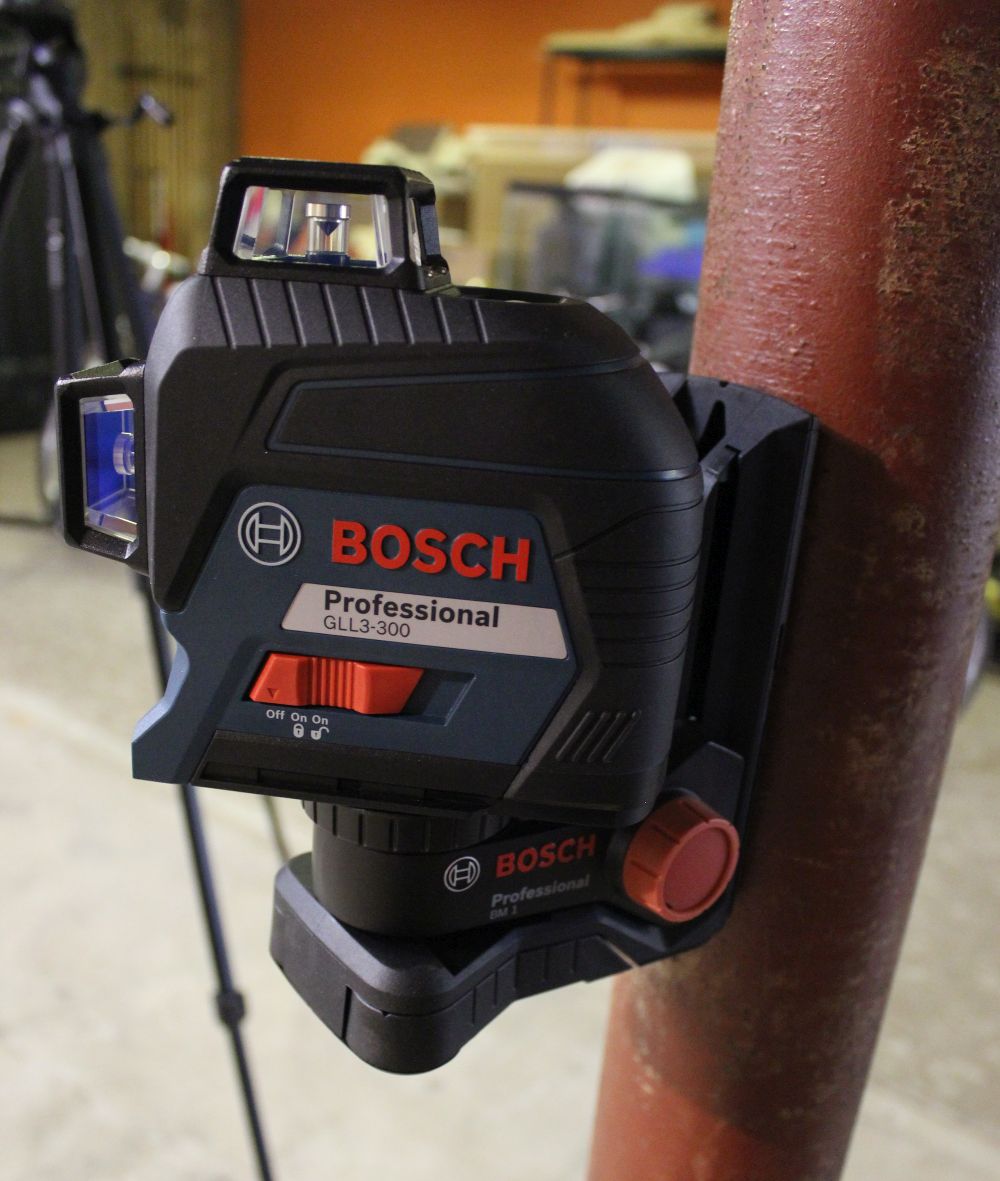 Performance and Functionality
Out of the box, the GLL3-300 is accurate up to 200 ft. in diameter, and that range can be extended up to 300 ft. with the use of the optional LR8 laser receiver. One of the nicest things about the Bosch GLL3-300 is its straightforward controls. When the unit is turned on a horizontal laser is projected. Simply click the Laser button to cycle through the other three settings, which include one vertical laser, two vertical lasers, or one horizontal and two vertical lasers.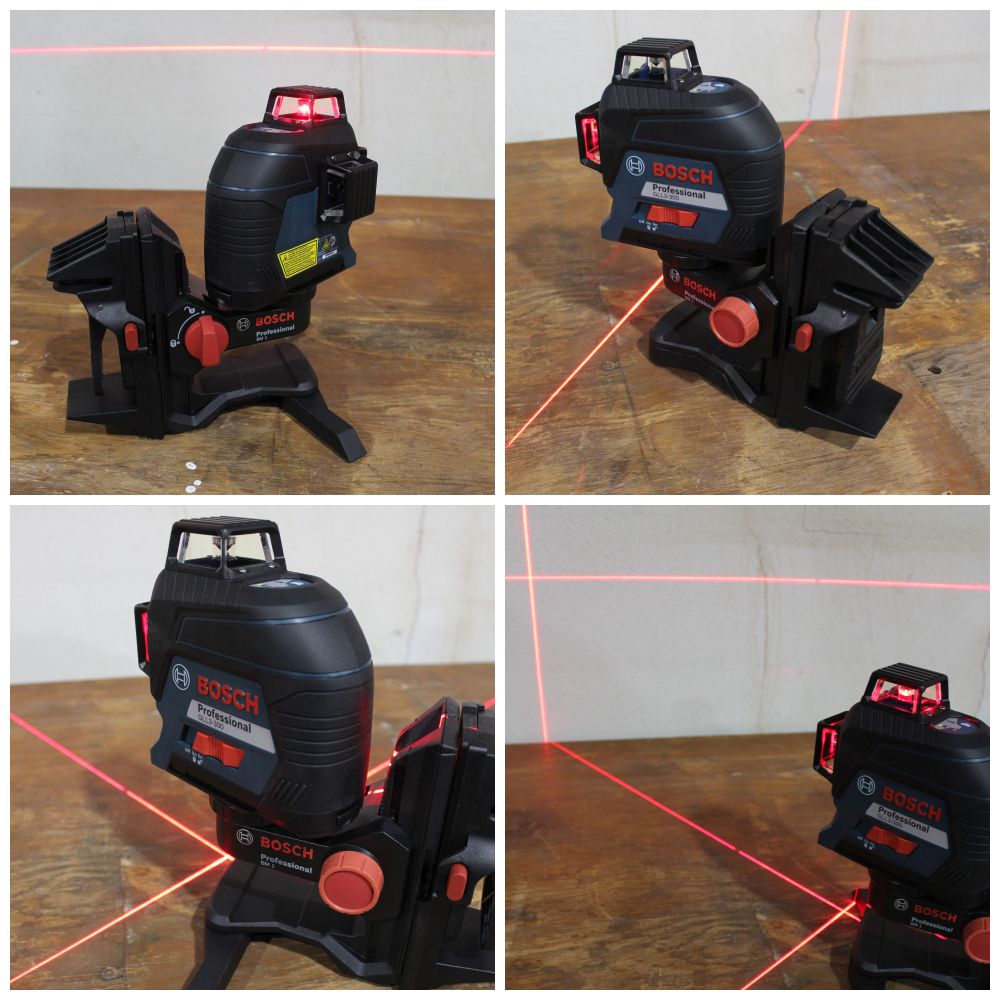 The lasers can also be projected in two different modes, lockout, and automatic leveling, which are easily selected via the on/off switch. In lockout mode, the laser will pulse every few seconds and it does not self-level. This comes in handy when you want "chalk" lines that are not necessarily level and plumb, such as when laying out stairs or perhaps painting a chevron pattern on the wall. In automatic leveling mode, the GLL3-300 will self-level within 4°. If the unit is too far out of level for the self-leveling to work, an audible beep will sound to alert the user and the projected laser will begin to pulse. However, if the tone is more annoying than helpful, it can easily be disabled by simultaneously holding down the Laser and Receiver Mode buttons for a few seconds.
Overall Impressions
The more I use the Bosch GLL3-300, the more I like it. The lasers are crisp and easy to read, even at a good distance and it's so easy to switch between functions. Bosch even took the time to make sure it is IP54 rated to protect against light rain and dust. It can be used to easily hang art, level cabinetry, layout flooring, layout drop ceilings, square framing, and the list goes on.

Who's It For and Where Do I Get One?
Being that the GLL3-300 is part of Bosch's top-tier offerings, it's geared toward the avid DIYer and the serious contractor. I know I for one, will be delighted to have it on hand when it comes time to tackle my 2000 sq. ft. basement remodel project.