In April 2011, Bosch unveiled their new GTS1031 table saw. Designed to be compact and portable, this 10″ saw is a great choice for the job site. Bosch included some sweet features like protected on-board storage, a handle for one-handed carry and all steel "roll cage". For these perks, you sacrifice rip capacity and a few extra pounds, and that seems a fair trade to us. We've been dating the GTS1031 for a few months after Bosch was generous enough to send us a test unit. More pictures can be found on our Facebook page here.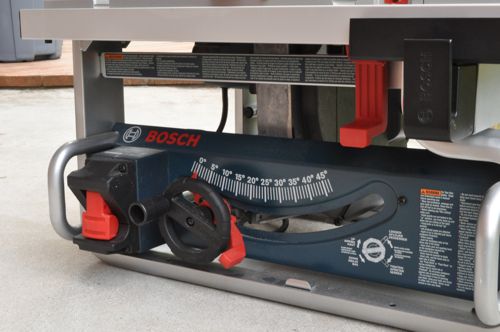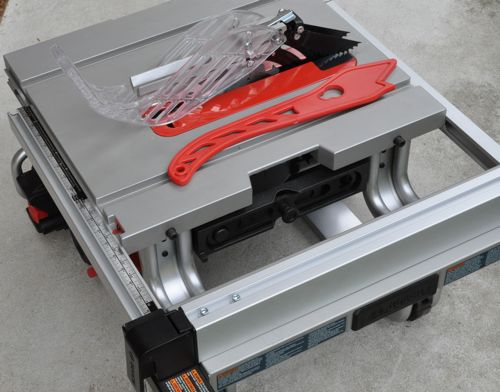 Love at First Sight
Compact and Portable
Out of the box you realize this table saw is really compact. Bosch managed to fit a no-frills feature set in a 22.5" W x 22.5" D x 13" H frame. You also realize that the handle is well positioned and balanced for one-handed carry, but weaklings won't be able to lift the 52 pounds. While it's smaller than a comparable DeWalt, it's also heavier. Another welcome feature is that this saw can be stored on its side making for small footprint in your shop or truck.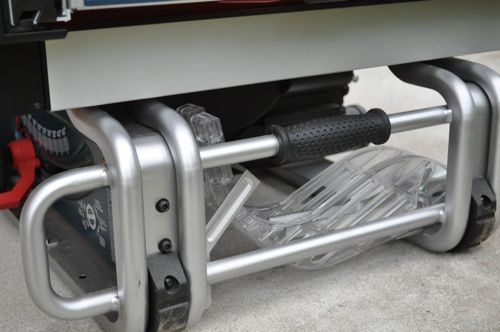 Protected On-Tool Storage
In addition to being compact, the thing that really sets this job site saw apart is the protected storage. The miter gauge, push stick, safety guard, anti kickback pawls, arbor wrenches and rip fence are all stored inside the all-steel frame. As table saws are moved about, the fence is often the first thing to get damaged. By storing the fence on the underside of the table, Bosch ensures many years of accurate cutting.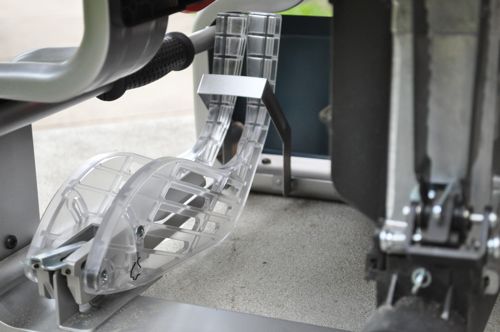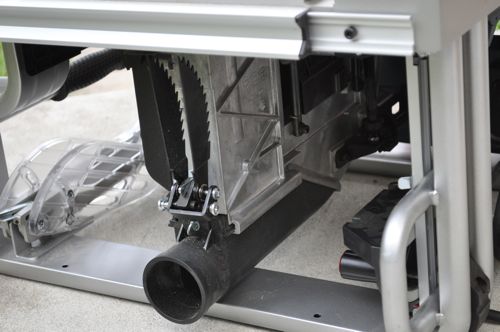 Setup
Setup takes about 2 minutes after you know where everything is stored. Raise the blade all the way up, and remove the table insert. You'll find a lever for adjusting the riving knife. Flip that lever, and extend the knife all the way taking care to align the two pins. Attach the safety guard and anti kickback pawls, and you're off and running.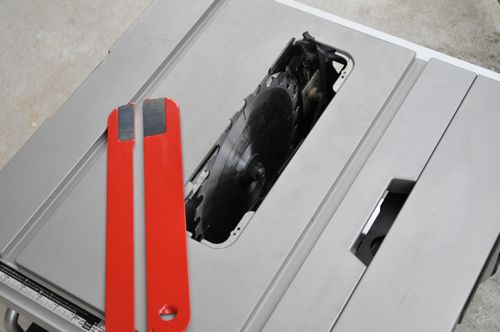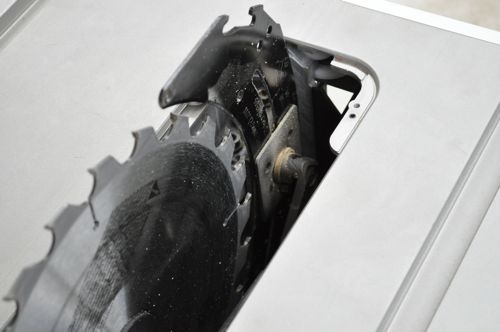 Calibration
Before you run off with this beauty, make sure everything is accurate. We made minor adjustments to check that everything was properly calibrated. To align the rip fence, push it right up against the blade. The fence should touch at the front and back, and the scale should read zero. Fully closed, the table pointer should read 10″. We didn't bother with verifying the bevel, miter gauge, etc.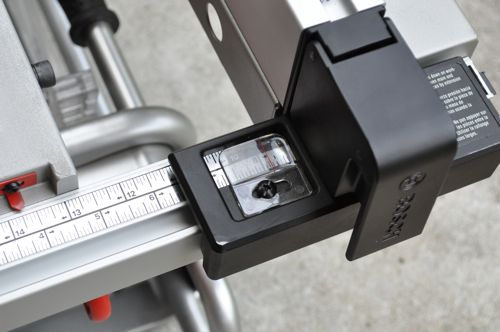 GTS1031 Review
Cutting Performance
Bosch equipped the GTS1031 with a 4hp, 5,000rpm motor that provides plenty of power, and is better than comparable models. This saw can also accommodate 1/2″ dados- surprisingly, something you won't find with all other job site table saws. Bevel adjustment runs -2° through 47°. We found the fence to be very easy to move.
The included push-stick and 24T blade are unimpressive, and you should consider upgrading.
The other downside we mentioned was the decreased rip capacity. While 18″ is better than 16″ (cough, DeWalt), it's still short of the preferable 24″. 18″ is good but you won't be able to cut sheet goods in half.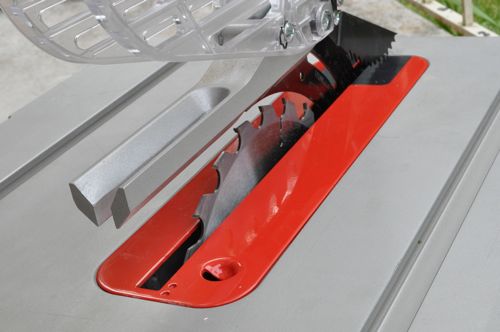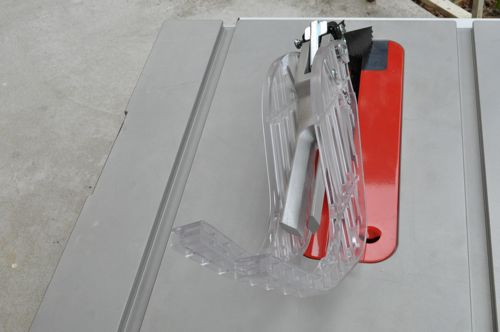 Plays Well With Others
The GTS1031 can utilize a number of accessories including a dust collector, dados, zero clearance insert and stand. Keep in mind, the GTA500 table stand works exclusively with the GTS1031.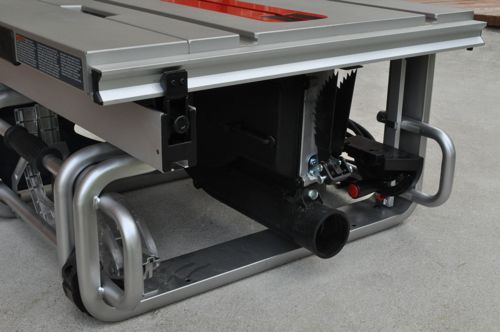 Final Thoughts
We really like this saw, and none of the drawbacks would prevent us from making a strong recommendation. Bosch worked hard to make the GTS1031 a really competitive offering. We've seen prices run about $370 which is a little high. Usually prices drop about 6 months out so look for a better price somewhere around October – November.
Bosch GTS1031 Specifications
Amperage: 15 Amp
Arbor Size: 5/8″
Bevel Angle Range: -2° to 47°
Blade Diameter: 10″
Dado Capacity: 1/2″
Depth of Cut at 90 Deg.: 3-1/8″
Dimensions: 22.5" W x 22.5" D x 13" H
Max. Motor HP: 4.0
No Load RPM: 5,000
Rating: 120 V
Ripping Capacity-Left: 7-3/4″
Ripping Capacity-Right: 18″
Table Top Dimensions: 22.5" W x 20" D
Weight of Saw (lbs.): 52