Our girls, Izzie and Lucy are almost exactly 2 years apart in age – Izzie was born on February 11th and Lucy on January 24th. We just threw Lucy's Bug party two weeks ago and then threw Izzie's Brave party on Tuesday. So much fun but super intense. One day maybe we will have combined birthday parties…of maybe I will just need to tone down the parties! lol.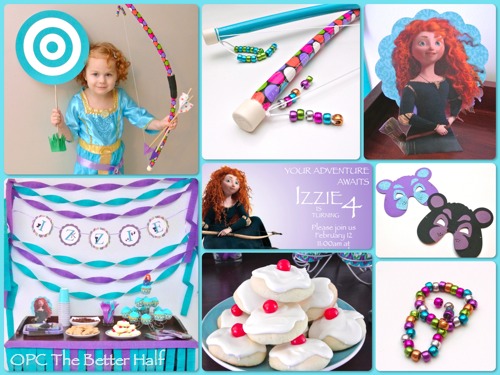 The Decorations
Izzie was insistent she wanted a "Merida" party ever since we bought the movie in November. After all, she does look just like Merida. We kept the guest list to a small group of friends and had it on a weekday morning in attempts to keep it a little more low-key, although Izzie would have loved to invite everyone she has ever met. 🙂
I made invitations for Lucy and forgot to mail them out, so this time, I went for an e-card. lol. Ethan whipped up an invitation using Photoshop and I sent it out to our friends. He really is a master!!!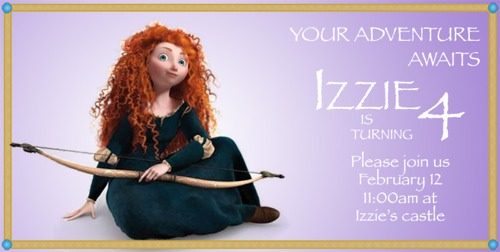 The Decorations
I really tried not to go too overboard this time, just focusing on lots of purple and teal streamers and a banner I made using my Silhouette Cameo. I added a few extra touches here and then, but I really did keep it simple.
My favorite part of the banner were the little black accents I added to each letter – the three baby bear cubs, bear paws, and a bow & arrow. <3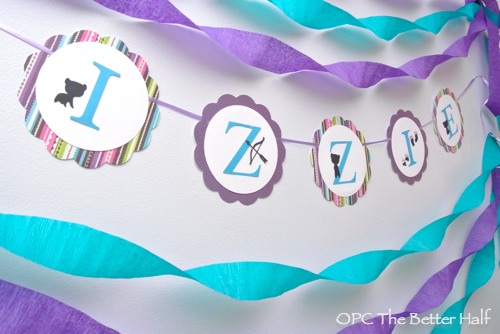 It wasn't planned, but I ended up with a ton more plates than kids. The night before the party I cut Merida out of one of the party plates and added a leftover teal flower from the banner to the back. Love it!
The Food
When I said I kept the decoration simple, that was true, but really the food was also a big part of the decor.
I originally was going to make a cake because I found a decorating set on Amazon that I thought would be fun. $10 and two days later, all that came was a plastic Merida figurine, a brother bears ring, and a see-through plastic horse. What a rip off! So I opted for cupcakes and put the plastic Merida doll on top.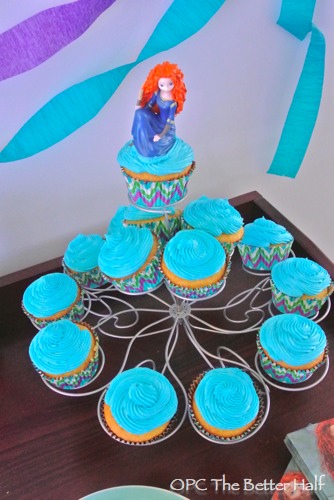 What you don't see in this picture was that the figurine was so heavy it kept toppling the cupcake or falling off entirely. It was pretty funny and now I'm kicking myself for not getting a picture!
Here's the birthday girl as we sang and then after blowing out the candles. Thanks to my friend, Ruth for these AMAZING pix!!!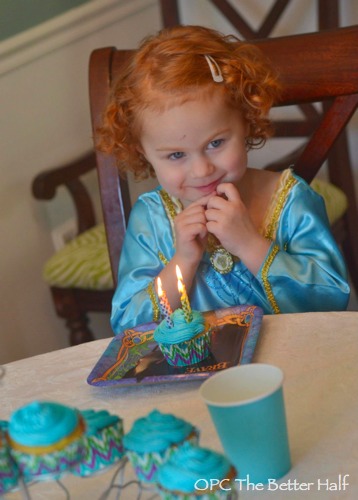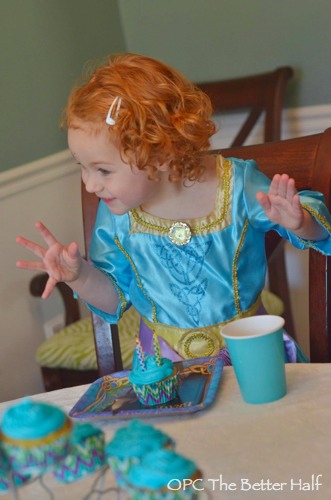 I then made the cookies that are in the Brave movie using a sugar cookie recipe from the Novice Chef. I was surprised to find that I needed sour cream and had to run out mid-cooking, but they turned out really great. Also, since I made these the day before and didn't have time to let them sit over night, I made tubes of dough wrapped in Saran Wrap and put them in the freezer for 2-3 hours. Then, once really cold, I cut the tube in 1 inch sections and placed them on cookie sheets. Way easier than rolling and cutting cookies!
I also used canned icing warmed in the microwave for 30 seconds. For the cherry on top, I used Sour Cherries from the candy isle at Walmart.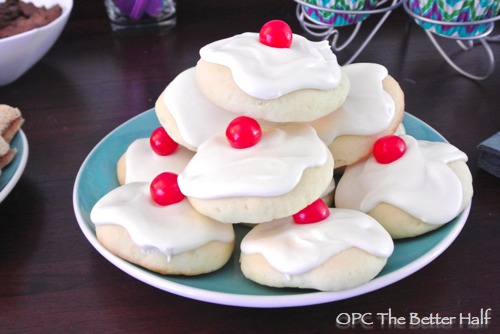 Peanut Butter and Jelly Sandwiches cut into the shapes of Bears.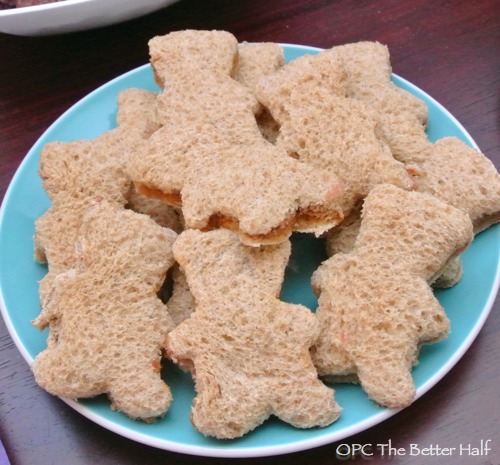 Chocolate Teddy Grahams – again a little brother bear love!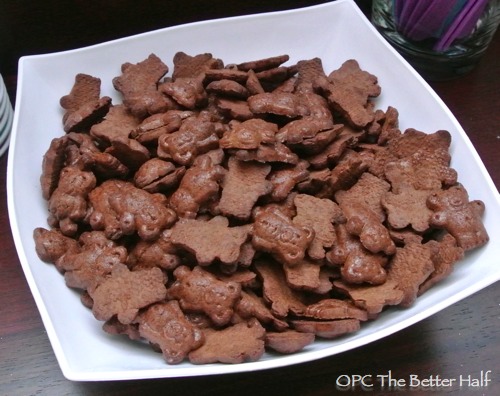 And here it all is together!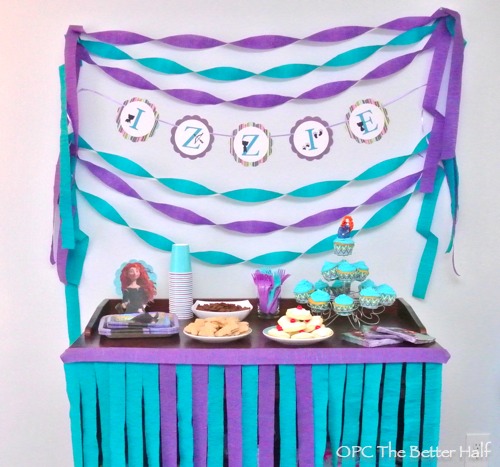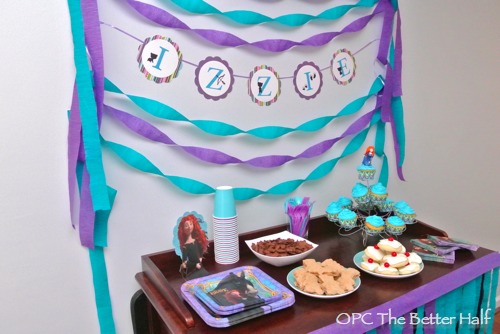 Party Favors
The party favors were the most time-consuming element but were the hit of the party.
Ethan made a bunch of bows using a Bow and Arrow tutorial from Skip to My Lou as an initial guide. We used thinner PVC to help the bow have a little more bend and cut the PVC to 2.5 feet, since these were for little kids. Once cut, I wrapped them in pretty duct tape (cheapest at Walmart). Ethan added nylon string and pipe insulation for the handle.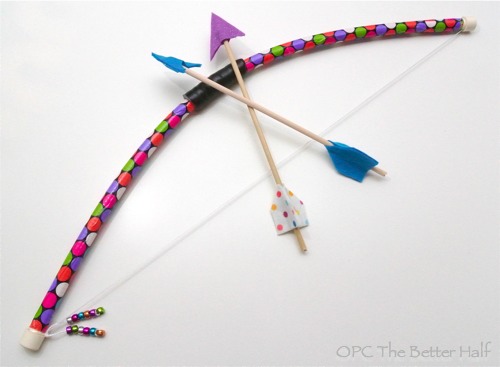 Finally, I finished it off with some beads.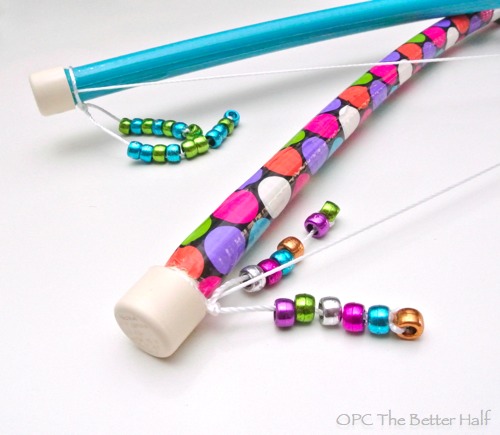 And then realized that the kids might forget which was theirs, so to reduce the bickering, I personalized each bow with a little black vinyl.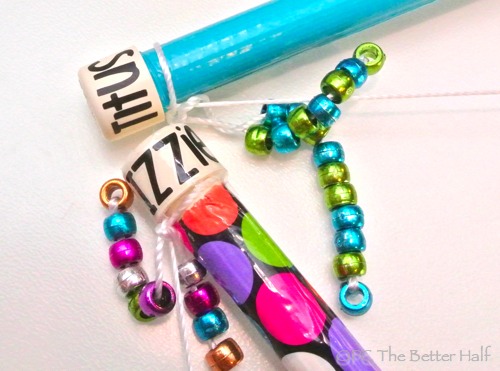 The arrows were made using wood dowels, felt and hot glue. Ethan used a very thin file to make a groove in the bottom of the arrow so it would hold to the bow.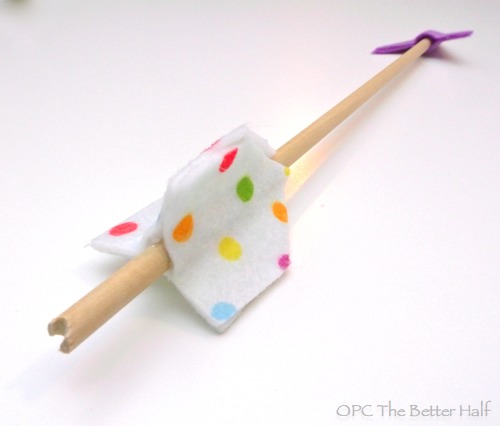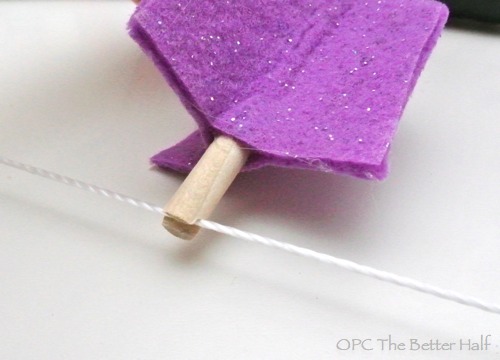 After I made the bow and arrows, I realized I should make targets so that the kids weren't shooting up the house. I made them using my Silhouette – so easy! When Izzie saw them, she asked why they weren't on a stick?! lol. So I added a wooden dowel and some frayed green paper for grass. Turned out super cute!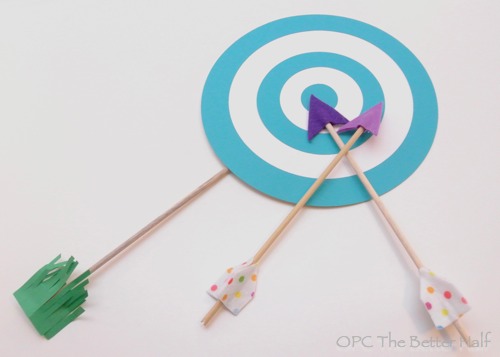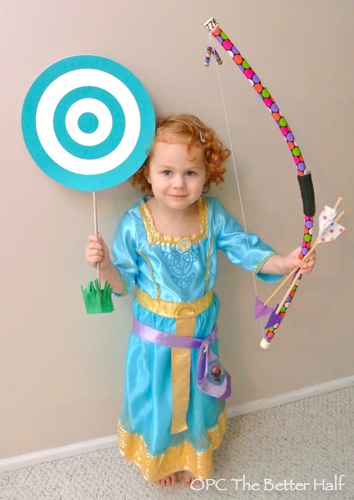 Izzie did a little target practice in the basement before her friends arrived for the party. Watch out boys – she's a pretty good shot!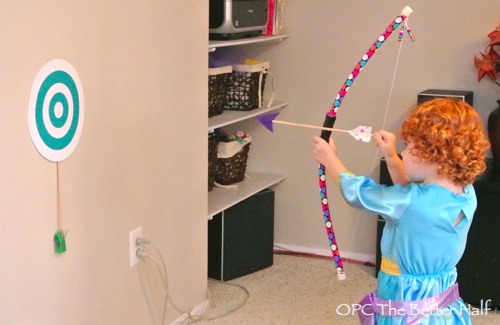 Here was a little friend of Izzie's practicing his bow and arrow. He was way more determined than the girls to be good at it and he got good really quickly. Look at his form!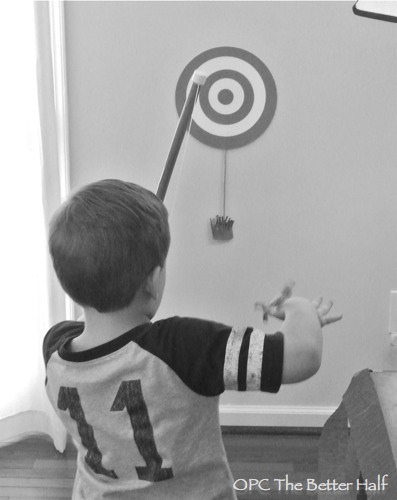 I had a bunch of leftover beads from the bow and arrows, so I made matching little bracelets for the girls.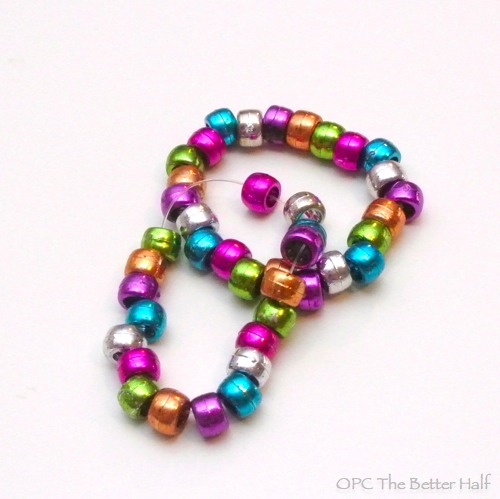 Izzie was insistent that she and her big friends would be Merida (and other princesses or prince) and all the little siblings should be bears. In the movie, Brave, Merida's three little brothers are turned into bears. Fortunately, I found a cheap bear mask template in the online Silhouette store and printed out a bunch in different colors.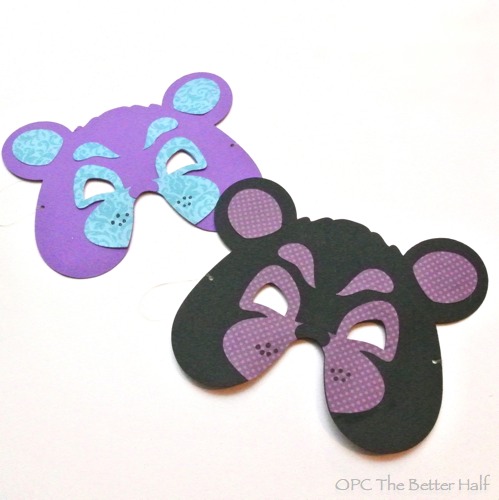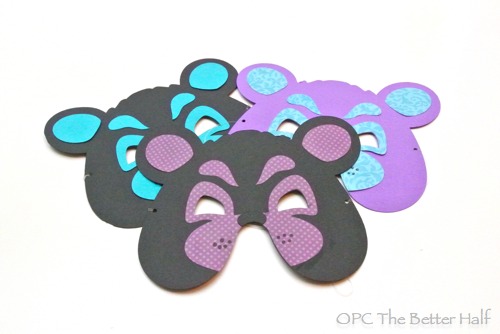 I had a really hard time getting Lucy to let me take her picture, but take my word for it, she was a cutie!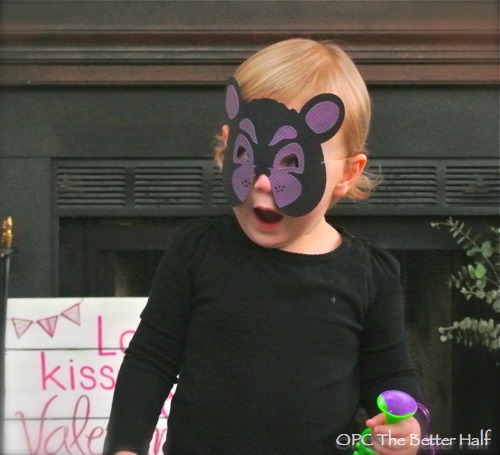 Here is the little sister of Izzie's bestie – definitely the cutest bear there!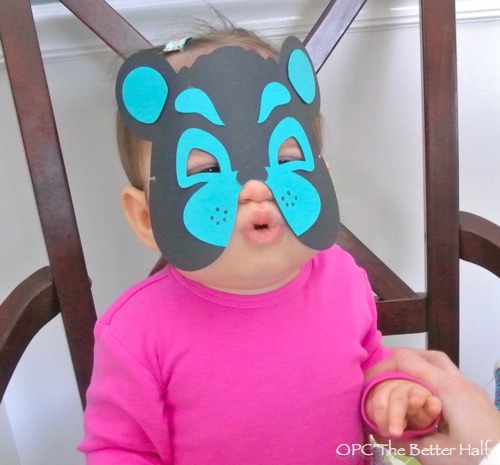 Once Izzie and Lily (the BFF) saw the little kids wearing the masks, they grabbed some and joined it. Who says Merida can't fight bears and be a bear at the same time?! lol.
It was such a wonderful party, one that will be difficult to top, for sure! Izzie and her friends are all planning on being Merida for Halloween next year as a result of all the fun (although I'm sure they will change their minds at least 10 more times). haha
What do you think? Who's your favorite princess?
As always, thanks for reading!
Don't forget to check us out on Facebook and Pinterest!
Linked up at: Shaken Together, Designed Decor