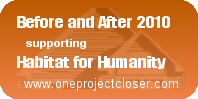 This week's Before and After winner is Brien C!  Brien and his wife bought a real fixer-upper — you know the kind. It's the one with listing pictures that make you wonder whether they would have been better off just leaving them out. Most people would be too intimidated to purchase a home like this, but apparently Brien and his wife are real go-getters.
We picked Brien's submission because he makes a great transformation working within a tight budget. He's very conscious about what they can save. For example, many people would have purchased new cabinets. Instead, Brien finds a used set of cabinets and repaints the whole group white. That's great reuse and an excellent cost saving technique. We also like that as the kitchen remodel is taking place, it is clearly being used as a kitchen. That's exactly the way most of our projects go, too!
For winning this week's contest, Brien gets a $50 gift card to Home Depot, Lowes, or Amazon. And, we'll make a donation to Habitat for Humanity for $100 in Brien's honor. Brien is also entered into our end-of-year contest for a $150 gift card to the home improvement store of his choice!
Budget Kitchen Remodel by Brien
My wife and I remodeled our kitchen… for less than $5000. We started with a space that was barely functional. There were only 4 upper cabinets, one of which did not even match, and a small pantry. There was only one bottom cabinet besides the sink base. The existing countertop was only 7.5 feet long, but also held the sink giving very little usable space. We used a rolling cart and track shelving for extra space. Our stacked washer and dryer also took up space. The electrical panel was 2 feet from the sink, not at all up to current electrical code. There was also paint peeling off of the walls and cabinets.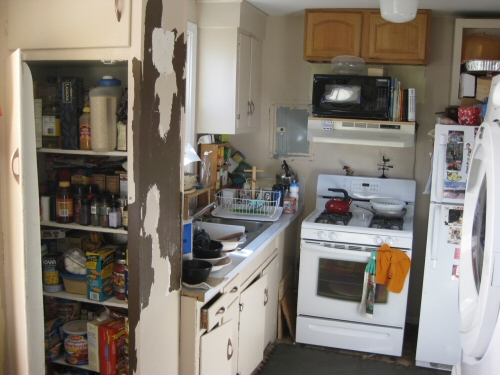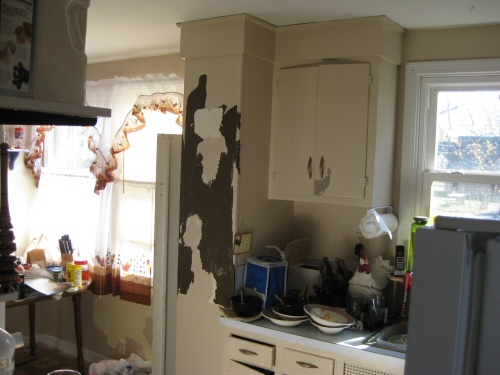 The first step was to tear out all of the old cabinets. When taking out the old pantry, three mice ran out from the space between the bottom shelf and the floor. We bought a set of used cabinets, countertop, and sink for $250.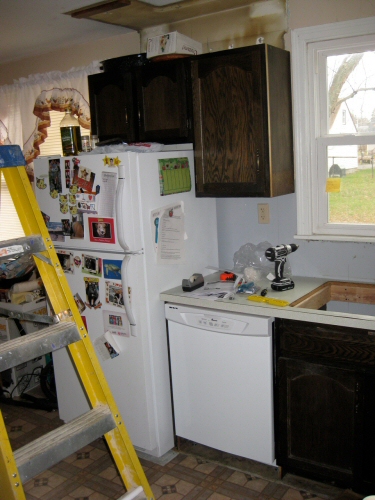 The plumbing under the sink was a mess, so we took everything out and redid all of the supply and drain lines for the kitchen sink and the washing machine. We purchased and installed a dishwasher. I purchased pieces of a cabinet for $0.99 and placed it next to the unstacked washer and dryer.  We installed a new countertop over these.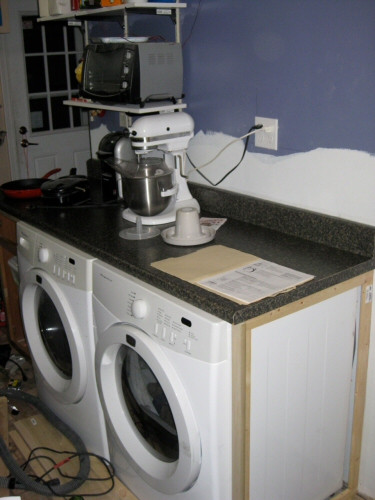 Under the stairs is a closet with access to the crawl space, here we built shelves to create a pantry.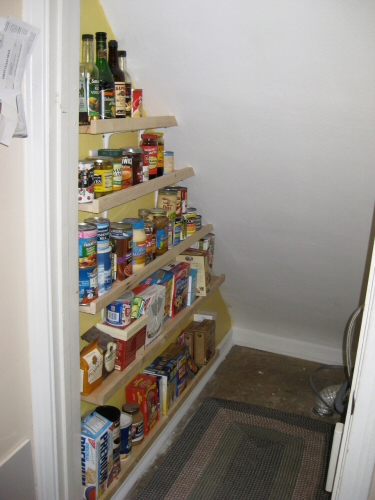 Above the new counter we installed two cabinets and a pot rack.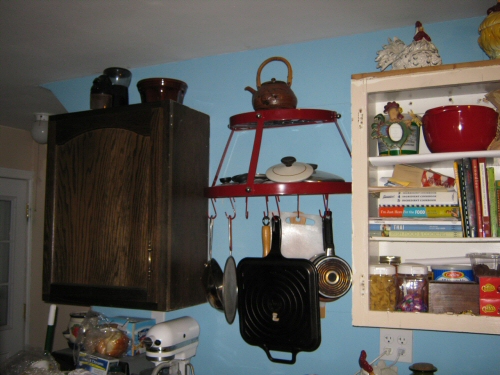 Next we installed a new microwave hood combo with a vent to the outside.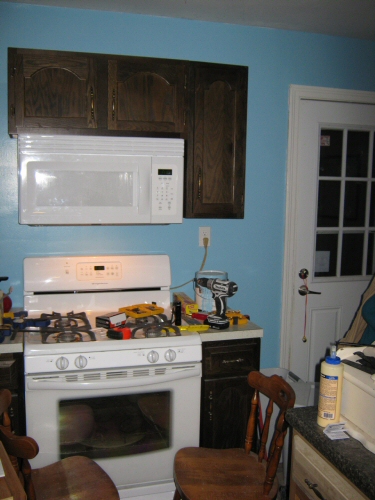 Before we could finish installing our cabinets, our electrical panel needed to be moved. I installed a new panel and rewired everything in the kitchen. All of the circuits in the house were moved over. I ran a new supply from outside and even installed a new meter. Before the new supply could be connected the new panel was fed power from the old panel for about a week. Finally I was able to remove the old panel and patch the wall, allowing us to install the final two cabinets.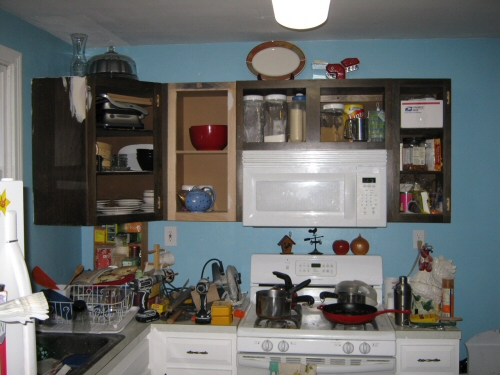 To finish one cabinet I built three drawers. We painted all of the cabinets white to brighten the space and installed a new dark countertop for contrast. The walls were painted blue. The final touch was the new light fixture which we got for 75% off. It took almost 10 months, but are finally finished and we love our new space! The final total cost for this renovation was $4874!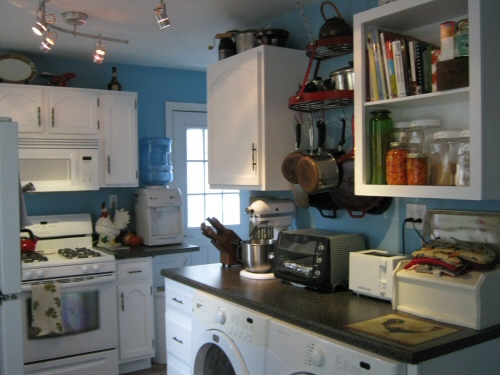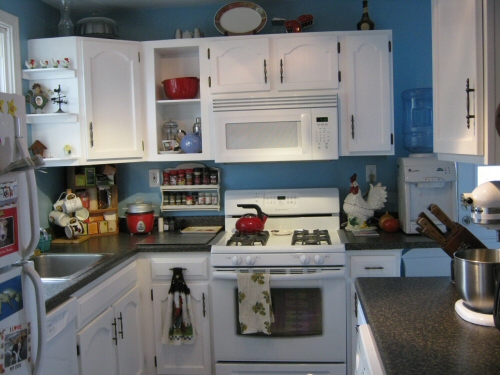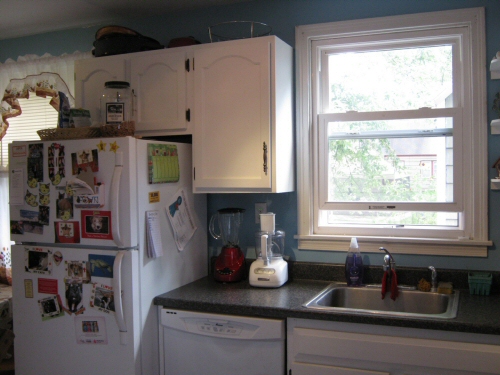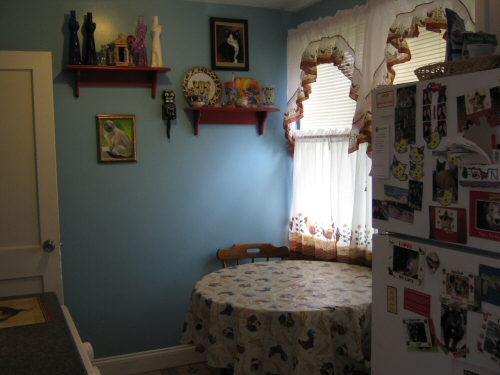 Thanks from One Project Closer!
Brien, this is a great budget kitchen remodel – a real inspiration for folks looking to tackle a tough project in their own home!
Habitat Quick Fact
Did you know that more than 100,000,000 people worldwide are homeless? Did you know that more than 1,600,000,000 people, or about 1/4 of all humans, live in urban slums? For many of us who live in rich, Western countries, this is almost unthinkable. Yet it is true.
According to the U.N., if nothing is done, in 20 more years more than 400,000,000 more people will live in urban slums than today, reaching a total of more than 2 billion people worldwide.
At its core, Habitat exists to solve this problem, one home at a time. You can help. Volunteer or Give. You can match our $100 donation today by clicking that link.
Enter the Contest
Next week marks the last Sunday of the Summer. It went by quickly. You still have time to be the last winner for this year! E-mail your submission to beforeandafter@oneprojectcloser.com.