Today we're featuring a guest contribution by Matt from the DIY Village on building a custom fire pit. If you don't know Matt and Jacque, hop on over to their site. It's chock full of awesome DIY articles!
When it comes to transforming a back yard, an outdoor fire pit rates high on everyone's DIY to do list. When my wife, Jacque and I purchased our new home a few years ago, we were moving from a townhouse. One thing that always bugged me about living there was that we were restricted on what we could modify outside of the footprint of the house, as the yard itself was considered common property. So when we made the decision to move, one of the first things I thought of was how great it would feel to be able to decide for ourselves what our new backyard should look like. The first thing on my list was a custom fire pit.
We're lucky to have an incredibly talented friend, Jesse Hoffman, who is a professional landscape designer. We coaxed him into stopping by and sharing his thoughts on what we had in mind. I had envisioned a circular stacked stone fire pit, but Jesse introduced an idea that involved a more unique shaped fire pit and landscaping around it. I think Jacque saw an opportunity to coach him into adding the landscaping as part of the project just to add more to the "Never Ending Honey-Do-List" (Of course she'd never admit to that). Jesse's idea was to have a fire pit in the shape of an eye, have an area for seating in front of it and a mounded landscape bed surrounding the backside.
Here's what we started off with…Basically just a blank canvas!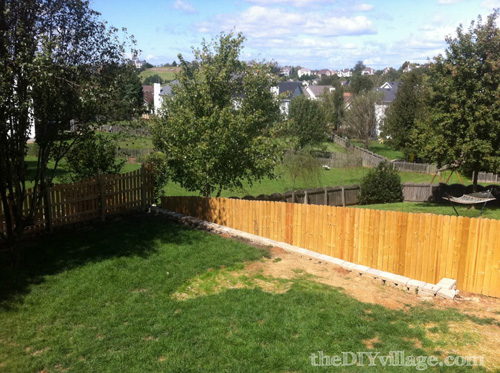 We had to bring in more fill dirt to level out the areas next to the retaining wall.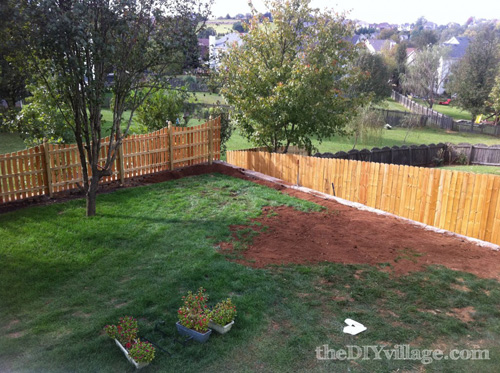 Next we laid out the design onto the ground with spray paint to give us a feel for where everything would be, plus it made it easier to know where and what to dig!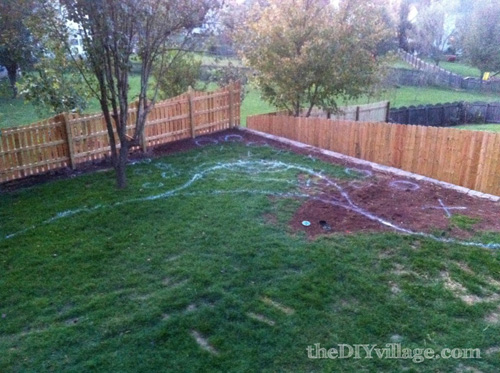 Then we brought more dirt in to build up the landscape beds. Altogether we hauled in an additional twelve cubic yards of fill dirt.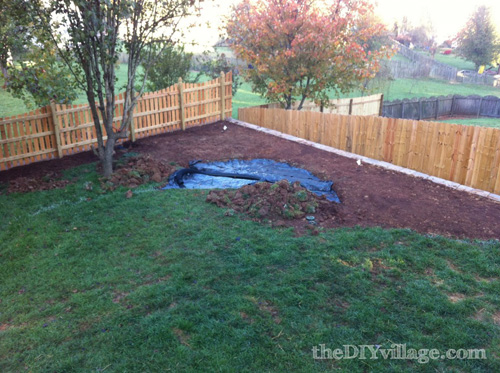 The next step in the installation was to dig out the actual shape of the fire pit. As you can see in the picture below, I created a drain channel within the patio area of the fire pit. I added this because our yard has a natural slope towards this corner and wanted any run off to be routed elsewhere. For the actual fire pit shape, I chose to dig down about eight inches which allowed me enough room to lay a base layer of gravel to allow any water to drain below the surface of the fire pit itself.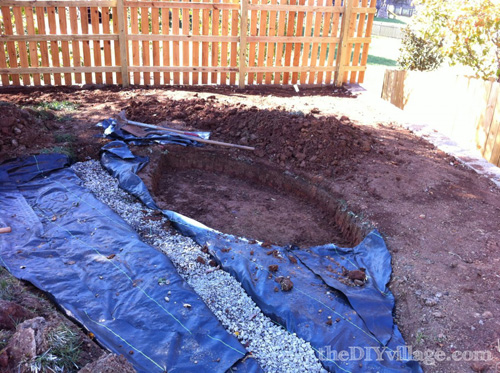 With the gravel in place we then began to stack the stones to around the perimeter of the fire pit. Truth be told, there wasn't much skill involved in the stacking process, I just basically used stones that stacked nicely side by side and on top of each other. I could have used mortar to secure the stones in place, but with the height being so minimal and the higher stacked backside being built up against a mounded landscape bed, I felt that there was already plenty of stability.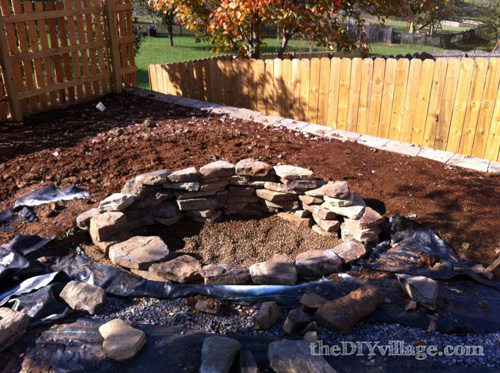 Now that our custom fire pit was practically complete, we brought in the shrubs to finish off the custom look. We were careful to choose a variety of plants that wouldn't leave the yard feeling bare in the fall or the winter.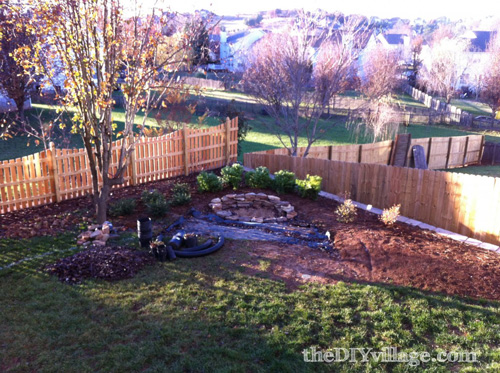 We placed flagstone pavers to make up the area where we plan to having seating and we placed metal bed edging to help border and define that space.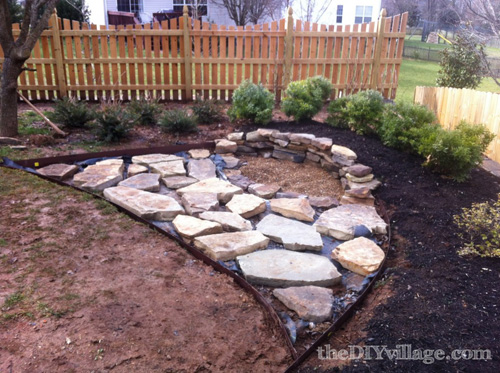 Lastly we added pea gravel as filler in between the flagstones and we added a few low voltage landscape lights to accent the area at night.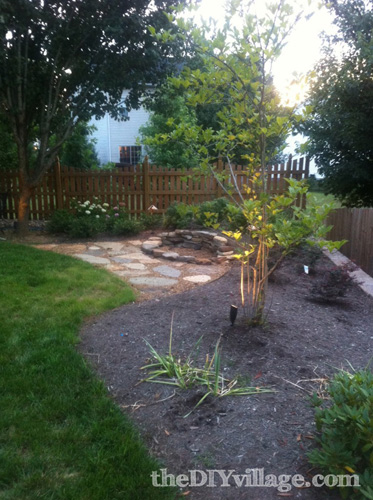 Every time we build a fire out back, I'm reminded how nice it is to have the freedom to choose how I want my yard to look. Having a custom fire pit really added a nice decorative touch to a previously sparse yard! If you're looking for more outdoor project inspirations, we'd love for you to check out our DIY Paver Path!