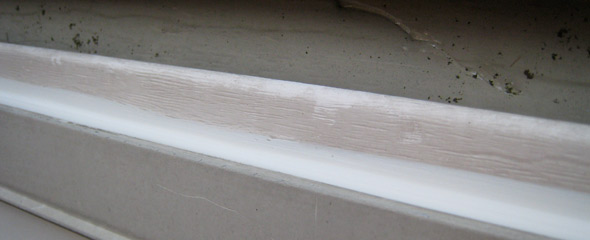 We've had some record setting snow fall here in Maryland that contributed toward a new problem with my sliding glass door. Ice managed to clog the gutter and overflow onto the backside of my house. After several freeze-thaw cycles, the ice was melting into my home. Now that the ice is gone, I'm taking steps to prevent this from happening again.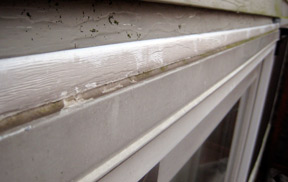 Winterize your Home with Caulk
Caulking the exterior of my door frame made sense to prevent water from finding its way inside but caulking also helps winterize your home. Sealing areas like window and door frames, around dryer vents and along the trim creates an air-tight barrier that can prevent drafts. These simple projects can make your house more comfortable and lower heating & cooling costs. For information about finding air leaks inside your home, check out my Seal Your Home website review. To learn about how to seal around exhaust pipes, check out my how-to post.
Select the Right Caulk
It's important to choose the right caulk so that you get a lasting, weatherproof seal. Some time ago, DAP sent me a couple samples, including DAP Side Winder.
DAP Side Winder
DAP Side Winder is an indoor / outdoor silicone sealant. I choose this sealant because it will create a flexible, watertight and weatherproof seal that will not shrink. Plus, it can be applied in low temperatures (important for mid-winter application). Here are a few more details:
Great for siding, trim, windows, doors, ducts, vents, flashing and gutters
Can be used with aluminum, wood, glass, tile, metal, masonry, brick, concrete and more
Paintable, low odor, low VOC's
Click here for a complete technical bulletin about DAP Side Winder.
How to Caulk Your Exterior Door Frame
My sliding glass door frame has vinyl J-channel running along the sides and top. I don't know if that is industry standard but that's what I have. I could see several gaps were the caulk was missing, providing easy access for water.
Remove old caulk
I started by removing the old caulk with my utility knife. I would get a small edge started and then just peel it away. I also checked the gap width. This sealant can handle gaps up to ½" without any backer rod or filler.
Clean
For the sealant to work well, it needs to create a strong bond between the adjacent materials. This is best achieved by applying it to a clean dry surface. I used damp paper-towel to clean the frame and J-channel.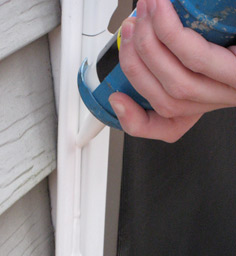 Load the gun
Load the caulk into your caulk-gun and cut the nozzle at a 45° angle. This tube had notches on the nozzle letting you know where to cut to create the appropriate sized bead. Bead size should correspond to the largest gap width you are filling. Puncture the inner seal with a long nail (or something similar).
Apply the caulk
Hold the nozzle at a 45° angle. Squeeze the trigger and move the caulk gun along the gap in a smooth, steady motion. You want to create a nice, uniform bead of caulk. I've always found it easier to pull the gun toward myself, rather than pushing it away. If you're unhappy with how the caulk bead looks, smooth it with your finger. Take care as this will spread the caulk into a wider area.
Curing
For best results, allow the caulk 24 hours to fully cure. Cut away any cured excess.
What do you think? Any tips to add?