As you know we moved into a single family home in the beginning of October 2014 and its been slow decorating each of the rooms, especially with Thanksgiving and Christmas. But I'm super excited to show you my desk makeover DIY in Izzie's big girl room!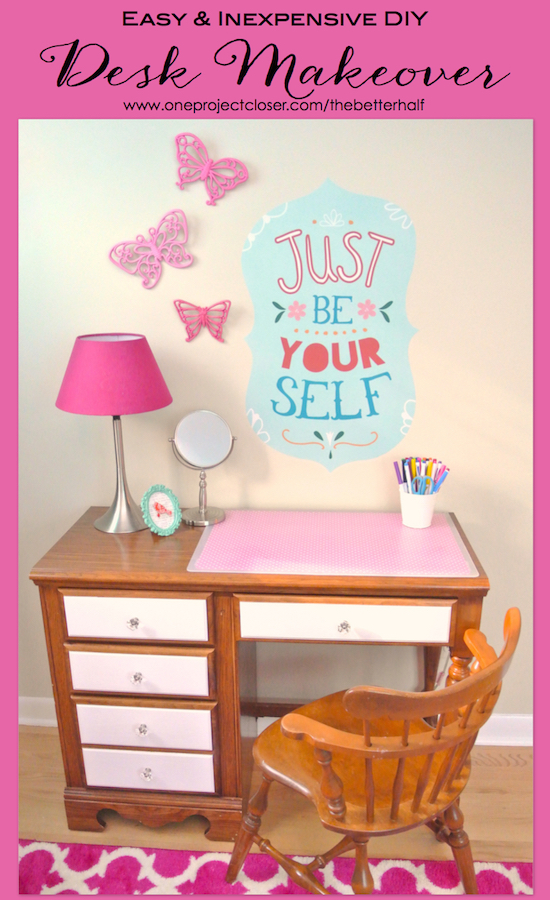 The back story: Growing up, my favorite Christmas present ever was my own desk! I remember loving sitting at it and listening to music, doing homework, writing, and reading Nancy Drew. And this is THE DESK. We never had room for it before, so when we moved, I asked my parents if I could have it back so we could give it to Izzie.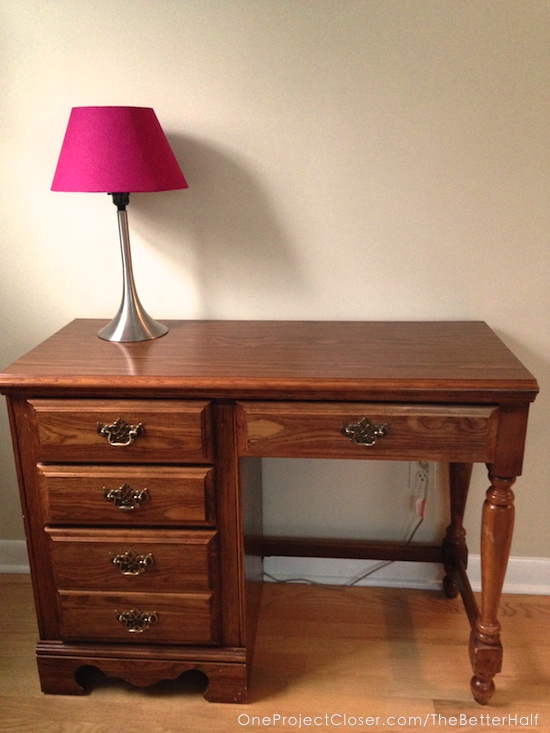 Izzie LOVES it! The first day she got home from school and exclaimed that she wanted to do her homework by herself at her new desk. WIN!
All of Izzie's furniture in her room is painted white, so the wood desk looked a little out of place. However, it was in near perfect condition, so I hated to paint it completely. Recently, my good friend, Gail painted her daughter's dresser fronts white and put glass knobs on. It was beautiful. So I decided that would be an easy and inexpensive approach to the desk makeover DIY!
And it really did turn out to be a quick project. After removing the old handles and filling the holes, I sanded the drawer fronts with medium grit sandpaper, taped them off with painter's tape, primed and then painted with semi-gloss trim paint we had on hand. Finally, I put on new glass knobs that I found at Target.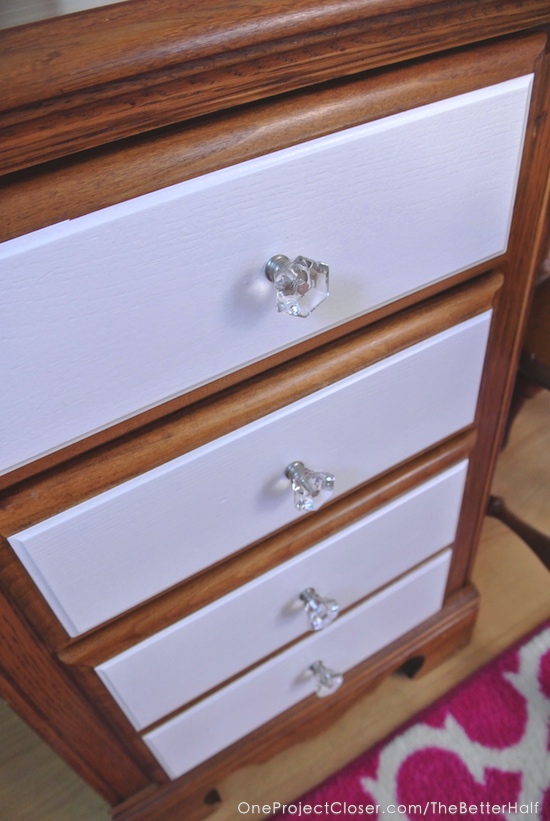 To make things even more fabulous, I got this beautiful Be Yourself Wallprints Fabric Decal from Wallternatives – I can't even tell you how much I love this! The wall still seemed a little plain, so I painted three wooden butterflies I had bought at a consignment sale when Izzie was a baby.
Izzie is a lot younger than I was when I got the desk – she is almost 6. When she colors, she still sometimes gets a little messy, and I was concerned about protecting the finish. I bought a cheap-o desk mat from IKEA and put pretty polka-dot wrapping paper under it to make it more colorful.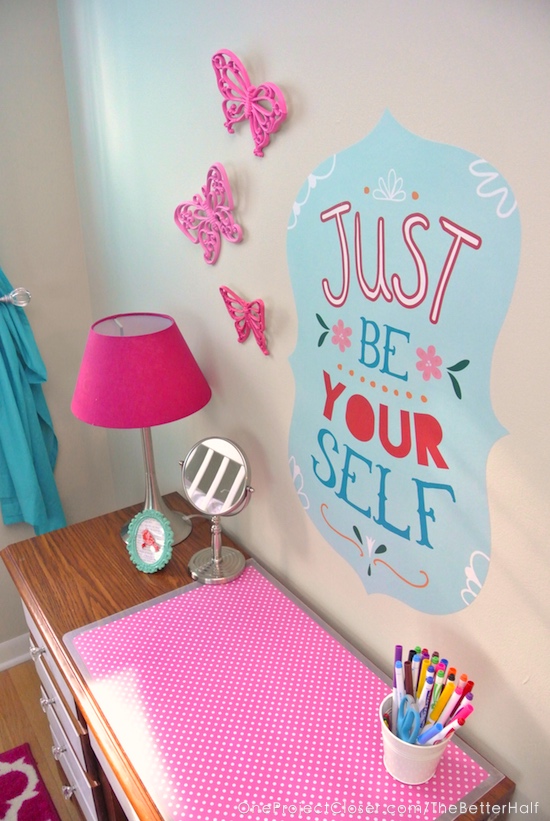 I also got Izzie a letter "I" for her door along with some stars from Wallternatives and it makes for a cute entrance into the room.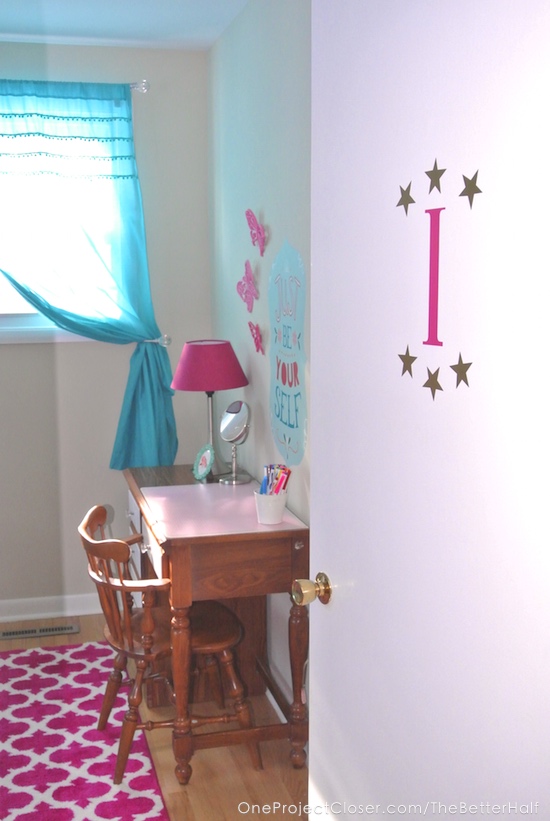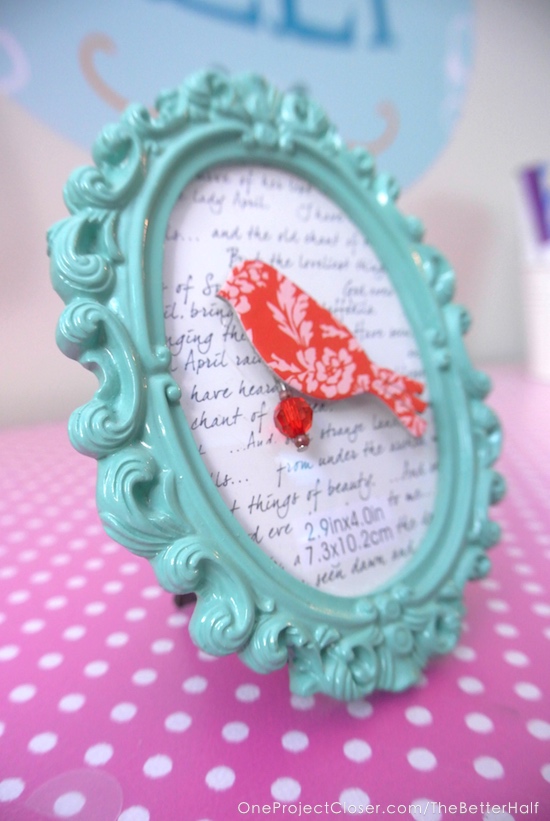 And one final view of the desk! Btw, that is Ethan's chair from when he was younger. I was originally going to find an old chair and paint it a fun color, but this chair has sorta grown on me. Opinions?!?!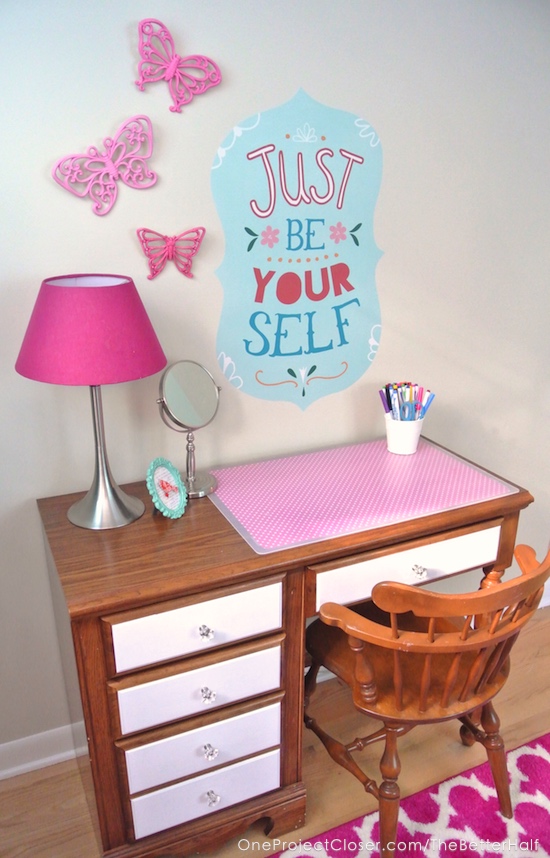 What do you think? Did I destroy a valuable piece of my own history or create a beautiful desk makeover diy? Also, do you think I should paint the desk chair?
As Always, thanks for reading!