It's that time again, OPC readers! Keri from Shaken Together, here. As Jocie's recipe contributor, I get to interrupt her amazing DIY and home decor projects with oodles of calories and something delicious each month. Like Peppermint Brownies and Taco Bites with Salsa Ranch. Yum, right? And since it's February, the month of love, it was only fitting that I share a dessert recipe that is brimming with bright red tart cherries and double layers of rich, deep chocolate! I hope you don't mind brownies again. I didn't think so. I knew I belonged here. Anyway, I think these are just perfect to pack up for a picnic for a pair of lovebirds. What says love more than chocolate cherry brownie parfaits!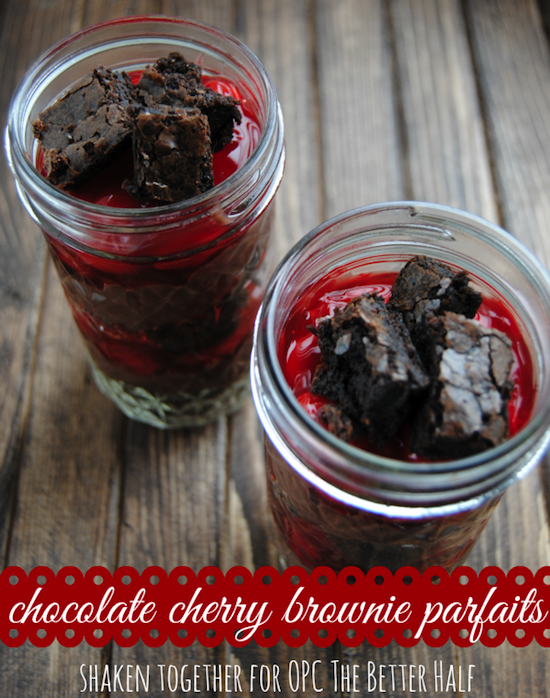 But don't worry – you won't be spending all day slaving away in the kitchen. These sweetly layered desserts are made with a few time-saving shortcuts that let you spend more time with the ones you love! And while it may seem hard to believe, my hubby doesn't really even like sweets. I KNOW! But occasionally I can tempt him with carrot cake or ice cream. So this delectable dessert? Is allllll mine!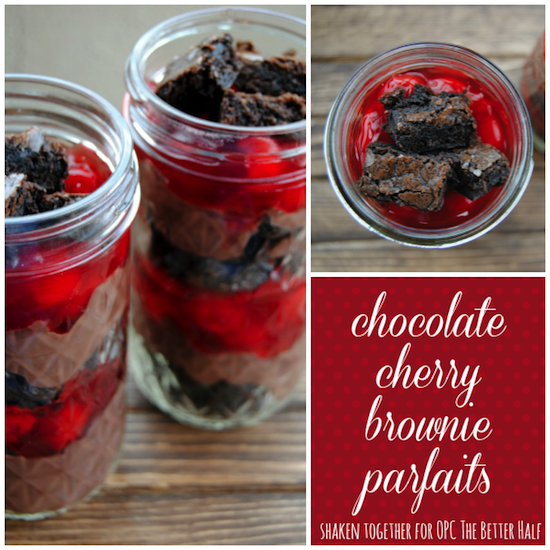 Yields 4 lovely layered parfaits (may vary depending on what you build your parfaits in)
1 8×8 or 9×9 pan of your favorite brownie recipe
1 can of your favorite tart cherry pie filling
1 box of instant chocolate pudding, prepared according to the directions and chilled
Once cooled, cube the brownies into bite sized pieces. Then, begin layering the brownies, pudding and pie filling until each bowl (or mason jar in my case), is full.
Now, if you really want to amp these up, add a sprinkling of mini chocolate chips, chocolate sprinkles or homemade whipped cream between layers. The beauty of parfaits is that you can add layers of whatever yummy things that float your boat. I mean, are sprinkles ever a bad idea?!
Since I used mason jars for these parfaits – glass just really allows you to see those pretty layers that are waiting – I used fun gingham canning lids to add a pop of red. Then, I used striped bakers twine to tie a spoon to each mason jar parfait. Have spoon and brownies, will travel!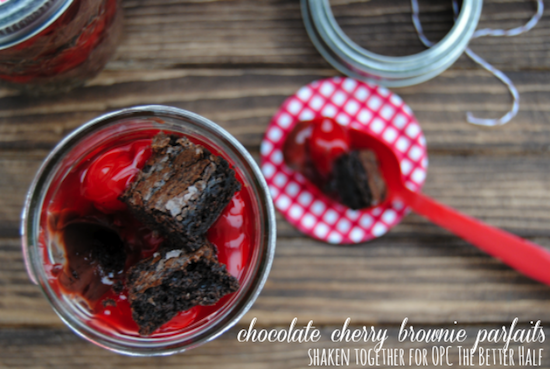 What do you say? Would a parfait with ooey gooey layers of rich dark brownie, sweet pudding and tart cherry make your heart sing like mine?
Here are a few more of my favorite recipes that make my heart (and taste buds!) seriously happy!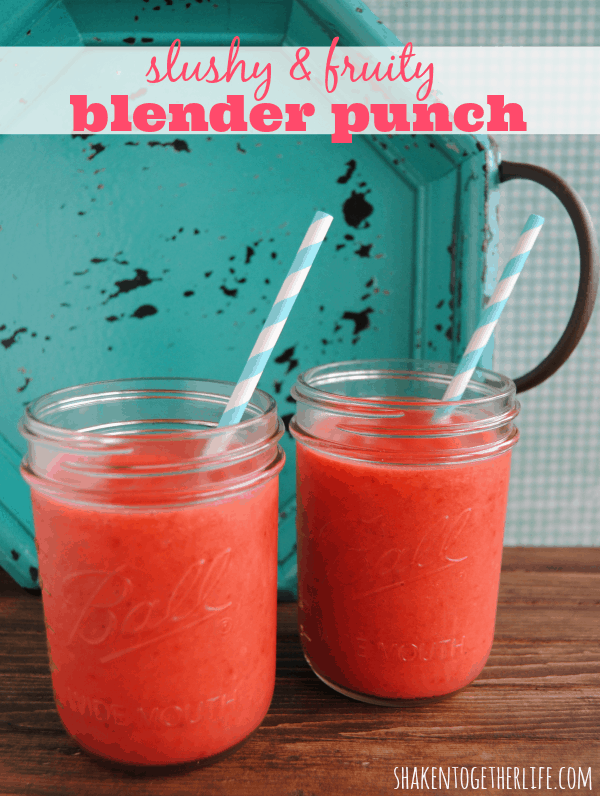 Slushy Blender Punch – only 4 ingredients!