Lineman's pliers are a go-to hand tool for lots of tradesmen, especially electricians. Also called Kleins (for the brand-name), most combine a gripping jaw and side cutter. These pliers may seem like they're all the same unless you know what you're looking for. This post will walk you through the details to pick a good pair of lineman's.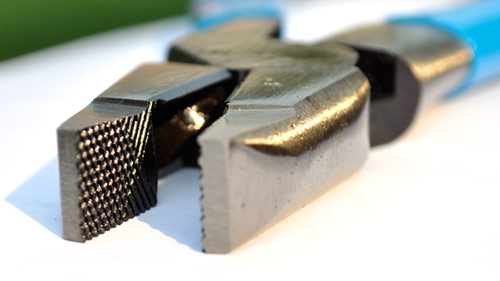 Lineman's Features
Rivet
All lineman's pliers are machined with a heavy-duty rivet. Quality construction ensures a smooth and consistent motion even after 10+ years of use. The location of the rivet is also important. Placing the rivet close to the cutter means it generates a greater force resulting in cleaner cuts.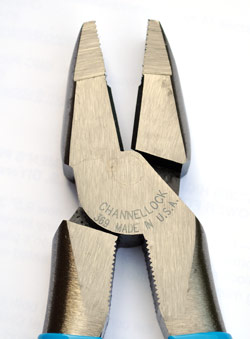 Cutters
These pliers can be used for cutting wire, cable, nails and screws. You'll find two different cutting edges: double sharp and knife-to-anvil.
Double sharp features two sharp edges that meet in the middle. It's easier for this style to become misaligned resulting in poor cutting.
Knife-to-anvil cutting is just like it sounds. A sharp edge comes down on a small flat anvil- much more reliable.
Most cutters undergo heat treatment hardening via lasers or induction hardening resulting in a very durable blade.
Snub Nose
The snub nose is useful for gripping and bending heavy-gauge wire, sheet metal, etc. Look for cross-hatching on the jaws to provide better gripping traction. The squared off nose and flat side are also useful for making right angle bends.
Handles
The handles are often insulated to reduce (but not eliminate!) potential shock from live wires. Find a pair of lineman's that feels comfortable and balanced in your hand.
Crusher / Crimper / Stripper
The opposite side of the rivet can add several different features depending on what you purchase. Some versions add a crushing area, crimping die, wire strippers or fish-tape pullers. I prefer the wire strippers because lineman's are typically used for electrical projects.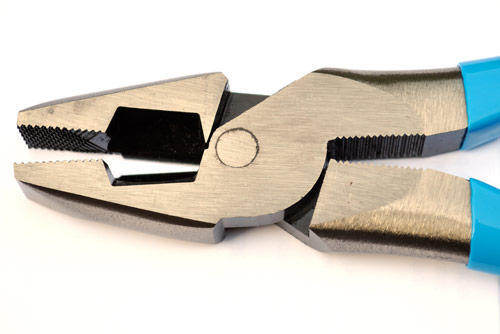 CHANNELLOCK Lineman's Pliers
CHANNELLOCK recently introduce a new 9.5″ lineman's plier– model# 369. They're made from high carbon steel and feature the knife-to-anvil side cutters. CHANNELLOCK moved the rivet for improved cutting leverage and topped it off with they're cool blue comfort grips.
What do you think? What lineman's do you recommend?