It's April and that means I get to spend a day with some of my favorite people – that's you!! – and share a recipe here at OPC The Better Half! If we haven't formally met yet, I'm Keri and I blog over at Shaken Together. I love to share easy recipes, crafts, DIY tutorials, seasonal projects and more – I'd love to have you stop by!
While it may feel like Spring in Florida, I know that it is still pretty cold in most of the country. With that in mind, I thought something warm and toasty (and topped with melted Parmesan cheese!) would be pretty appropriate!
So, whip up a pan of lasagna, a big bowl of tomato soup or even a hearty rustic salad. Because today I am sharing a tasty accompaniment for any of those dishes … crispy ciabatta Parmesan dippers!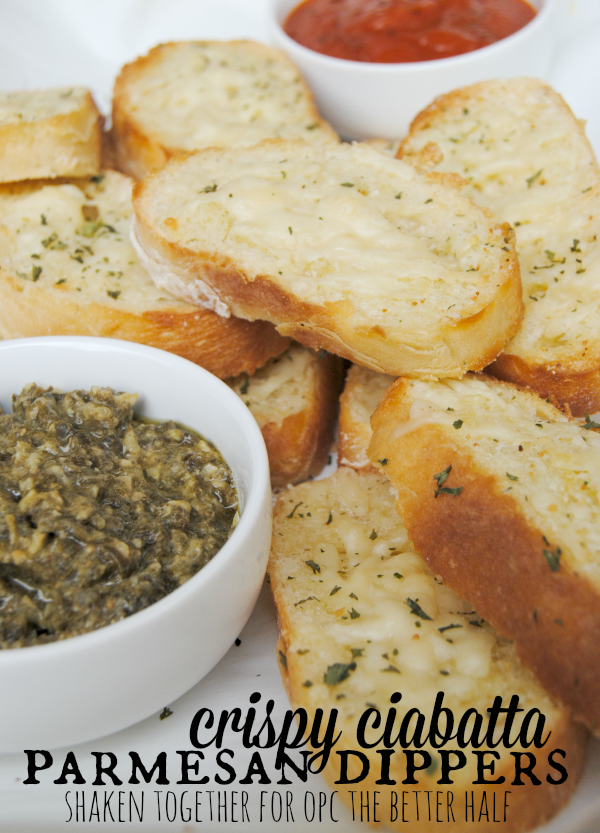 This recipe is a great way to use leftover ciabatta rolls from a Sunday sandwich lunch since ciabatta bread has a great dense, chewy texture that toasts up beautifully and doesn't get soggy! The trick is to slice each ciabatta roll lengthwise into 6 slices instead of horizontally like for a sandwich. The end result is 12 mini slices of ciabatta that are the perfect size for dipping and mopping up sauce or soup! If you are feeding a crowd, this recipe can easily be doubled or tripled.
Crispy Cibatta Parmesan Dippers
2014-04-09 22:02:09
Ingredients
2 ciabatta rolls, unsliced (mine were leftover from an 8 pack from Sams)
Unsalted butter, softened
Garlic salt
Shredded Parmesan cheese
Optional (but absolutely delicious!) : marinara sauce and pesto for dipping
Instructions
Slice each ciabatta roll into 6 lengthwise slices
Spread with a thin layer of softened unsalted butter and sprinkle with a little garlic salt.
Bake in 375* oven until the butter has melted and the bread is just started to brown a bit around the edges.
Remove from oven and sprinkle each slice with shredded Parmesan cheese.
Return to over and bake until cheese is melted.
Serve with warmed marinara and pesto for dipping.
One Project Closer https://www.oneprojectcloser.com/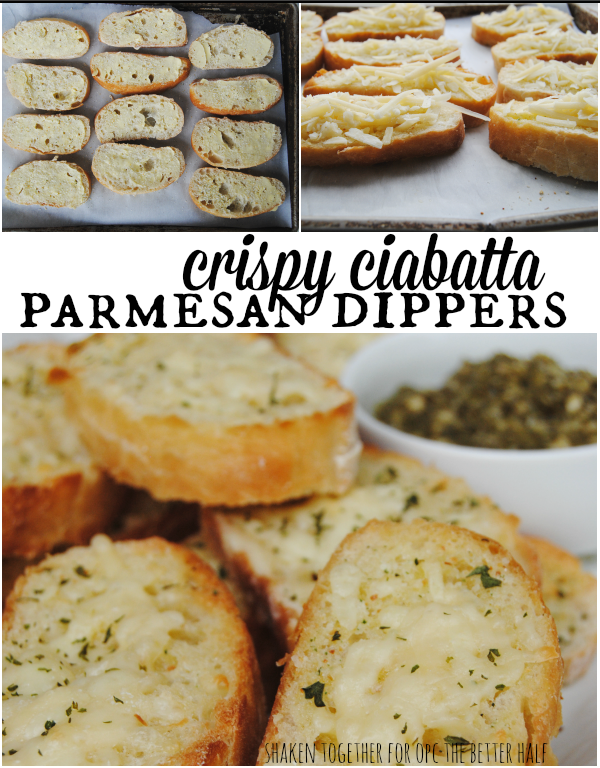 I love recipes like this – you can always tweak them just a little based on what you have on hand. Don't have shredded Parmesan? Use mozzarella. If you can't find ciabatta bread, sourdough or even a day-old baguette would be good alternatives. Get creative and add sun dried tomatoes, roasted red peppers or even thinly sliced pepperoni under the cheese for another added layer of flavor.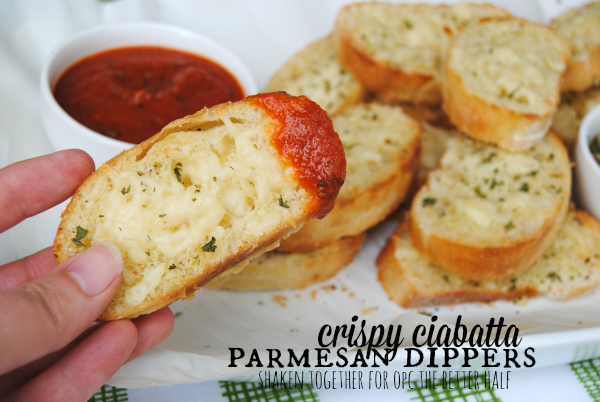 If you need a few more quick and easy recipes like this one, you may like my pressed pizza paninis, quick pesto Parmesan chicken salad or cheesy French onion soup bread!
Thanks again for having me, Jocie! Can't wait to see you all again next month!