I recently spent a whole day at our rental property (with the boys in tow, lucky me) for the installation of a new front door and storm door. While the boys watched cartoons on my laptop, I was left with little else to do but read a book and look around to make a mental checklist of future projects that would need to be done.
Up till this point, Fred and I have installed one or two new items in the rental each year, a strategy we use to keep our renters leasing year after year (see our article on retaining renters for more).  It's worked; they're in their fifth year now.  But as I sat there that day, it became clear that we probably should scale back on the annual upgrades and save our money for their eventual departure.  I realized just how many things are going to need to be fixed or replaced at whatever point these two move out.
And by two, I really mean seven free-roaming beings…  Or two dozen residents, if you want to count all their aquatic creatures individually.  At last check, they had 5 or 6 aquariums of various sizes, two cats and three dogs, all in a little two-bedroom townhome.  I feel like "pet friendly" doesn't quite encompass what our rental has become.
I give the detail above because not every rental property has this many critters, so not every rental will have all the damage ours does at quite the rate ours has.  But still, if you decide to open up your rental to pets, be prepared for some of the following replacement and repair costs:
Pet Damage in a Rental Property (w/ Pictures)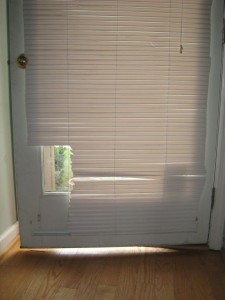 1. WINDOW TREATMENTS – Our rental is graced with two little jack russels who believe they are entitled to a window seat on each level of the house.  Pictured is the peep hole they chewed for themselves at the bottom of the former front door. (The new one doesn't have a full window, so I can only imagine how their tiny furry heads are spinning now – hahaha!!!  Ahem.)  There are similar holes in the master bedroom window blinds.  Not pictured (because they're not there anymore) are the vertical blind slats they snapped off in their games by the back door.
The addition this year of the newest dog (I think it's a German Pointer puppy) has only served to add a third little face that "needs" a view of the outside.  We're very glad we went with inexpensive vinyl blinds and not anything we care about.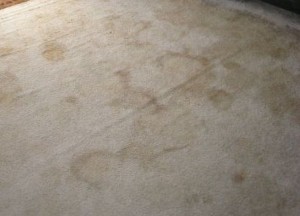 2. CARPET – At least one of the dogs and one of the cats are male.  'Nuf said.
We were actually considering replacing the carpet in the living room area, since I'm pretty sure it's original to the house.  It was there when I moved in in 2002, and the prior owner hadn't ever replaced it.  She had, however, replaced the whole upstairs, and I went on to carpet the basement during my year living there.  BUT… as it turns out, all the "newer" carpet looks almost as bad as this room.  And not for lack of trying.  Our renters are actually very clean people, themselves, and they spot-treat and run their rug-shampooer around regularly.  It's just hard to keep up with 5 pets.  And so we decided we're not going to spend the money here.  As much as we'd love to give our renters newer carpet in this room, we know we'd just be replacing it again – along with the rest in the house – when they move out.  So we'll just save ourselves that $770 (Home Depot quote) expense, now.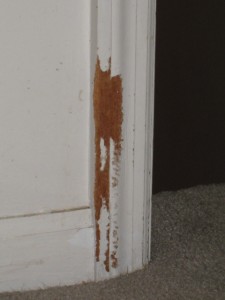 3. MOLDING– This is newer damage, so I'm blaming the aforementioned puppy.  Apparently he/she is cutting teeth on the frame to the downstairs doorway.
'Course in fairness, it could be the cats, scratching out their anxiety about said puppy.
At any rate, this is going to have to be replaced.  Not expensive if we do it ourselves, but something to consider on the "cost" list.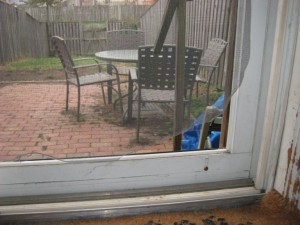 4.  SCREENS – Required for children (especially if you're applying to adopt or foster them – we know.)  A total loss with pets.
Why wait for your owner to let you out, when you can just charge right through the slider?
Come to think of it, we had a (human) houseguest who attempted something similar at our house, and so we no longer even HAVE a sliding screen door here.  So perhaps I shouldn't be so hard on the animals.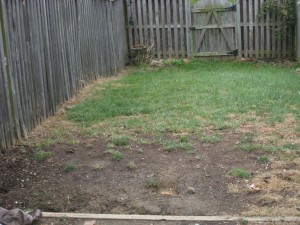 5. LANDSCAPING – Moving on THROUGH the screen door (sorry), I got a good look at the back yard that used to be my tiny pride and joy.  Hostas, roses, poppies, and other flora used to line the back of the patio and fill the back corners of the yard.  Clearly, those guys weren't "the fittest" – none appear to have survived.  Heck, neither has the grass that I also used to have, I promise.
So re-sodding and minor gardening round out the list.  For this particular day's inventory, anyway.
Allowing Pets is Still Worth It to Us
Now don't get me wrong, we love our renters.  They've paid on time for more than 4-1/2 years, usually driving their rent check over to our door.  They clean the place.  They've added a few upgrades (ceiling fan, chandelier, shelving) themselves, and they're also just enjoyable to know.  So, we don't really resent the pets they bring with them.
And we had already planned to repaint the whole place in between residents, so the animal scuff marks on the walls don't really add work there.
But in case anyone else out there was wondering why so many landlords opt for the Pet Free Rental, now you know the reason!  I feel blessed "only" to have two little boys here at our house.  Pets cost a good bit in rental repairs.  So if you do allow your renters to have pets, just figure that into the budget.
What do you think? Do you have experience with pet renting from the renter or landlord side?