I'm going to insert myself here on Ethan's and Fred's tool-reviews turf and slip in one I had occasion to review this weekend.
While everyone else is out shopping on Black Friday, every year, Fred and I have a tradition of our own: the Annual Raking of the Leaves.  Our house backs up to a state park here in Maryland, so we procrastinate in the face of overwhelming pile-ups wisely wait till just about every leaf is down before tackling our yard.  We'd like to rake it just once.  Last year's contractor-bag count: 72.  So no, we weren't looking forward to it this year, either.  And doubly so, since our blower died on us last year, mid-way through the job.
Which brings me to the newest addition in our shed.  Taking advantage of one of the great Black Friday sales at our local Sears, I came home with a Craftsman Gas Blower/Vac Combo (Model # 79470) for $89.99 (regularly $124.99).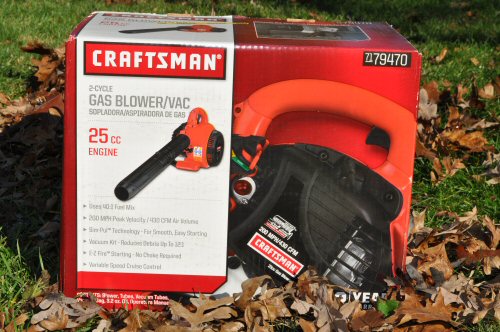 Highs & Lows
The Highs: powerful leaf blower; mulching vacuum function condenses leaves, so you don't have to empty the bag as often; manageable weight for longer jobs, competitive price
The Lows: higher vibration than its electric and higher-end counterparts have
Key Features
While I was indeed looking to save money when I bought the blower, I aimed for a mid-range tool, balancing price with the performance I was looking for.  I am not a landscaping contractor who uses a blower regularly, or I would have gone for the top-performer (and the 3 year comprehensive warranty).  But I also didn't want this leaf job to take all day, so I passed on some of the less powerful (though cheaper) blower/vacs.
Gas Powered
There is a trade-off with gas, versus electric. The CONS: gas blowers tend to cost a little more, and then you have to buy the 2-cycle oil and the gas to put in them; they vibrate more than do electric blowers; and they're noisier.  The PROS:  gas blowers tend to be more powerful, have variable speeds (while most electric blowers have only a single or 2-speed motor), and  they're certainly more portable, since you don't have to keep unplugging and re-plugging an extension cord, as you move about the yard.
Product Stats:
Motor: 25cc
Air Output Speed: 200MPH
Air Output Volume: 430 CFM
Variable Speed Capability
Fuel Requirements: 40:1 Fuel Mix (3.2 oz. of 2-cycle oil per gallon of gasoline)
Warranty:  2-year General Warranty
NOTE: It's important to check the air speed and the CFM when buying a blower.  While looking online, I found another blower with a higher air speed (250 MPH) but a lower (385 CFM) air volume output.  I thought the 200MPH air speed was sufficient for a leaf job, so I looked for the highest CFM I could find with that as my speed minimum and at a price-point I was comfortable paying.  It's a balance – air speed and volume of output.  Low speed at high volume of output won't move much of anything, and high speed at a low volume of output will move just a very few leaves (though rapidly!) at a time.  I wanted to move a lot of leaves in a reasonable amount of time.  This blower did that very well.
Starting & Running Features
Craftsman Sim-Pul™ starting mechanism – set the choke to "Start," prime the red bulb five times, pull the cord, let it idle for a few seconds and pull the trigger which automatically slides the choke over to "Run" (or just move the choke to "Run").  I had trouble starting it one time during the course of the afternoon, but Fred got it started, after priming it a bunch more times.  Aside from that one time, however, I did find it "Sim-pul" to start.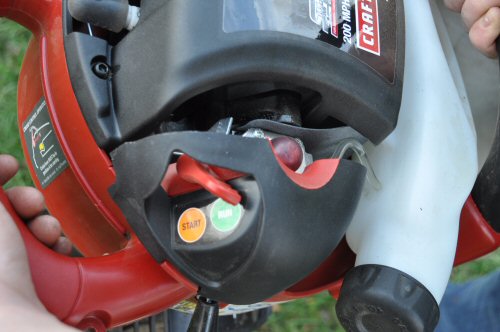 Variable Speed Trigger, Cruise Control & Kill Switch – These are all located conveniently near one another, which I really appreciated since I have fairly small hands.  You can adjust the motor speed with the trigger and then flip down the cruise control lever with your thumb.  I did have to kill the motor one time, in a hurry, when I vacuumed up a piece of debris in the driveway by accident, so it was good that the "Hold" button was also right there at my thumb-tip and responsive right away to my pressing it so I didn't jam the motor.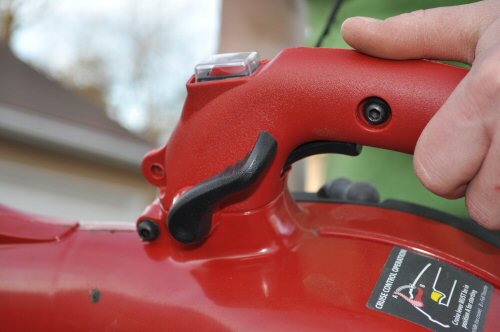 Concentrator Nozzle (Blower Function) – The blower assembly includes an optional narrow tip which proves handy for cleaning out crevices and small areas.  I used it to clean out the leaves between the plants in our garden.  For the rest of the yard and up on our deck, however, I found I was able to move many more leaves much more quickly without the tip in place.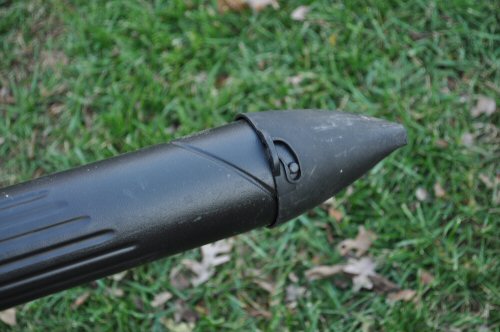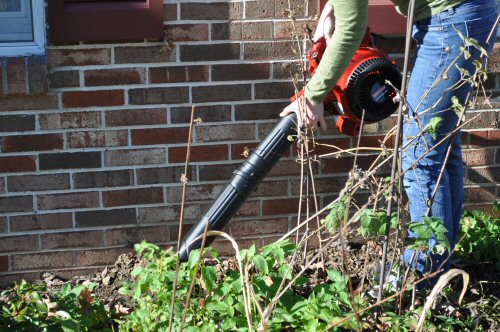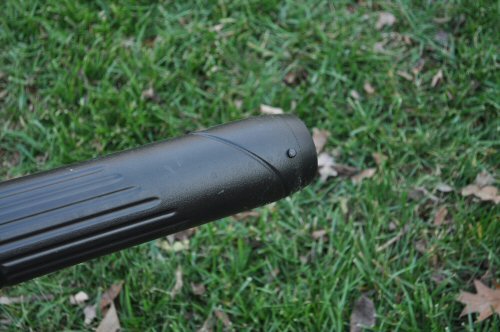 Mulching Vacuum Function (With Shoulder Strap on Bag) – For most of our job, I used the blower function, and Fred, the twins and I then bagged the piles.  The vacuum was great for cleaning up the curbs, though.  Soggy leaves block our sewer and back water up into our driveway every time it rains.  I wasn't sure the vacuum would be able to suck them all up, heavy with water as they were; but I zipped right on along the curb, and it did!  I was very appreciative of the shoulder strap on the bag, though, since mulched soggy leaves are surprisingly heavy.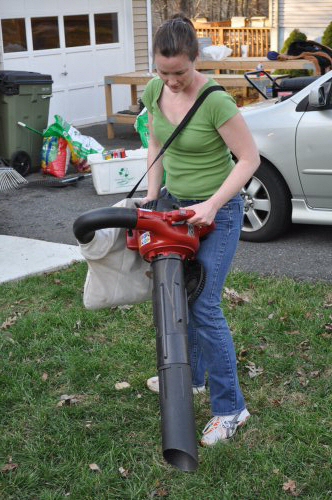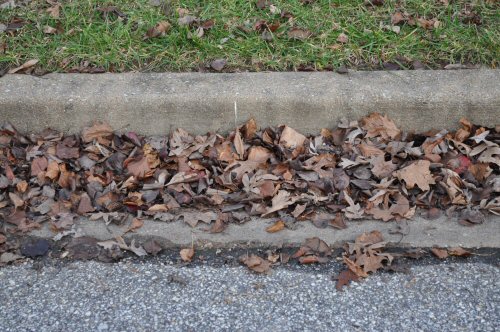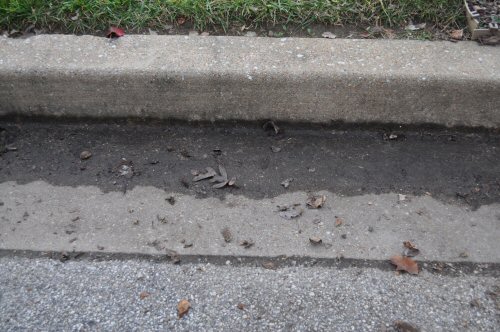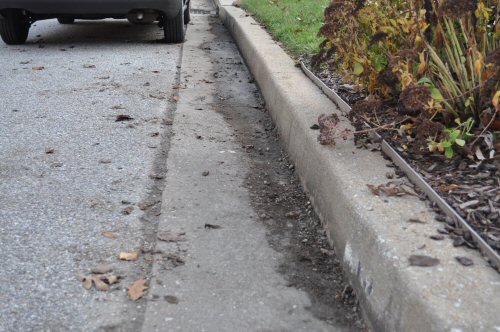 (no more backed up sewer!)
Overall Opinion
For its price, this Craftsman Blower/Vac is a great yard tool.  The only minor draw-backs I found were its weight (14.2 pounds – which does start to tire the arms and back after a couple of hours, though it is manageable) and it's vibration.  Some of the higher-end blower/vacs come with an anti-vibration feature; this one does not.  And after an hour or so of blowing leaves, my hands tingled for about 15 minutes of our lunch break.
On the positive side, however, it powered through all our leaves in just a couple hours's time, leaving us the rest of the afternoon and evening to spend with our very helpful raking crew.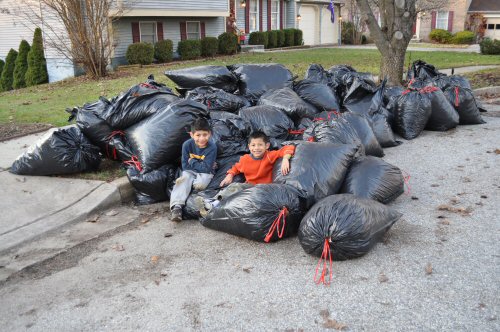 Compared with other blowers at its price-point, it's a one of the best.  As an added perk, I will be keeping it at the ready for our many future deck-clearing jobs.  We've mentioned before that our deck is somewhat of a behemoth, so I'll be glad not to have to sweep it clear in the future!
My final impression is that this was a great buy both for this weekend's project and for those in the years to come!
Where to Buy
Available at Sears (enter "Craftsman 79470" in their search box to take you straight to it!).