Every now and then a manufacturer-provided tool flawlessly executes a clutch role on one of our projects. We love it when that happens. Not only does it makes the project easier to finish, but it also lets us give a strong endorsement to a product that performed well on a real life task.
So is the case for Craftsman's Nextec Lithium-Ion Right Angle Impact Driver. As we were building plywood shelves in last weekend's shed shelf project, we found ourselves needing to drive 3-inch long #10 screws in very tight spaces–securing the underside of the shelves to the stud walls of the shed. In this situation, a traditional drill-driver didn't fit well, and we needed another solution.
We remembered that Craftsman shipped us this impact driver more than a month ago and we've been waiting for an opportunity to try it out. The shelving project turned out to be a perfect match for the Craftsman's capabilities.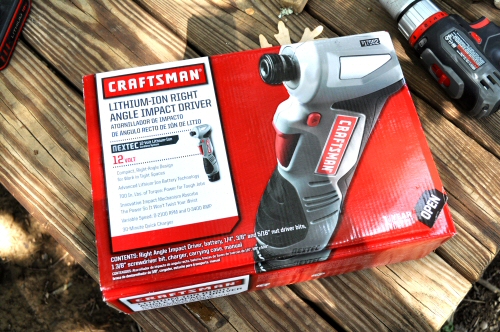 Craftsman Right Angle Impact Driver Review
Out of the box, Craftsman's Nextec kit includes everything you'd expect: the right angle impact driver, lithium-ion battery, charger, instructions, and carrying case. It also includes four bits: three are standard size impact-rated hex bits and one is an impact-rated phillips bit. The latter proved useful for our project and it's the only one we tried out.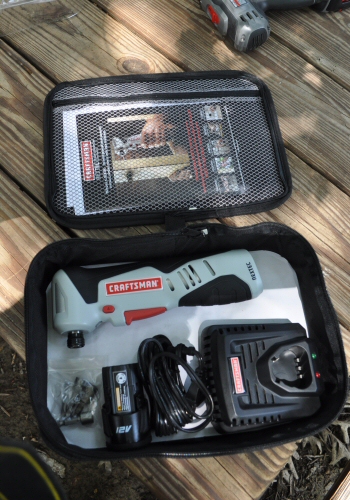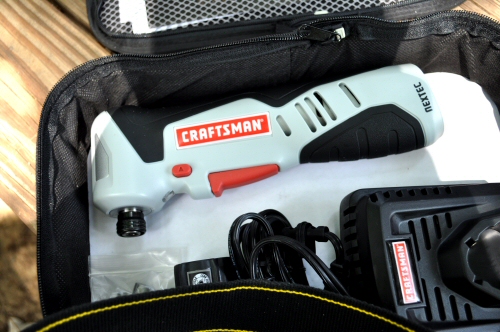 Without much ado (and without charging the battery), we fired up the driver. We put it to work installing 3-inch screws through pressure-treated and standard 2×4 dimensional lumber. The driver performed perfectly on these tasks–so well, in fact, that we hardly had to put any pressure on the driver to sink the screws deep into the wood. We charged the battery every few minutes between tasks until it achieved a full charge.
Most impressive about the driver's performance is that our standard Li-Ion drill drivers simply would not power these screws into the wood. Space was tight and we didn't want to pre-drill. Even if we had wanted to pre-drill, it was nearly impossible to get the standard drill to fit. Here's a picture and a short video of the Nextec driving these hard-to-reach screws in the back corner of the shed.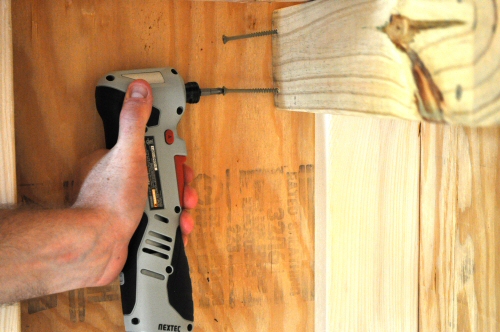 We continued to use the impact driver throughout the project to fasten the finished shelves. We used it both in tight spaces and out in the open, since the Nextec was performing so much better than our standard drivers.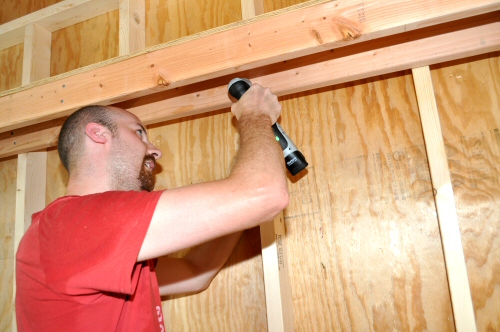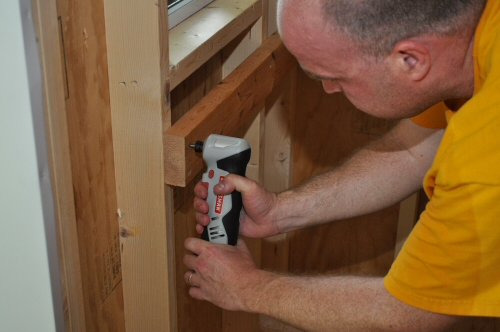 Noteworthy Features and Specs
Driving Power: The Nextec delivers 700 in-lbs of torque. In contrast, our standard 18V drill driver delivers only 550. While 700 in-lbs. isn't industry-leading for impact drivers, it is a strong performance for a 12V right angle driver and more than sufficient for most tasks.
Good Ergonomics: The tool is well-balanced. It's heavy enough to engender confidence but light enough to be used throughout the day. As with many other impact drivers, the tool is easy on the hands and transfers almost no torque to the operator.
Indicator and Work Lights: The Nextec sports a work light LED on the front of the tool and a battery indicator on the back. Both turned out to be pretty useful. The only mild complaint we have is that the work light doesn't illuminate before the driver starts spinning. On our other drivers, the LED illuminates with a slight trigger pull before the motor is engaged. Both lights are visible in this picture of Ethan fastening the shelves.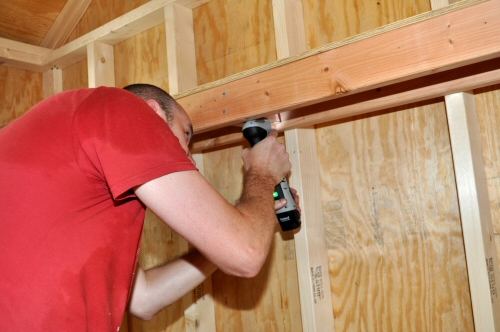 Directional Switch: It's such a mundane function that we normally wouldn't talk about it in a review. Unfortunately, the directional switch gets a mention because it's a bit too loose. We found ourselves accidentally changing directions on a number of drives. Craftsman should put a little more resistance on the slider in the next iteration of this tool.
Battery & Charger: The battery charges empty-to-full in 30 minutes. We didn't ever run the battery out; however, under heavy use we're sure a second battery would be a welcome addition. The battery is swappable with other Li-Ion Nextec tools. If you're inclined to the Craftsman line, buying more than one tool will solve the battery problem.
Price and Where to Buy
The Craftsman Nextec Right Angle Driver retails for $90-$100. It's available from Craftsman.com at this link. You can also pick this tool up at your local Sears and at Sears.com.
As always, we recommend checking our Sears Coupon page before shopping.
Overall Impressions
We're very pleased with the impact driver's performance on our job and would recommend this tool for any serious DIYer. It's a nice addition to a shop and we think it would make a great birthday or holiday gift for the DIYer on your list who already has everything.