This is a guest post from Andy in Towson, MD. Andy is an handyman and do-it-yourselfer, as well as a contributor on our forums.
Craftsman 179cc Two-Stage Snowblower Review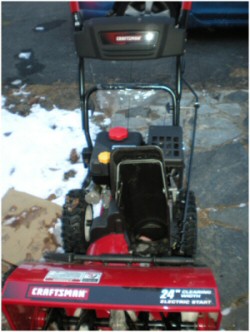 In anticipation of a recent snowfall, I purchased the Craftsman 179cc Two-Stage Snow Blower. While it snows less in Maryland than other colder climates, our driveway is long and steeply graded – so I knew the time saved by a decent snow blower would be tremendous. And after we received around 22" a couple of weeks ago, I can sure say I think I've made the right decision!
The Craftsman 179cc Two-Stage Snow Blower performed equally well in large and small snowfall amounts. We've had several snowfalls ranging from 2" to 22" already this winter, and each time has basically been a breeze. I've literally saved hours of time, not to mention the pain I avoided from shoveling out our steep 400 feet driveway! While I was amazed at how this snow blower went through 22" of snow like a hot knife through butter (leaving a trail of beautiful clear pavement in my wake!), I was perhaps most impressed at how well it performed in significantly smaller snow amounts.
Even days later when the snow had melted and refrozen into an ice encrusted mess, the snow blower easily cleared 3 foot piles of snow created by snow plows throwing snow onto a friend's townhouse parking spaces.
Key Features
179cc 4-cycle OHV Craftsman® engine
Push button electric start
Propelled, 6 forward speeds, 2 reverse speeds, electric start
Single-hand operation
24″ clearing width / 21″ intake height ideal for moderate snowfall conditions
Large 12″ serrated auger, large 12″ impeller to break up hard-packed snow
Remote 190 degree Chute Rotation
13″ x 4 " X-TRAC Tires
Glide Tech Skid Shoes designed for performance while eliminating scratches
Chute clearing device
Mitten grip starter handle
2 quart fuel capacity
2 year warranty
Performance Pros & Cons
The Pros: Overall, this snowblower is incredibly easy to use. The 6 forward and 2 reverse speeds make snow blowing a breeze, particularly on graded slopes. Traction was never an issue with its X-TRAC tires and significant weight. The electric start is a really nice feature – particularly when it's wet, you are wearing bulky gloves to keep your hands warm, and can't easily yank on the pull-chain starter.
I was also impressed with the throw distance. Craftsman lists it at close to 40 feet and our experience was that with all but the heaviest snow, this is an accurate claim. Combined with the 190-degree swivel throw head, it made getting the job done much easier and faster. The snow blower only took a few minutes to assemble and has pretty simple maintenance. The owner's manual explains the maintenance in detail and when to perform it.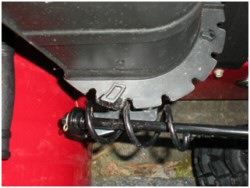 The Cons: The only major negative I've noticed with this snowblower through six snowfalls this year is problems with the plastic rotation bracket for the shoot. The plastic design does not seem to be as strong as it could be – and at times, the shoot would get rattled loose, particularly after hitting chunks of ice or harder ice-encrusted snow. I ended up bending the arm (pictured right) back up so it would allow the shoot to turn properly. Granted, an easy fix, but annoying nonetheless. Craftsman could fix this by making these parts from metal.
Price & Recommendation
You can purchase the Craftsman 88957 Snowblower online at that link from Sears.com.
At $599.00, this model is priced competitive with other high end snowblowers. I'm very happy with the purchase and would recommend this snowblower to others.