Update: January, 2015: The Delta faucet described in our review continues to perform flawlessly in our kitchen installation after more than five years on the job. Before buying this model, however, we recommend that you read the comments below. We would like to point out that most of the time, comment reviews tend towards the negative, because people tend to search for information about a product when it isn't working properly. However, the opinions below represent what we think is a significant set of issues that may give the average consumer pause about this faucet. The remainder of this article is our original review.
—
Every now and then a truly innovative technology comes along and makes life better. You know… like the remote control, or the dishwasher, or stain-resistant carpet.
Delta Faucet is hoping their latest ToucH20 technology (official site) improves your kitchen faucet experience. But does it really work? Will hand washing be changed forever?
Maybe so. Read on to learn more about the technology and get our take on Delta's latest and greatest invention.
What Is ToucH2O?
The concept behind ToucH2O is simple: take the touch bright technology that's been commonplace in lamps for 2 decades and use it to automatically control a faucet's on/off state. Delta achieves this with a touch sensor embedded in the faucet housing, a solenoid valve inserted between the plumbing and the faucet, and four c-size batteries in a battery pack located under the sink. The expected result: a faucet that turns on when you touch it with any part of your hand, and turns off just the same.

Delta recently shipped us the Pilar Single-Handle Pull Down version of this faucet to test and review. We installed it last week and have been using it for a few days now.
We like it. Here's the rundown:
Delta ToucH2O Faucet Review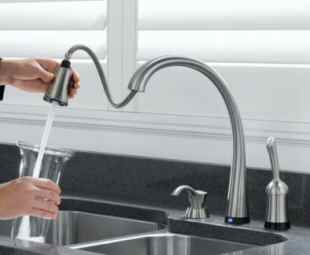 The highs: Touch-on/off works great. Reasonably simple installation. Spray-nozzle extends and retracts easily. Good water flow.
The lows: Price. Faucet can accidentally turn on during cleaning. Did we mention price?
The verdict: A super sweet upgrade that takes a posh kitchen to the next level.
>> Installation >>
Installation took about 2 hours. Delta's instructions are straightforward (although a bit daunting at first… there's a good number of pieces and the instructions fold out to a poster-board-sized sheet).
We probably could have completed the installation in an hour if it weren't for the clean-up work associated with removing our 25-year-old faucet. It had partially disintegrated and marred the surface of our stainless sink.
If you're performing a new kitchen installation, you can expect to spend 1 – 1.5 hours on the install, unless you install faucets for a living (subtract 30 minutes), or you have a 25 year old faucet of your own (add 1 hour).
Delta gets two thumbs up for:
including compression plumbing connections that eliminate the need for teflon plumber's tape.
color-coding the hot and cold water lines to eliminate confusion.
including a stabilizer block for installations on stainless sinks.
including the four C batteries needed for the faucet to work.
>> Features & Performance >>
After four days of use, we think Delta's really on to something with the ToucH20 concept. Here's the highlights:
On/off control: The ToucH2O's automatic on/off control is the centerpiece of the design. Delta delivers on their marketing with a very smart approach to the feature.
The faucet changes on/off state when you touch anywhere on the faucet with the exception of the spray nozzle head or the soap dispenser. The really smart part is that the faucet only changes state if you touch it for about 1/4 – 3/4 of a second. Any longer, and it doesn't change state (because you're probably moving the nozzle between sinks, for instance, and not trying to turn it off or on). Any shorter, and the faucet usually doesn't register the touch. It's easy to get the hang of it.
We noticed that when cleaning around the base of the faucet it is easy to accidentally turn it on… a minor nuisance. We haven't had any "ghost" activity – something I feared immediately after installation. The device is stable and predictable.
As a bonus, since the faucet on/off mechanism isn't tied to the flow rate or hot/cold mix, you can set the temperature to a comfortable warm level and leave it for most applications.
Flow rate & comfort: Water flow rate is good. We didn't use any sophisticated measuring equipment, but our subjective experience indicates the faucet puts out as much force as the original. The nozzle comes with two settings, a standard aerated flow and a spray setting for more intensity.
Nozzle/Sprayer Design: Many new faucets use a magnetic spray nozzle head that holds the nozzle in place on the faucet when not pulled away. This design is a big improvement over weighting methods used in the past. Delta's nozzle head employs this technology and works just as expected… with good range (the spray head pulls out about 18 inches in our setup).
Soap Dispenser: What can we say? It works. Only downer is that you have to crawl under the sink to refill it. Fortunately the reservoir is fairly large.
Price & Where to Buy
MSRP is a whopping $585, a price you might expect to pay including a builder or designer's markup.
Street prices range from $350 to $500.
You can find the faucet at your local Lowes, Home Depot, and many online retailers.
A Holiday Gift Idea?
Still looking for a gift idea? This is a great one (just make sure you also promise to install it!)
What do you think? Have you tried Delta's ToucH2O Faucet? Got a question for us? Leave your thoughts in the comments.
(photo credit: delta faucet stock – their countertop looks better than ours).
Note: Delta Faucet provided us the Pilar ToucH20 as part of a test kit. Our reviews are objective and we are not compensated for a positive review.