Everyone knows about low-flow showerheads. They're better for the environment because they use less water. They're better for your energy bill because your water heater works less. At a glance, it seems like a win-win situation. The problem is that not all low-flow showerheads are built equal.

Delta Faucets is back in the spotlight with a new proprietary technology called H2Okinetic. This is a new feature for low-flow showerheads that really gives you a better shower experience.
What is H2Okinetic Technology?
Delta's claim is that showerheads equiped with H2Okinetic technology result in a warmer shower with drenching coverage, all while complying with low-flow standards. This is achieved by utilizing larger water droplets that retain heat longer and completely envelope the user.
H2Okinetic technology is built into the showerhead- there's no additional installation. It doesn't feature any moving parts, resulting in a very quiet showerhead. All these attributes combine to create a water-saving showerhead that doesn't feel like one.
Delta recently shipped us the Addison Monitor 17 series to review and I installed it last week. Read on for a comprehensive review and my overall conclussions.
Delta Addison Monitor 17 Showerhead Review (Model T17292-RB)
The Good: H2Okinetic technology, excellent water-pressure, good "drenching coverage".
The Bad: The Addison retails for $282.75 but is available at greatly discounted prices from other online retailers.
Overall: This is an exceptional showerhead. Beautiful styling and the 2 gpm flow rate feels more like 3.
Features and Performance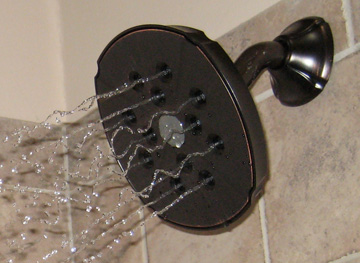 The design was the first thing I noticed about this showerhead. It's amazing style is inspired by "scallops of a sea shell" and features graceful curves. It's available in chrome, Aged Pewter, Brilliance® Stainless or Venetian Bronze®.
Water pressure is an important aspect of a good showerhead and the Addison had excellent pressure. Water was delivered in a strong, steady stream.
The controls incorporate a dual function, pressure balance cartridge. One dial controls the temperature while the other adjusts water volume. This is important because it allows you to set the temperature and leave it- no more water temperature guess work.
This showerhead mounts to a standard size shower arm. It's a water-efficient, H2Okinetic Technology raincan showerhead that outputs 2.0 gpm @ 60 psi- using 36% less water than standard showerheads. It also has ScaldGuard®, which protects against sudden temperature or pressure changes
Price and Where to Buy
This product (Venetian Bronze finish) has a MSRP of $240.00- a fair amount. Fortunately, this puppy sells for much less at Amazon, Home Depot, and Lowes. Expect to pay around $50 or less.
Also, keep in mind that different finishes carry different price tags.
Note: Delta Faucet provided us the Addison Monitor 17 Series as part of a test kit. Our reviews are objective and we are not compensated for a positive review.