Note: This post from DIY tool reviewer Aaron Talbot first ran on our tool site, Toolbox One.
My decades old 7 1/4″ compact table saw recently bit the dust, pardon the pun. As such, it was sweet serendipity when Home Depot shipped us DeWalt's new 10″ Compact Job Site Saw w/ Stand as part of our ongoing #THDProspective partnership with them. I quickly called "dibs!" and packed it up to bring home to my basement shop. I've been putting it through the paces and it's been pretty impressive thus far.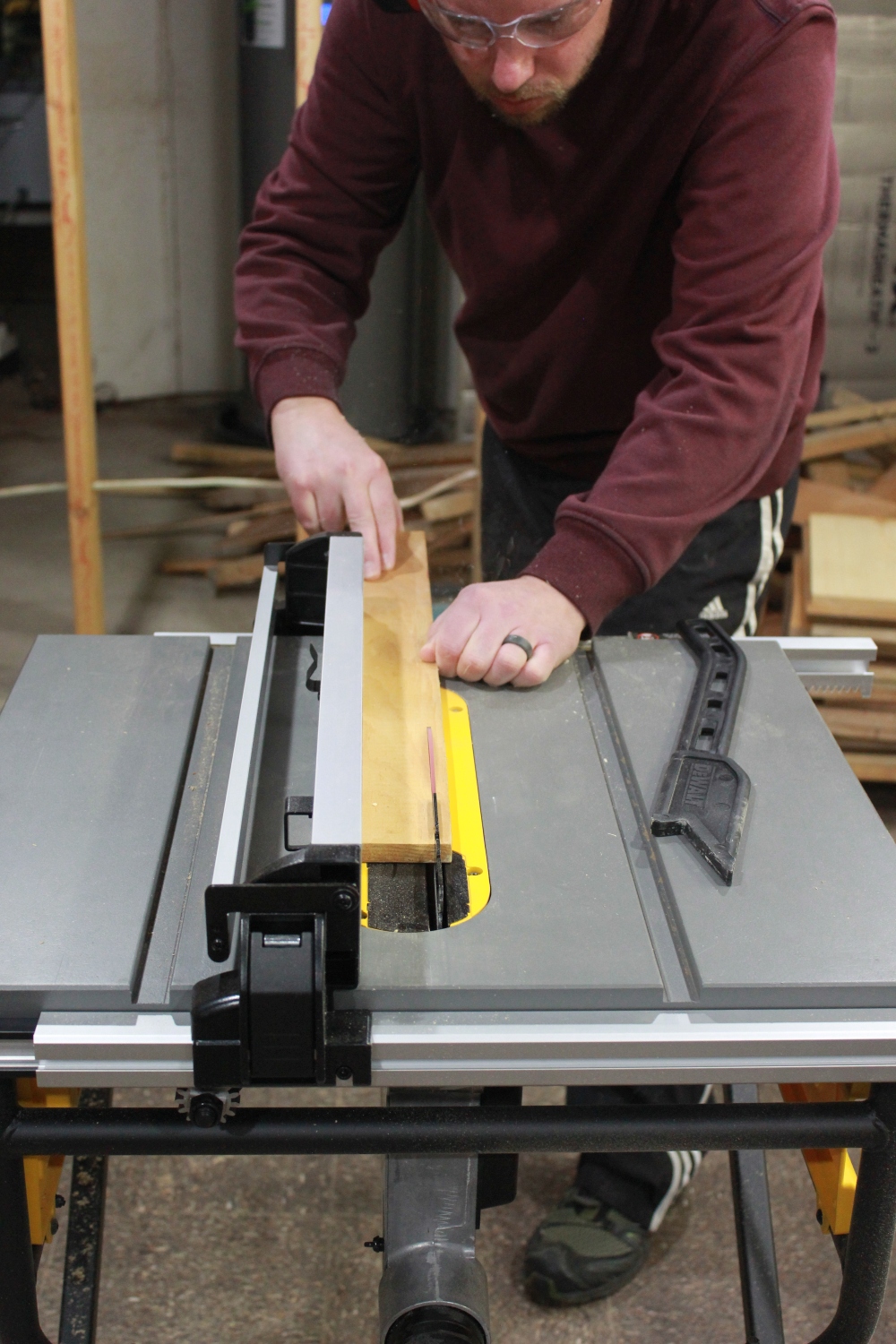 Stuff Lawyers Made Us Say: We're are continuing our partnership with The Home Depot to provide candid reviews of tools from a wide variety of manufacturers. The Home Depot is both providing the tools for free and compensating us; however, the opinions we express here are our own. Remember, we'll always be up-front with you when we're receiving a free product, compensation, or both. And of course, we always strive for objectivity in our reviews.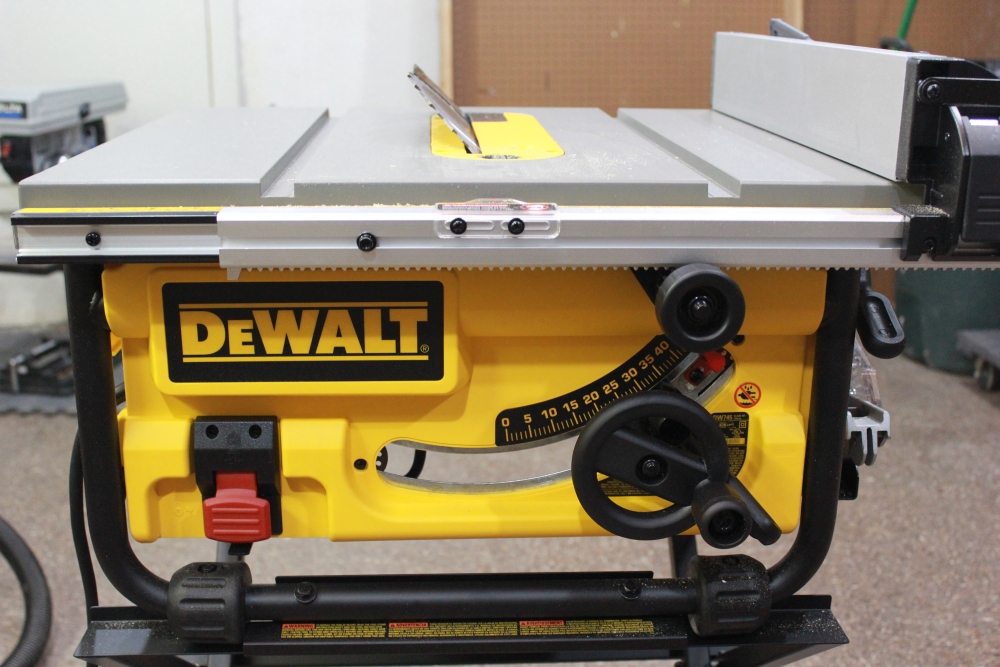 Notable Features
The DeWalt Compact Jobsite saw is packed with thoughtful features that make it durable, accurate, and easy to use. Among the most notable is DeWalt's well-known rack and pinion style fence rail. By having the front and rear rails move simultaneously, it allows for quick and accurate fence adjustments that remain parallel with the blade arbor. Because the fence adjusts by telescoping the rails in and out, the saw can be stored without them protruding beyond the table, making storage more compact and safer. The fence itself has a flip down support bar to support workpieces when the rails are extended beyond the table top.
All of the adjustments on the saw are tool-free, including removing the throat plate for blade changes, adjusting or removing the riving knife, and installing the Site-Pro blade guard. Changing the blade is the only operation that requires a couple of wrenches, which are included and securely fastened on the side of the saw with a wingnut. There's also onboard storage for the Site-Pro blade guard and included push stick when not in use.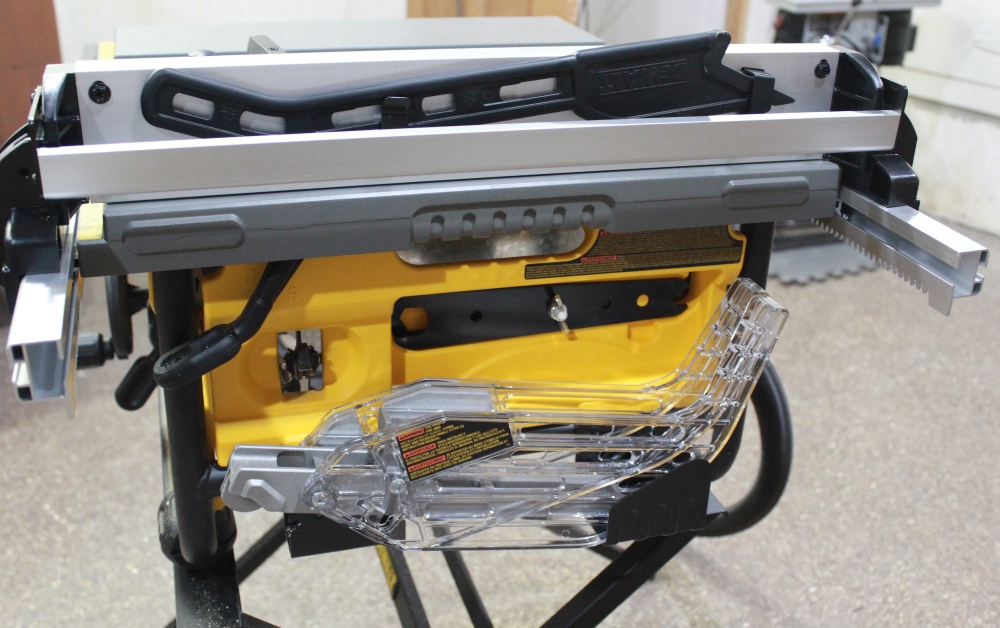 Impressive Performance
The two biggest factors, apart from safety, when it comes to table saws are cut quality and accuracy. To date, I've ripped several linear feet of 3/4 inch solid pine and 7/8″ solid cherry, and this little saw had no problem with either of them. The 15 amp motor delivers ample power and didn't hesitate, even when ripping the much denser cherry wood. The included 24T carbide ripping blade provides a nice cut quality for almost any construction project. I have plans to do a few smaller woodworking projects so I upgraded to a 50T combination blade for an even finer edge finish.
The aforementioned rack and pinion fence does its job well and stays parallel to the blade. I found the fence scale to be accurately set from the factory, but keep in mind that if you plan to use the scale and change blades, you may need to readjust it if the blade kerfs are different. After jointing and planing the faces of the boards, I used a small square to confirm that the ripped edges of the boards were indeed a perfect 90° to their faces.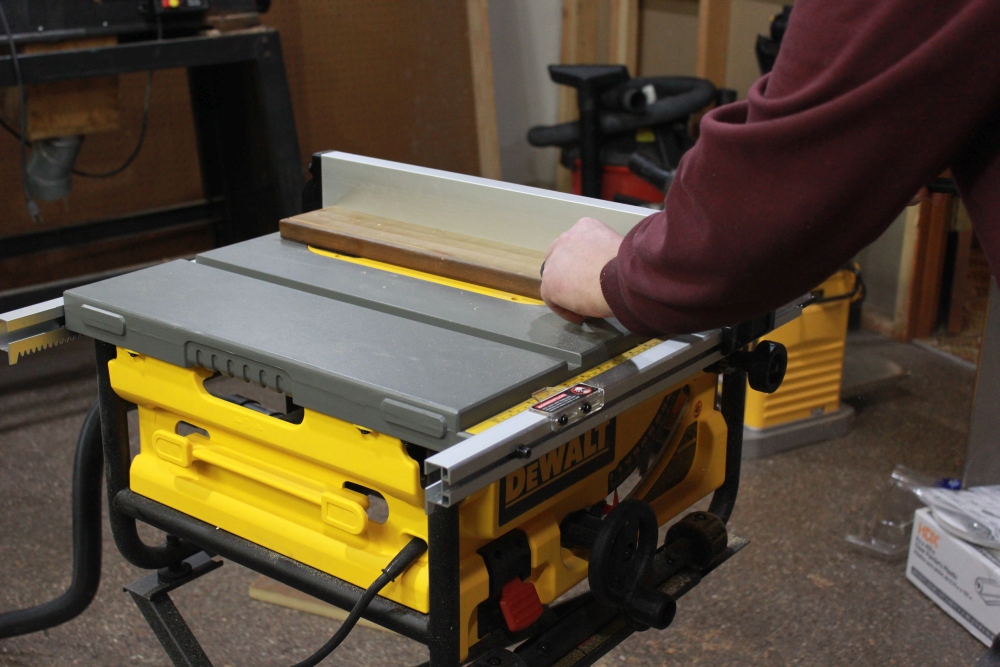 What Could Be Improved?
Overall, I've been really pleased and impressed with the performance of this little saw. However, there were a couple of niggly things I'd like to see DeWalt improve on in the future, the most glaring of which is the included miter gauge. Everything about the DeWalt Compact Jobsite Saw seems so well engineered and then I went to slide the miter gauge in the miter slot and it has quite a lot of play (I'd say at least 1/32″) and there's no way to adjust it. After reading some other reviews it seems this is not an anomaly.
The included stand could also be beefier. While it has been plenty stable on the floor of my shop, I could see how it might be trickier to stabilize on a job site where it might be used on gravel, soil, or other less inherently stable surfaces.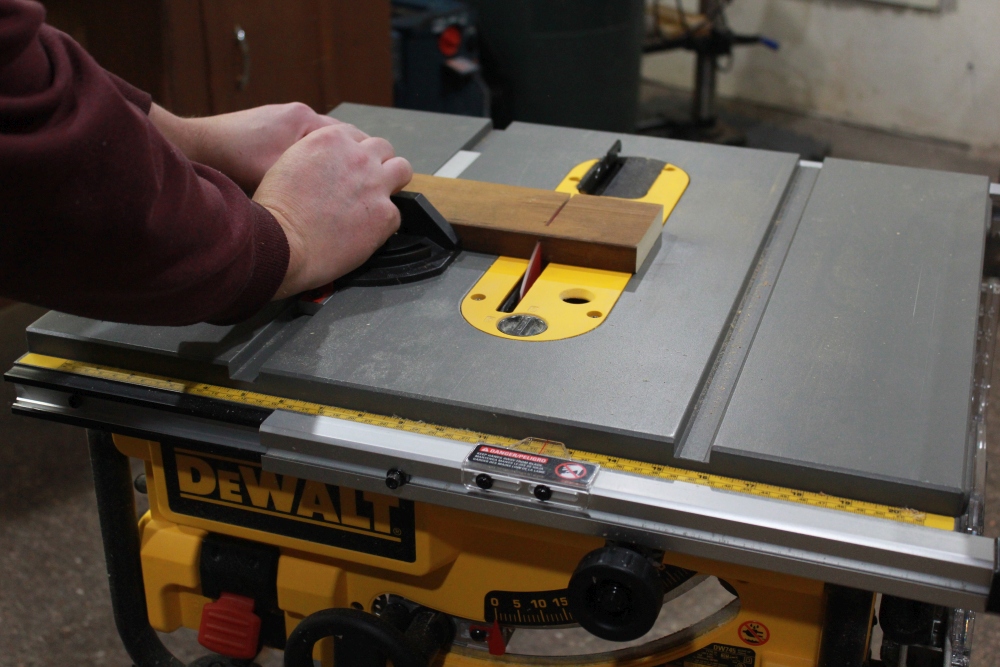 Final Thoughts
The DeWalt 10″ Compact Jobsite Table Saw with Stand is an impressive little package with plenty of power to conquer almost any remodeling job. Its compact size makes it appealing to the serious DIYer with limited space or contractors with limited space in their vehicles. It's a steal of a buy at the Home Depot for only $299.