Note: This post from DIY tool reviewer Aaron Talbot first ran on our tool site, Toolbox One.
Along with the recently reviewed DeWalt Compact Jobsite Table Saw, we also received the DeWalt Corded 12 in. Double-Bevel Sliding Compound Miter Saw. Up until now, my personal saw has been a DeWalt 10″ compound miter saw that I purchased about 10 years ago. That saw has been a workhorse and is still going strong, so I was excited at the prospect of adding this 12″ sliding model to my collection.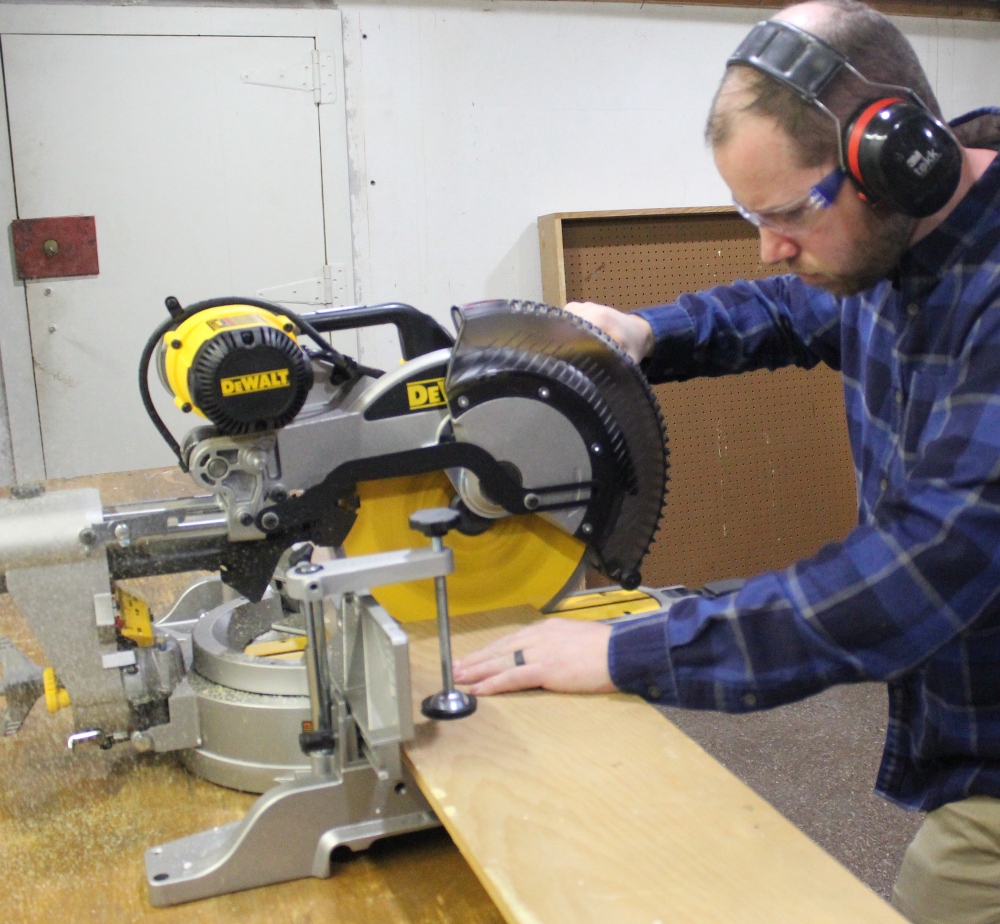 Stuff Lawyers Made Us Say: We're are continuing our partnership with The Home Depot to provide candid reviews of tools from a wide variety of manufacturers. The Home Depot is both providing the tools for free and compensating us; however, the opinions we express here are our own. Remember, we'll always be up-front with you when we're receiving a free product, compensation, or both. And of course, we always strive for objectivity in our reviews.
Key Features and Capabilities
15 Amp 3800 rpm motor provides ample power
Cuts up to 2″ x 14″ dimensional lumber at 90° and 2″ x 10″ dimensional lumber at 45°
Adjustable sliding fence supports and clamp can support up to 7 1/2″ crown molding and 6 3/4″ base molding vertically
Capable of 60° miter cuts to the right and 50° miter cuts to the left
10 positive detent miter stops with an overrideable cam lock for quick, accurate miter adjustments
Positive bevel stops at 22.5°, 45°, and 33.86° (for cutting standard 38° crown molding)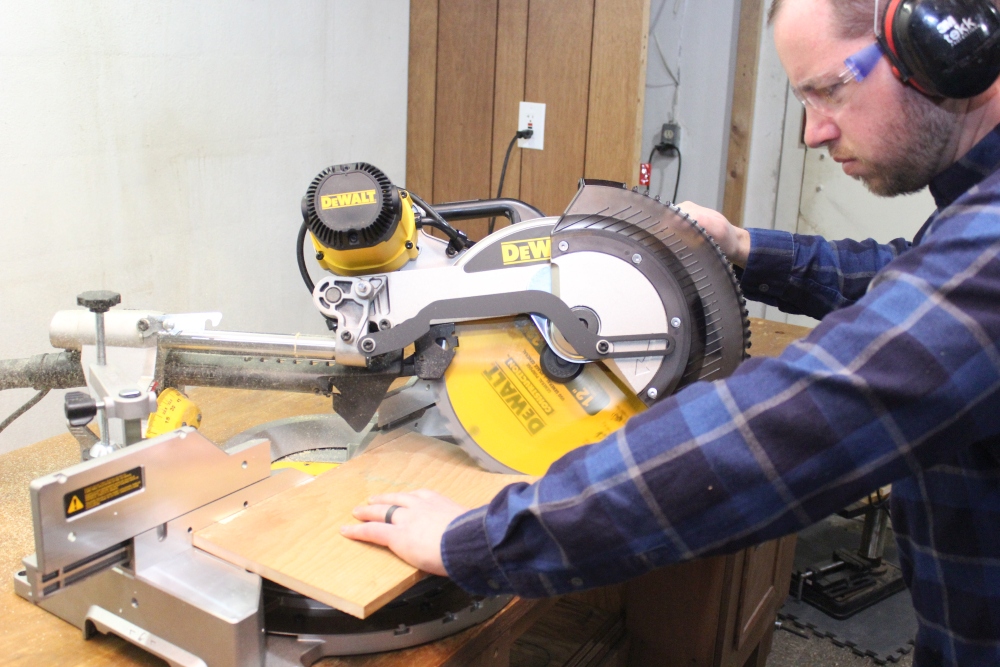 Performance and Overall Impressions
The DeWalt DWS779 comes ready to go right out of the box. It weighs in at about 56 lbs, so while no super light, it is transportable if you were to use this as a contractor moving from site to site; especially if paired with the optional mobile base. Mine will mostly be staying in my basement shop so I set it up on my workbench, attached my dust extractor, and went to town on some old 12″ wide shelving scraps I had lying around.
Perhaps the most important thing to mention is that all of the cuts I made were accurate right out of the box with no discernable gaps when measured against my precision square. While DeWalt does afford some adjustability to dial in accuracy, it's so refreshing and a huge time saver to have a tool be accurate off the shelf. In addition, the sliding action on the saw is quite smooth and never caused any hesitation while cutting. The miter and bevel adjustments were equally intuitive, smooth, and easy to make as well, even after several uses and a healthy coating of sawdust.

If I had to pick at anything, the dust collection could be improved. You can see in the pictures that quite a bit of dust eludes the undersized dust shroud, making cleanup a bit burdensome.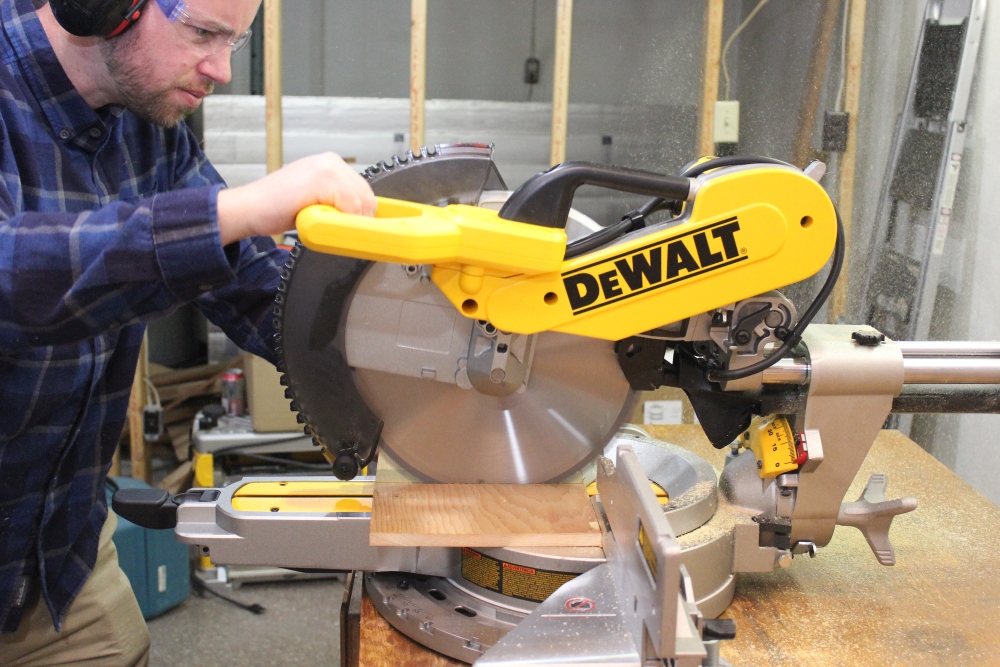 What's the Difference Between the DWS779 and DWS780?
In my efforts to make sure I touched on all of the key specifications of the DWS779 I went over to dewalt.com, only to find the DWS779 is not listed on their website, but rather the very similar DWS780. If you're currently in the market for a sliding compound miter saw you may have run into the same question. In the research that I've done, it seems the only difference between the two saws is that the DWS780 comes with a Cutline™ blade positioning system. The roughly $250 price tag gap (at the time of this writing) is significant, so you'll have to decide if that's important to you.
Price and Where to Buy?
The DeWalt 12″ Corded Sliding Compound Dual-Bevel Miter Saw (model DWS779) is available at the Home Depot below.