We're excited to bring you another tool review as part of our year-long #ProSpective tool review partnership with The Home Depot. On tap today is the DeWALT 20v Battery-Powered 7-1/4″ Circular Saw – one of the latest in DeWALT's Li-Ion XR Brushless Tools lineup. We'll take a look at a few features of this tool and then let you know how it performed in our shop! (Spoiler: It's great…)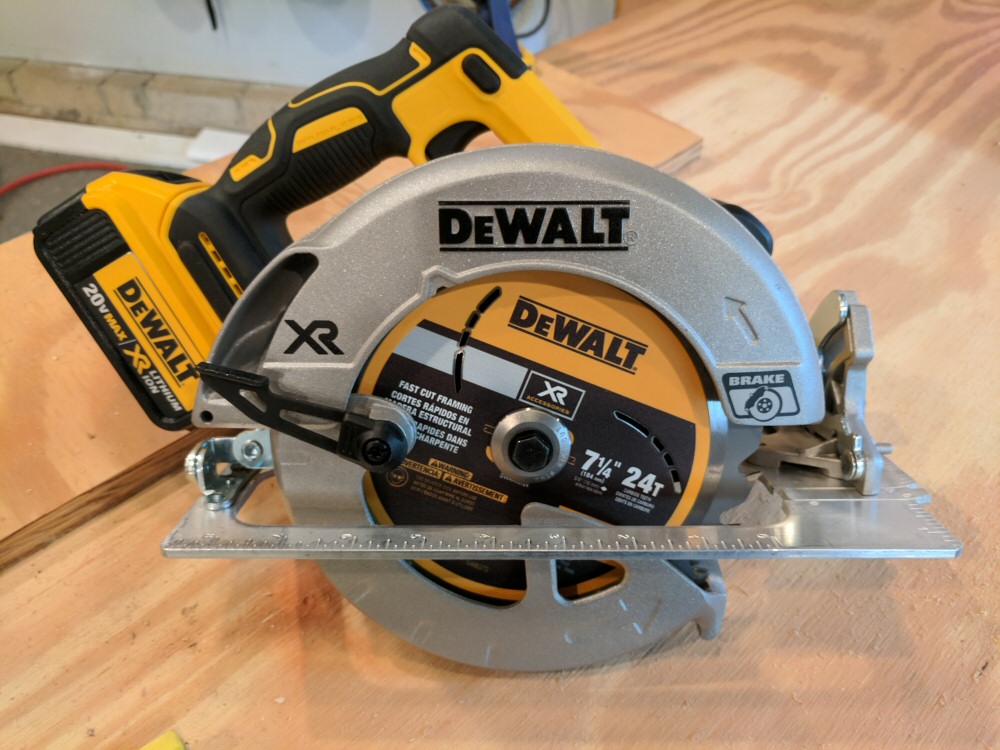 Stuff Lawyers Made Us Say: We're partnering with The Home Depot to provide candid reviews of tools from a wide variety of manufacturers. The Home Depot is both providing the tools for free and compensating us; however, the opinions we express here are our own. Remember, we'll always be up-front with you when we're receiving a free product, compensation, or both. And of course we always strive for objectivity in our reviews.
First Impressions Out of the Box
It's a bare tool! Oh no! (Just kidding, of course…) One of the things our readers inevitably tell us when we review a new bare tool (i.e., one sold without batteries) is that they're disappointed that the tool doesn't actually come with the battery you need to use it. That's the case with this DeWALT DCS570B Circular Saw. There's a few reasons for that, though, and it's not just to force you to buy a more expensive battery and charging kit. First, if you're buying 5 or 6 tools, you don't actually need 5 or 6 batteries. You may only need 3 batteries to get through a work day with minimal swapping and charging. High quality batteries like the ones that power today's tools significantly increase the cost of the tool. By only selling batteries with a few tools (typically drill/driver combo kits), the cost for other tools in the line can be kept more reasonable. Second, many vendors now produce a number of batteries with differing capacities (ranging from 1.5 amp-hours (Ah) all the way to 9 Ah!). Some people will be fine with the 1.5 Ah, while others will need the 3Ah, and by selling the battery separately, everyone can get what they need without wasting money.
DeWALT and other vendors know that you're likely to buy this circular saw only if you're already locked into the DeWALT brand (meaning you probably own their drill-driver, impact driver, and a few batteries and charger already). So the bare tool for a circular saw makes complete sense and we're happy that the brands offer these tools.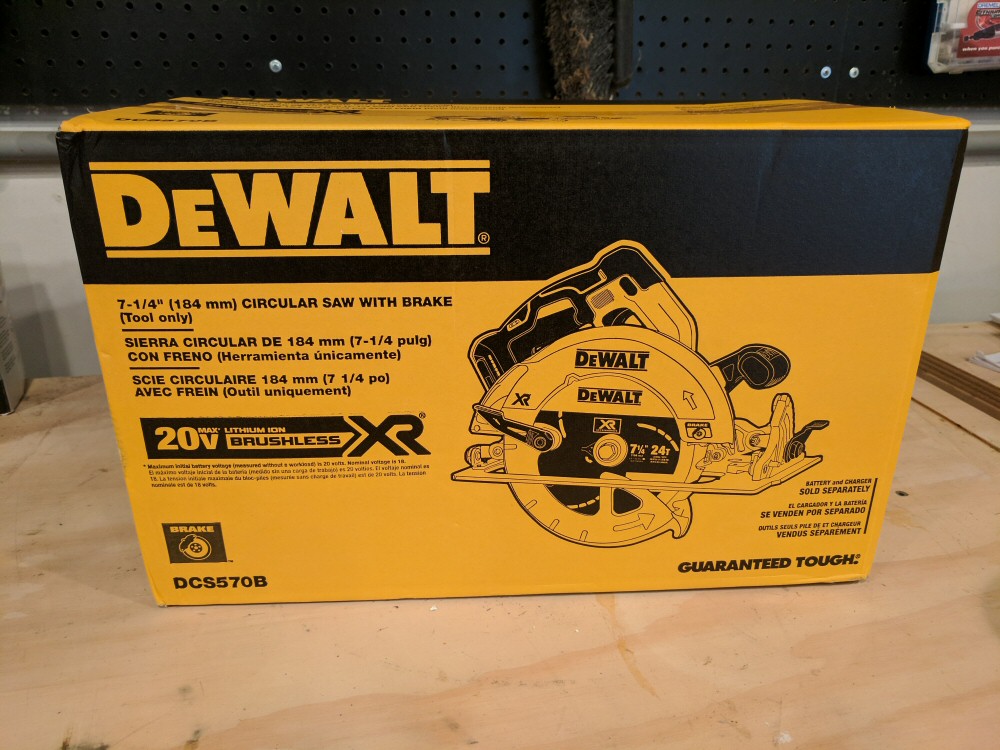 The DCS570B kit is pretty basic and straightforward. You get the tool, a 24 tooth blade to get you started, and a manual. Inserted into the back side of the saw is a blade change wrench that tucks in under the handle as well, but we didn't notice it until we went to assemble the saw.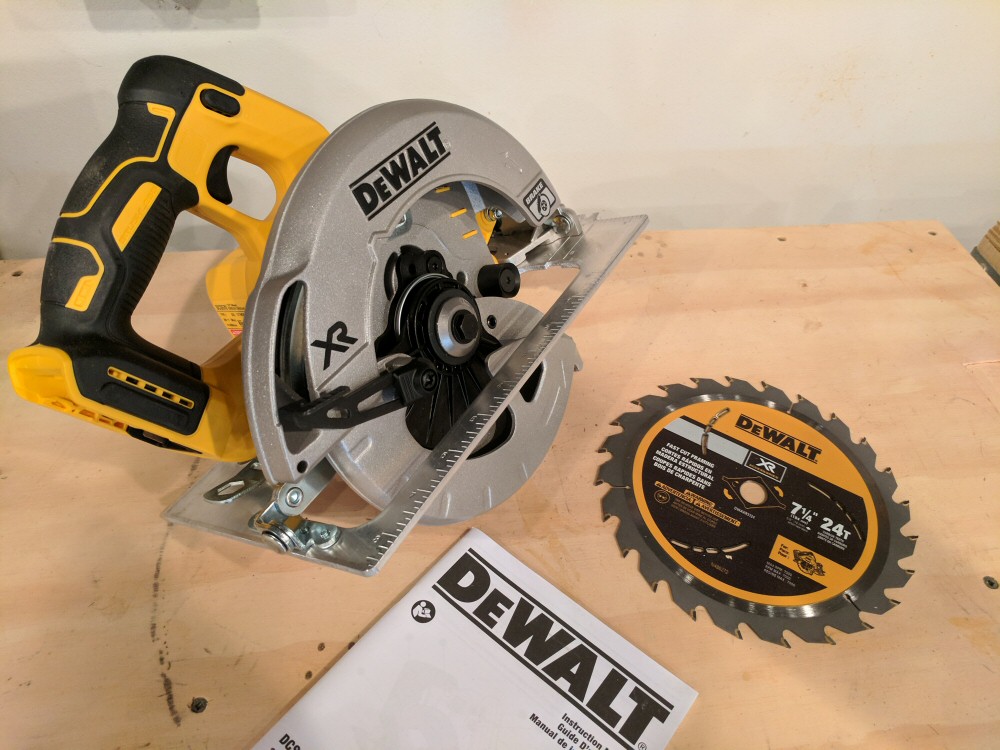 Getting Started with the DeWALT DCS570B Brushless Circular Saw
Installing the blade takes less than a minute and involves only holding down the blade lock, unscrewing the blade clamping screw, removing the screw and associated clamping washer, positioning the blade, and re-placing the washer and the screw. (Of course, you should always remove the battery before doing a blade swap.)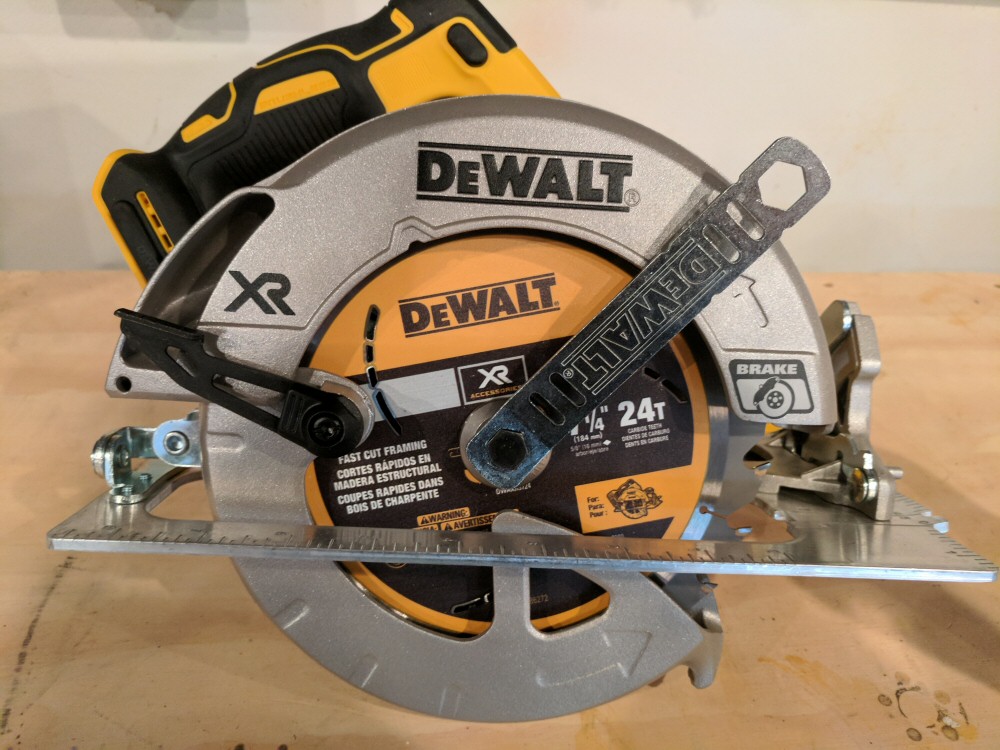 Here's a picture of how the blade change wrench stores beneath the battery receiver in the back of the tool. Pretty convenient.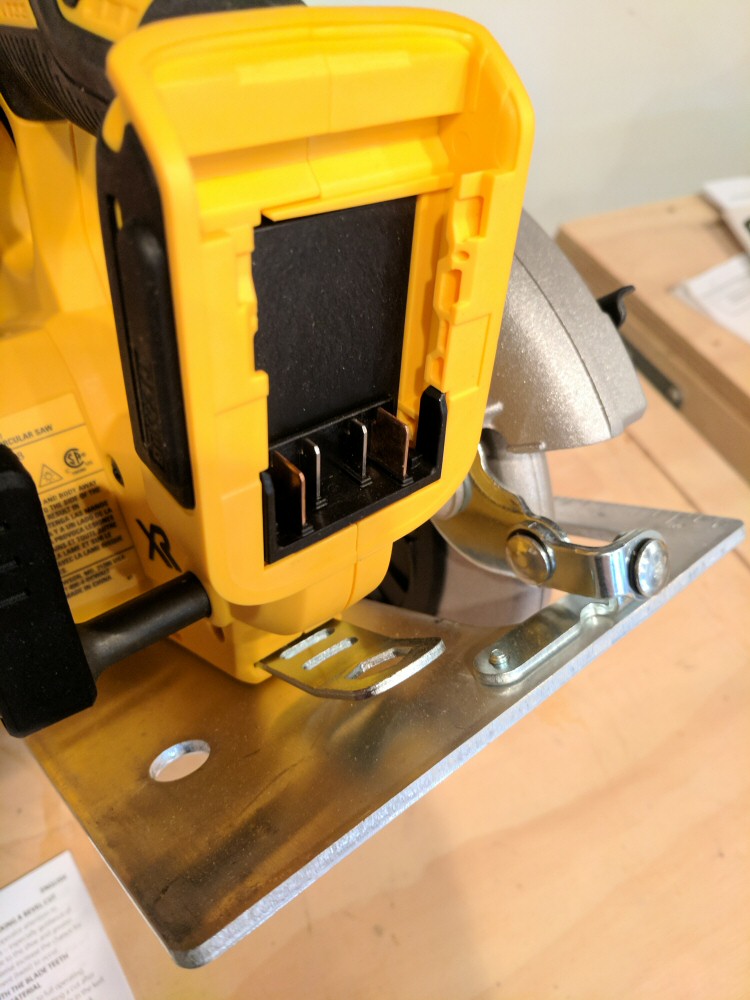 Making Our First Cuts
We already have a few DeWALT 20V Max XR batteries on hand so we grabbed one off the charger, setup some 3/4″ plywood to cut and gave the tool a go. For our first cuts we actually did a shallow-depth cut through our plywood, which involved adjusting the depth guard to about 80% of its max. In this position you can see that the handle rests almost completely above the tool. We found this to be totally fine for control and performance. (Typical cuts see the handle more at a 45 degree angle with the tool).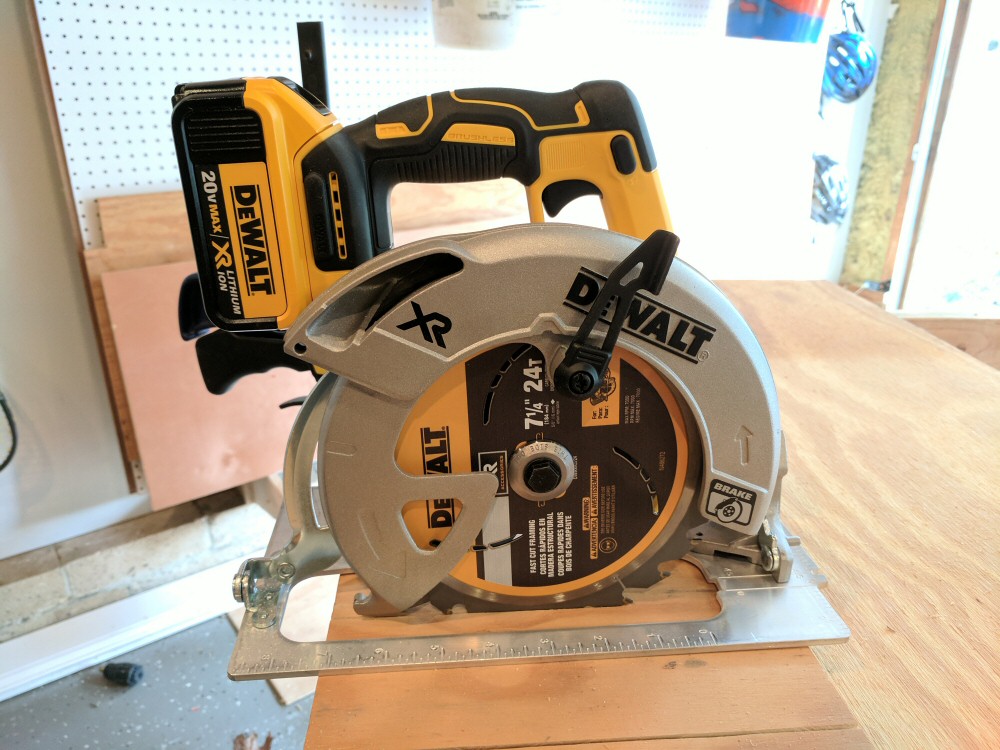 The ergonomics of this tool are great. And what is hard to capture in pictures is just how completely solid this tool feels. Everything about it feels "locked in" when you're cutting, largely due to the heavier gauge metal parts and all around great design.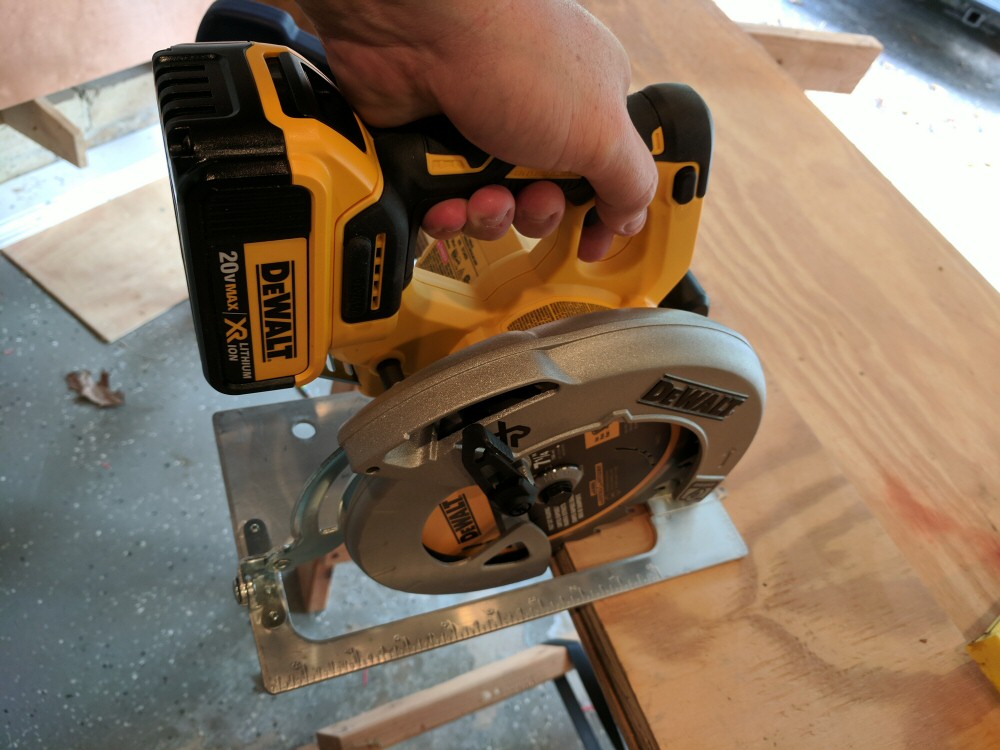 Satisfied with the precision depth-cut performance, we wanted to rip down a longer piece of plywood just to see how the tool flowed through the wood. Again, great performance with no issues.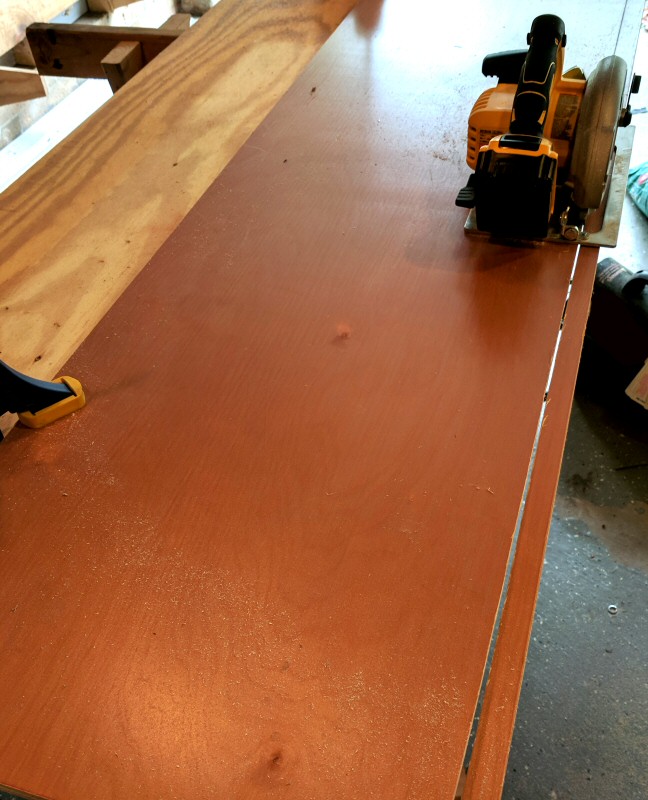 Thoughts on the Electric Brake
The DeWALT DCS570B features an electric brake when the trigger is released. While difficult to capture in pictures, but the brake on this saw is a really nice feature for two reasons: most importantly, it's safer (stopping the blade in less than a second as compared to up to 10 seconds for saws with no brake). And, it's actually just much less annoying when working in an enclosed environment. When you let your finger off the trigger the saw and noise stop almost instantly. That's a welcome change if you're cutting lumber while framing a basement, for example.
A Few Specs Worth Noting
DeWALT claims "Extreme Runtime" with their brushless motor. We didn't test run time but we believe you'd get hours of moderate cutting out of a single 3 Ah battery and the brushless motor is also going to improve power (and therefore control).
No Load Speed: 5500 rpm
Blade Diameter: 7-1/4″ (184mm)
Max depth at 90 degrees: 2-9/16″ (65mm)
Max bevel: 57 degrees.
Max depth at 45 degrees: 1-5/8″ (41.2mm)
Arbor Size: 5/8″
Total Weight (w/o battery): 7.9 lbs.
Price and Where to Buy:
The DeWALT 20v MAX Brushless 7-1/4″ Circular Saw is priced at $159. While on the higher end for battery-powered circular saws, with this saw you are getting the latest brushless technology, an extremely sturdy build, the DeWALT name, and a tool that's going to last for a really long time. We highly recommend DeWALT's circular saw. It's great, and you're going to love it!