This review originally appeared on our tool review site, Toolbox One.
Stuff Lawyers Made Us Say: We're participating in a year-long partnership with The Home Depot to provide candid reviews of tools from a wide variety of manufacturers. The Home Depot is both providing the tools for free and compensating us for our review time and future sales; however, the opinions we express here are not reviewed by THD and are only our own. Remember, we'll always be up front with you when we're receiving a free product, compensation, or both. And of course we always strive for objectivity in our reviews.
DeWALT DCR025 Bluetooth Jobsite Radio
Jobsite radios have become really popular in the last few years. Most of the major tool brands, DeWALT included, have been building radios that complement their power hand tool line up and use the same battery packs as their tools. With DeWALT's new DCR025 Bluetooth Radio, we're getting their latest model which has been upgraded with a Bluetooth/AM/FM radio, an integrated 20v/60v/FLEXVOLT battery charger, dual 120v outlets, and bottle opener all bundled into a single unit.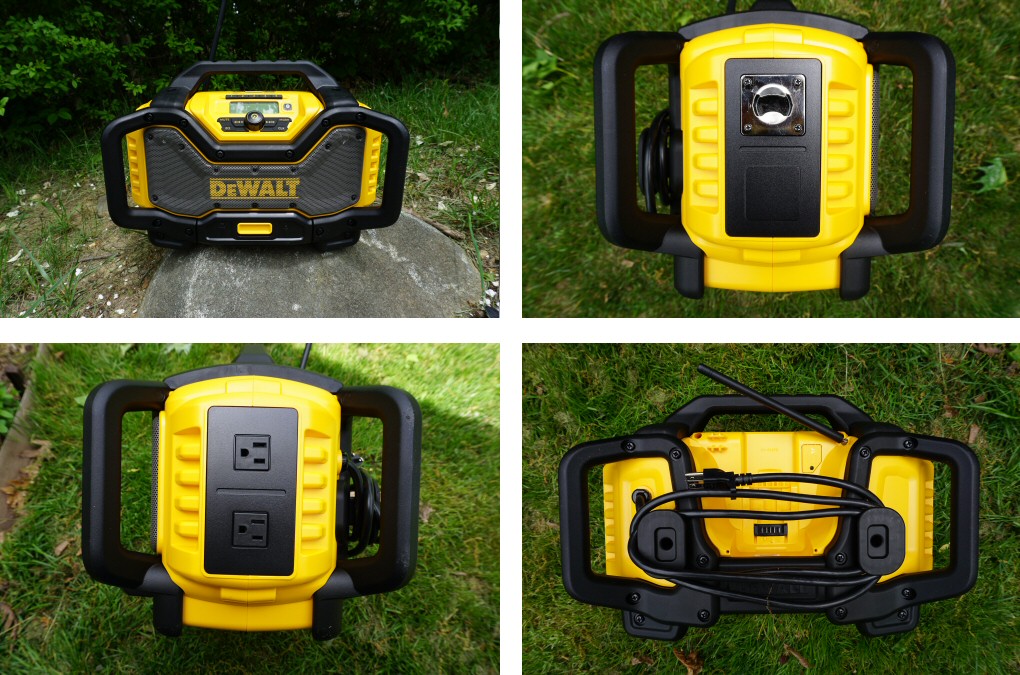 Here's a summary of the advertised features. We found all of these to perform as expected:
Bluetooth connectivity
AM/FM Radio w/ 5 AM presets and 10 FM presets.
Dual 120v outlets (only usable when plugged in to an A/C power source).
Battery Charger for DeWALT 20v, 60v, and Flex Volt batteries
Radio runs on battery or A/C power
USB cable for charging
Opening the Box and Initial Impressions
The best part about opening this radio is that you can get it up and running on Bluetooth in (quite literally) less than 60 seconds. We pulled the unit out of the box, plugged it in, pressed the Bluetooth button on the radio, selected the device on my Google Pixel phone, and started streaming audio directly to the unit, all in under a minute. The unit is easy to grip and presents as reasonably rugged. (We confirmed the radio's ruggedness after we tested all of the radio's other features; read below for details on that.)

Bluetooth Range Testing
The DCR025's packaging claims "up to 100 feet" of Bluetooth range, so we decided to test the radio's range using a variety of configurations. For each test, I either held the phone in my hand, or I put the phone in my pocket and walked around at a consistent radius from the radio. What surprised us the most: We were able to get line-of-sight connectivity between the radio and my phone at over 150 feet. As long as I held my phone still, the radio seemed to perform just like the phone were sitting right next to it. But when I put my phone in my pocket and started walking around, the results were mixed. Since the phone-in-pocket scenario best mimics how a contractor might stream to the radio if they want to keep their phone on them at all times, that's the test we put the most weight on.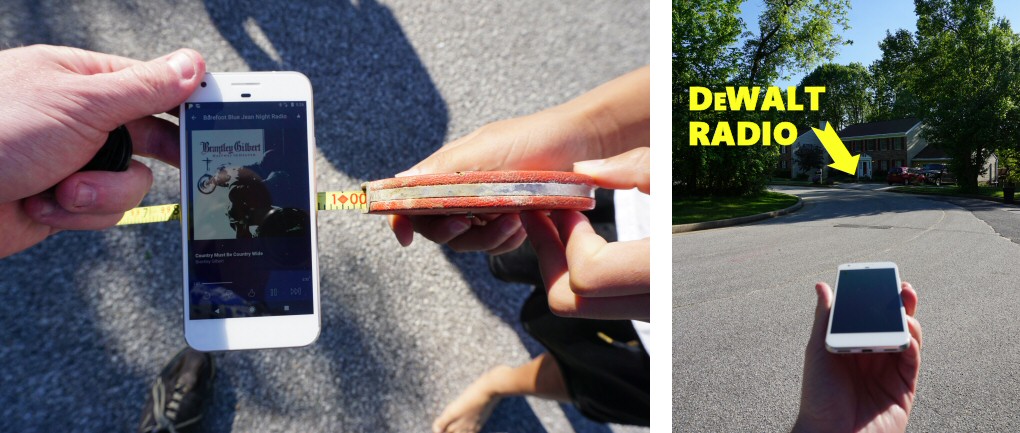 Here's the audio results we observed:
15-feet, line-of-sight: flawless audio
30-feet, line-of-sight: flawless audio
40-feet, line-of-sight: flawless audio
50-feet, line-of-sight: flawless audio while still, some audio blips while moving
75-feet, line-of-sight: flawless audio while still, frequent audio blips while moving
100-feet, line-of-sight: flawless audio while still, frequent audio blips while moving
125-feet, line-of-sight: flawless audio while still, not usable while moving
150-feet, line-of-sight: flawless audio while still, not usable while moving
15-feet, in-pocket: flawless audio
30-feet, in-pocket: occasional audio blips
40-feet, in-pocket: frequent audio blips
50-feet, in-pocket: frequent audio blips
75-feet and farther, in-pocket: not usable
We also wanted to see how concurrent use of the radio's other features impacted Bluetooth range, so we duplicated the above test while performing all of the following activities and found that none of them had any impact on Bluetooth range.
running a power drill plugged into one outlet while using an external DeWALT battery charger to charge another battery
charging a DeWALT 20v battery on the radio itself
running on battery power w/ a DeWALT 20v battery
AM/FM Reception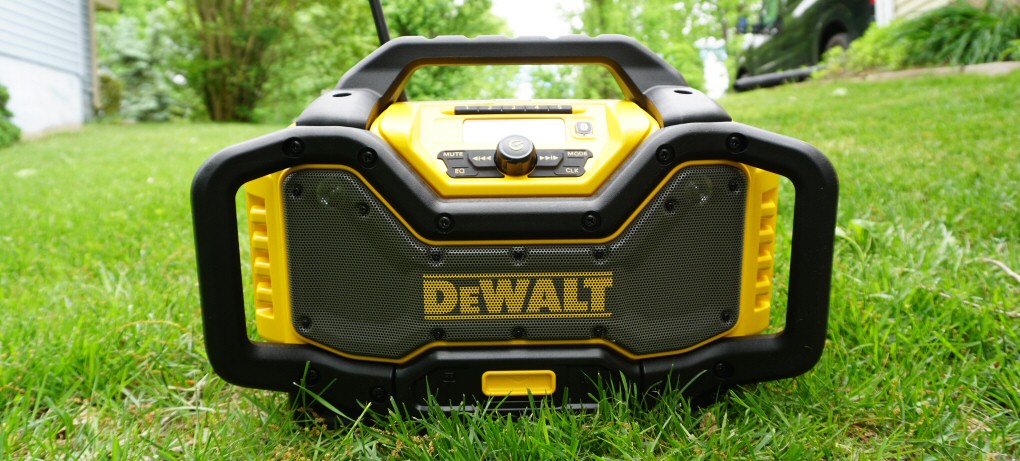 We didn't do anything fancy to test AM/FM reception other than tune into some stations that tend to come in loud and clear in Baltimore. FM radio performance was perfectly fine both outdoors and indoors and didn't seem to fluctuate based on whether a battery was being charged. AM radio performance, even for relatively strong Baltimore AM stations, was subject to a bit of "fuzz" depending on where we were positioned relative to the radio. That effect was more noticeable inside our shop which is certainly subject to more interference. Digital tuning made it easy to pinpoint the desired AM or FM station, which was a plus.
DCR025 Audio Quality and Volume
Audio quality was about what we would expect from a jobsite radio. While it isn't an audiophile-quality reproduction, the DCR025 was reasonably good, though talk and music do come out a bit metallic, especially if the treble is turned up. We found turning up the bass gave (in our opinion) a more pleasing tone overall. We liked that the DeWALT can get pretty loud and maintain good audio reproduction at high volume such that it can be heard easily at 150 feet. We compared the DeWALT's sound to a JBL Flip 2 cylinder speaker we frequently use on road trips, and while the Flip 2 was fine for indoor use and has a more refined sound, it could not produce sufficient volume outdoors to be heard over a 100 foot range. For big sound, the DeWALT comes through.
USB Connectivity and Auxiliary Port

The DCR025 provides both USB charging and an auxiliary port so that you can use the radio with a phone or other audio device that doesn't support Bluetooth. One other online review reported that the AUX connection provided better audio than Bluetooth, but honestly we were unable to perceive a difference as long as the phone was close enough to support a good Bluetooth connection. Probably the nicest thing about the way the DCR025 supports wired connectivity is that it provides a small closing compartment that will both hold and charge your phone while you're on the work site. Given the dust and dirt that characterize most sites, keeping your phone dry, clean, and charged throughout the day is a nice bonus. The only drawback here is that you'll need to provide your own 8mm auxiliary cable as well as a USB cord for your phone. If you don't have the 8mm cable, you can always use USB for charging while streaming audio via Bluetooth, which given the close range is likely to work flawlessly.
User Interface
There's not a whole lot to say here. The nicest thing about the User Interface on the Radio is that it has an easy-to-read blue back-lit screen and uses digital tuning so you're not guessing when locating your favorite station. The buttons themselves include rubberized coverings to keep dirt and grime out of the switches. Bluetooth connectivity is enabled via a single button next to the screen which makes it pretty easy to quickly select Bluetooth from any other mode.
20v/60v FLEXVOLT Battery Charger
The back of the DCR025 has a battery port that will accept one DeWALT 20v MAX or a DeWALT 20v/60v FLEXVOLT battery and will either charge the battery (if the unit is plugged in) or power the radio (if the unit is not plugged in and the battery has a sufficient charge). We only had one older 20v battery and decided not to subject ourselves to a battery life test on the audio. We're pretty confident a newer FLEXVOLT battery would power this radio for a whole day on the jobsite, but most contractors are likely to keep the DeWALT plugged in to charge their spare battery and so that its dual outlet feature can be used. (It probably goes without saying, but the battery will not power the 120v outlets. For that type of functionality, you need the DeWALT Portable Power Station.)
The real advantage of the DeWALT 's ability to run on battery power is using this radio off the jobsite altogether — while tailgating, fishing, camping, or anytime power isn't convenient. This radio can be put to good use every day of the week.
Dual 120v Outlets

The DCR025 thoughtfully includes dual 120v passthrough outlets on the side of the unit. This means rather than the radio consuming a valuable outlet on the job site, it'll actually be providing you an extra one. If you already have a DeWALT fast charger for your tools, you can easily plug the charger into the radio (allowing you to effectively charge two batteries at once–because the radio can also charge one) and also run a cord to any powered tools you have on the jobsite, like a table or miter saw.
The Bottle Opener
We do enjoy a good beer or soda at the end of a long work day, but the inclusion of the bottle opener still made us chuckle. We think this is a clear sign DeWALT wants you to throw this radio into your truck anytime you're out on the weekend hanging with friends. So we decided to give the opener a try and found it the one area of the radio that could use a little improvement. If the radio is sitting flat, we couldn't figure a way to open a bottle without having to tip it more than 90 degrees. Take a look a the picture below. We did get that coke bottle opened, but not before it dumped a bit of our coke on the floor!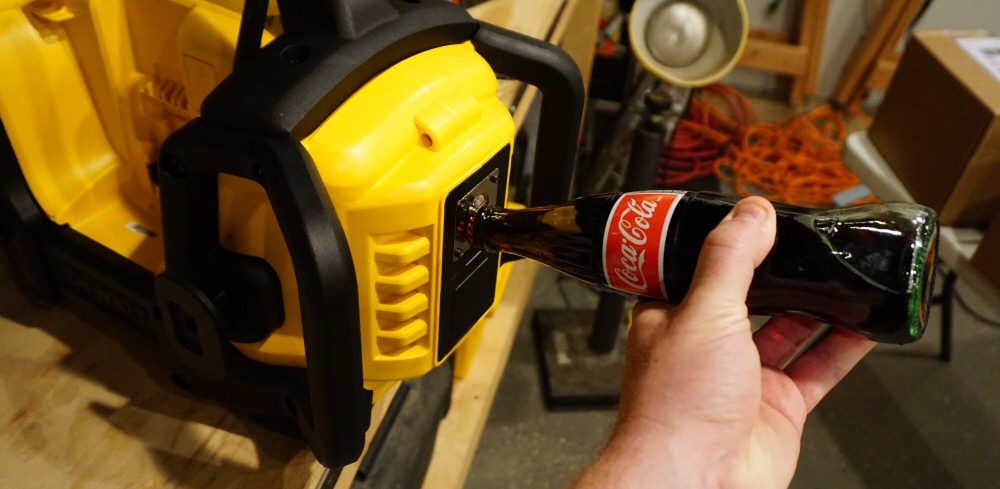 So we decided to get innovative by flipping over the bottle opener of the unit. (It's only attached with four screws). This made it quite a bit better, as you could hold a bottle at about 70 degrees and open it with much less spilling. But the only way to really use the opener without any spillage was to tilt the radio up on end.

Ruggedness And "The Drop Test"
No review of a jobsite radio would be complete without a few drops! Over a jobsite radio's life it could easily be knocked off a table or an unfinished deck ledge. We performed three drop tests on the radio simulating real life accidents: a 2 foot drop onto concrete, a 4 foot drop onto concrete, and a 12 foot drop onto packed dirt. The DCR025 is pretty heavy, so we were expecting that the 4ft concrete drop or the 12 foot dirt drop might actually crack some of the surround on the radio, but contrary to our expectations, the DeWALT came through with only minor scratches and some dirt on the edges. Pretty great results and it's one of the primary reasons we like this radio.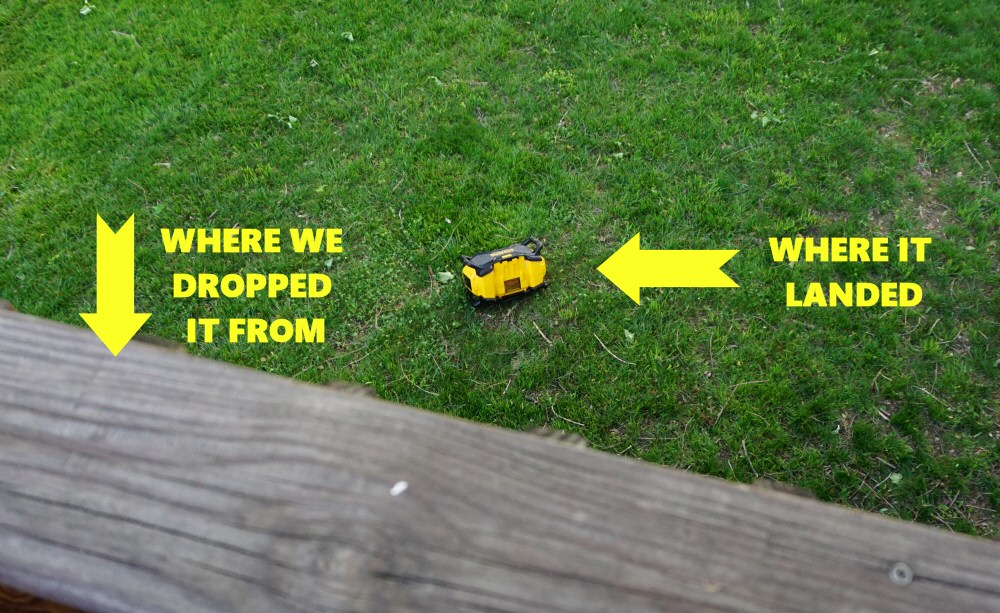 DeWALT also says the radio is resistant to water. We assume this means that it'll stand up to some rain but that it can't be dunked in a lake. We're a little fearful of trying any submersion tests on the radio for fear we might actually break the unit, and we'd like to give this to a reader when we're done with the review!
Pricing and Who This Tool is Right For
The DCR025 comes in at $199 and is available at The Home Depot by clicking the Buy It Now link below. While this radio will work for anyone, the workers who will benefit most from it are those who have already invested in DeWALT tools or are planning to invest in them in the near future.