Flooded basements are a very serious problem that can result in considerable damage to your property and possessions. It's also a health concern as wet basements promote mold. It's important to resolve poor drainage issues rather than clean up the aftermath year after year. Plus, flood insurance will only protect you for so long. If you're looking for a DIY solution, French drains and drainage trenches are a great way to divert water away from your home.
How a French Drain Works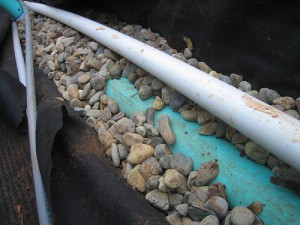 Water will follow the path of least resistance. A French drain provides an easy alternate route for water, allowing you to direct it away from your home. You accomplish this by using perforated pipe and gravel. Water would much rather flow through open pipe or around small rocks than through compact soil but there are some important things to keep in mind to ensure your drain works properly. Read on as we cover how to install a drainage trench.
How to Install a Hidden Drainage Trench
The overall idea is to dig a trench that slopes away from your house. Next, embed perforated pipe within gravel for water to flow through, and protect the whole setup with landscape fabric.
Plotting your locations: First, you need to decide where to install your drain. Examine the grade of your yard and determine sloping areas that direct water toward your house. Even gradual slopes can enable water to collect at your foundation. Ideally, you'll cut off these pathways and redirect the water somewhere harmless. Storm sewers are the best endpoint for runoff, but it may be difficult to achieve that connection. The next best solution is to expose the drain end to daylight. Here are some considerations for where you direct the runoff.
Neighbors – Sending water toward the neighbors is not a good idea. It may result in flooding problems and ultimately a law suit.
Sidewalks – Sidewalks can become icy in winter or slippery in summer.
Play area – You want to be able to enjoy your yard. Don't create a soggy marsh that you can't use.
Mark off the locations for your drains. Before breaking ground, check local code for any guidelines and call "Call Before You Dig" at 811. Call Before You Dig will get a local utility to come out and mark the utility lines on your property.
Digging your Drainage Trench: Trench widths can vary. I've seen them as small as 6 inches or as wide as 24 inches. Often, trench width is dictated by the equipment you are using and how much you want to dig. A backhoe makes it easy to dig a wide trench while shoveling is a lot of work. Wide trenches do afford several important advantages.
They can collect more water.
Working in a wide trench is easier.
Wide trenches last longer because they will not clog as easily.
Drains should be at about 2-3 feet deep. Deeper soil is more compact and will better funnel water to your perforated pipe. Whatever depth you choose, remember to account for the downward slope. Also, place your drain about 6 feet away from the foundation, else it will pull water toward your house.
Sloping the trench: Your trench should maintain a 1% grade. That means a 1 foot drop for every 100 feet of length. A steeper slope is not a bad thing but 1% is the minimum. Use the 1/100 ratio to determine how far your trench should drop. Here's an easy way to measure the grade as you work.
Grab two stakes and place them next to the trench, along it's entire length.
Run a string between the two stakes. Adjust the string height until it's perfectly level (using a level of some kind).
Measure from the bottom of the trench to your string to determine the change in depth.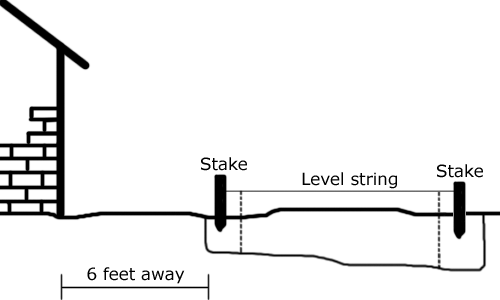 Fill with gravel: After digging out your trench, it's time to fill. Begin by lining the trench with permeable landscaping material- fabric or plastic. Plastic landscape material can be easily damaged. I suggest using fabric landscape material.
This fabric will allow water to pass through while keep dirt and debris from clogging your drain, making it less effective. Be sure to overlap any seams and to allow extra for wrapping over top. Next, put down two inches of washed gravel taking care to maintain your slope. Be sure to select a large gravel that it won't clog your pipe.
Many people use corrugated, flexible pipe in their drains however a rigid plastic pipe has some additional benefits.
It's easier to maintain the proper slope with a rigid pipe.
Rigid pipes can be cleaned with a sewer snake, while flexible pipes would tear.
Place your perforated pipe on the gravel, holes facing downward. It may seem counter intuitive, but remember, the water pools from the bottom up. Placing the holes on the underside allows water to enter much sooner. Slowly fill the trench with gravel, taking care that the pipe stays in place. Fill the trench with gravel until you are 2 inches below ground and cover with the landscaping fabric. Add dirt with grass seed, or lay sod to conceal your drain.
Waterproof Your Basement Walls
Another important tactic to consider is waterproofing your basement walls. You can seal below grade concrete, brick, stone, or masonry walls to prevent moisture penetration. The best way to accomplish this is by applying a portland cement-based powder waterproofer. These waterproofers have chemicals that are activated by water and dry as a waterproof barrier.
What do you think? Ever install a French drain before?
Image courtesy of Jeff Tidwell